Questions We Ask At Your Business Suit Consultation
A beautifully-fitted, bespoke business suit is like nothing else. There's nothing worse than giving a presentation or being part of a meeting and feeling uncomfortable in your clothes. Having a suit that fits your unique shape will have you feeling more confident and more yourself, ready to take on what the working day might throw at you. At King & Allen, we have nearly 20 years experience creating business suits for our wide range of clients. Every one is different but we usually ask the same questions at every consultation. Read on to find out more...
Is this your first business suit?
This will make a difference, in terms of what we are likely to recommend. If this is your first business suit, then we are likely to recommend a classic navy, grey or black two-piece suit as a staple piece of workwear. If you've already got a range of business suits in these basic colours then we might recommend trying something a bit different, such as a pinstripe three-piece or a subtle check or herringbone or even a more audacious colour. You might also be looking to replace one of your old favourites, in which case we can look to see if we have something that would make an ideal substitute. We'd always recommend having at least five suits in your business suit wardrobe so that you can rotate them, making sure that you extend their longevity and keep them fresh, without the need to dry-clean all the time. 
Are you looking for something traditional or with a bit of flair?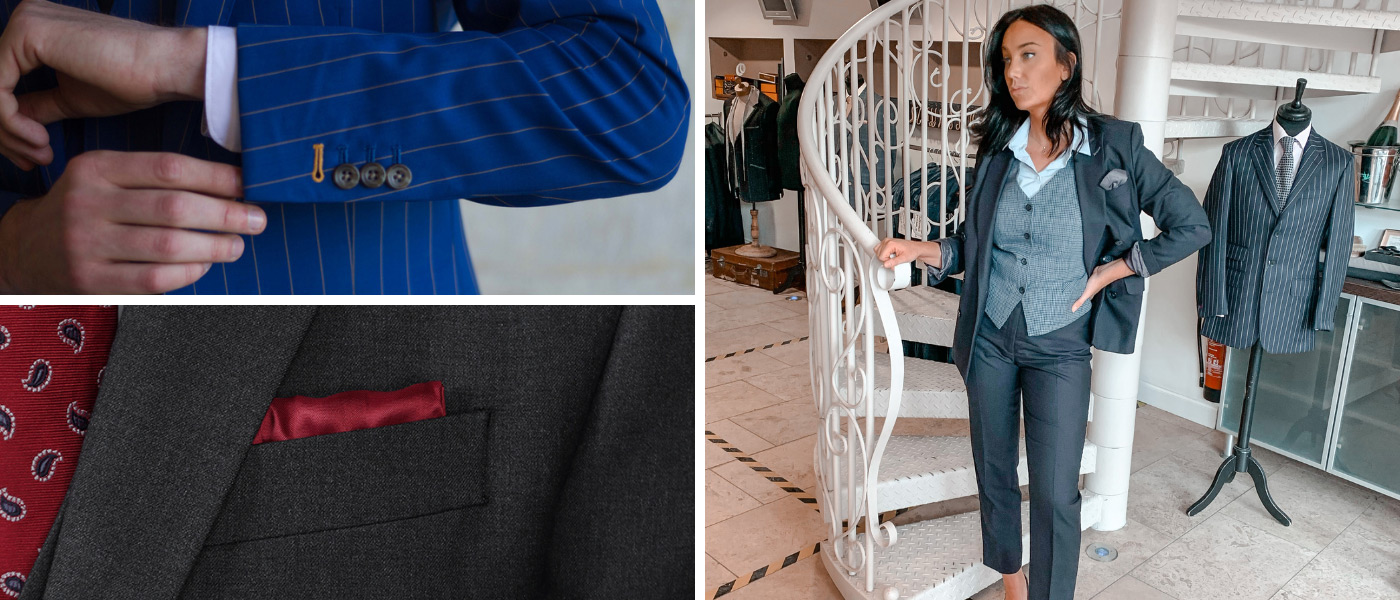 Following on from the first question, we like to find out a bit more about your work style. Are you looking for a traditional two-piece suit in a dark colour, such as navy-blue or charcoal? Or perhaps you are looking to liven things up with a brighter hue, such as royal blue? Some of our clients like to have a traditional colour, such as grey and then add a waistcoat in a contrasting colour or pattern (such as the check waistcoat above). Or you might choose a lining with an interesting pattern or bolder colour, to give a hint of interest to an otherwise traditional suit.
How often are you going to wear the suit?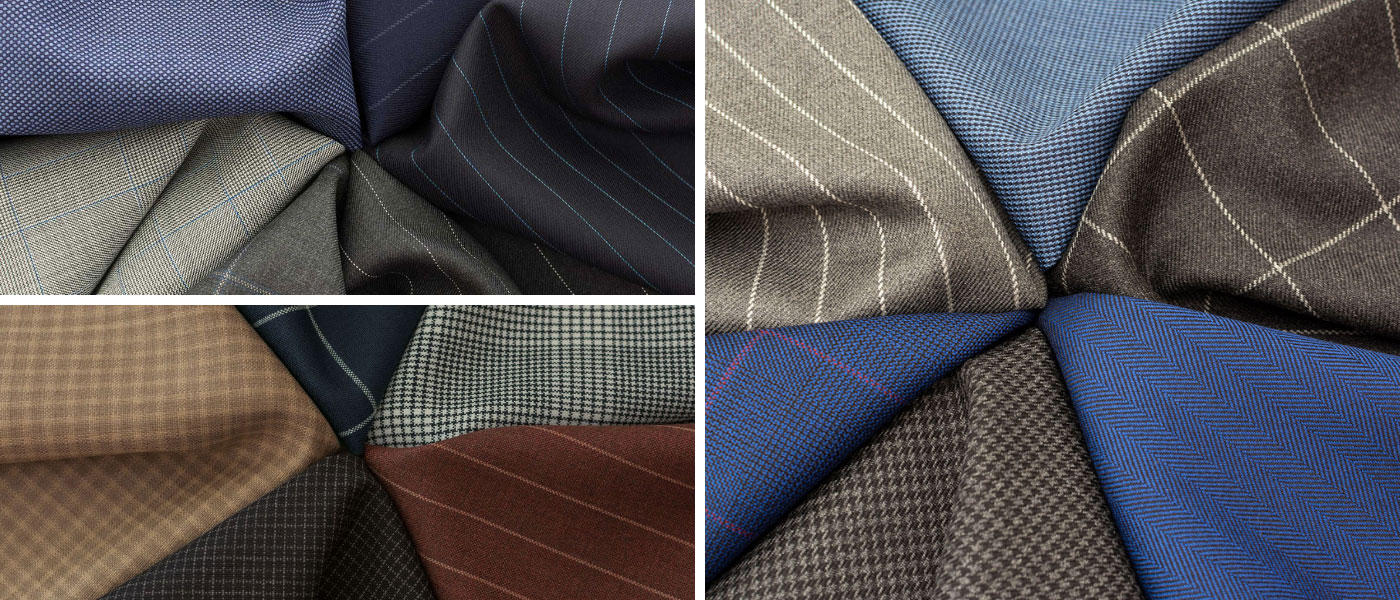 (Our City of London, Crispaire and Royal Mile cloth bunches)
This again follows on from the first question. We'd recommend having five or more suits in your rotation, to extend the longevity of each suit and make sure that you don't have to dry-clean it too often. Dry cleaning uses harsh chemicals that can cause the suit to look shiny if done too often. 'I'd say not to dry-clean your suit more than 3 times a year,' says King & Allen founder, Jake Allen, 'if you need to freshen it up in the meantime, try hanging it in the bathroom while you have a shower - the steam will help revitalise it. If you have a small stain, try taking it to the dry-cleaners for a spot-clean.' If you think that you'll be wearing the suit a lot, then we'd recommend a more hard-wearing cloth that will go the distance and we might also suggest a second pair of matching trousers, which will again extend the life of the suit. Alternatively, if you're just looking for a special suit for one-off work events, then we might suggest a finer cloth that will look and feel amazing.
Do you travel for business?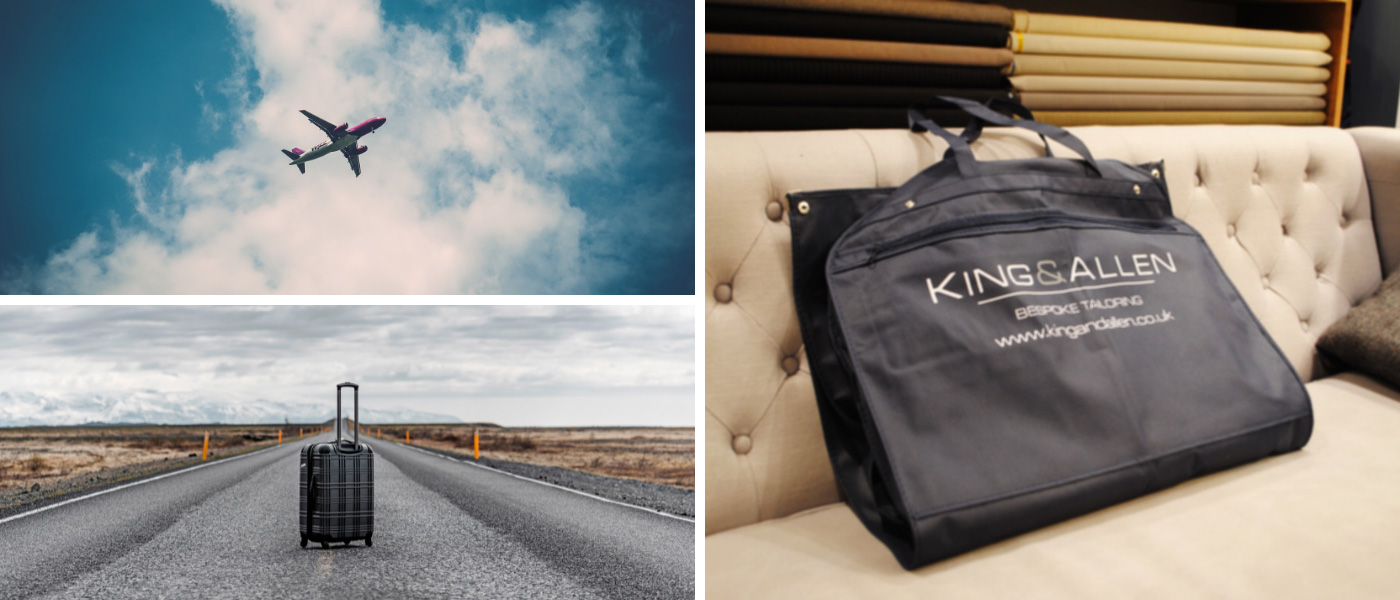 The last thing you want, if you travel for business, is your suit to be wrinkled when you arrive at your destination. We have a number of cloths that have an excellent handle (feel) and are also crease-resistant. One of these is Crispaire by Holland & Sherry. The name says it all. This crisp, durable cloth is also brilliant at keeping its shape and not creasing - perfect for business travel. It's also available in a range of colours and patterns. To order some samples, you can visit our fabric page here.
Do you want something to keep you cool or warm?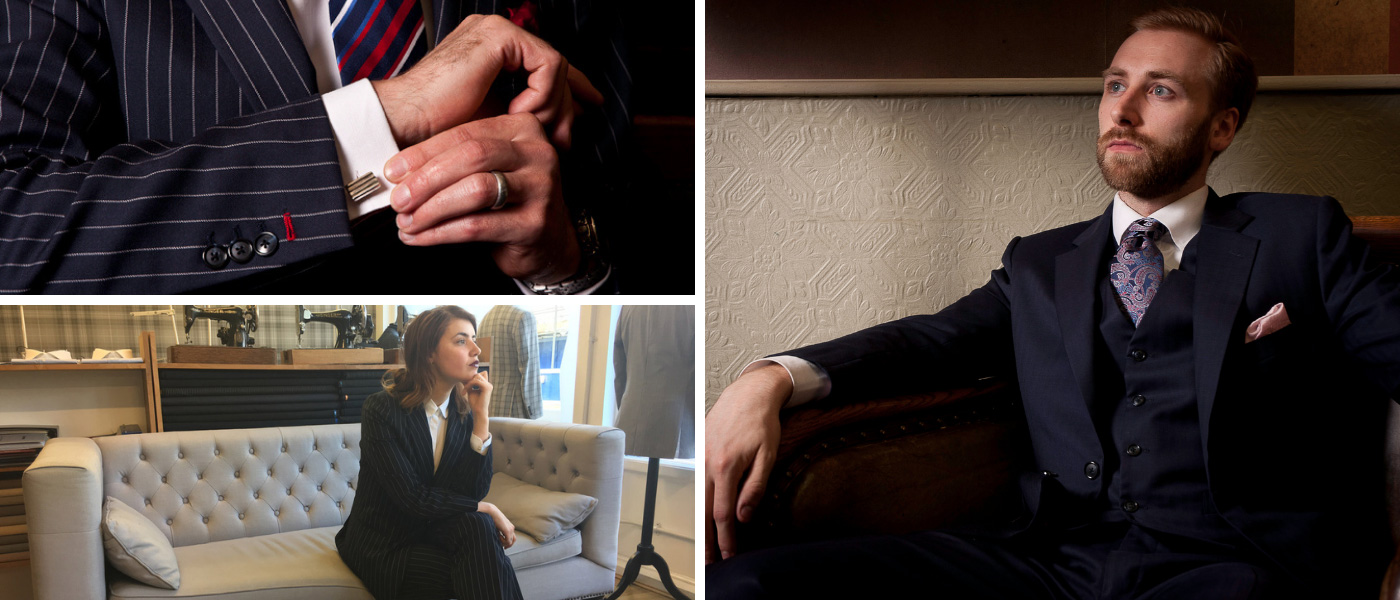 Are you someone who tends to overheat or are you more on the cold side? This will affect the type of cloth we'll recommend. For example, a lightweight mohair can be a great choice for people who tend to get hot or for a summer business suit. Alternatively, if you're someone who is more likely to feel cold, then a heavier flannel will keep you warmer. A three-piece suit can be a great idea for both summer and winter. It's a great option for layering during the colder winter months but, conversely, it's great during the summer as you can take off the jacket and still look smart.
Any extras?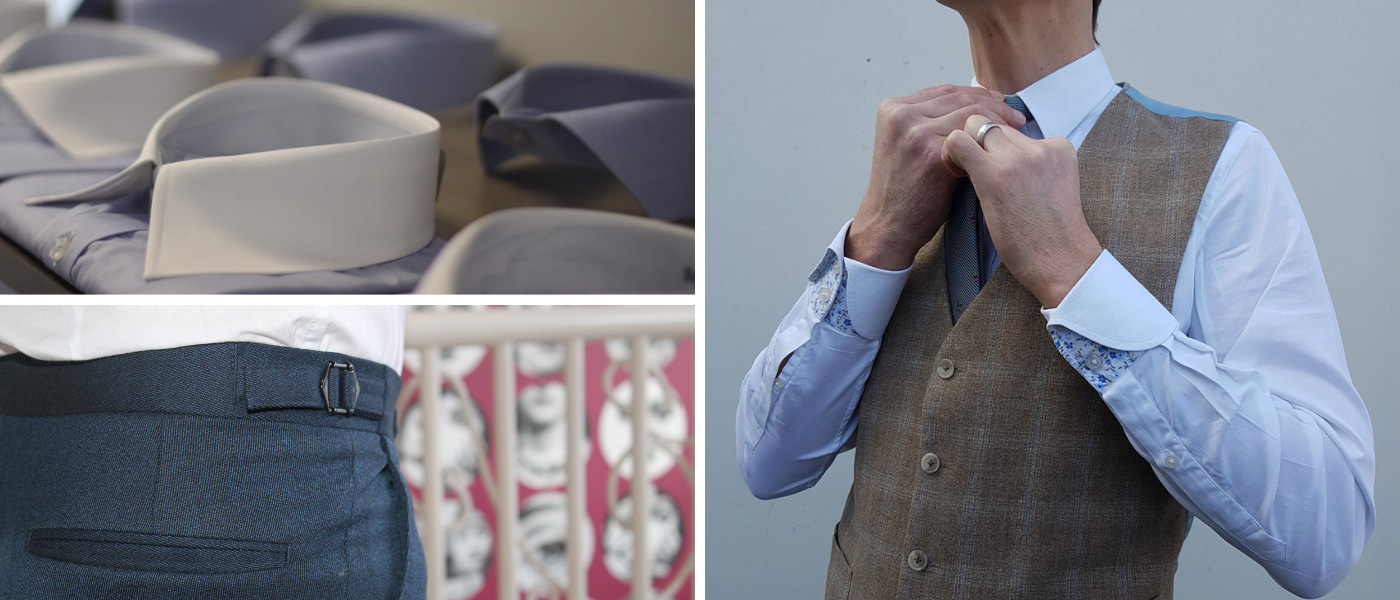 There are a number of extras that we provide. A great bespoke shirt is a must-have business wear item. It will fit perfectly under your suit and there are lots of options to customise, so that you can make it your own. It's worth having a few shirts so that you can mix and match them with your suits. As we mentioned above, you might also choose to get an extra pair of trousers in the same cloth, which will help to improve the longevity of the suit. We keep your measurements on file, so you can always come back and order another pair of trousers at a later date. However, we can't guarantee that our cloth merchants will still have the same fabric in stock, so it's a good idea to order an extra pair when you order the suit. We also offer waistcoats, which you can either get as part of a matching three-piece suit or you might choose to have one in a contrasting fabric. For the winter months, you might also want to consider an overcoat, which will keep you looking stylish and feeling warm!
You can contact us today if you have any questions. Alternatively, you can arrange a consultation at one of our branches by clicking here.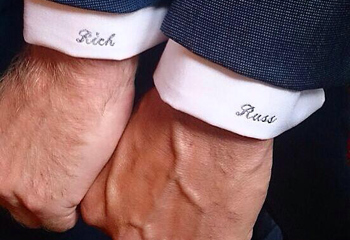 26 May 2022
Planning for your wedding can be a stressful time for some and the day itself often passes in a blur of joy and excitement. That's why it's important to 'stop and smell the roses' during your wedding journey and remember all of the reasons you've chosen to marry the love of your life. After the event itself, there are a plethora of ways you can look back fondly on the day, from the photos, to the video, to the signatures in the guest book. But did you know that your wedding suit can also serve as a reminder of the best day of your life? Read on to find out how...
Weddings
26 May 2022
2022 is a very special year for Pride, as it marks 50 years since the first ever march in 1972. While there were only 700 bravely marching then, this year it is expected there will be over 2 million attendees! Of course, many historical milestones have been achieved since 1972.
Style Tips & Advice
Style History
26 May 2022
Next week, the whole world will be watching as we celebrate 70 years with Queen Elizabeth II on the throne! The Queen has created quite the signature fashion lookbook that deserves its own jubilee. Her style has, quite literally, stood the test of time. Through nine decades, with her vibrant pant-suits and matching hats, stunning heirloom brooches - not to mention the symbolism behind every ensemble - it's no wonder the Queen is our style icon.
Style History