How Many Business Suits Should I Have?
While business suits are certainly not as widespread or mandatory as they once were, there are still many workplaces where the suit has remained the required attire. In other offices, business casual has now become de rigueur. One of the questions we're often asked by clients is how many business suits should I have? 'If you wear a suit every day, then you should have a suit for every day of the week you wear one, in order to keep them fresh' says Jake Allen, 'but I'd always recommend starting out with a plain grey suit and a navy blue suit as you can alternate these two suits and vary the style with a different shirt. You can then add in a bolder design like a pinstripe suit to your collection later on.' 
Here are some essential suits to build your working wardrobe around...
The Grey Suit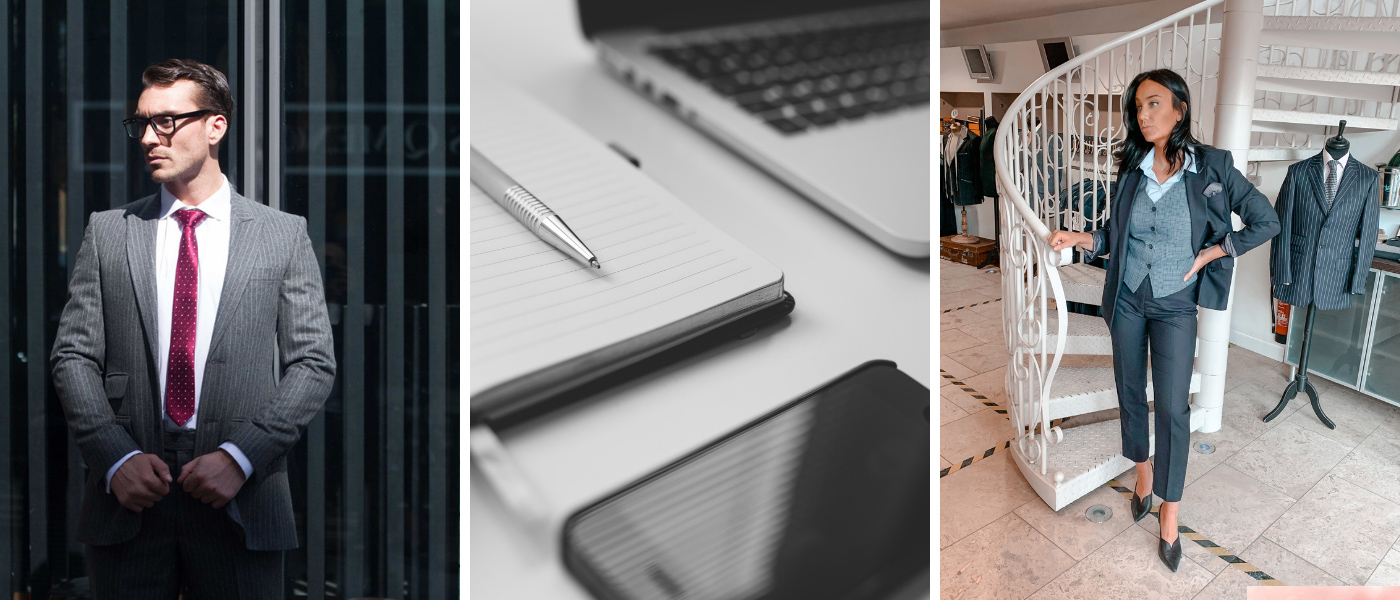 The grey suit is one of the staples of a work wardrobe. It's sober enough for formal business meetings but can be enlivened by colourful accessories, or maybe a pattern like a chalk stripe. A lighter grey is a great choice for the summer months, while a darker shade, in a more heavyweight cloth can really stand out as an alternative to a black or navy suit. A three-piece in a dark grey flannel looks really chic and can be paired with a camel overcoat in the winter months for a professional look with some debonair style.
The Navy Suit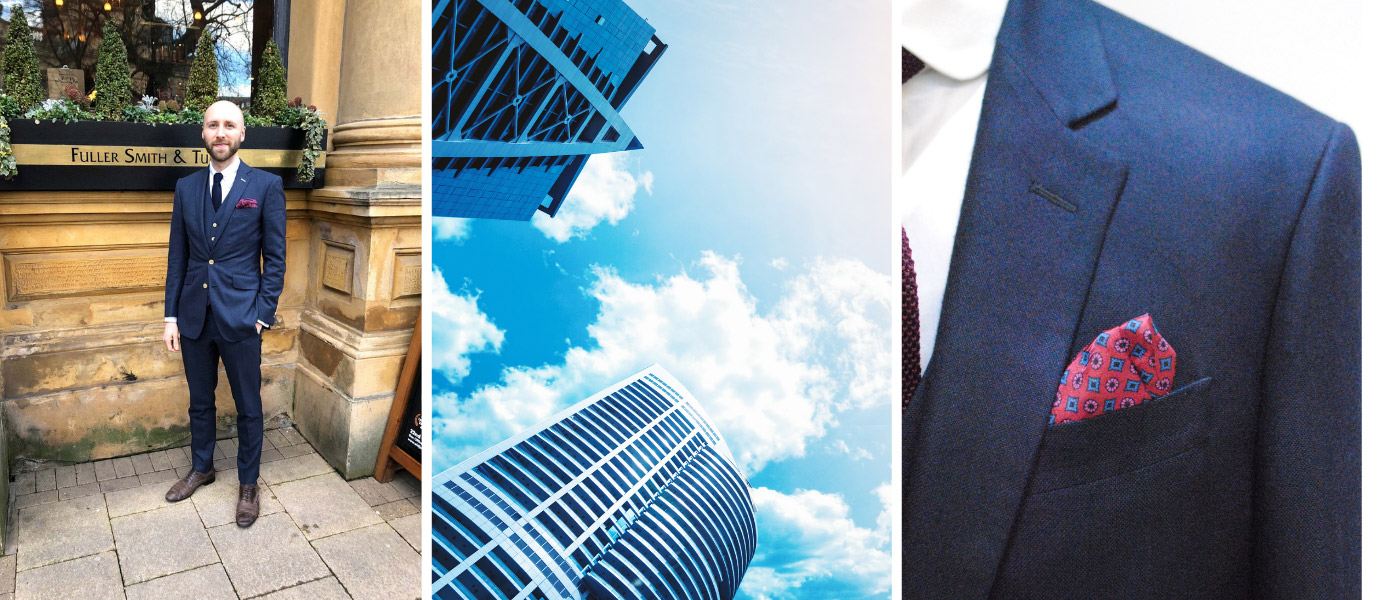 The navy suit is one of our absolute favourites, due to its versatility. It can be dressed up or down with the right accessories and it can be mixed and matched with a huge range of other colours. A three-piece navy suit, worn with a white shirt looks crisp and elegant, or a two-piece worn with a pink or light blue shirt can help to shake up your workaday wardrobe. 
The Black / Charcoal Suit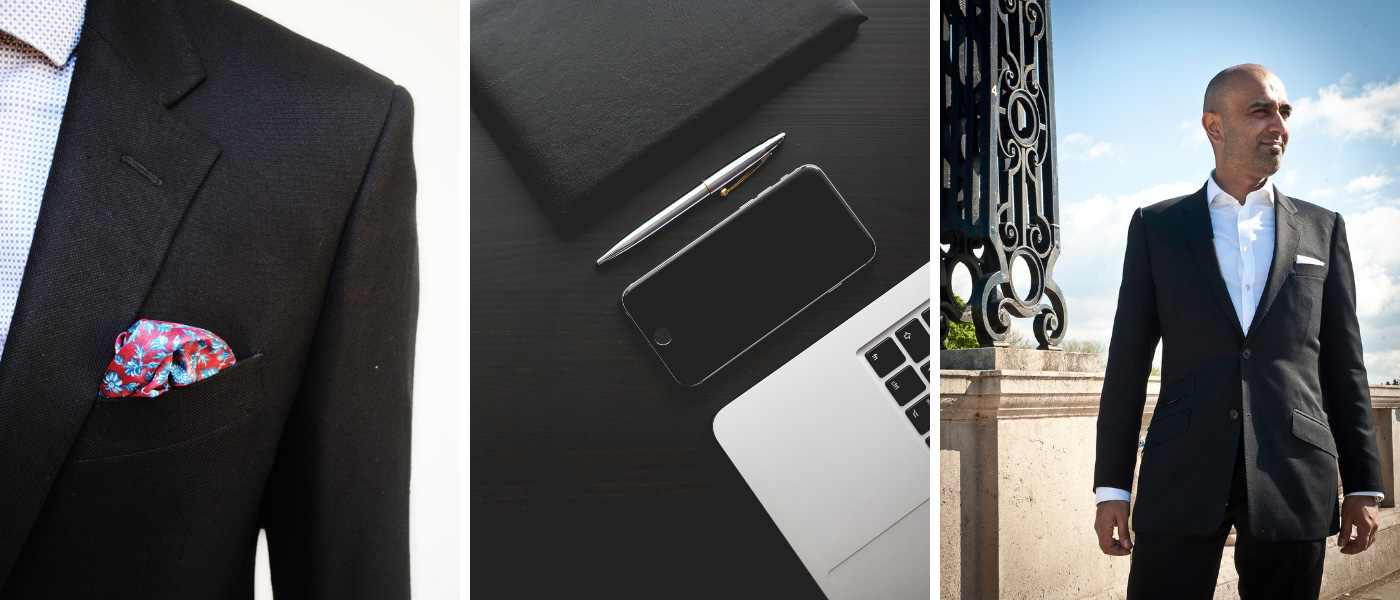 Although it is quite a formal look, many people think of starting off their bespoke work wardrobe with a classic black two-piece suit. It looks great with a white shirt for a contrast. For a monochromatic look, you could try pairing it with a black shirt. A patterned tie or pocket square will make the suit look less severe and will add a bit of a flourish 
The Pinstripe Suit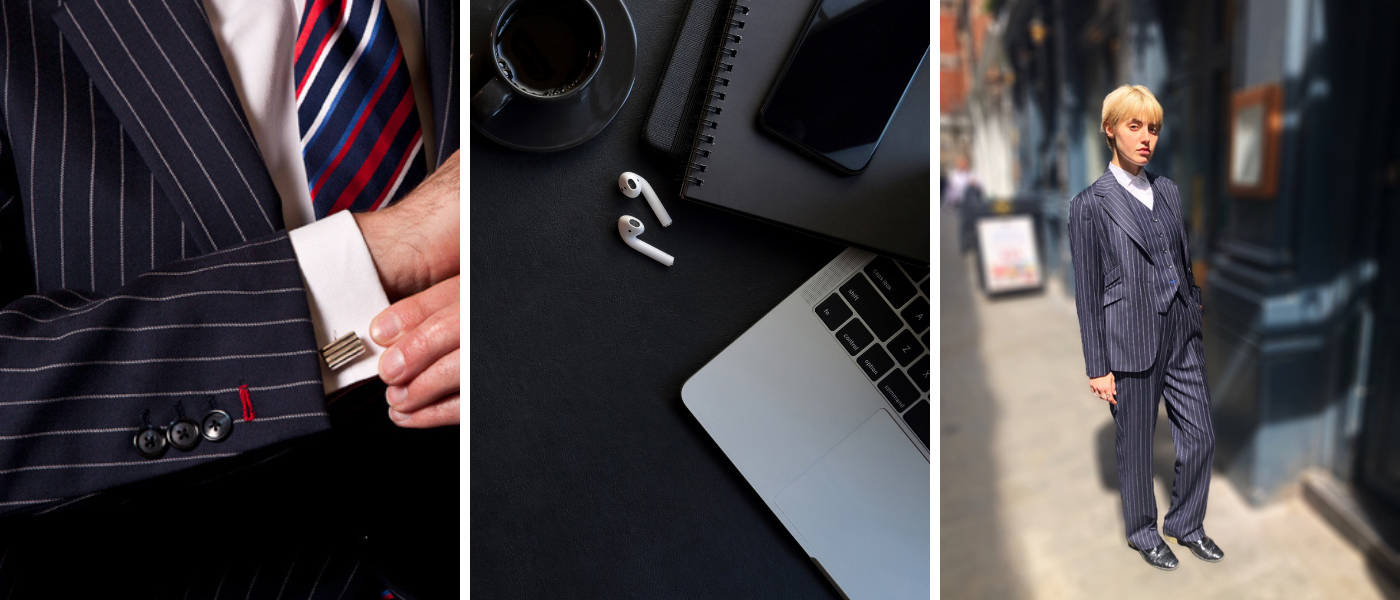 The pinstripe suit has a long, illustrious history in the workplace. In the nineteenth century, bankers would wear formal attire to work. This usually consisted of a morning suit, with pinstriped trousers. Each bank had its own unique stripe, usually achieved through a variation in line thicknesses, which distinguished the bankers from each other. Nowadays, it's possible to get a wide variety of stripes, from pinstripes, to chalk stripes to rope stripes. It's a daring, stylish suit that adds a bit of vibrancy to an otherwise plain work wardrobe.
Mix and Match separates
Once you have built up a collection of more than three suits, you can begin mixing and matching elements from each. For example, if your workplace is more business casual, you could pair a suit jacket with a pair of chinos, a contrast waistcoat with a navy two-piece, or wear a checked sports jacket with the waistcoat and trousers from a black suit. There are so many options, which gives you the freedom to be a bit more creative, while still adhering to any work dress code.
If you'd like to find out more about how to build up your bespoke work wardrobe, contact us today or arrange an appointment here.
27 July 2022
A styling guide for the challenging task of finding the right suit to wear as a wedding guest. It's important not to upstage the bride and groom, but that doesn't mean you can't add your own style in your suit.
Style Tips & Advice
Weddings
27 July 2022
Barrister Samuel March is an important influencer and contributor in the vegan community; being an advocate for animal rights and a vegan. Here he shares his experience with vegan tailoring.
Vegan
Press
29 June 2022
Many couples start with the season in which they are getting married as the basis of their wedding theme. Now that we are in the hotter months, we are looking into summer wedding themes and how your King & Allen suit can play a big part of it...
Style Tips & Advice
Weddings