When it comes to bringing your bespoke ensemble together... no wardrobe is complete without a bespoke overcoat to keep you stylish, warm and dry throughout the colder months of the year.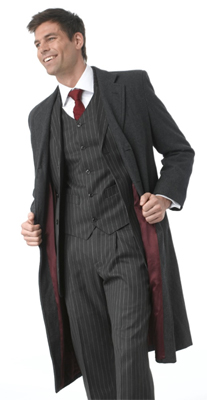 During the winter months, your coat is a great way to make a good first impression. It can make you feel more confident as you walk into an important meeting, or attend an event outdoors. The length, sleeves, shoulder width and the fit over the body are crucial. You may wish to wear it over a suit or prefer a more fitted coat as an alternative to a winter jacket – the choice is entirely yours.
As with a suit, the design of an overcoat involves close collaboration between client and tailor. We will guide you through the many design choices available, whilst ensuring the perfect fit. For example, you may be looking for a traditional coat in a charcoal herringbone worsted. Alternatively, you might want something more modern, such as a camel cashmere with a velvet top collar and hidden buttons. As with our suits, there are no surcharges for any of these options.
Designing Your Bespoke Overcoat
As with a bespoke suit, an overcoat involves many hours of craftsmanship – from the pattern cutting to the personalised embroidery. The result is a coat that is both stylish and practical and carefully constructed to provide many years of service.
Book a Fitting
View Our Lookbooks