King & Allen take great pride in serving the LGBTQ+ community.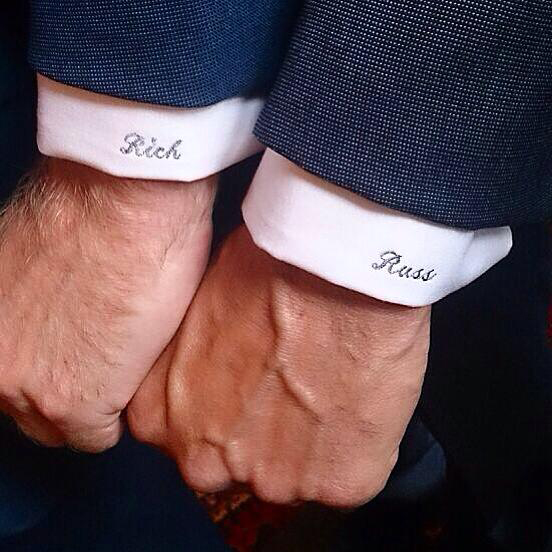 From our wedding suits for gay men, to our lesbian wedding suits, to our tailoring for trans, non-binary and genderqueer clients, we can help.
We strongly believe that bespoke tailoring is the ultimate equaliser in the fashion world. When our customers come in to see us, we make no assumptions, we are simply lead by their story, by their wants, by their own, inimitable style.
Two Grooms?
When it comes to your wedding, you want to look and feel your very best. And when you've found the man of your dreams, you want to express both who you are as individuals and who you are as a couple. There are so many options available. You could wear matching suits. You could choose the same cloth but a shade different. You could wear matching waistcoats but different jackets and trousers. The choices are nearly infinite!
Wedding Suits for Women
King & Allen are the ultimate choice for women's wedding suits. We have created thousands of suits for women and have perfected the craft of designing suits that are unique to each client. When you come in for a consultation, we can guide you through all of your options, taking things like your colour scheme and your partner's outfit into consideration. The opportunities for customisation are endless, from choosing what type of lapel you would like, to deciding on some personalised embroidery (perhaps you and your fiance's names and wedding date), to a funky, unexpected lining.
Suits for Transgender Men and Women
We understand that finding the right clothing can often be a frustrating experience for our transgender customers. The heteronormative fashion market very often doesn't supply the fit or style that they want and can be very limiting. At King & Allen we are able to offer a wide range of choices from the classic, masculine silhouette to a more feminine shape that accentuates the waist and hips. Whatever you want, we can provide it.
Suits for Non-Binary and Genderqueer
If you're looking for a suit that doesn't subscribe to the conventionally-gendered shapes and styles, we can certainly help! Buying a bespoke suit is the ultimate in gender-neutral experiences, where you can find yourself and express who you are through a beautifully-tailored, stylish garment.
As well as suits, we also offer a range of shirts, waistcoats and overcoats, as well as our premium alterations service. With stores in Surrey, London and Cheshire, as well as a fitting days in Birmingham, you can book an appointment today and start your bespoke journey!
Book a Fitting
View our lookbooks