Lucy Spraggan Gets Her Suits Altered
As you may know, King & Allen have been making suits for singer-songwriter Lucy Spraggan for a few years now and we just love her sartorial flair! When she recently lost weight, her suits needed an update and she brought them along to Karl at our Wilmslow branch for some alterations. Any suit connoisseur will know that alterations can refresh and modernise a suit, as well as keeping it fitting just right. Read on to find out what alterations we did to Lucy's suit and how you can renew your suit wardrobe.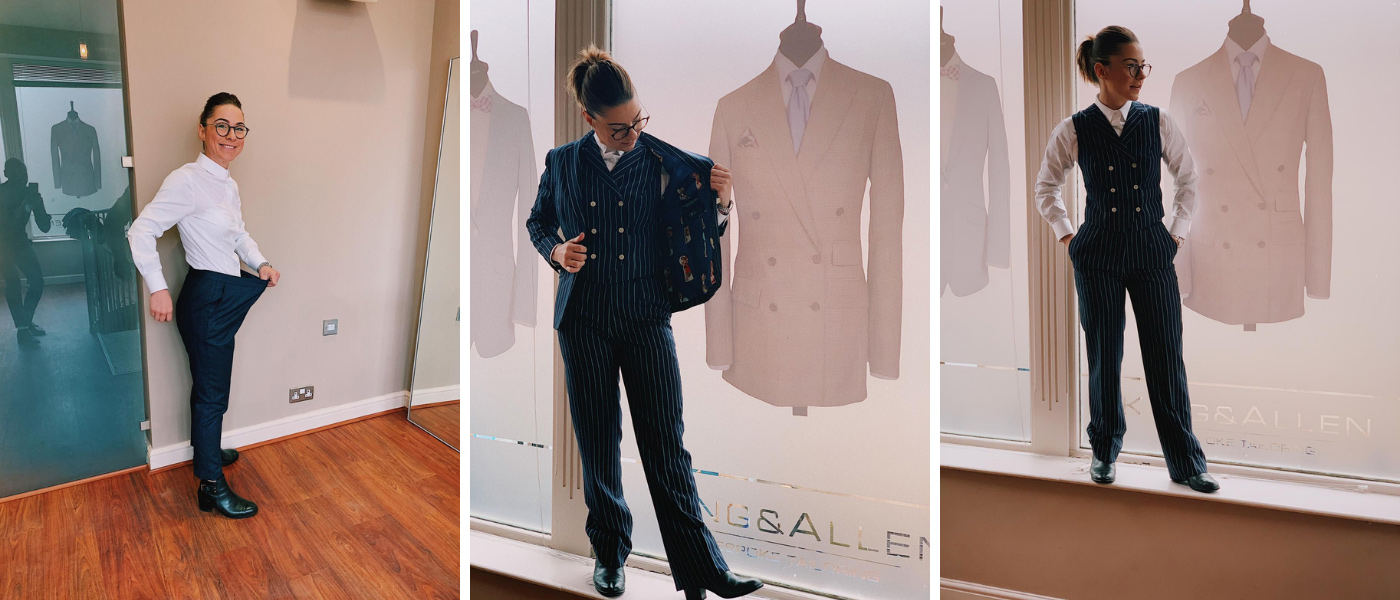 How Many Suits Did We Alter?
Over the years we've made six suits for Lucy, as well as shirts. We spoke to Karl, our Wilmslow Store Manager, who has been Lucy's Tailoring Consultant since the beginning to find out how they went about the process. 
"Normally, after this kind of weight loss, I would recommend having new suits made as altering a garment too much can affect the drape of the fabric and the overall structure of the suit. But we were up for the challenge and we wanted Lucy to carry on enjoying all the suits we'd made for her!"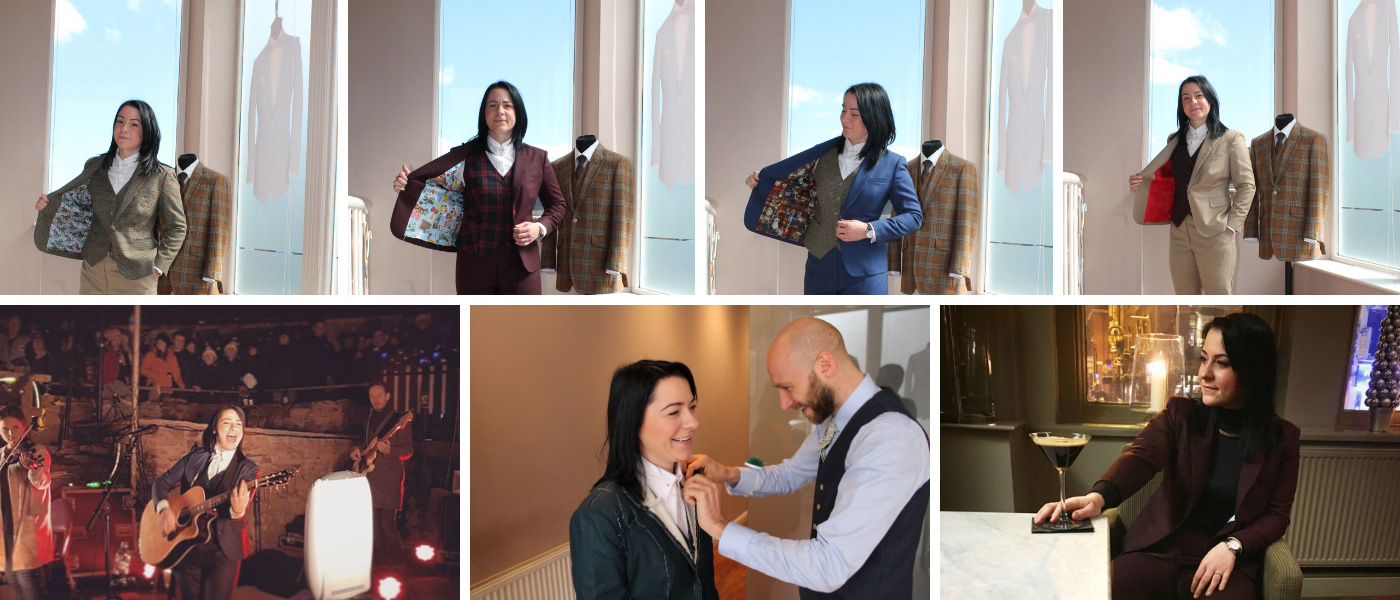 Just a few of the suits we've made for Lucy in the past!
The Process
When any client comes into King & Allen for an alterations appointment, we ask them to put on their garments, using the changing rooms provided. We then take a look at how the garment currently fits and then talk to the customer about what changes they would like to see. From there, we pin the garment and see how it hangs and whether the customer is happy. After that, we pass along the garment to our in-house tailor. In Lucy's case this was our talented tailor Daniel, who will then get to work performing the alterations.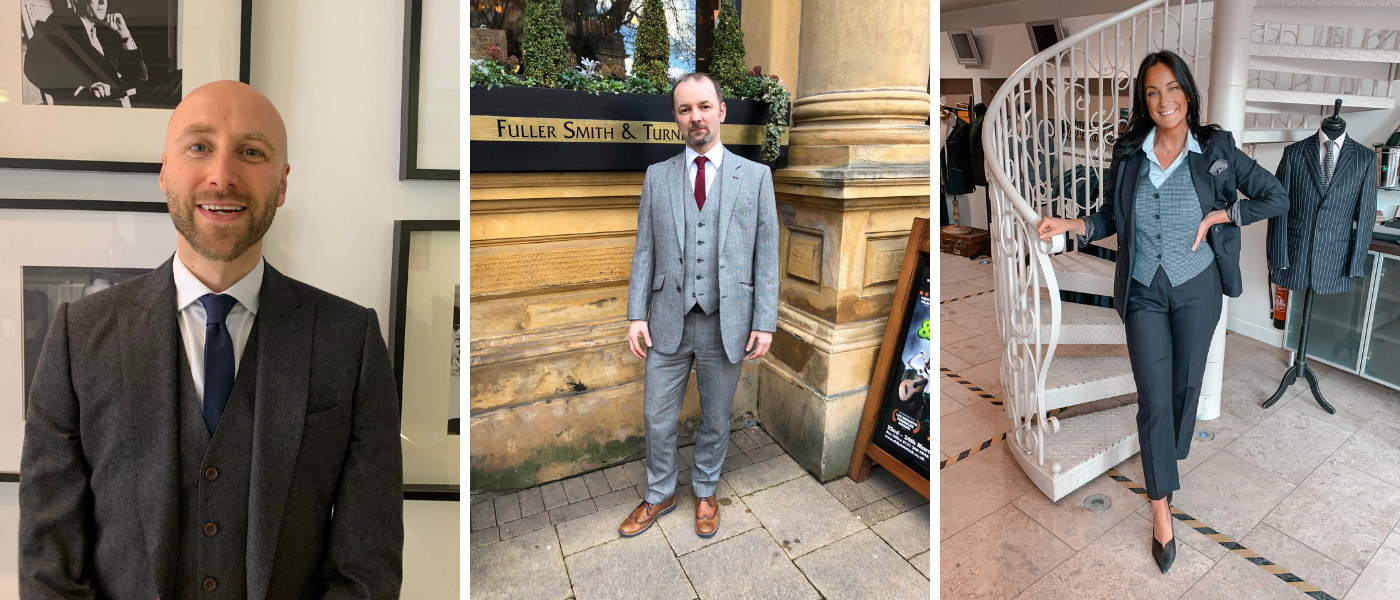 The King & Allen team at our Wilmslow branch (from left to right Karl, Daniel and Mary-Cait)
The customer will then come in for further fittings. Usually this is only necessary once, but in Lucy's case, due to the extent of the alterations, she came into see us a couple of times. In terms of weight loss and weight gain, it's usually easier to take garments in than it is to let them out. Suits will have a certain amount of allowance at the seams, so the extent of the alterations will depend on how much this allowance is. For Lucy's suits, we performed a range of alterations, from reshaping the waist of the jacket to taking in the shoulders and tapering the trousers. Even a small adjustment can make all the difference in terms of fit and can update your look.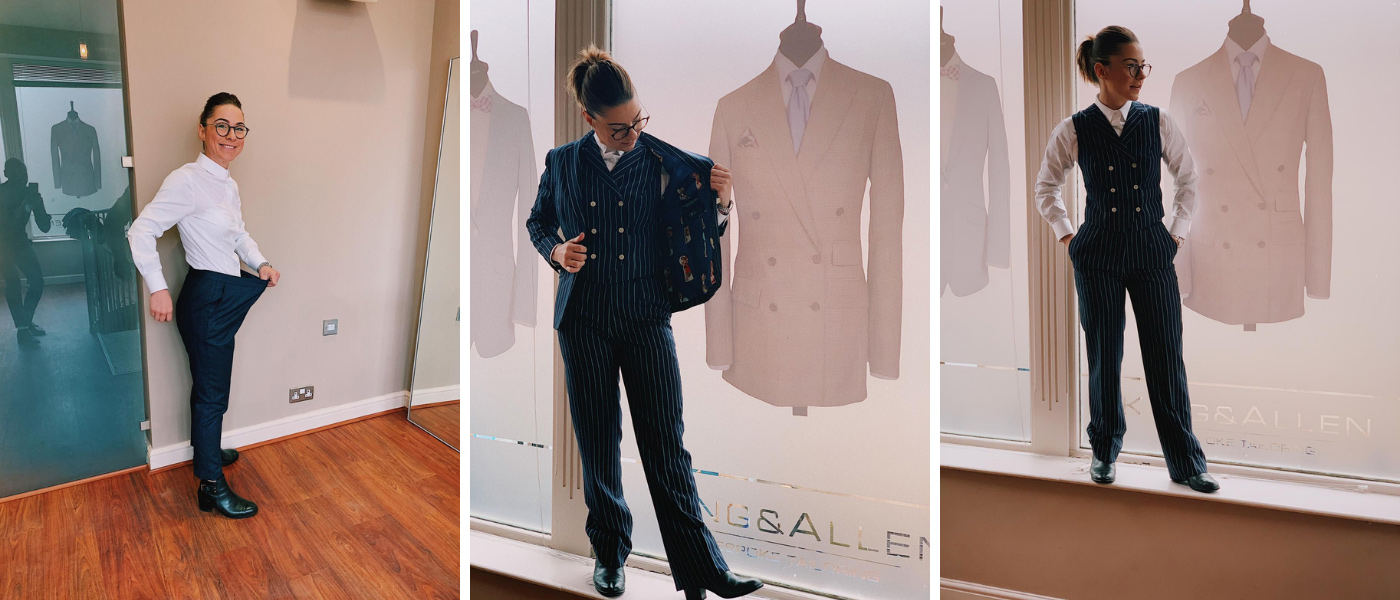 We took in the waist on all of Lucy's trousers.
Sometimes the fabric or pattern of the suit can also affect how we do alterations. For example, a check pattern might require some extra attention to match up the pattern, as well as keeping to the lines of the body. If the fabric is older or very fine then the tailor will have to handle it more delicately or even put some extra cloth in for reinforcement. But, as Karl says, it depends on the quality of the garment: "a King & Allen customer recently brought his suit in for an update and all we had to do was update the style as it was still looking good. The suit was made by us in 2013. It's important to take care of your suits!"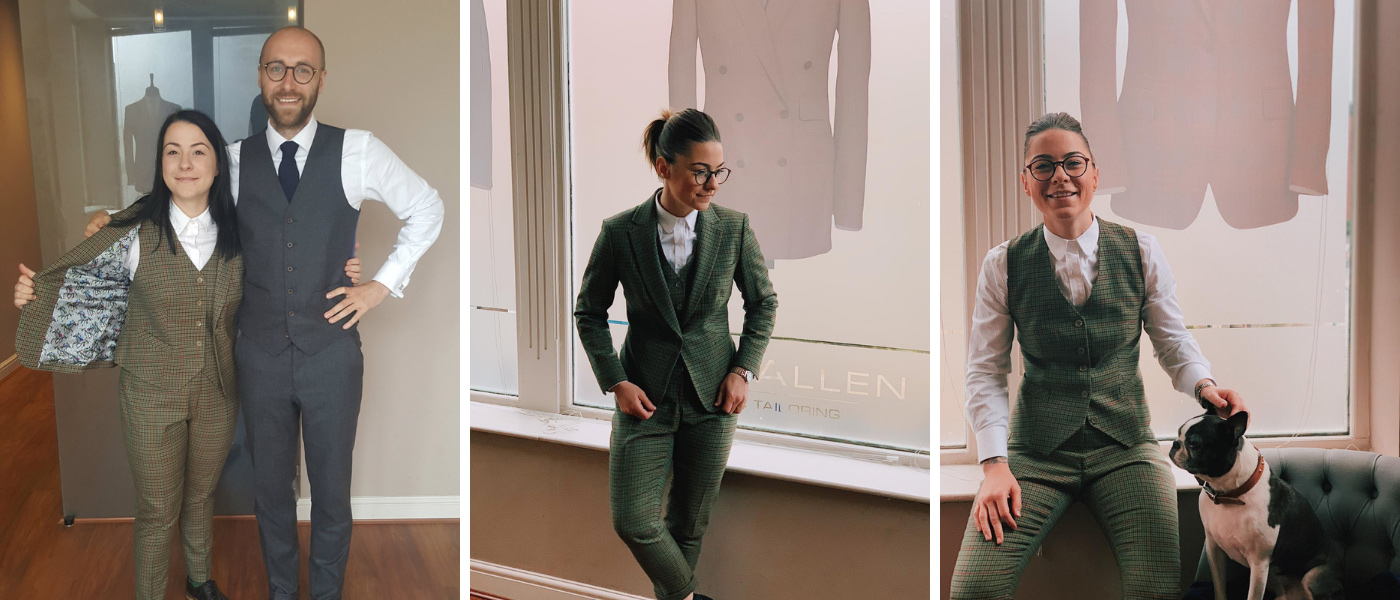 We reshaped this green check suit and updated the style of the trousers.
Small updates to an old suit can make a world of difference and modernise an older look, without needing to purchase new garments. We'll always do everything we can to get the best possible fit!
If you've got some old suits languishing in the back of your wardrobe or have recently bought a garment that you'd like to fit better, contact us today or arrange a fitting appointment. You can find out more about our alterations service here.
27 July 2022
A styling guide for the challenging task of finding the right suit to wear as a wedding guest. It's important not to upstage the bride and groom, but that doesn't mean you can't add your own style in your suit.
Style Tips & Advice
Weddings
27 July 2022
Barrister Samuel March is an important influencer and contributor in the vegan community; being an advocate for animal rights and a vegan. Here he shares his experience with vegan tailoring.
Vegan
Press
29 June 2022
Many couples start with the season in which they are getting married as the basis of their wedding theme. Now that we are in the hotter months, we are looking into summer wedding themes and how your King & Allen suit can play a big part of it...
Style Tips & Advice
Weddings