Living the Life of Bowie
When it comes to style superstars, there is none more seminal, more distinctive and more innovative than David Bowie. As you may remember, we included the star's ever-evolving look in our recent blog post on the suits that rocked and have been ardent superfans of Bowie's iconic tailoring for many, many years. That's why we were over the moon when Professor of Film and Cultural Studies, Dr Will Brooker, approached us to make a copy of Bowie's legendary mustard-yellow suit. 
Natalie Walker, our tailoring consultant at our Surbiton store, was excited to take on the challenge. 'When we looked at the original, we could see how Bowie was using the traditional suit but adding in certain non-traditional elements. The sleeves, for example, had no buttons and the jacket had a shawl collar, which is usually only used on formalwear. We spoke about getting the overall feel for the suit right and I was so excited to find an almost-exact match for the colour in our range of Holland & Sherry cottons.'
We caught up with Dr Brooker, to talk about living life as David Bowie and find out how he's enjoying his new suit!
Can you tell us a bit about yourself?

I'm Professor of Film and Cultural Studies at Kingston University in London, and in addition to teaching -- including modules around Bowie and celebrity -- I research popular culture and its audiences. I've published books on Batman, Star Wars, Lewis Carroll and Blade Runner, but in 2015 I began an immersive, long-term project on Bowie, which involved trying to recreate his life experiences within one year. I travelled to the places he had stayed and worked, had costumes made, adopted his hairstyles and make-up, and performed with a tribute band. The experiment attracted a great deal of international media attention, and resulted in two books -- Forever Stardust in 2017, and my next book, Why Bowie Matters, which will be published in November.
Why did you start this immersive project on David Bowie?

I was writing a book about Bowie and couldn't get started -- I felt that the library of existing work on Bowie was so broad and diverse already that I didn't know how to begin. What became immersion started more gradually and gently. I had my hair cut and dyed in the 1970s Man Who Fell To Earth look, as a way of committing to my research, and then developed the idea of only listening to music that Bowie had listened to, only reading the books he'd read, and watching the films that we know he'd seen; drawing up lists from multiple biographies and interviews, and surrounding myself with the culture he'd experienced, in order to understand his work better. The project grew from there -- multiple costumes and styles, visiting the major locations associated with Bowie throughout his lifetime, and finding ways to engage with his experiences, including live performance. When the international media became interested, my research gained a new dimension as I became, in a small way, a public figure, in demand for interviews.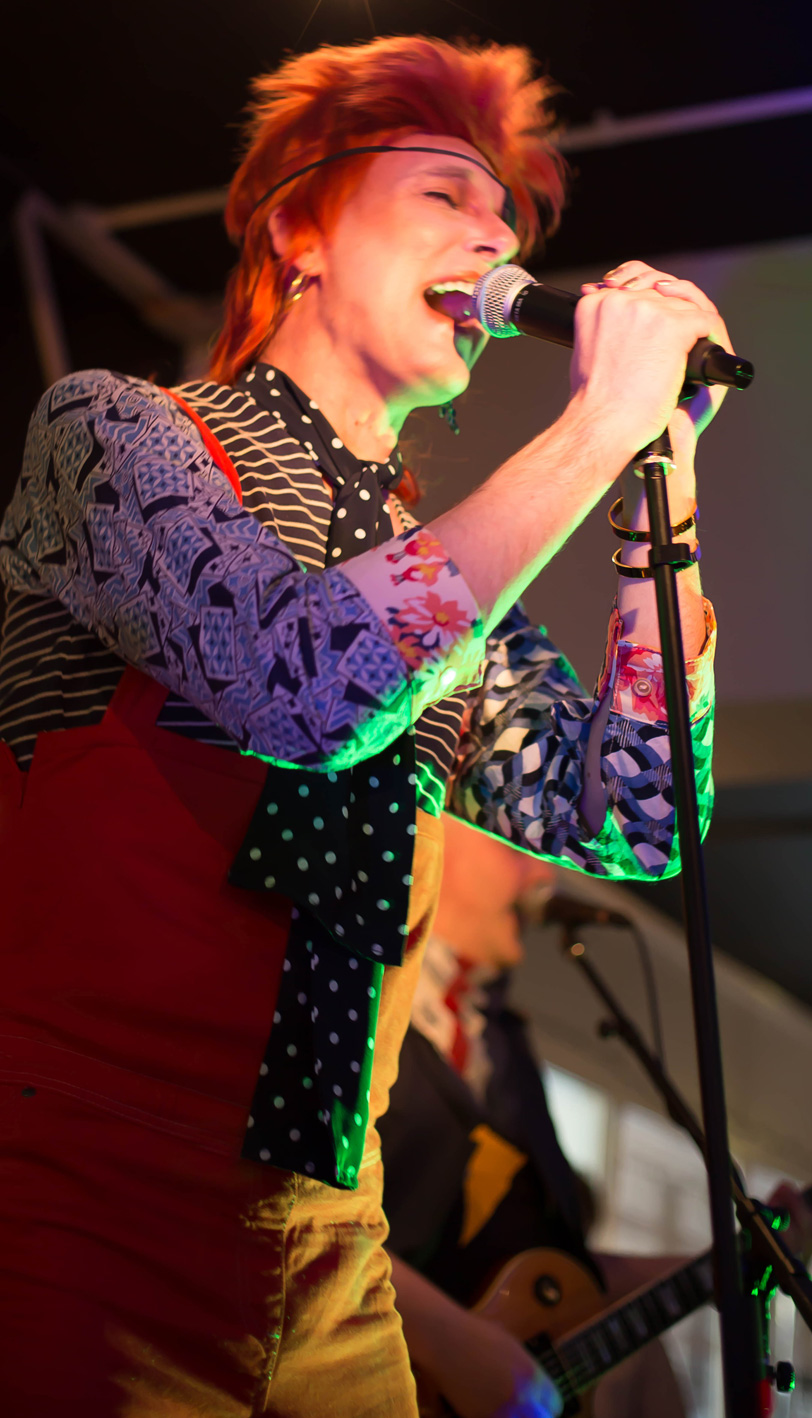 What were the challenges and the highlights?
The highlights for me were the 1983 Let's Dance persona, which was a very suave, smooth, MTV-era businessman figure, and which I found an enjoyable kind of performance; and the 1997 Earthling persona, a very different figure who I see as more as a crazy pantomime uncle: a man who was turning 50 and still enjoying one last burst of playful experiment.
The worst aspect was that Bowie died halfway through my year-long experiment. It hit me like real grief, and while I had to continue the project, for a while I didn't know how I could, or should, carry on with it -- as it became a form of memorial tribute rather than a more light-hearted homage to a living person.
Do you feel a change in yourself when you put on a Bowie outfit / suit? In what ways does it manifest?
I actually feel a change in myself when I wear any suit, if it's a decent one. I think well-made, well-fitting suits have a certain magic anyway, in that they accentuate your best physical features, and make you into a better version of yourself: more authoritative, more confident.
With a Bowie suit, it is more like a costume -- not a way of becoming him, but a way of liberating myself from myself to an extent. I find it an experience of freedom, especially when combined with the right make-up, wigs and shoes.
When I was fully dressed up as Bowie, of course people didn't really believe I was him -- I was emulating a version of him from the past -- but they seemed to enjoy pretending I was him, or believed I was a hired lookalike of some kind. I was often stopped for photos and people would start conversations with me as if I was a public figure.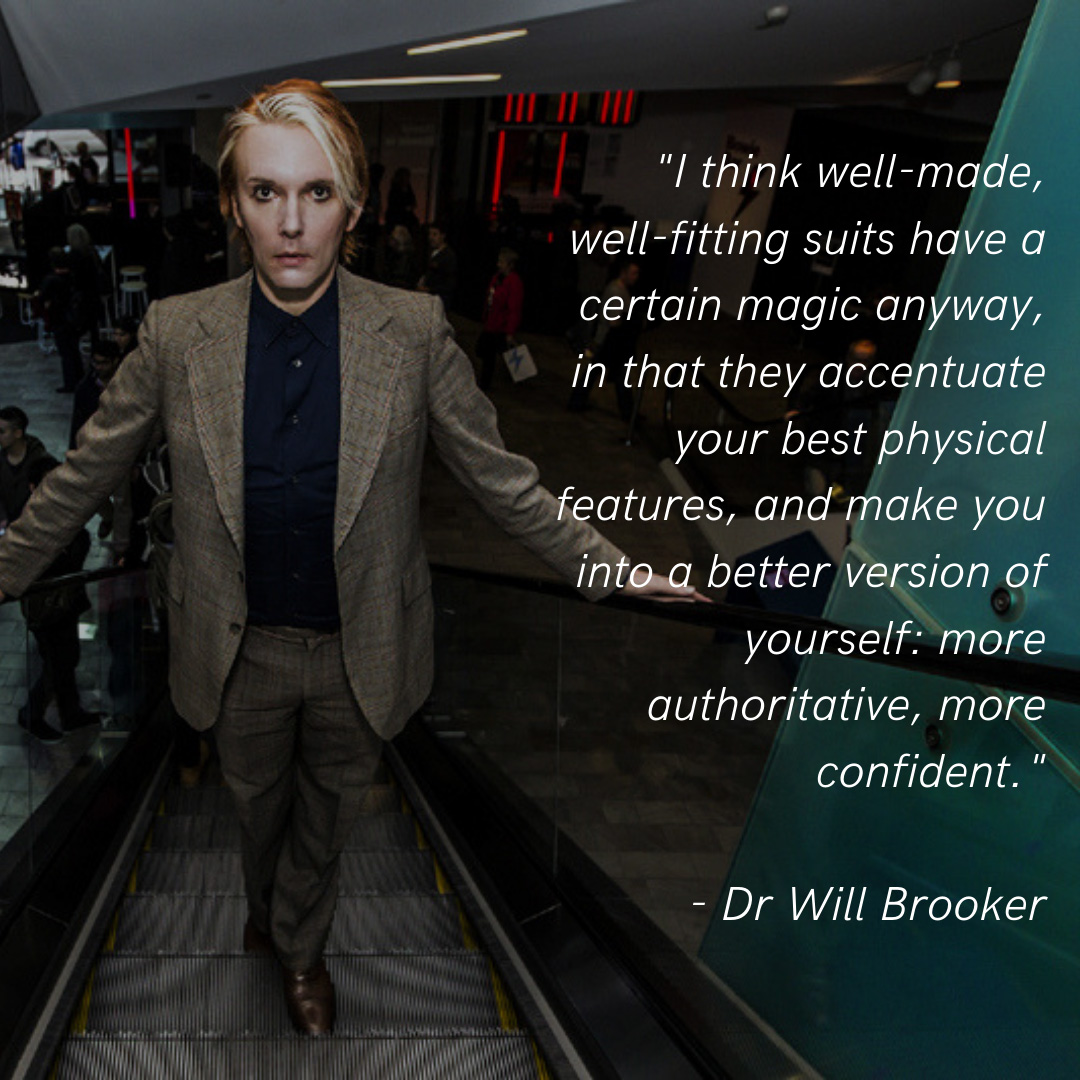 Why do you think that David Bowie is such a style icon for so many different people?
Bowie made extremely bold style choices from the 1960s to the mid-2010s. He was courageous and creative with his hair and wardrobe since his teens -- Bromley Library has one of his blazers on display that he customised with a black felt pen. -- and his publicity shots for Blackstar showed that he could still give us all style lessons in his late 60s. His approached ranged from radical, in the early 70s, to more conservative, with his band Tin Machine; he worked closely with his favourite designers and clearly loved clothes, appreciating them as another form of art. Though he had duller periods, and like all of us, made a couple of fashion mistakes, I think overall his success as a style icon is down to him being very brave with his self-expression. It took a lot of guts for a man to wear dresses in the early 1970s, for instance.​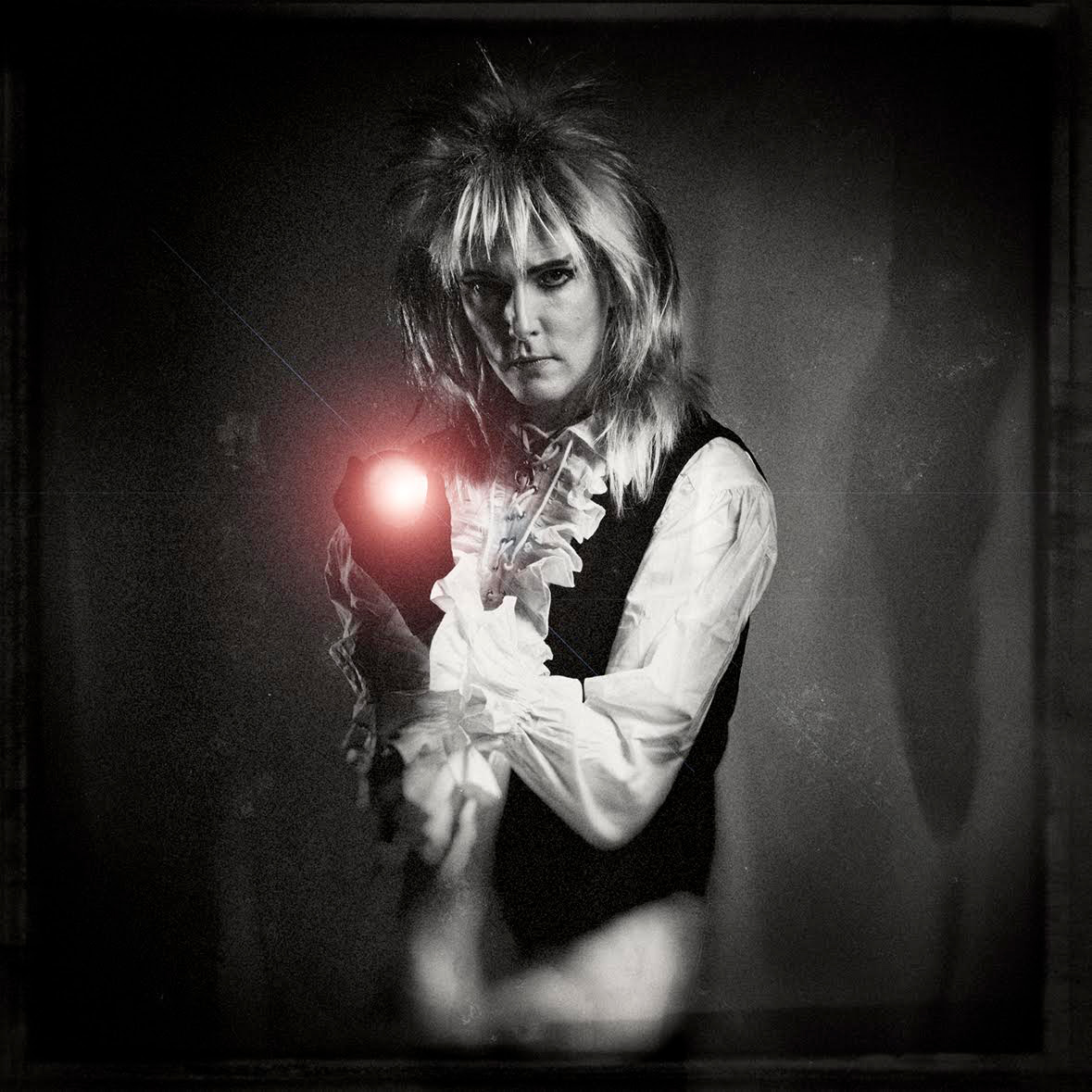 Where do you think we see the ripple effects of Bowie's style in popular culture?
Most obviously I think we could look to his influence on other artists like Lady Gaga and, before her, Annie Lennox; I doubt we would have seen New Wave and New Romance fashions -- Duran Duran and Spandau Ballet -- without Bowie. Today's non-binary and gender-fluid celebrities like Jaden Smith and Asia Kate Dillon, some would say, are following in the footsteps of Bowie's androgynous fashions. Even more directly, we can still see tributes to Bowie in, for instance, Gillian Anderson's performance as 'Media' in the Neil Gaiman TV show American Gods.
Why do you think he was so partial to suits and tailoring? In what ways did he turn the traditional look of the suit on its head?
Bowie was a Mod for a while in the mid-60s but seemed to appreciate good tailoring at an even earlier age: we can see him looking very dandy in his teenage band the Konrads.
Most obviously, Bowie subverted the idea of the suit as a conservative garment through colour. His mustard-colour suit from 1974 for instance -- the one I had in mind with my last suit from King & Allen -- his ice-blue suit from the Life on Mars video, and the canary-yellow suit from the Let's Dance period, are all quite radical departures from traditional black, grey or navy blue. He also enjoyed a more sober but incredibly sharp and well-tailored suit, as on the cover art of Heathen, or his last publicity photos.
What is your favourite Bowie incarnation?
I think he was most exciting and at his best in the early 1970s, but I first loved his music in the early 1980s, so I have a soft spot for Let's Dance. I also really like the Earthling period, when Bowie wore an Alexander McQueen coat styled like a ragged Union flag, with a goatee beard and heavy eyeliner. It's easier to pick the incarnations I like less -- the late 1980s, the Tin Machine look, and his more hippyish styles.
And finally, What is your favourite suit?
I still really like the copy of the Life On Mars suit I had made for live performances, but I have not yet worn my new King & Allen mustard-coloured suit, in tribute to Bowie of 1974, so I am prepared for that to become my new favourite.
Dr Brooker's new book, Why Bowie Matters, will be published on the 14th November. In the meantime, if you're on the hunt for your own iconic look, why not contact us today or request an appointment here.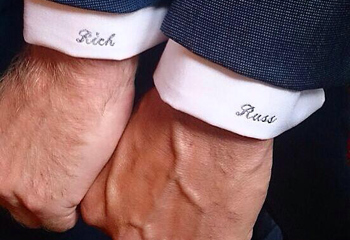 26 May 2022
Planning for your wedding can be a stressful time for some and the day itself often passes in a blur of joy and excitement. That's why it's important to 'stop and smell the roses' during your wedding journey and remember all of the reasons you've chosen to marry the love of your life. After the event itself, there are a plethora of ways you can look back fondly on the day, from the photos, to the video, to the signatures in the guest book. But did you know that your wedding suit can also serve as a reminder of the best day of your life? Read on to find out how...
Weddings
26 May 2022
2022 is a very special year for Pride, as it marks 50 years since the first ever march in 1972. While there were only 700 bravely marching then, this year it is expected there will be over 2 million attendees! Of course, many historical milestones have been achieved since 1972.
Style Tips & Advice
Style History
26 May 2022
Next week, the whole world will be watching as we celebrate 70 years with Queen Elizabeth II on the throne! The Queen has created quite the signature fashion lookbook that deserves its own jubilee. Her style has, quite literally, stood the test of time. Through nine decades, with her vibrant pant-suits and matching hats, stunning heirloom brooches - not to mention the symbolism behind every ensemble - it's no wonder the Queen is our style icon.
Style History