From Bowie to Lennox: The Suits That Rocked
Music and fashion have always been inextricably linked, with many catwalk collections drawing inspiration from rock and pop stars over the years. Here, we take a look at four of our favourite music legends, each with their own signature style, but all of whom really knew how to rock a suit.
David Bowie: from jean genie to master of fashion
Why we love him:
David Bowie was the king of reinvention, changing his style more dramatically than any other musician in history. From teenage mod to long-haired hippie, glam rocker to Eighties power dresser - adopting different personas (Ziggy Stardust, Aladdin Sane, the Thin White Duke) along the way - Bowie used clothes as self-expression. With each new look, he changed what it meant to be a rock star. But it wasn't all psychedelic Kansai Yamamoto catsuits and silk-printed polo-necks. Bowie was a suit master – from traditional, sharp tailoring to parachute pants with loose-fitting jackets in bright colours. Over the years, he worked with a number of designers and, towards the end of his life, was often spotted out wearing formal attire.
One of his most notable collaborations was with his friend designer Freddie Buretti, who made many of the early Ziggy Stardust costumes. But it is the mustard yellow two-piece suit that Bowie wore when he sat for photographer Terry O'Neill in Los Angeles during promotion of his Diamond Dogs tour in 1974 that we adore. As O'Neill recalls, Bowie walked into the studio looking tired and hungover but mesmerising in this vibrant, single-tone suit that perfectly matched his shock of yellow, orange and red hair. The image would become iconic.
Indeed, years later, Phoebe Philo, of fashion house Celine, displayed the photograph at one of her Paris Fashion Shows, citing it as an inspiration for her collection.
Did you know?
Another of Buretti's suits for Bowie, an ice-blue creation that featured in the 1971 video for Life on Mars, was worn by model Kate Moss for a Vogue magazine cover shoot in 2003. But, the elfin model admitted, she had to have the trousers enlarged, so slender was Bowie.
Mick Jagger: satisfaction guaranteed  
Why we love him:
Another rocker with a flamboyant stage presence, Rolling Stones frontman Mick Jagger has effortlessly adopted fashion trends throughout the years, from the outright experimental (sparkling jumpsuits and that Michael Fish frock) to the deliciously dandy (three-piece suits and brocade blazers). Whatever the look, he's pulled it off with aplomb.
Back in the Sixties, when tailored suits were the staple of stuffy businessmen, Jagger made them cool for a younger crowd. Even houndstooth tweed got a new lease of life when he sported a black and white checked suit for an appearance on The Ed Sullivan Show in 1969.
But it was his association with rebel Savile Row tailor Tommy Nutter and partner Edward Sexton that would make the most impact on his sartorial style. Their suits emphasised sex appeal. As Sexton once said: "Savile Row in the Sixties was cutting tired 'semi-drape' business suits. We took all the drape out of our garments, cutting slim chests and hourglass waists, long, sexy jackets with narrow but strong shoulders, and tight trousers with parallel legs that looked like flares. It was all about the shoulders, waist and hips."
Not surprisingly, Jagger turned to the pair to create the taupe three-piece suit for his St Tropez wedding to model Bianca Pérez-Mora Macías in 1971. And, such was their appeal that they even made the bride's matching white YSL smoking jacket-inspired trouser suit for the occasion too.
Did you know?
As with any rock stars worth their salt, a brush with the law is only to be expected and Jagger had his fair share. But he knew that if you are going to get caught with illegal narcotics, at least show up for your mug shot in style. After Jagger's arrest in 1967 for drug use during a party at bandmate Keith Richard's Sussex home, an iconic photograph taken by Richard Hamilton showed the rock star hand-cuffed yet dressed impeccably in a peak-lapelled, green velvet jacket with striped tie. Talk about styling out an awkward situation.
Annie Lennox: angel of androgyny
Why we love her:
In the Eighties, when most female pop stars were wearing tulle skirts and lace gloves, or bodycon frocks and big hair (Madonna, Whitney), one singer-songwriter was blazing her own trail. Eurythmics frontwoman Annie Lennox eschewed the sexy siren look for her own gender-bending brand of beauty and it rocked. With her sharp, tailored suits and flame-coloured cropped hair, she made an indelible mark on both music and fashion. Describing her unique style, Lennox said: "I wanted to create something that was quite edgy and belonged to me. It was saying that appearance is just temporary, and I want to be as strong as a man."
Perhaps her most iconic look was the black tailored suit, white shirt and grey tie she wore for the video for 1983 chart-topper Sweet Dreams.
But pinstripe seems to have been her suit of choice, in shades of grey, black and navy, by designers such as Emporio Armani, Ralph Lauren and Plein Sud. And Lennox was another fan of Edward Sexton, once commenting of the famous Savile Row cutter: "I love working with a master craftsman like Edward. Wearing something that has been made to fit the contours of your body makes you want to stand up tall; your whole posture is enhanced." When it comes to women's tailoring, we couldn't agree more, Annie.
But it wasn't all muted tones and bankers' suits. Lennox has also liked to show her fun side, including donning a full Union Jack suit to collect her lifetime achievement award at the 1999 Brit Awards. She later changed into an equally vivid rainbow suit for the after party.
Did you know?
In 2011, Lennox was awarded an OBE by Queen Elizabeth II for her charitable work and humanitarian efforts in a variety of causes, including HIV/AIDS awareness and human rights. On the big day she surprised everyone by swapping her signature suit for a purple taffeta dress with a flared skirt and matching vintage felt hat. Well, once a Diva…
Jimmy Page: a whole lotta hedonism
Why we love him:
One of the greatest and most influential guitarists of all time, Jimmy Page and Led Zeppelin became the epitome of Seventies rock superstardom and the hedonistic lifestyle that went with it. Not surprisingly, his elaborate stage outfits reflected that vibe. Putting aside his trademark sweater vests and jeans of the Sixties, Page fully embraced the custom-made costume. From his rose-embroidered matador jacket paired with black bell-bottoms to that infamous dragon suit featuring signs of the zodiac, Page used his stage wear to reflect his passion for all things dark and paranormal.
One of his most eye-catching creations  ̶ expressing his fascination with the occult  ̶ was the Egyptian costume, comprising flares and an ivory painted satin and gold cord jacket displaying the Eye of Thoth, which represents the ancient god of writing, magic and learning, considered to be the patron of magicians and sages. Other symbols include a winged disk emblem and Nut, goddess of the sky. All had meaning drawn from Page's interest in the teachings of 20th century British occultist, Aleister Crowley.
Page clearly liked to shock and titillate, for which his fans adored him. And, his style choices certainly left their mark. Who can forget the poppy-embroidered 'heroin suit'?
Did you know?
Even with his wild days behind him, Page's allure has endured. US designer John Varvatos, who specialises in rock-inspired men's fashions, cites Page as a defining influence and even featured him in one of his ad campaigns. Photographed alongside blues artist Gary Clark Jnr, the 69-year-old Page looks every inch the rock legend dressed in a beautifully cut black suit and overcoat. Pure class.
If you're inspired by these music biz style setters and would like help creating a bespoke suit that is tailored exactly to your style, then contact King & Allen and one of our consultants will be delighted to help.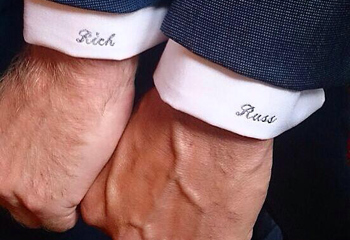 26 May 2022
Planning for your wedding can be a stressful time for some and the day itself often passes in a blur of joy and excitement. That's why it's important to 'stop and smell the roses' during your wedding journey and remember all of the reasons you've chosen to marry the love of your life. After the event itself, there are a plethora of ways you can look back fondly on the day, from the photos, to the video, to the signatures in the guest book. But did you know that your wedding suit can also serve as a reminder of the best day of your life? Read on to find out how...
Weddings
26 May 2022
2022 is a very special year for Pride, as it marks 50 years since the first ever march in 1972. While there were only 700 bravely marching then, this year it is expected there will be over 2 million attendees! Of course, many historical milestones have been achieved since 1972.
Style Tips & Advice
Style History
26 May 2022
Next week, the whole world will be watching as we celebrate 70 years with Queen Elizabeth II on the throne! The Queen has created quite the signature fashion lookbook that deserves its own jubilee. Her style has, quite literally, stood the test of time. Through nine decades, with her vibrant pant-suits and matching hats, stunning heirloom brooches - not to mention the symbolism behind every ensemble - it's no wonder the Queen is our style icon.
Style History