A History of Women's Tailoring: Part One
2019 is set to become the year for women's suits – with everyone from the Duchess of Sussex, to Lady Gaga to Amy Poehler seen out and about in some seriously sharp tailoring. While online searches are up 87% year on year, here at King & Allen we have seen our sales of women's suits triple in the last year.
To celebrate this growing trend, and to coincide with International Women's Day, we've decided to look at the (sometimes) controversial history of women's tailoring. Over the next couple of weeks, we'll be bringing you the definitive King & Allen historical guide to women's tailoring – looking at how this once-unthinkable fashion statement has evolved. We'll then take a look at the current trends and bring you our best tips on how to choose the right suit for you.
For now, step back in time with us for part one as we show you how this modern-day wardrobe staple has reflected the socio-political status of women, from its original incarnation to the defining outfits of the early decades of the 20th century.
The Early Days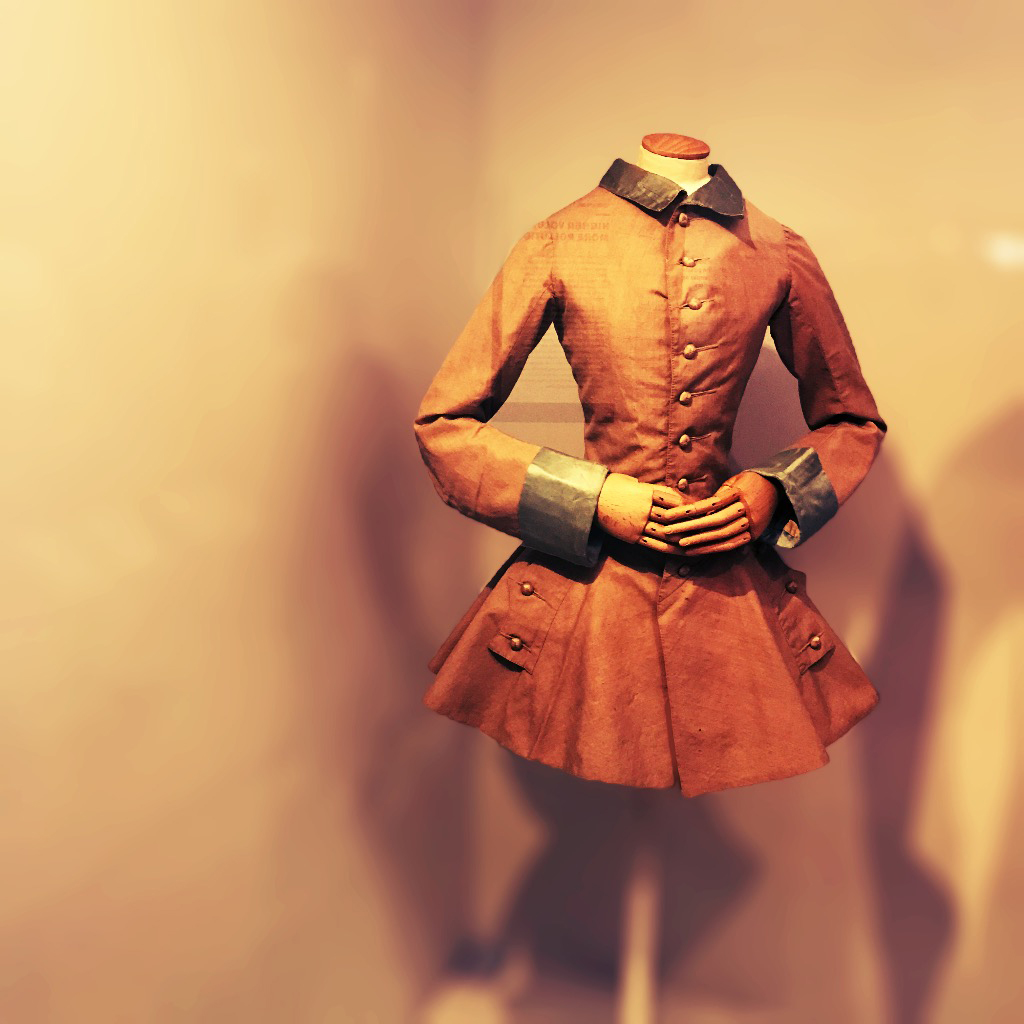 Ladies' 18th Century Riding Habit, courtesy of V&A Museum
Perhaps the earliest example of women's suit tailoring dates back to the 17th century in the form of riding habits, which comprised a fitted jacket and long skirt (with train to ensure legs were fully covered), often worn with a masculine hat. Even in this rather demur design, the prospect of women dressing in anything but the most feminine of ensembles shocked society. Diarist Samuel Pepys wrote in 1666 upon encountering women "dressed in their riding garbs, with coats and doublets and deep skirts, just for all the world like men" that it was "an odd sight, and a sight which did not please me."
Though the style and cut of riding habits changed with time and fashion, they continued to be tailored in a masculine manner throughout the 17th and 18th centuries and into the early-19th century.
With the rise of the women's rights movement  ̶ and, on a more practical level, the popularity of cycling  ̶ in the mid-19th century, came another radical development in women's tailoring. In a backlash against the cumbersome skirts and restrictive corsetry women were required to wear, the bloomer suit was born. Designed by Elizabeth Smith Miller in New York in 1851 and championed by women's rights activist Amelia Bloomer, the suit consisted of long trousers tied at the ankle that were concealed under a skirt, which made riding a bike much easier.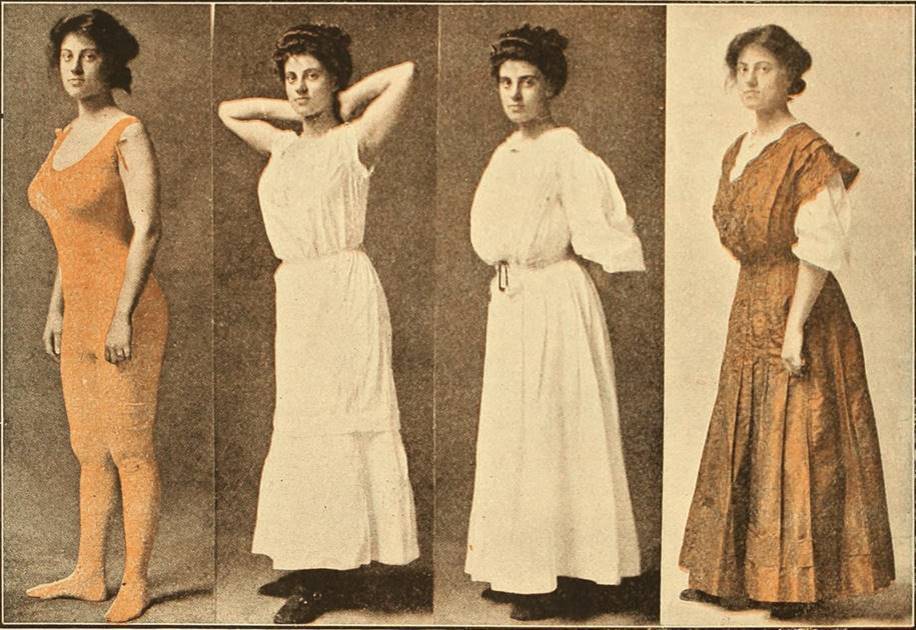 Internet Archive Book Images [No restrictions], via Wikimedia Commons "As to what we can expect to take the place of the skirt, I do not know. Many will,no doubt, suggest bloomers as a substitute, but it seems to me that something more artistic could be recommended" 1908. Physical culture, MacFadden, Bernarr Aldolphus, 1858. Digitised by Smithsonian Libraries.
The genie was well and truly out of the bottle and the Rational Dress movement soon followed, which advocated the need for more healthy and sensible clothing for women. Tweed knickerbocker suits with knee-length breeches, bifurcated skirts and billowing Turkish trousers were hailed by free-thinking, strong women. Needless to say, this caused considerable controversy, with many female cyclists who wore the costume being insulted, pelted by rocks and attacked in traffic.
But it was the 20th century that would have the most defining force on women's tailoring. Here, we break down the past 100 years by decade, highlighting how events at the time influenced suit styling and the people who epitomised the look.
the 1910s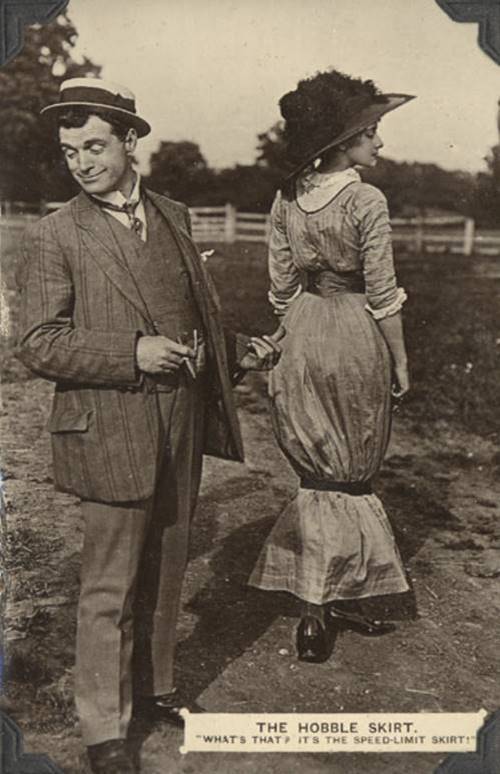 A postcard (circa 1911) depicting a man and a women dressed in the fashion of the era. Woman wears a hobble skirt, man points to her with his thumb. Caption: The Hobble Skirt "What's that? It's the speed-limit skirt!" (Caption makes joke in reference to the fact that such skirts prevented rapid walking.) https://commons.wikimedia.org/wiki/File:HobbleSkirtPostcard.jpg
At the beginning of the 20th century, women's dissatisfaction in their social status once again played a key role in the progression of tailoring. In a direct denunciation of French designer Paul Poiret's fashionable hobble skirt (featuring a hem so tight at the ankles that it was almost impossible for women to take unrestricted steps), the American Ladies' Tailors' Association created the 'suffragette suit'. Along with a blouse and jacket, the suit had an ankle-length divided skirt that allowed the wearer to take long strides, providing emancipation on two levels. Not surprisingly, those who championed the look were publicly derided for it, targeted in the media for their 'spinsterish masculinity', which only fuelled paranoia about the perceived dangers of gender equality.
With the outbreak of the First World War, tailoring became more practical. Day suits (also referred to as walking suits), featuring long skirts and loose, belted jackets, defined the look of women joining the workforce.
Suiting Style
From long, fitted coats with narrow sleeves to looser, more practical two-piece suits.
Icon of the Era
Model Denise Poiret, wife and muse of designer Paul Poiret. Poiret used her slender figure as the basis for his radically simplified constructions.
The 1920s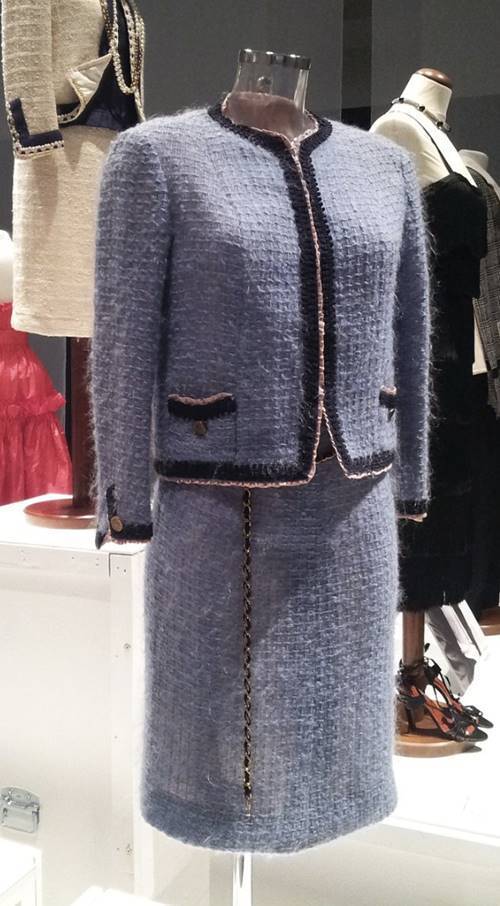 Classic Chanel suit in purple mohair tweed. c.1965 - Mabalu [CC BY-SA 4.0 (https://creativecommons.org/licenses/by-sa/4.0)], from Wikimedia Commons
The post-war years were a time of major social progress, with women earning the right to vote and entering the workforce in even greater numbers. Social customs were relaxed and clothing soon became more flexible, practical and masculine.
Designer Coco Chanel led the trend. Corsets were ditched in favour of a flatter bust and streamlined silhouette. In 1925, she brought casual chic to women's tailoring with the introduction of her cardigan-style jackets. The menswear-inspired look put comfort first, using wool and dispensing with the fussy details of yesteryear. Her frill-free designs in navy and black were an instant hit with women keen to keep their newfound freedom. "I gave them real arms, real legs, movements that were authentic and the possibility to laugh and eat without, necessarily, having to faint," she said.  
Chanel suit in cream wool tweed with black silk blouse, 1965-69. Mabalu [CC BY-SA 4.0 (https://creativecommons.org/licenses/by-sa/4.0)], from Wikimedia Commons
Suiting Style
Tailored suits featured the straight, curveless cut, with skirts rising to the knee. The waist completely disappeared and belts were worn around the hips.
Icon of the Era
Silent movie star Greta Garbo, known as the 'Art Deco Diva' for her penchant for high-collared shirts, cloche hats and dramatic belted coats.
The 1930s
By the 1930s, a third of women in Britain worked outside the home, reinforcing the need for more practical clothing and driving the next revolution in women's tailoring. Following Chanel's lead, French designer Marcel Rochas took suits to another level when, in 1932, he created the first suit for women with trousers, instead of a skirt. The grey flannel two-piece featured wide-leg slacks and a jacket with exaggerated padded shoulders, another innovation of his that would characterise the fashions of the decade. The idea of trousers as street wear (until now, appropriate only for recreation and very informal situations) was a major breakthrough in women's tailoring and one that would have enduring appeal. Trouser suits were here to stay, becoming a working woman's staple in almost every decade since - Hilary Clinton wore them exclusively during her 2016 presidential campaign.
Suiting Style
Wide-leg trousers with a front crease and high, fitted waist in wool or a durable cotton fabric like twill. The double-button 'sailor' front was also popular. Tailored jackets with padded shoulders and nipped-in waists dominated.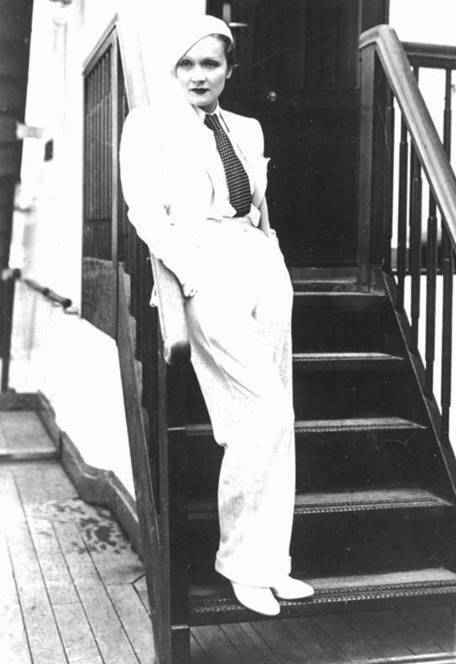 Marlene Dietrich, May 1933, Germany - Bundesarchiv, Bild 102-14627 / CC-BY-SA 3.0 [CC BY-SA 3.0 de (https://creativecommons.org/licenses/by-sa/3.0/de/deed.en)]
Icon of the Era
Hollywood star Marlene Dietrich, a pioneer of androgynous style, who often wore men's driving outfits and tuxedos in public.
See Part Two in our History of Women's Tailoring, here! 
If you'd like to find out more about women's tailoring with King & Allen, please see our website or contact us for more information.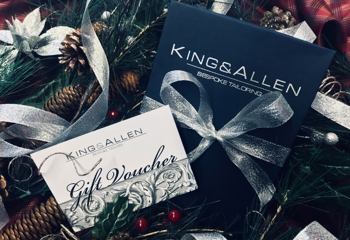 22 November 2021
With Christmas fast approaching, take a look at our gift recommendations for the suit-lover in your life. From vouchers, to pocket squares, to cufflinks, you need look no further for the perfect Christmas present!
Style Tips & Advice
King & Allen News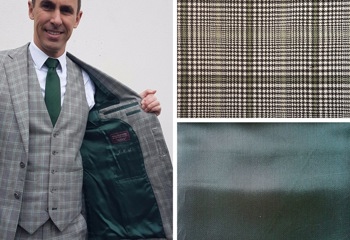 11 October 2021
The lining of the suit is often overlooked but, at King & Allen, this is often one of the most fun moments for our customers. 'The lining choice is a chance for you to show some flair,' says Jake Allen, 'even if your suit is quite plain, the lining can really liven it up and show off your individuality.' We've outlined some cloth and lining pairings below, to give you some inspiration for your next suit!
Style Tips & Advice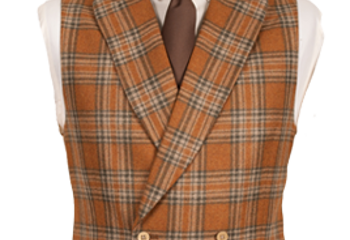 11 October 2021
Now the seasons have turned and autumn is in full swing, it's time to delve a little deeper into the upcoming trends of the next few months. Our linens and cottons are safely packed away and it's now the perfect opportunity to look at what additions we can add to the wardrobe to get us through the cold winter months.
Style Tips & Advice