A History of Women's Tailoring: Part Three
As we continue our celebration of women's tailoring this month, we move on from how suits evolved through history to what's hot now.
The last year has certainly given us much to consider, with trouser suits all the rage. While everyone from Lady Gaga and Blake Lively dressed to impress on the red carpet, Meghan Markle, Duchess of Sussex, smashed royal protocol and championed the look on a number of official engagements.
The styles were as varied as the celebs who wore them, from skinny and cropped to eighties-inspired oversized shoulders; block brights to understated neutrals. It's a trend that has got us all eagerly following, with 4,000 searches for Ralph Lauren suits were made after Blake Lively wore a cream striped double-breasted two-piece to promote her new film, according to global fashion search platform Lyst. So, here's our guide to creating that perfect sharp suit, with some inspiration from the stars who rocked the look this year.
Why women's tailoring?
With the hype for women's suits at an all-time high (even Chanel has swapped its classic skirt suits for trousers in its latest advertising campaign), there's no better time to get hold of a super-sexy two-piece. Here's what you need to know to get you started.
How does women's tailoring differ from men's?
Put simply, women have curves that need to be accommodated and the variations in measurements (chest, waist, hips, shoulders, etc.) between one woman and the next can be numerous. As a result, the cut of a women's suit is more complex than that of men, requiring extra fitting to ensure that all elements perfectly fit the woman's body. Women's suits come in a wider range of styles, too; for example, trousers can be cropped or tapered, jackets made boxy or short.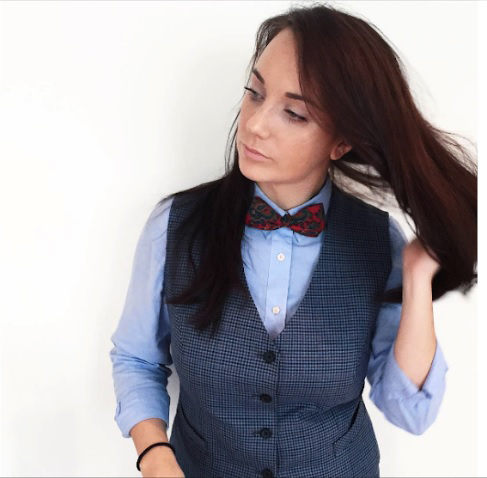 Why are off-the-peg suits harder to get right for women?
Because there is no such thing as a standard size woman, it is impossible to find a suit that perfectly fits every wearer. For example, two women who generally take a dress size 10 may have wildly different body shapes; one could have a larger chest and slim hips, while another has a smaller chest and wider hips. Compromises will have to be made on the fit. For example, do you settle for trousers that are too loose on the hip to get a jacket that doesn't burst at the chest seams? It means that choice is limited when you buy off the peg. The only way to guarantee a perfect fit and the exact style you want is to go bespoke.
Suiting trends and style icons
So, you know about the importance of fit, but if you're still not sure what look you're after, why not take inspiration from the celebrities who showcased the latest trends in women's tailoring this year? Here are our top five.
Bigger is Better
Oversized suits may not be for everyone, but if you want to stand out from the crowd, this eighties throwback is just the ticket. With larger-than-life tailoring, it's the ultimate power suit. Channel your inner-Gaga, who wowed in a billowing grey Marc Jacobs ensemble at ELLE's annual Women in Hollywood event back in October. The pop diva, as always, made quite an impression and the following day online searches for oversized suits increased by 60%. If you're not ready for the full look, give it a nod by opting for a jacket with wide padded shoulders and you'll still be on trend.
Back to Black
Did it ever really go away? Probably the most enduring trend, a classic black suit is a timeless two-piece that does the business at work while easily transforming into evening wear. Meghan Markle delighted fashionistas everywhere when she chose a slim-fitting black Alexander McQueen suit with elegantly cropped trousers over the customary cocktail dress to attend an awards ceremony with Prince Harry. Follow her lead and pair with a simple white silk shirt and killer heels and you've got a look to rival any little black dress.
Be Bold
One celebrity took the trouser suit sensation and really ran with it this year. Actress Blake Lively was spotted donning a tailored two-piece no fewer than 19 times in less than two months. And, she wasn't afraid to be bold, both in colour and pattern; running the gauntlet from block neon green to blue and purple chunky check. If you fancy a slightly more subtle, but equally stylish, take on the look, why not have a suit made in one of Holland & Sherry's Ladieswear collection of colourful fabrics (we love the lime and pink poucle mix)? Give the look a more laid-back feel by toning down the pattern with some neutral trainers.
Muted Elegance
If neutrals are more your colour palette of choice, take a leaf out of Victoria Beckham's always uber-stylish book and go for camel. Whether she wore a masculine blazer paired with black skinny slacks or opted for the complete camel suit (long jacket, wide leg), there was nothing beige about Mrs B, who brought this classic shade bang up to date.  
Take a Tip From the Boys
Put a modern spin on traditional masculine tailoring by adapting it to the female form. Think double-breasted blazer with high-waisted wide slacks in classic Prince of Wales check. Or, take it a step further and go full-on formal, à la model Cara Delevigne, whose top hat and tapered tux set her apart from all the frilly frocks and fascinators at the wedding of Princess Eugenie. Soften the sartorial look with a silk blouse and sexy heels.
How to customise your bespoke suit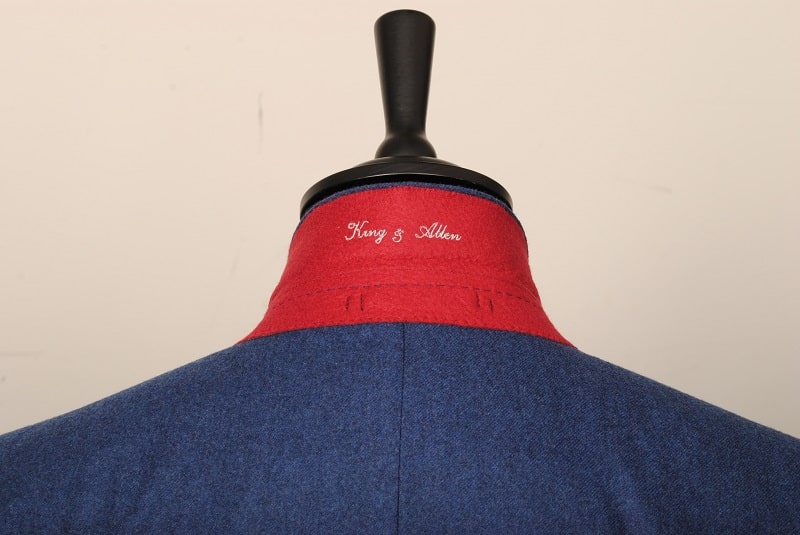 One of the main advantages of opting for a bespoke suit is that it allows the finer details to really shine through  ̶ the cuffs, the shape of the collar ̶ and gives the wearer the basis for so much more customisation. The end result is an investment piece that not only fits you to perfection, but also truly reflects your personality. King & Allen tailoring consultant Karl shares his tips for creating the ultimate sharp suit, whatever your shape or sense of style.
Not sure where to start and finding the choice overwhelming?
Bring in photos of any suits you like the look of, men's or women's, and that can help your tailoring consultant to understand your needs.
Want a suit that's comfortable and flatters your figure?
When choosing your suit cloth, go for something slightly elasticated, such as Holland & Sherry's Sherry Stretch or their Dakota collection. The extra give is particularly flattering for the slim-fitting styles, which are popular with women customers.
Looking for something to accentuate your waist and bust?
Why not go for a three-piece suit with a waistcoat? With the perfect fitting around the bust and hips, it almost looks like a corset, which really enhances the hourglass figure.
Need something to elongate your legs?
Try opting for a long, straight trouser leg.
…Or your arms?
A cropped jacket with long sleeves shortens the torso and gives the illusion of longer arms.
Want to make a feature of your silk shirt?
Your suit jacket sleeves can be designed and cut to show your shirt cuffs peeking through.
Want to add some personality to your business suit?
Go for a patterned silk lining for a fun flash of colour.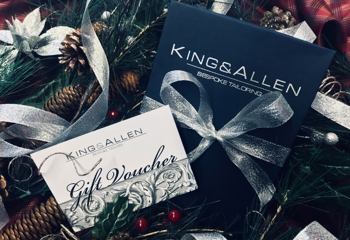 22 November 2021
With Christmas fast approaching, take a look at our gift recommendations for the suit-lover in your life. From vouchers, to pocket squares, to cufflinks, you need look no further for the perfect Christmas present!
Style Tips & Advice
King & Allen News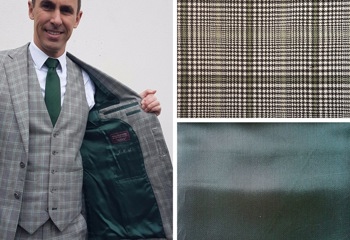 11 October 2021
The lining of the suit is often overlooked but, at King & Allen, this is often one of the most fun moments for our customers. 'The lining choice is a chance for you to show some flair,' says Jake Allen, 'even if your suit is quite plain, the lining can really liven it up and show off your individuality.' We've outlined some cloth and lining pairings below, to give you some inspiration for your next suit!
Style Tips & Advice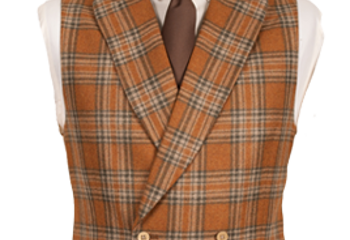 11 October 2021
Now the seasons have turned and autumn is in full swing, it's time to delve a little deeper into the upcoming trends of the next few months. Our linens and cottons are safely packed away and it's now the perfect opportunity to look at what additions we can add to the wardrobe to get us through the cold winter months.
Style Tips & Advice