Ditch The Dress
On the 29th March 2014, the UK saw its first same-sex marriages take place. It was a landmark moment in the history of LGBTQ+ rights and the weddings themselves were a testament to love in all its forms. Five years on from this historical milestone, we look at how the wedding industry has changed and how we, at King & Allen have seen our business grow in exciting and unexpected ways, particularly in our provision of bridal suits for women.
"Before the Marriage (Same Sex Couples) Act was passed in 2014, many LGBTQ+ people believed they would never have a wedding day, so being able to legally marry is a profound milestone in their lives and relationships," says King & Allen co-founder, Jake Allen. "The wedding industry has traditionally centred on the motif of heterosexual couples; with the man in a suit and the woman in a bridal dress. But, since this legislation, LGBTQ+ couples are not only celebrating the fact that they can have their love and commitment enshrined in law – they're also enjoying all the fun and creativity that comes with planning a wedding. And fashion is often at the heart of this."
Indeed, since the law was passed, we have seen our business change in a fundamental way and have become the market-leaders in providing bridal suits for LGBTQ+ weddings. We are seeing a massive increase in the demand for women's tailoring and the wedding market makes up a huge proportion of these sales. Indeed, many of our lesbian clients tell us that the idea of wearing a wedding dress makes them feel genuinely uncomfortable. The rise of women's tailoring and the possibilities for customisation, opens up a new world of wedding day possibilities for these clients. And it's not just King & Allen that are seeing this upward trend, Pinterest recently reported that suits were set to be one of the biggest bridalwear trends of 2019.
"I believe that the chance to customise your wedding day and express your individual flair should be open to all.' Says Jake. "We've created thousands of suits for women over the years, so we know how important it is to create a suit that fits perfectly. Women don't want to feel like they're getting a man's suit that's simply been adapted. We firmly believe that bespoke tailoring is the ultimate equaliser in the fashion world. We aren't interested in making assumptions so, when a client comes to see us, we are simply led by their story and their style."
Our Style Tips For Bridal Suits
It's All About You
We want to get to know your unique style and any special inspirations or concepts. If you're working with particular colour themes for the day, then please do bring along any colour palettes and we can advise on complementary hues. If your partner is planning to wear a dress then we'll take that into consideration, too. Don't be shy about bringing photos and magazine clippings and Pinterest boards. It helps us build a picture of what you're visualising.
A Unique View
There's no such thing as a typical wedding anymore, so why should your suit be conventional? There are all sorts of customisation tricks we can work into a suit, from choosing the type of lapel to personalised embroidery – a lot of customers have their names or wedding date sewn into their jacket – or an unexpected lining.
It Takes Two
There's no reason why you and your partner shouldn't both "suit up" for your celebrations if that's what takes your fancy – particularly if either bride doesn't feel naturally comfortable in a dress. Match them up exactly, contrast them deliberately or experiment with reciprocal shades or matching elements – such as the waistcoat or accessories. The combinations are only limited by your imagination. Ditch the dress and find your fit!
If you'd like to find out more about our bridal suits, please get in contact with us today or book an appointment below.
Request A Fitting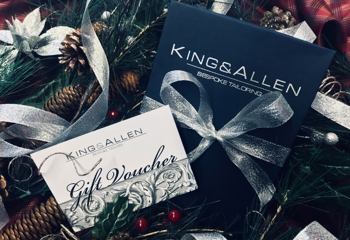 22 November 2021
With Christmas fast approaching, take a look at our gift recommendations for the suit-lover in your life. From vouchers, to pocket squares, to cufflinks, you need look no further for the perfect Christmas present!
Style Tips & Advice
King & Allen News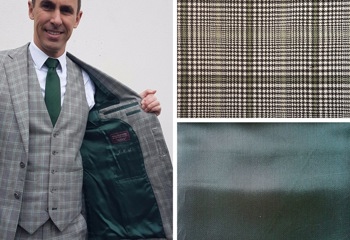 11 October 2021
The lining of the suit is often overlooked but, at King & Allen, this is often one of the most fun moments for our customers. 'The lining choice is a chance for you to show some flair,' says Jake Allen, 'even if your suit is quite plain, the lining can really liven it up and show off your individuality.' We've outlined some cloth and lining pairings below, to give you some inspiration for your next suit!
Style Tips & Advice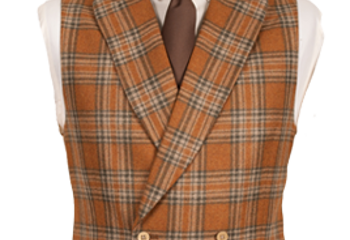 11 October 2021
Now the seasons have turned and autumn is in full swing, it's time to delve a little deeper into the upcoming trends of the next few months. Our linens and cottons are safely packed away and it's now the perfect opportunity to look at what additions we can add to the wardrobe to get us through the cold winter months.
Style Tips & Advice