How to Plan Your Suit Around Your Wedding Theme Colours
Choosing your wedding theme colours is a big part of the planning process. Once you've done that, all other stylistic decisions can be a breeze - from the bridesmaids' dresses and flowers to the décor and, of course, your suit.
Indeed, incorporating your wedding colours into your suit really personalises the whole occasion and gives you the perfect memento of your special day. Here are our top tips for working colour themes into your bespoke suit – from subtle accents to the downright daring – along with some the most popular colour choices for weddings.
Customisation Options
If you're going for bright and bold colours, like pinks or yellows, it's unlikely you'll want your suit cloth to match. Instead, the most effective way to bring out your wedding colours in your suit is through our various customisation options.
A Distinctive Lining.
Perfect for those who want to keep their look mainly traditional but have the option to flash a bit of colour when they choose. We have an extensive collection of lining fabrics in every colour and pattern combination, so you can really let your personality shine through.
Buttons and Visible Stitching (buttonholes and lapel)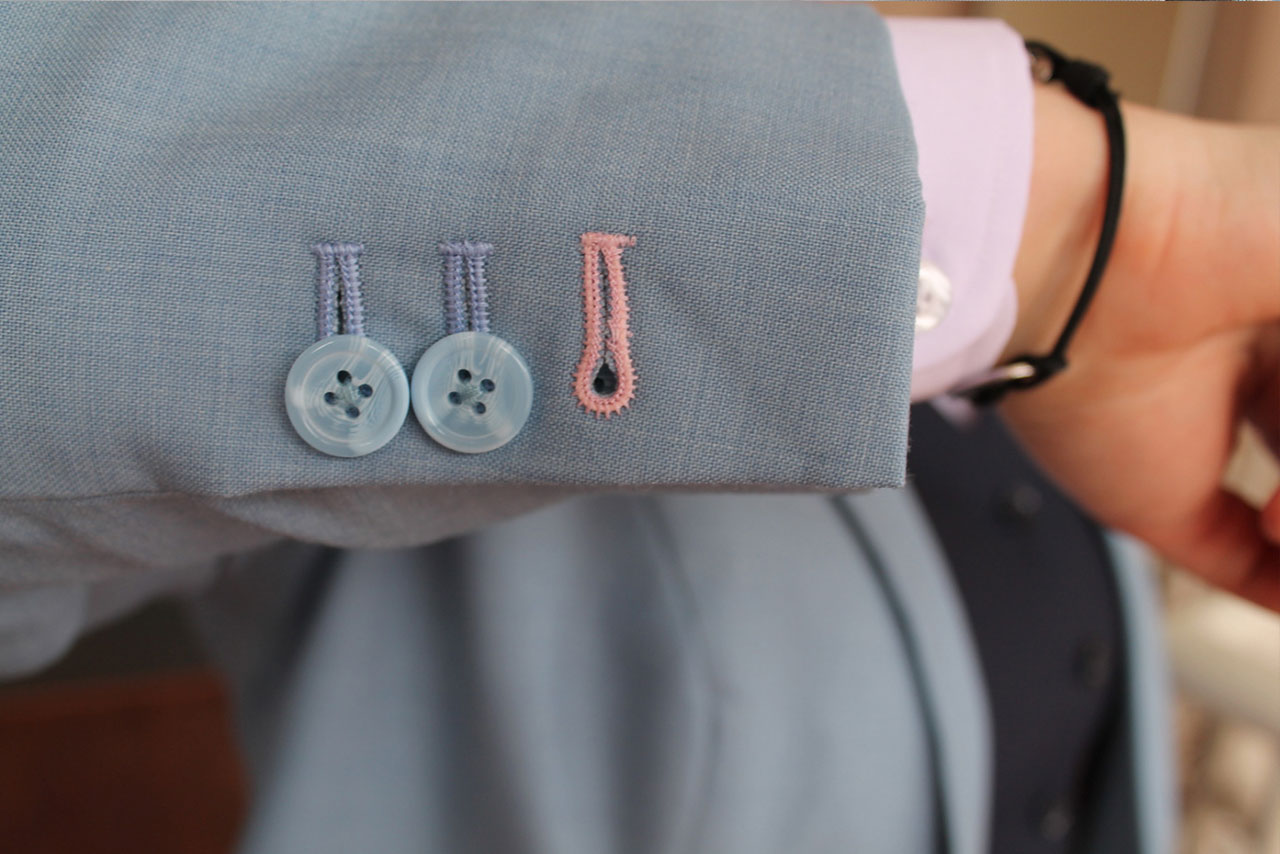 While these elements of a bespoke suit usually match the fabric, a wedding provides the perfect opportunity to opt for them in a contrasting colour that ties in with the rest of the wedding party.
Embroidery.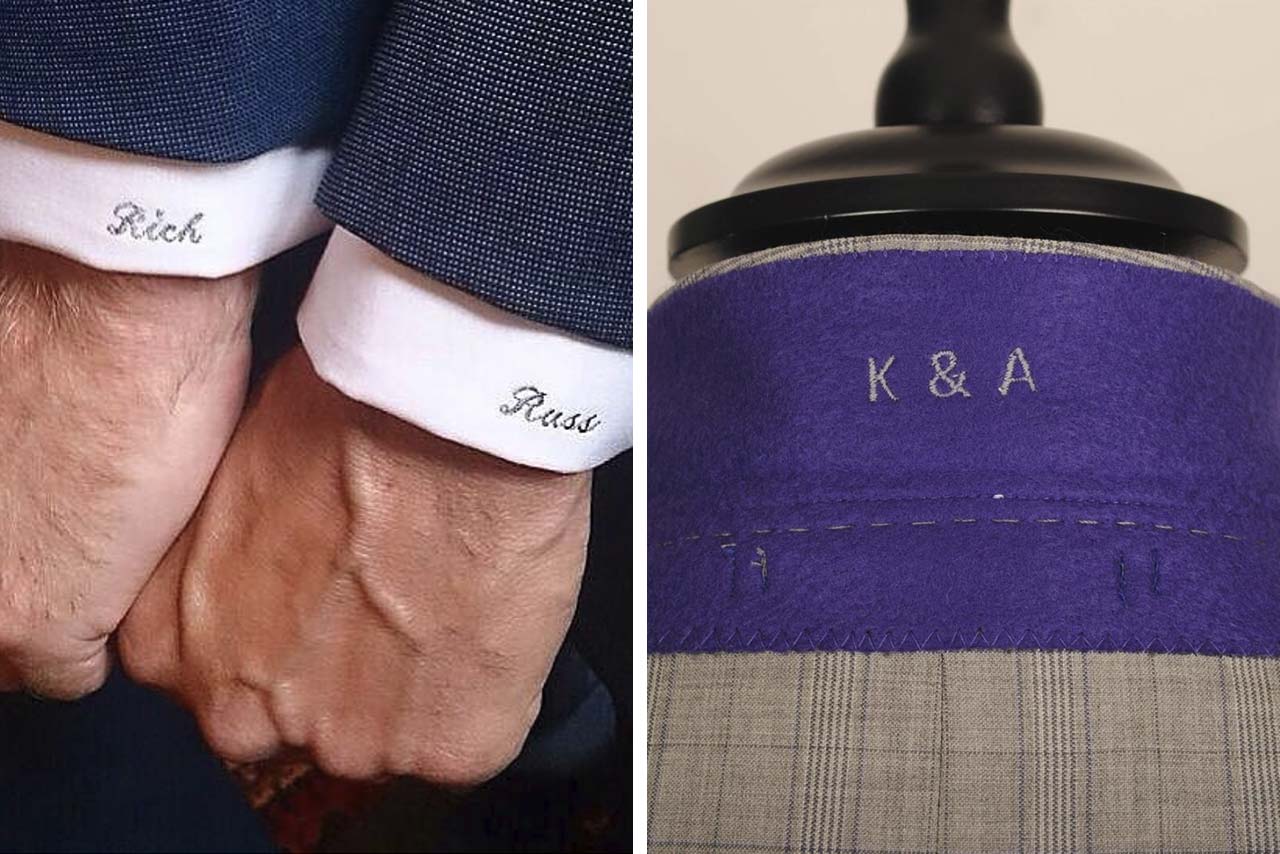 Rather keep this between the two of you? Why not have a meaningful phrase or the date of your wedding embroidered inside your jacket or on the melton (fabric that lines the collar to add stiffness) in a thread to match your wedding colour? If you'd like to be just a little more daring, you could always customise your shirt cuffs.
Added Extras.
Ties and pocket squares are the obvious way to highlight your wedding colours. Or why not take it up a level and have a contrast waistcoat made? The three-piece suit is a popular wedding choice and couples can opt for a traditional complementary colour to match their suit, or go for something really bold like a statement check or pattern. A great way to distinguish yourself from the rest of the wedding party.
Colour combos
Now you know your options, here's our take on this year's top wedding colours and how to wear them on your big day. With all, however, it's important to consider the time of year or destination of your wedding, as this will inform the weight and breathability of the suit fabric you choose. And, don't forget to bring a swatch of your wedding colour/s to your first appointment so your consultant can guide you on how best to show them off.
Mint, Emeralds and Sage Greens.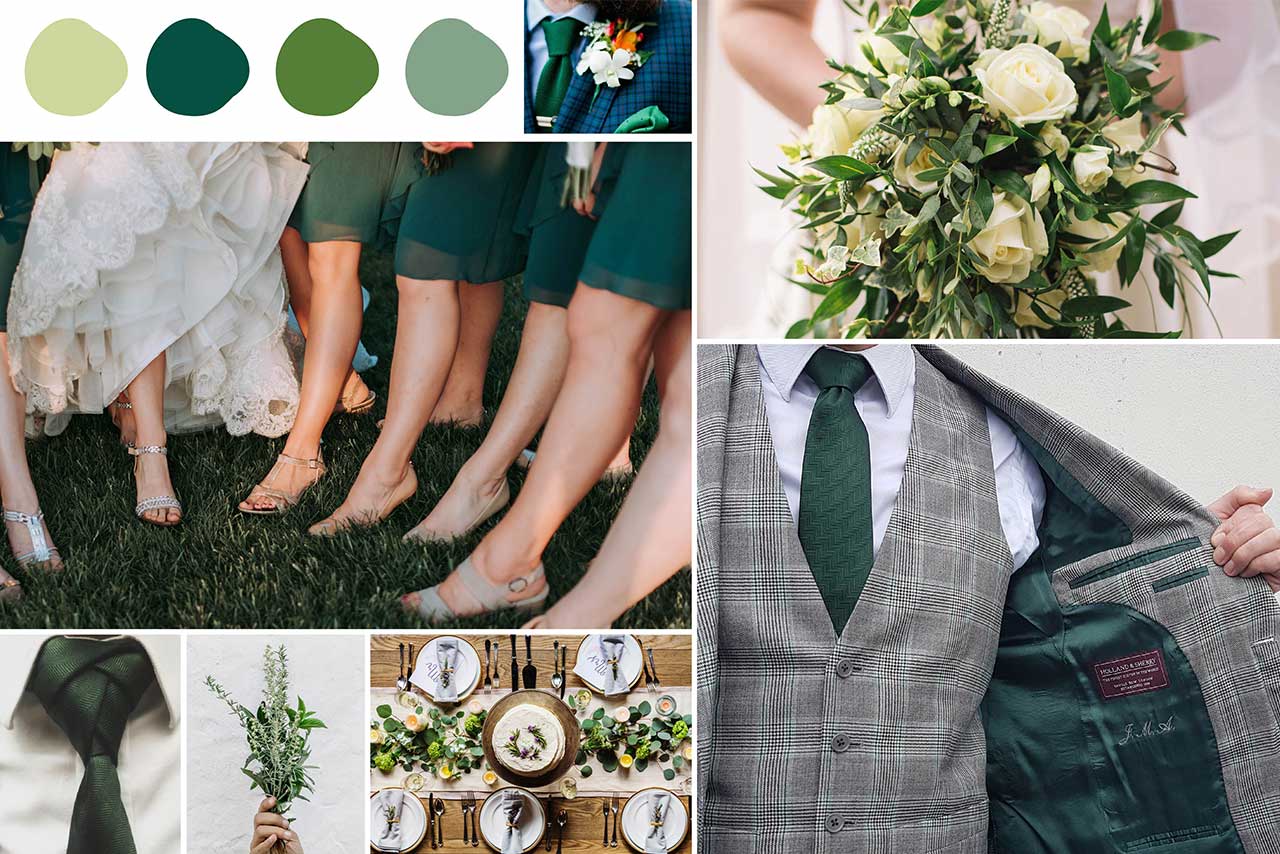 Green was big in 2018 (think Meghan Markle's fresh florals against all white) and it looks set to remain a firm favourite this year. From soft sage to rich emerald, these forest hues are perfect for channelling a vintage country wedding or festive season celebration.
Linings to match:
Our house linings include a wide range of greens, from pale apple to deep fern. For autumn weddings, Holland & Sherry's bottle green is especially effective in creating a woodland mood.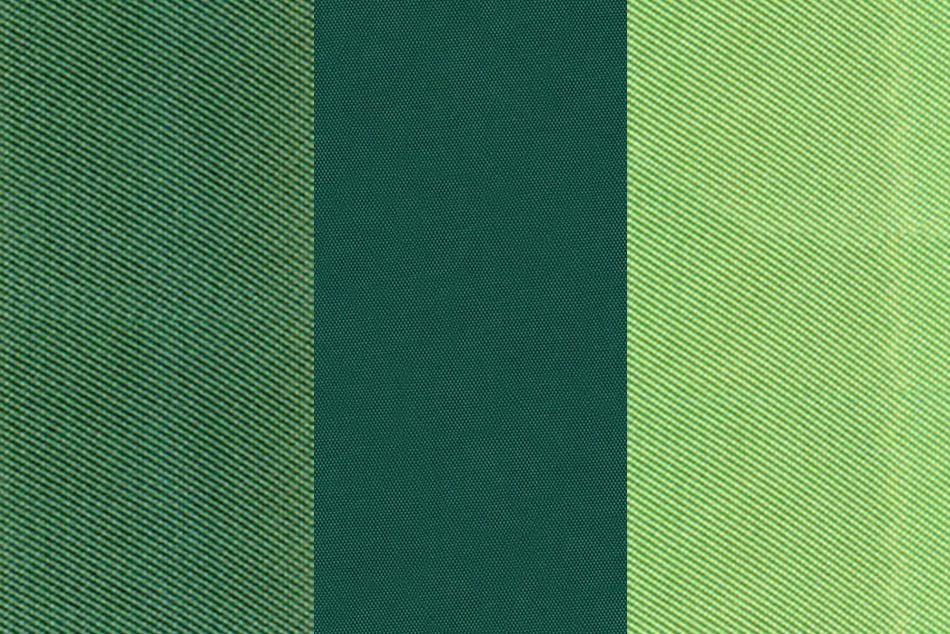 Looks good with these suit fabrics:
Softer greens work well in summer with beige linen, while for a winter wedding, you could be really bold and have the suit made in emerald green wool or even velvet. After all, if you can't stand out on your wedding day, when can you?
Shades of Plum, Purple and Lilac.
Here's a colour that never goes out of style. Whether you opt for a single shade or mix it up with various tones from palest lilac to deep plum, purple works well in any nuptial setting or season.
Linings to match:
Holland & Sherry's palette of purple linings runs the gauntlet from pastel lilac to darkly decadent petunia, so you're guaranteed to find the exact shade to complement your particular wedding colour.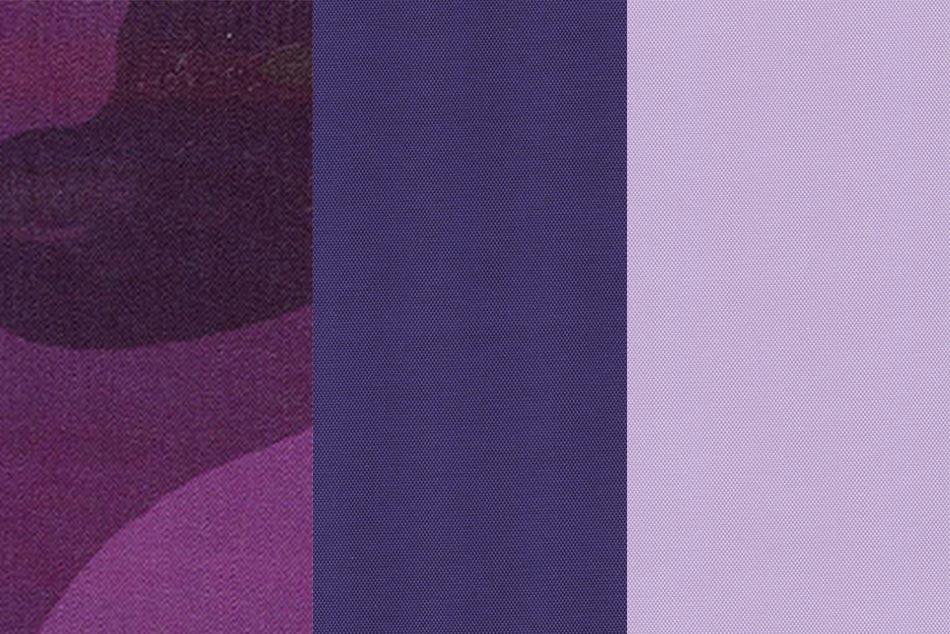 Looks good with these suit fabrics:
Pastel shades work well with pale grey cloths, while darker tones make an elegant accent to charcoal or black. Or, if you're feeling a bit more daring, go for the whole suit in purple, just be sure to opt for a deeper shade.
Pastel Pinks, Blush and Coral.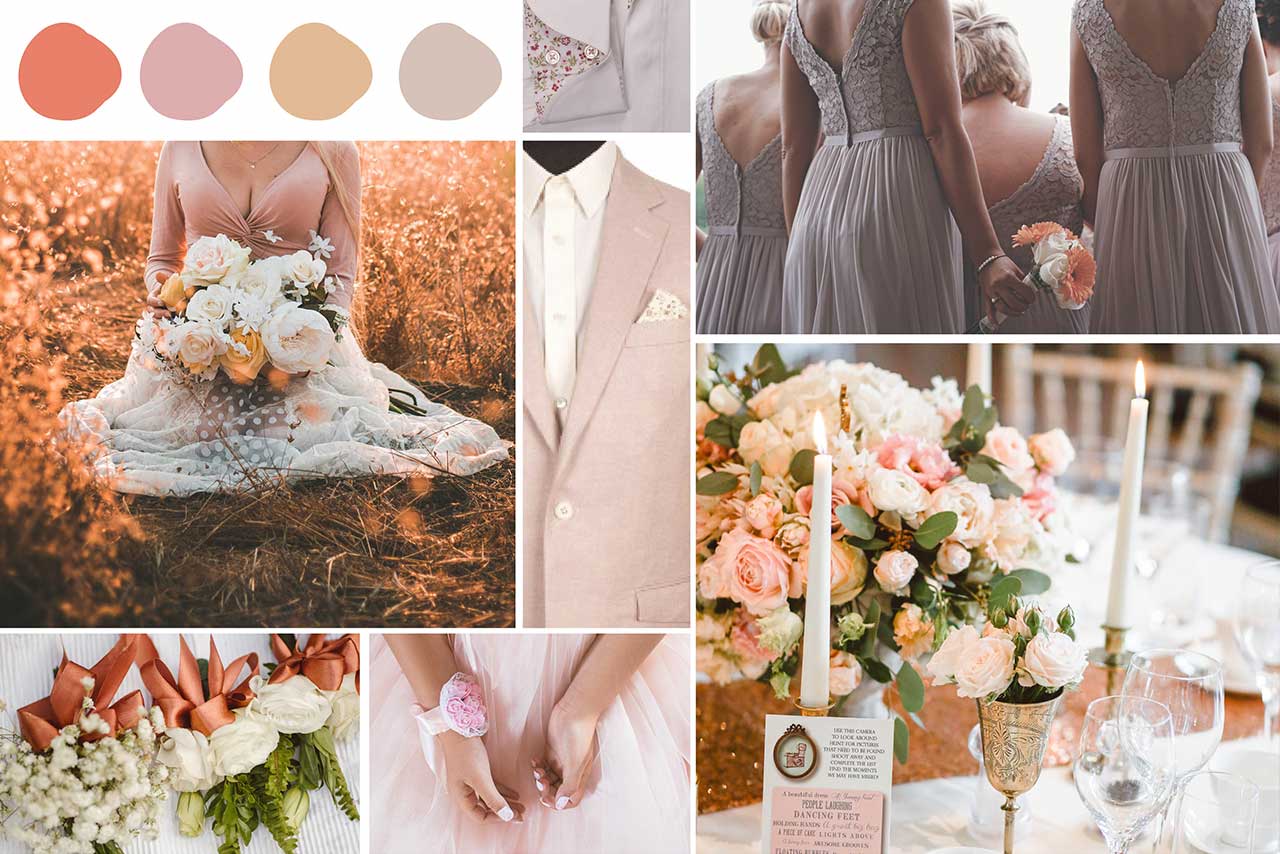 Another colour palette that works for all seasons. The muted tones of dusty rose and palest blush provide a traditional elegance to your big day. But, if you want to be bang on trend, coral is the new pink for 2019. Pantone's colour of the year, this pinky-orange hue is perfect for incorporating into a sunny summer wedding or nuptials on the beach.
Linings to match:
Choose from our wide selection of pink house linings; perhaps go for solid salmon, or mix it up with a soft pink patterned cloth? If you're looking for that quintessential dusty rose, Holland & Sherry's pink lining fabric hits the spot.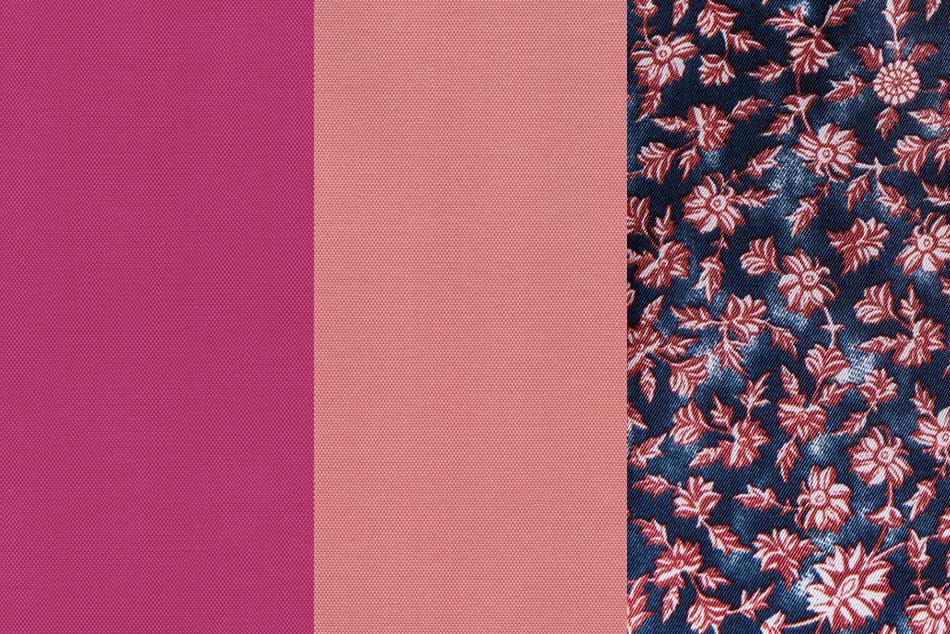 Looks good with these suit fabrics:
Light grey works well in summer, while charcoal favours a winter setting. For an autumn affair, why not eschew the traditional wedding suit cloths and opt for brown tweed? It matches perfectly with dusty rose. Or, to really make a statement, go for full pastel pink.
Neutrals, Champagne, Cream and Ivory.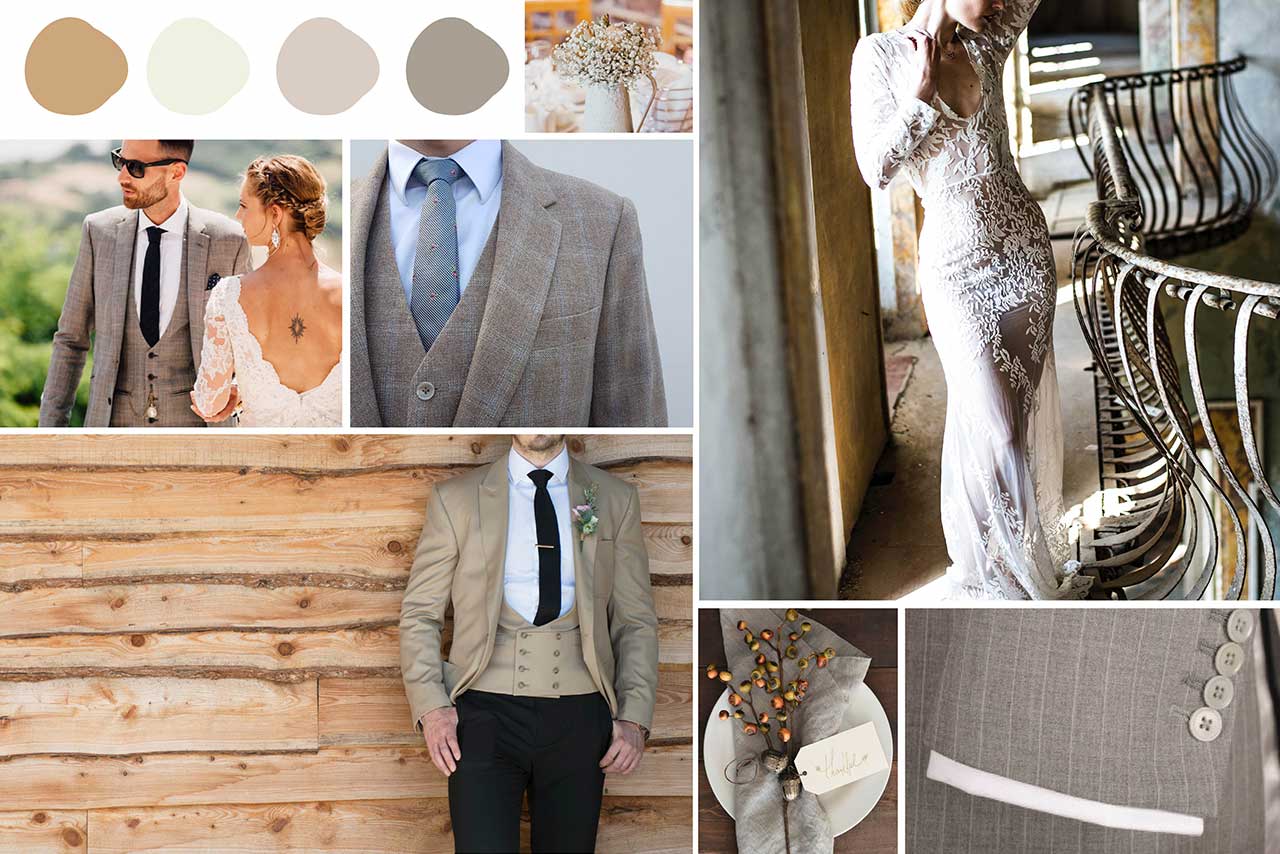 Classic and timeless. The combination of creamy ivory and pale gold Champagne never goes out of style. Natural and unfussy, neutrals can fit the mould of any wedding style and lend themselves to a wealth of different textures.
Linings to match:
Go classic with Holland & Sherry's ivory lining, or why not have a bit of fun with a patterned twill? Ask your consultant to see our selection of fancy printed lining cloths.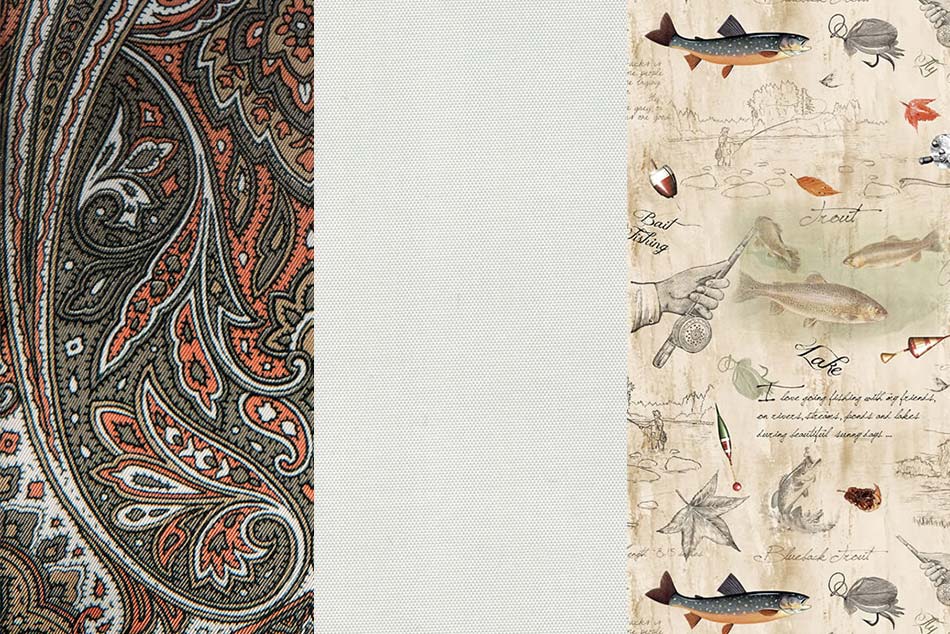 Looks good with these suit fabrics:
Contrasts tastefully with dark greys and black, but also works particularly well with brown tweed.
Dusty Blue, Teal and Aqua.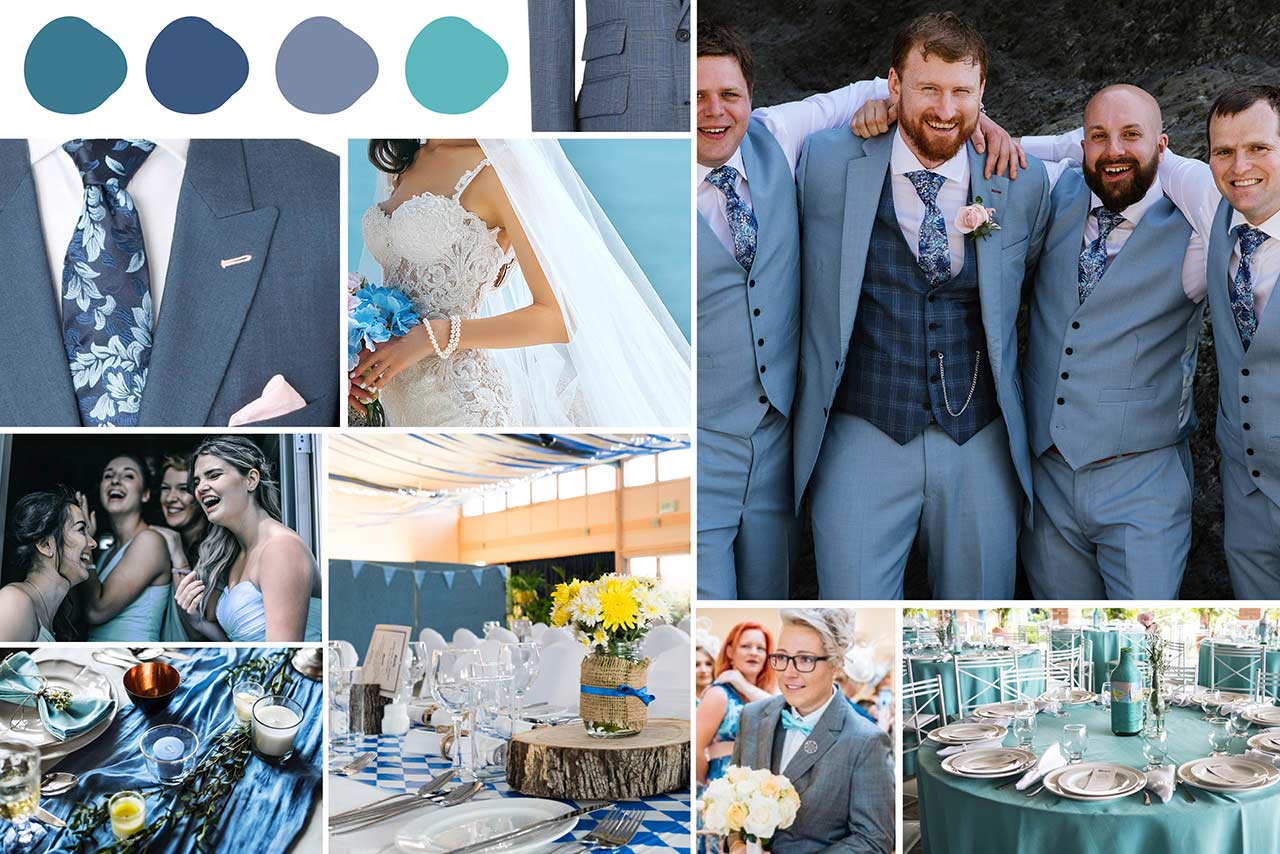 Not a traditional wedding colour but certainly on the rise in popularity, dusty blue adds a touch of sophistication and works particularly well with navy. For something more tropical, shades of teal and aqua will give your wedding theme a sense of the exotic. Ideal for those who'd like to incorporate their love of travel into the day.
Linings to match:
Holland & Sherry's teal adds block brightness to any suit. Alternatively, why not mix it up with a textured twill or a pattern such as paisley?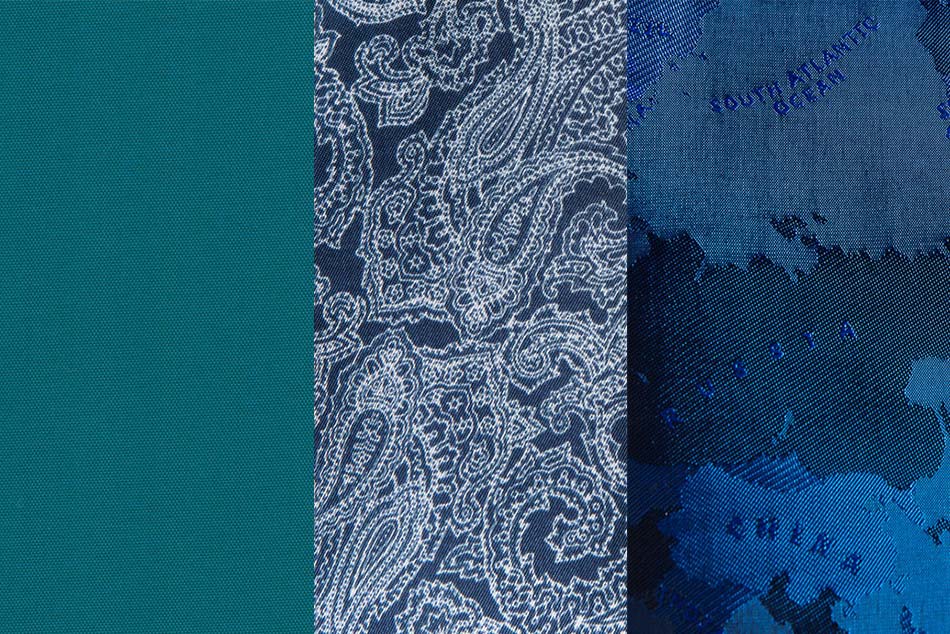 Looks good with these suit fabrics:
Navy, pale grey, or, for something more striking, choose a fabric in air force blue.
Red, Wine and Burgundy.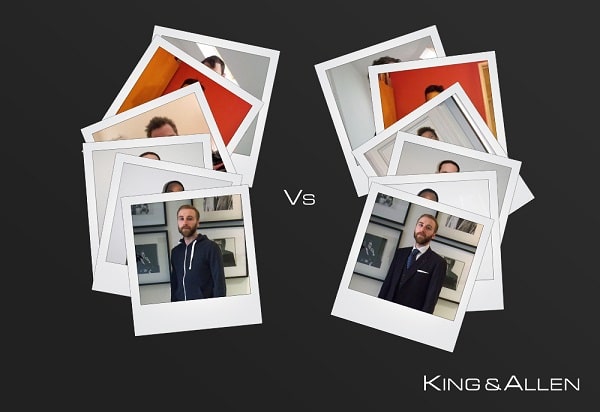 These rich hues particularly lend themselves to autumn and winter weddings, not least those around the festive season. The options are endless, from flouncy florals to decadent textured fabrics, like velvet or jacquard.
Linings to match:
For that perfect Valentine's scarlet, check out Holland & Sherry's red, or for something deeper and warmer, their burgundy lining adds a sumptuous wine-rich accent to your wedding suit. Feeling a bit more playful? Choose a textured or patterned lining fabric in berry hues.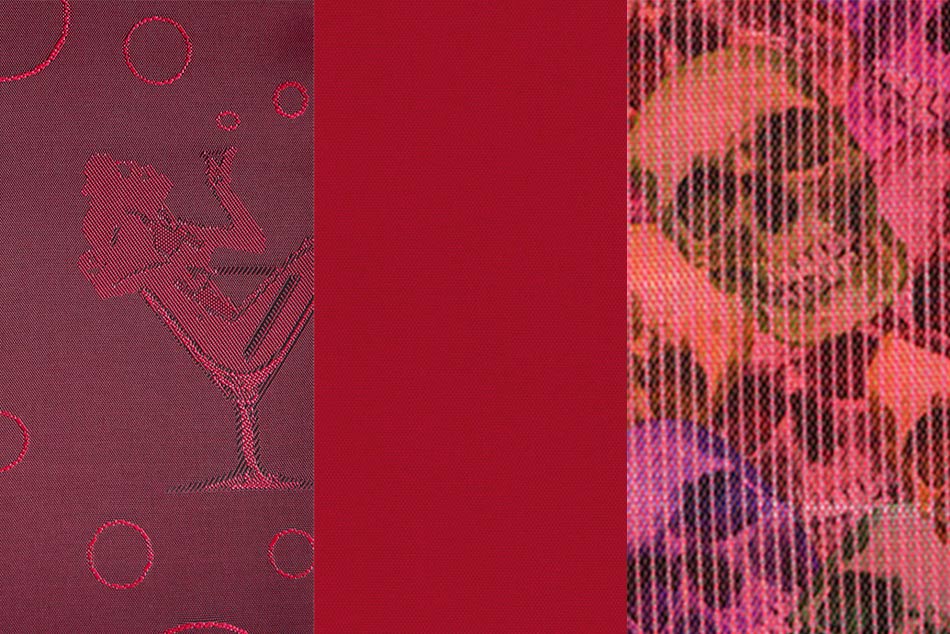 Looks good with these suit fabrics:
Pairs effortlessly with all greys, from palest dove to dark charcoal. These tones also contrast elegantly with navy. And, for something really regal, why not go all-out with a suit made in burgundy wool or velvet?

Whether you opt for one of these pretty palettes, or something entirely different, our consultants at King & Allen will ensure your chosen wedding colours are effortlessly incorporated into your suit. To find out more, please make an appointment to discuss your specific requirements with us.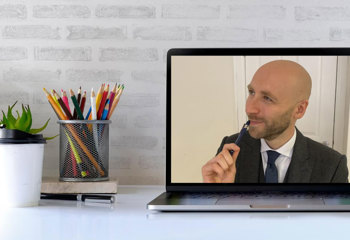 20 July 2020
In the past few months, in light of the Coronavirus pandemic, there has been a dramatic shift in the world of work. A lot of businesses have chosen to keep their staff working from home and, with Zoom and other platforms reporting a massive uptake in daily users, video conferencing apps have come into their own...
Style Tips & Advice
Business Style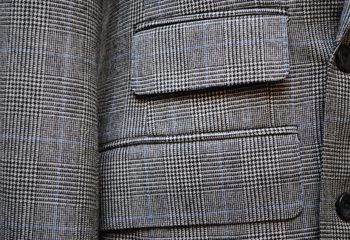 17 July 2020
Small. Utilitarian. Inconspicuous. The pocket doesn't exactly engender a lot of attention from designers, stylists and the fashion world as a whole. And yet, the history of the pocket goes back thousands of years...
Style History
16 July 2020
At King & Allen, we are big fans of mixing and matching our suits. So imagine our joy and delight when we discovered the Italian art of 'Spezzato.'
Style Tips & Advice