Customise Your Wedding Suit With King & Allen
Something Different...
Your wedding day can say a lot about you. Gone are the days of stiff photos, adherence to traditional customs and predictable attire. Nowadays, it's all about injecting some of your personality into the occasion, be it through your venue choice, colour scheme or even table decorations. At King & Allen we believe those small, intricate details can often have the biggest impact.
That's why we offer a wide range of ways to customise your wedding suit, something our clients are increasingly interested in. To get you started, our consultant, Karl, runs through some of his favourite tailoring embellishments.
A sonnet in your suit
This is a favourite option with our clients. Whether it's the date of the wedding, a lyric from your first dance, or even your partner's name, you can have it embroidered into your bespoke wedding suit. We usually suggest you opt for the subtle approach, for example, a lot of people get their wedding date sewn into the inside of their jacket, although we're seeing more and more people asking for it underneath the collar, so it's hidden until you choose to turn it up!
What it says about you:
That you're thoughtful in an understated way, wanting to remember the occasion without being too overt about it.
Why we love it:
It's an incredibly simple addition to your bespoke suit, but one that holds enormous sentimental value and can be a romantic way to surprise your partner. Plus, if you have your wedding date in your suit you can always use it to check when your anniversary is!
What to think about:
All you need to do is think about what you'd like written, where you'd like it placed, size and colour.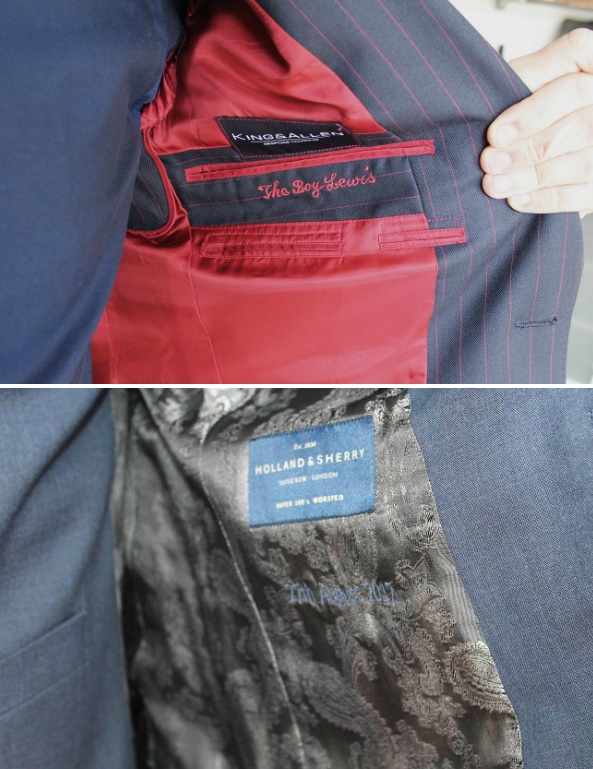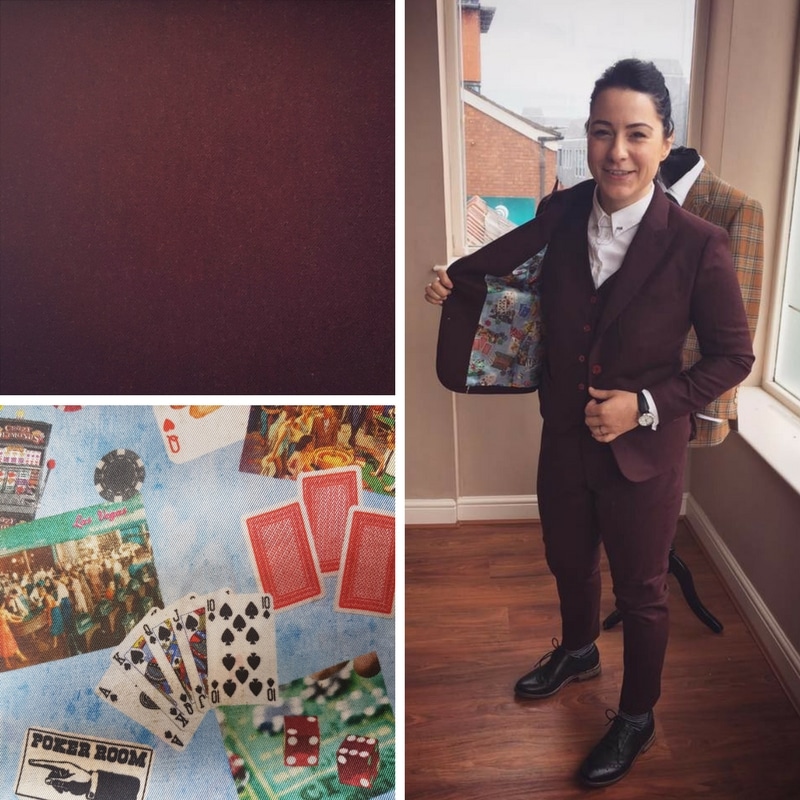 A Distinctive Lining
Another popular choice is to opt for a more interesting custom lining. Again, this is a great option if you have a specific colour theme, a favourite pattern, or perhaps want to introduce the family tartan.
It might sound a bit flamboyant but don't forget that it's inside the jacket, so your guests will only get flashes as and when you want them to.
What it says about you:
That you're not averse to flashing a bit of your personality every now and then, but you also know how to keep it cool.
Why we love it:
Because it's a great way to make a statement without ever becoming garish.
What to think about:
Which patterns or colours you want and how they will enhance the overall look of your bespoke suit. This is something we can help you with.
By order of the Peaky Blinders - a pocket watch
The vintage look is becoming increasingly popular – thanks in large part to the popularity of television shows such as Peaky Blinders, where the suits are an integral part of the historical aesthetic.
If classic is your thing, then you might want to opt for a pocket watch and get an extra buttonhole stitched into the waistcoat. This allows you to make a feature of the chain.
What it says about you:
That you're style conscious with a taste for old school class.
Why we love it:
There's something lovely about combining a contemporary bespoke wedding suit with a touch of vintage class.
What to think about:
Does it fit with the rest of your look? Make sure you choose a more traditional cloth for your bespoke suit if you're opting for the vintage timepiece.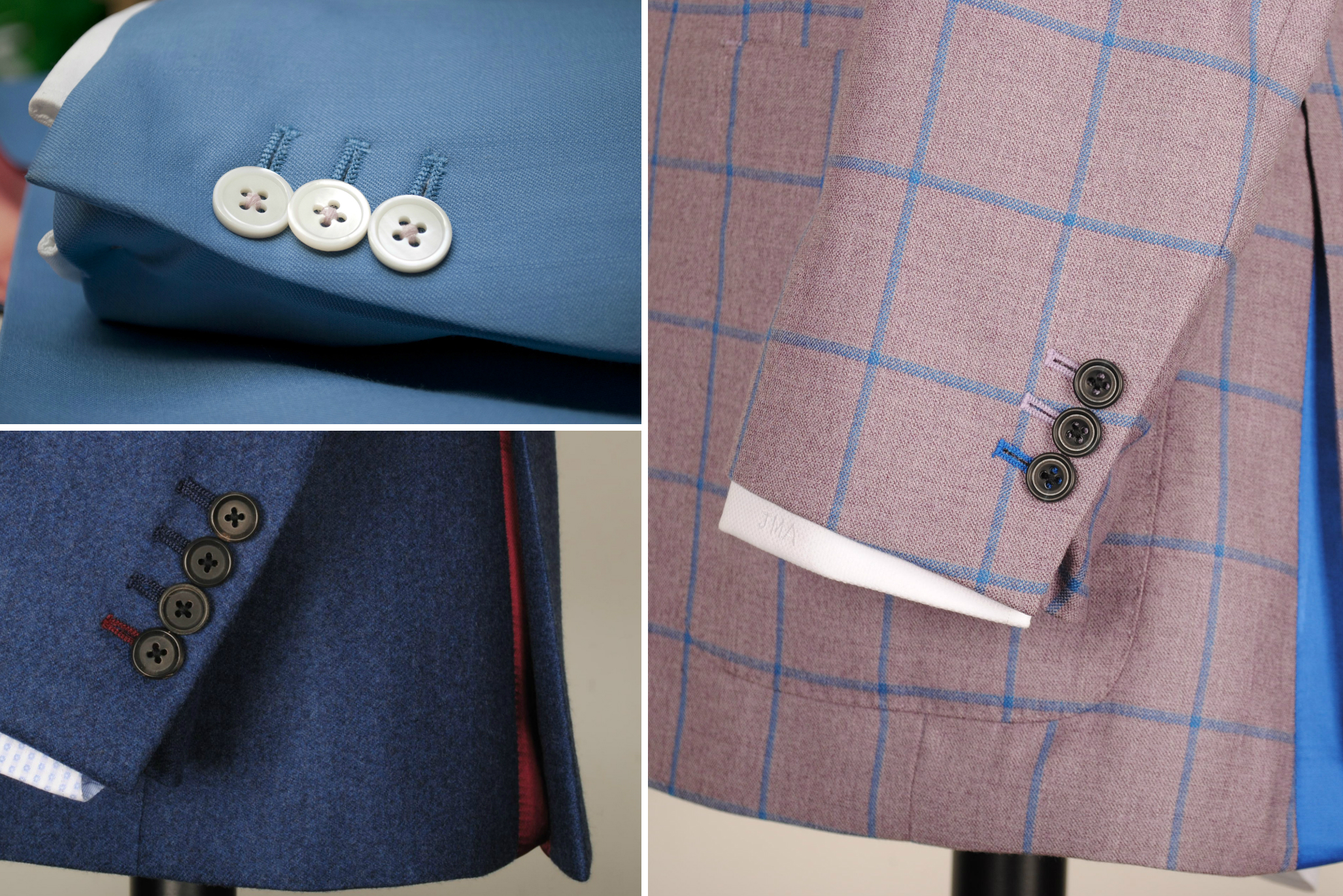 Button It
Something that's very popular this wedding season is contrast buttons. Traditionally, buttons would match the suit fabric or be a shade darker but nowadays, many people are opting for a contrasting button, to break up solid blocks of colour and add some eye-catching appeal to your suit.
As well as the colour you can choose the material that the buttons are made of, for instance mother-of-pearl, corozo (a type of nut found on palm trees) or even horn. Mother-of-pearl buttons have a shiny lustre to them and can bring out the colour of a darker suit. Corozo buttons each have a unique look to them, thanks to the grain of the nut, meaning that no two buttons will be the same. Horn buttons are a bespoke suit staple, creating a classic look that will last a lifetime.
What it says about you:
That you care about the finer details – subtle touches like this add a pop of personality to your big day.
Why we love it:
We enjoy a tailoring talking-point and buttons aren't typically the first thing people think about when getting a bespoke suit made.
What to think about:
It's worth taking a little bit of time to consider whether your button choice adds to the overall look, or does it overcomplicate things? Sometimes less is more, so only opt for this customisation if you think it enhances the outfit. As with everything, this is something we can advise on.
Splashes of Colour
There are a couple of extra dashes of colour you can add to your bespoke suit. For example, you can choose to have your chosen lining showing through the buttonholes. You can achieve this by leaving the last button on your cuff undone and let the colour peep through.
Other options include matching your lapel buttonhole stitching to your colour scheme or having a matching built-in pocket square. At King & Allen we've innovated the technique of building your lining into the chest pocket. All you have to do is turn that inside out and you've got a built-in pocket square.
What it says about you:
That you're a sartorial connoisseur who believes that sophisticated hints of colour are the way to show off your personality.
Why we love it:
All of these options give you the chance to add flourishes to what might be a fairly-traditional suit. For us, though, the built-in pocket square is an absolute winner.
What to think about:
As with lining more generally, you need to make sure that your colour or pattern is going to match the rest of your look.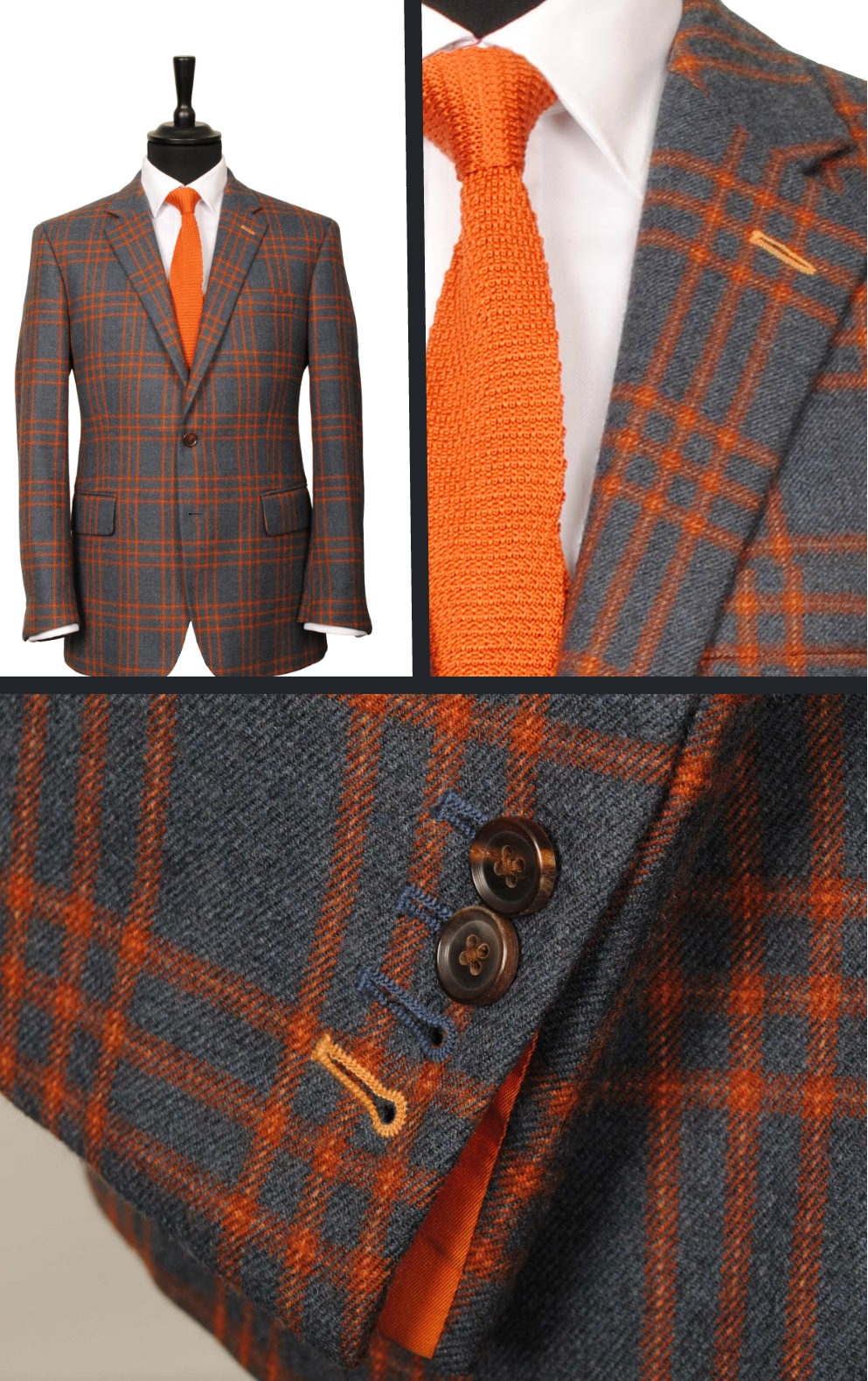 11 December 2020
As some of you may know, we said a final farewell to our Wilmslow store at the end of October after 11 fantastic years. We are delighted to announce we have just reopened our new store just down the road in Knutsford!
King & Allen News

04 December 2020
We are delighted to announce the launch of our new online store. Our shop offers clients a range of accessories to complement their sartorial lifestyles. From stylish pocket squares, to cufflinks and tie clips, to more practical suit care and face masks, you can browse at your leisure.
Style Tips & Advice
Accessories
King & Allen News

22 October 2020
At King & Allen, we are always looking for new ways to break new ground, grow and bring the best possible service to our clients. A big part of that is making sure that we keep up-to-date on the very latest styles, trends and fabrics, as well as innovating ways to improve our service and our standards. That's why we're so excited to announce our new fabric range, made from recycled bottles!
Style Tips & Advice
King & Allen News
Vegan