A Brief History of Trousers
Trousers have been worn in the Western world since ancient times. They are now the most common form of lower-body clothing for men. Practical and comfortable, there's no wonder that they've been adopted by both sexes as part of their everyday dress.
Trousers were first invented because robes are uncomfortable to wear on horseback. In fact, those who wore trousers in battle had the upper hand over those who wore robes. For this reason, civilisations all over the world adopted this form of dress to survive battle.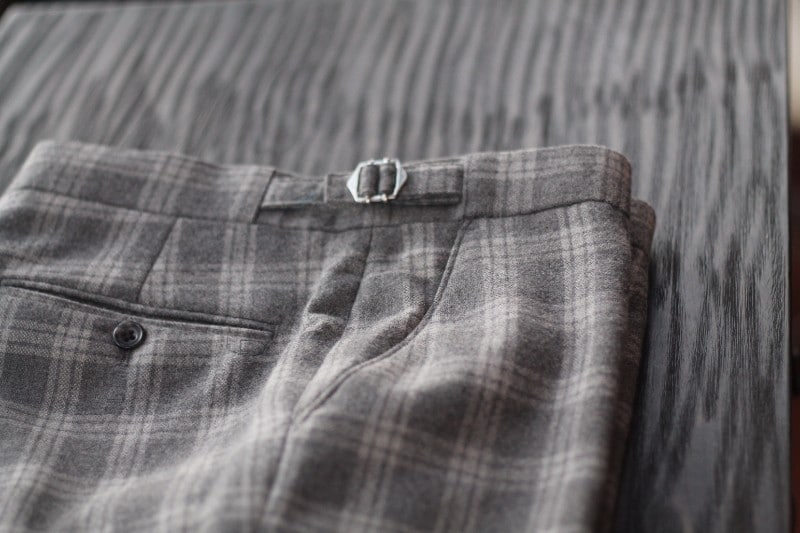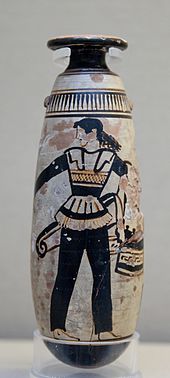 Trousers on Horseback
The first recorded reports of trousers were made by sixth century BC Greek geographers. They noted the appearance of Persian, Eastern and Central Asian horse riders. The comfort they provided from extended periods on horseback made trousers a practical choice.
Images of male and female horse riders wearing trousers can be found on ancient ceramics. You can see an example of this on the vase to the left, depicting an Amazon woman.
But the Ancient Greeks snubbed the garment, finding them ridiculous. They nicknamed them 'thulakos,' meaning 'sacks'. The irony of how silly togas look was clearly lost on them!
Subsequently, the Romans (who held the Greeks in high esteem) rebuffed them as well. They considered them as garments worn by barbarians. But as the empire spread further around the world, trousers gained more popularity. They couldn't deny the warmth and practicality that trousers offered them.
The Changing Shape of Trousers
Initially, trousers were a military garment. They came in the form of snug shorts or loose fitting trousers that closed at the ankles.
In the late 14th century, they developed into tight trousers with attached foot coverings. This garment had the appearance of hose and was worn by knights underneath plate armour.
By 1500, proportions becoming more and more exaggerated. Trousers were voluminous, ballooning over the thighs and nipping in at the ankle. They were made from ornate cloth, featuring slashes to reveal the colourful lining underneath.
Eventually, these trousers were slimmed down into simple breeches that fastened at the knee. But, these were later dropped in favour of the ankle length trousers worn by the working class.
It was only during the 19th century that we started to see trousers like the ones we wear today. They were a looser fit with a button fly, worn in neutral colours.
It was Edward VII, the eldest son of Queen Victoria, who set the trend for trousers as we know them today. He was also the figure who took trousers creases into the mainstream.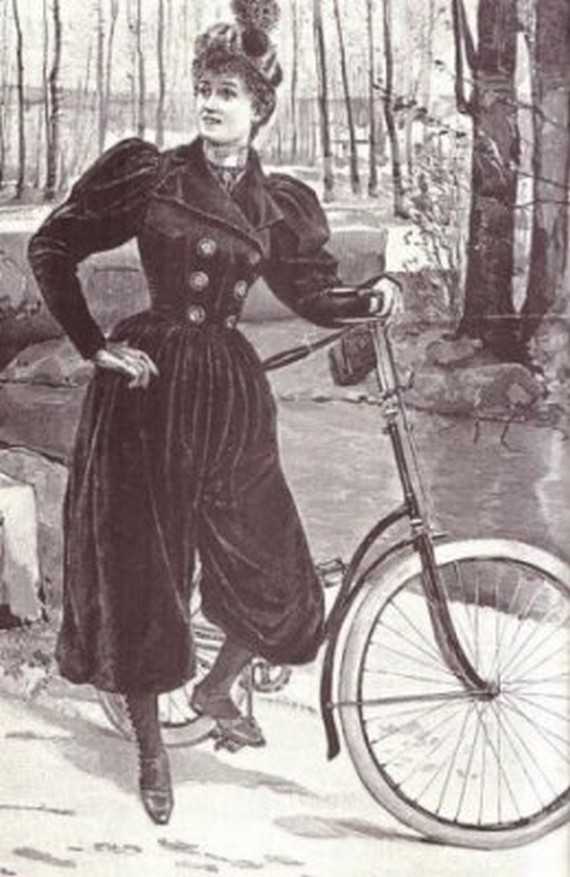 The History of Women in Trousers
Despite being worn by both sexes in ancient times, trousers were a "masculine" garment for hundreds of years. Instead, women wore long, voluminous skirts.
But, in the nineteenth century, women started wearing a form of trousers again. These were worn only for horse riding, although they wore full skirts on top of them to keep them hidden.
By the 1880s, women in the West finally started wearing trousers for leisure activities. They were safer to wear when cycling, as the trousers were far less likely to get caught in the wheels. They also allowed greater freedom of movement. Additionally, they were considered healthier to wear than the cumbersome skirts they usually wore.
Yet, despite their increasing popularity, trousers weren't considered acceptable women's attire until the 1970s. In fact, in some places, it was illegal for women to wear trousers! These days, trousers are worn by women for all occasions without any masculine connotations.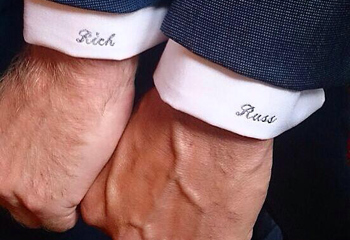 26 May 2022
Planning for your wedding can be a stressful time for some and the day itself often passes in a blur of joy and excitement. That's why it's important to 'stop and smell the roses' during your wedding journey and remember all of the reasons you've chosen to marry the love of your life. After the event itself, there are a plethora of ways you can look back fondly on the day, from the photos, to the video, to the signatures in the guest book. But did you know that your wedding suit can also serve as a reminder of the best day of your life? Read on to find out how...
Weddings
26 May 2022
2022 is a very special year for Pride, as it marks 50 years since the first ever march in 1972. While there were only 700 bravely marching then, this year it is expected there will be over 2 million attendees! Of course, many historical milestones have been achieved since 1972.
Style Tips & Advice
Style History
26 May 2022
Queen Elizabeth II recently celebrated 70 years on the throne and it is her official birthday on the second Saturday in June. The Queen has created quite the signature fashion lookbook that deserves its own jubilee. Her style has, quite literally, stood the test of time. Through nine decades, with her vibrant pant-suits and matching hats, stunning heirloom brooches - not to mention the symbolism behind every ensemble - it's no wonder the Queen is our style icon.
Style History