Every sartorial connoisseur should own a couple of casual bespoke suits or tailored garments that are worn at events outside of the workplace.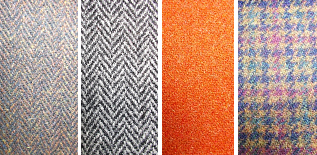 Your style may be understated and subtle, or you may be audacious and daring. Whatever your needs and taste, King & Allen can tailor a suit that is perfect for you. 
We stock over 3000 fabrics, sourced from the finest cloth merchants in the world: 100% worsted merino wools, cottons, linens and more – in all manner of colours, weights, patterns and textures. Your tailoring consultant will provide considered advice on construction, style and timings and provide transparent pricing throughout the process so that your suit will perfectly match your needs.
We also offer an almost unlimited amount of style and feature options. You may wish for a velvet smoking jacket, or a grey Prince of Wales check three-piece ('The Goldfinger Suit'). You may even wish to have your name embroidered in gold leaf along your pinstripe. Anything is possible!
The true value of casual suits stems from their versatility. Jackets, trousers and waistcoats can be worn separately to substantially enhance and expand your wardrobe. For example, a jacket will easily transform into a summer blazer, with the accompaniment of a pocket square and a casual shirt. If you have any questions, please contact us today.
The most enjoyable aspect of owning a bespoke casual suit is knowing that you'll be the best-dressed person at any event and can carry yourself with a renewed sense of confidence and style. 
Warning: casual wear is highly addictive. Before you try on your first suit, expect to be planning your second! 
With stores in Surrey, London and Cheshire, as well as a fitting days in Birmingham, you can book an appointment here and start your bespoke journey!
Book A Fitting