Women's Tailoring
You might be surprised to learn that not all tailors make suits for women. The tailoring industry has traditionally been very male-centric. The plurality of women's body shapes and the differences in construction methods have been cited as a reason for tailors not wanting to make female suits, with the added complexity being off-putting for a lot of businesses. At King & Allen, we've been making suits for women for over a decade and have honed and developed our offering.  We asked our female staff what they loved most about working for a bespoke tailors and what their favourite piece of tailoring is.
Chloe Tedford-Jones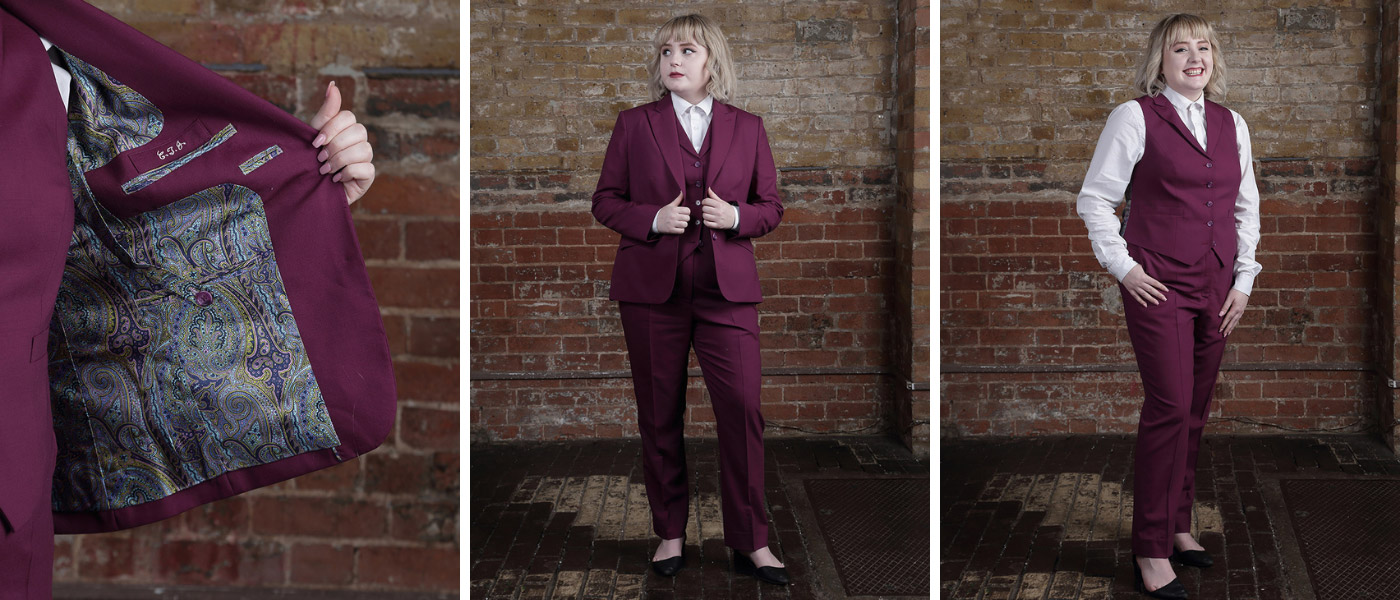 Chloe joined King & Allen in 2021 and has become an invaluable member of our team, working as both a tailoring consultant and an alterations tailor at our Surbiton and Liverpool Street venues. 'I love working with the clients at King & Allen,' she says, 'helping them to feel confident, no matter their shape or size, in a garment that is entirely their own.' Her first suit with us was a berry three-piece suit in Holland & Sherry's Sherry Stretch range. 'As some one with a more awkward body shape, the first time I put the suit on was the first time I felt like a garment truly fit, and the confidence of wearing a brightly coloured suit is unparalleled.' She is a strong supporter of bespoke tailoring for women and the chance to 'step away from the patriarchal bounds of women's high street sizing - a woman's worth can not be summed up by a number on a hanger, and every woman deserves to feel comfortable and confident in a garment that is truly them.' We couldn't agree more! 
Gwen Fagan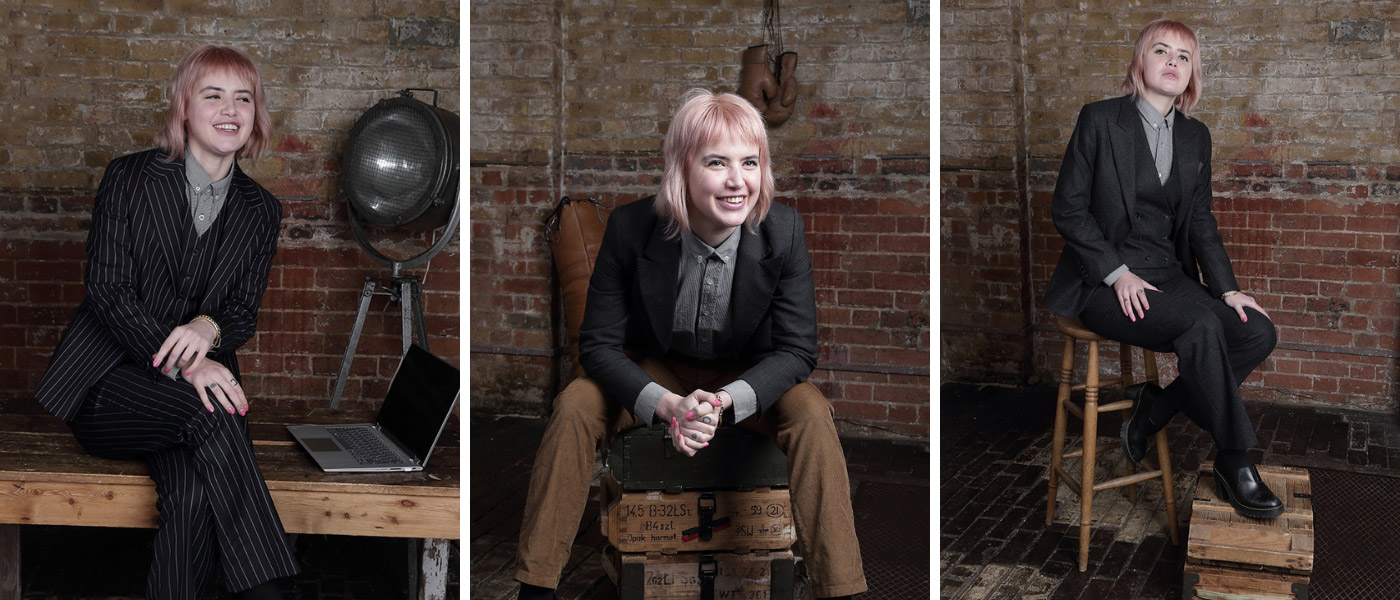 Gwen is our amazing tailoring consultant at both our Liverpool Street and Surbiton stores and has years of expertise in the tailoring industry. Gwen says 'The best thing about working for a bespoke tailors for me is the client interaction while still being able to feel I am truly creating something special for someone at the same time. Going through the entire process and offering my skills and expertise, to end up with a one of a kind garment that makes a client feel great, is unparalleled.' Gwen has had numerous suits made for her at King & Allen over the years. One her favourites is her 'very first fully-bespoke jacket. It has been worn more than any other item in my wardrobe. A charcoal 9oz worsted wool, with the widest peak lapels imaginable, and a comic strip flash lining' (the middle picture above). 'Women generally don't realise how fantastic it is to have a bespoke garment, that they will keep for life,' she says, 'to see the work that goes into these pieces, as well as the sheer amount of options, you're taking away an amazing piece. As well as the aspect of investing in slow fashion, which more women should do as it's far too easy to go down the fast fashion route!'
Mary-Cait Bristow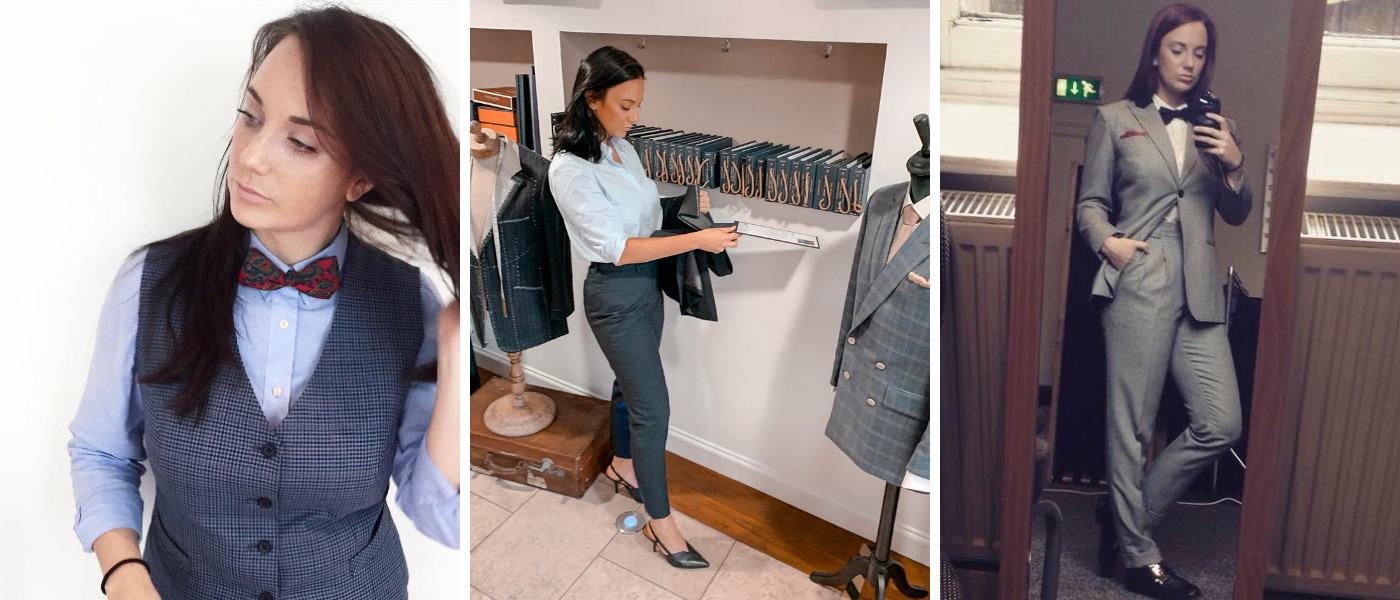 Mary-Cait is a marketing assistant and tailoring consultant, based at our Knutsford store. Like Gwen, she has several years of experience and she says that she loves working 'with customers to build their perfect suit/s whether it's for a wedding, the boardroom or a weekend in the country. No day is ever the same, and the variety of creativity is wonderful.' From a classic grey two-piece to a three-piece with contrasting check waistcoat, Mary-Cait has also had a number of suits made with King & Allen over the years. 'The feeling of wearing a suit to me exudes confidence and power, she says, 'It makes you feel invincible like you can take on anything and I think every woman deserves to feel like that!' 
Alexis Boddy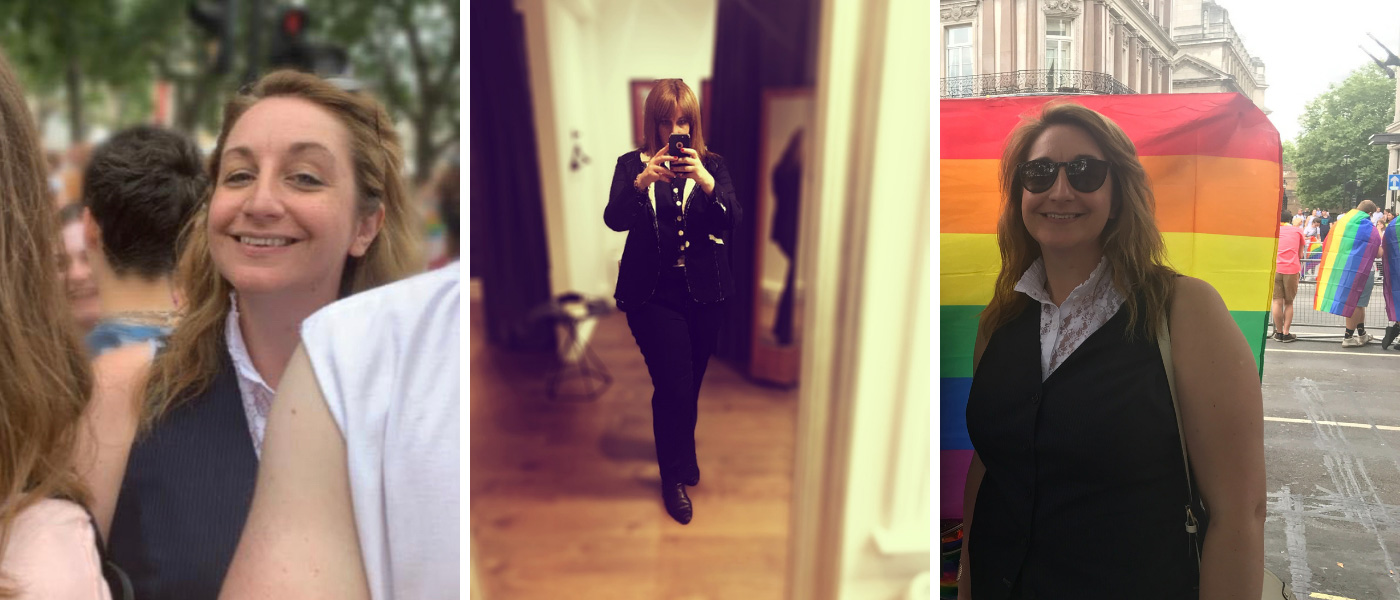 Alexis is the General Manager of King & Allen and has been with us since 2017, starting out as a sales and marketing assistant. 'I absolutely loved my first suit,' she says of her three-piece navy pinstripe, 'I couldn't quite believe it when I first put the suit on and it just fitted. It's like nothing else!' I love working at King & Allen because of our fantastic team, who I would be lost without. I'm so proud of what we've achieved, especially when it comes to tailoring for women and the LGBTQ+ community, and look forward to what we can accomplish in the future.' 
If you would like to find out more about our women's tailoring options, please contact us, or arrange a free, no-obligation consultation here.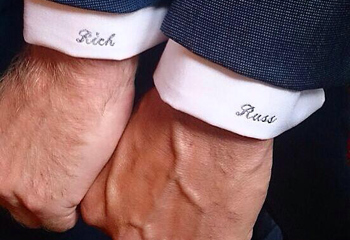 26 May 2022
Planning for your wedding can be a stressful time for some and the day itself often passes in a blur of joy and excitement. That's why it's important to 'stop and smell the roses' during your wedding journey and remember all of the reasons you've chosen to marry the love of your life. After the event itself, there are a plethora of ways you can look back fondly on the day, from the photos, to the video, to the signatures in the guest book. But did you know that your wedding suit can also serve as a reminder of the best day of your life? Read on to find out how...
Weddings
26 May 2022
2022 is a very special year for Pride, as it marks 50 years since the first ever march in 1972. While there were only 700 bravely marching then, this year it is expected there will be over 2 million attendees! Of course, many historical milestones have been achieved since 1972.
Style Tips & Advice
Style History
26 May 2022
Next week, the whole world will be watching as we celebrate 70 years with Queen Elizabeth II on the throne! The Queen has created quite the signature fashion lookbook that deserves its own jubilee. Her style has, quite literally, stood the test of time. Through nine decades, with her vibrant pant-suits and matching hats, stunning heirloom brooches - not to mention the symbolism behind every ensemble - it's no wonder the Queen is our style icon.
Style History