The Platinum Jubilee
Queen Elizabeth II recently celebrated 70 years on the throne and it is her official birthday on the second Saturday in June. The Queen has created quite the signature fashion lookbook that deserves its own jubilee. Her style has, quite literally, stood the test of time. Through nine decades, with her vibrant pant-suits and matching hats, stunning heirloom brooches - not to mention the symbolism behind every ensemble - it's no wonder the Queen is our style icon.
Over the years, through every decade, we have seen the finest royal fashions and inspirations from Princess Grace Kelly (Princess of Monaco), The Queen's own cousin Queen Margrethe (Queen of Denmark), her sister Princess Margaret, and of course who could forget Princess Diana. However, Queen Elizabeth II has remained untouchable in her colours.
From before her Majesty ascended to the throne, she had always styled tailored pant-suits, and floral dresses with tailored collars and jackets. The first time we would ever see her in uniform was her service in WWII, when she was a mechanic in the Women's transport unit. Then during her father's declining health, she donned a more tailored wardrobe, as she took on more royal duties. As she got older, her colours were more bold, silhouettes were toned down, but the flowers and tailoring were consistent. Her professionalism in her clothing remained.
A huge credit goes to the Queen's senior dresser, fashion designer and curator to her majesty's entire wardrobe, Angela Kelly. She has served Queen Elizabeth II since 2002 and has designed some of the Queen's most iconic looks; including the Queen's Diamond Jubilee outfit. She has since written a book 'Dressing the Queen: The Jubilee Wardrobe' and 'The Other Side of the Coin: The Queen, the Dresser and the Wardrobe'.
Of course, her ensembles are planned and tracked through spreadsheets, they are articulated and carefully considered. The symbolism proves this. Earlier this year we saw the Queen wearing yellow and blue flowers adorned on her hat to show support for Ukraine, and some people saying that she wore turquoise during a lockdown video call to express support for the NHS.
As the celebrations commence, we look forward to seeing the array of outfits that she will wear during the festivities. And she'll no doubt continue to be an icon and inspiration to people around the world.
King & Allen create beautiful bespoke suits for our clients. If you would like to find out more, please contact us today or arrange an appointment here.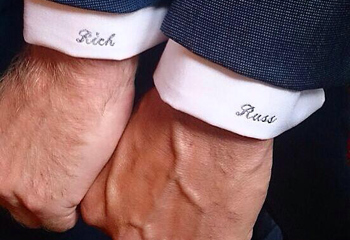 26 May 2022
Planning for your wedding can be a stressful time for some and the day itself often passes in a blur of joy and excitement. That's why it's important to 'stop and smell the roses' during your wedding journey and remember all of the reasons you've chosen to marry the love of your life. After the event itself, there are a plethora of ways you can look back fondly on the day, from the photos, to the video, to the signatures in the guest book. But did you know that your wedding suit can also serve as a reminder of the best day of your life? Read on to find out how...
Weddings
26 May 2022
2022 is a very special year for Pride, as it marks 50 years since the first ever march in 1972. While there were only 700 bravely marching then, this year it is expected there will be over 2 million attendees! Of course, many historical milestones have been achieved since 1972.
Style Tips & Advice
Style History
18 May 2022
Bespoke tailoring is often seen as very formal but did you know that King & Allen offer a range of different garments for casual-wear. From sports jackets and chinos, to coats and shirts, we can elevate your casual attire to the next level. Read on to find out more about how to create your casual look.
Style Tips & Advice