It's All in the Suit Details…
Beware of the man who won't be bothered with details. - William Feather (1908 – 1976)
A suit is one of the most important parts of any wardrobe. Whilst accessories can be useful additions that elevate a suit, it's the style details of the suit that really count.
Part of the pleasure of ordering a bespoke suit is the opportunity to add a touch of individuality to your design. In contrast to a carbon copy, off-the-peg suit, a bespoke suit invites you to show some of your own personality and style.
Here are just a handful of the style options that are available to you when you order a bespoke suit…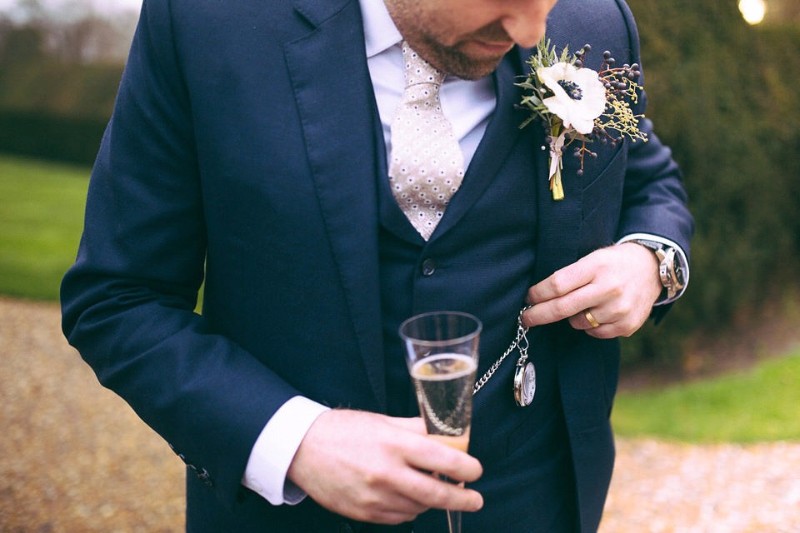 Getting the Details Right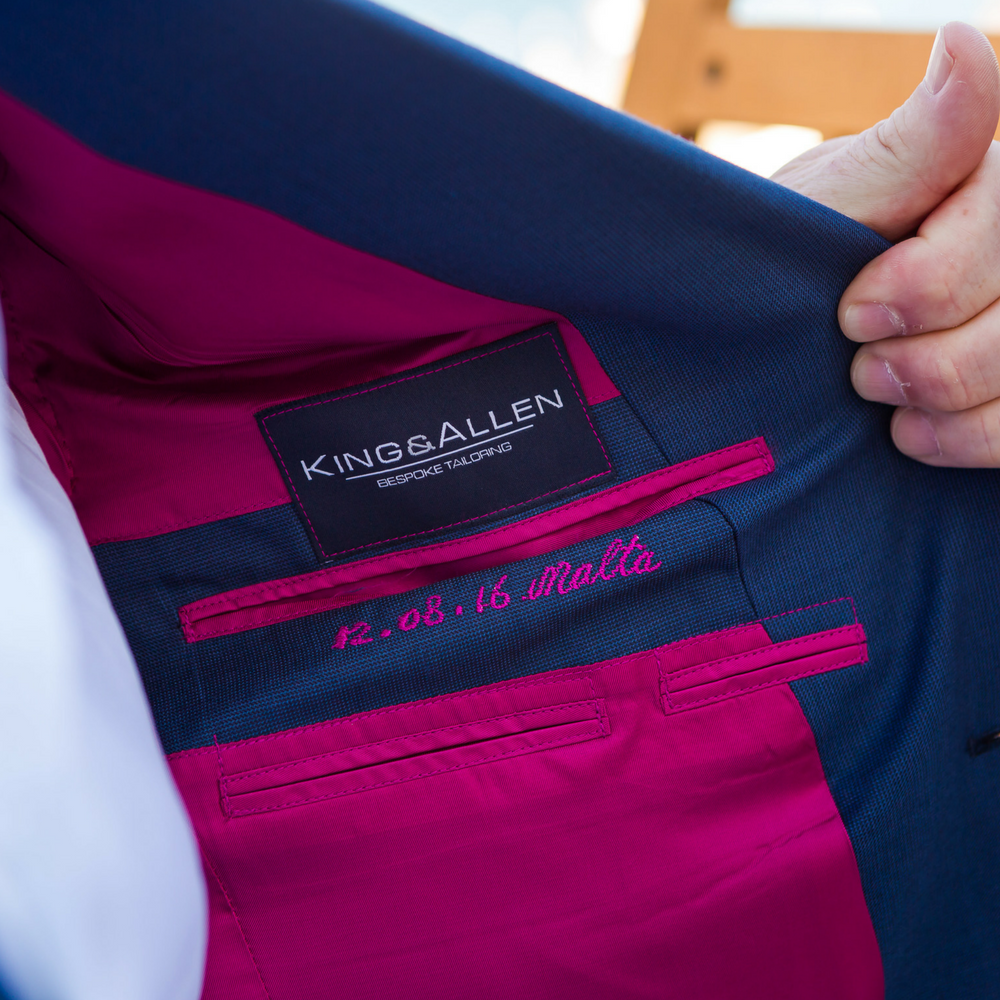 Embroidery
Most customers choose to have their initials or name embroidered on the inside of their suit. It's fun, totally unique and it means that every time you slide that jacket on, you are reminded it was made for you and you alone.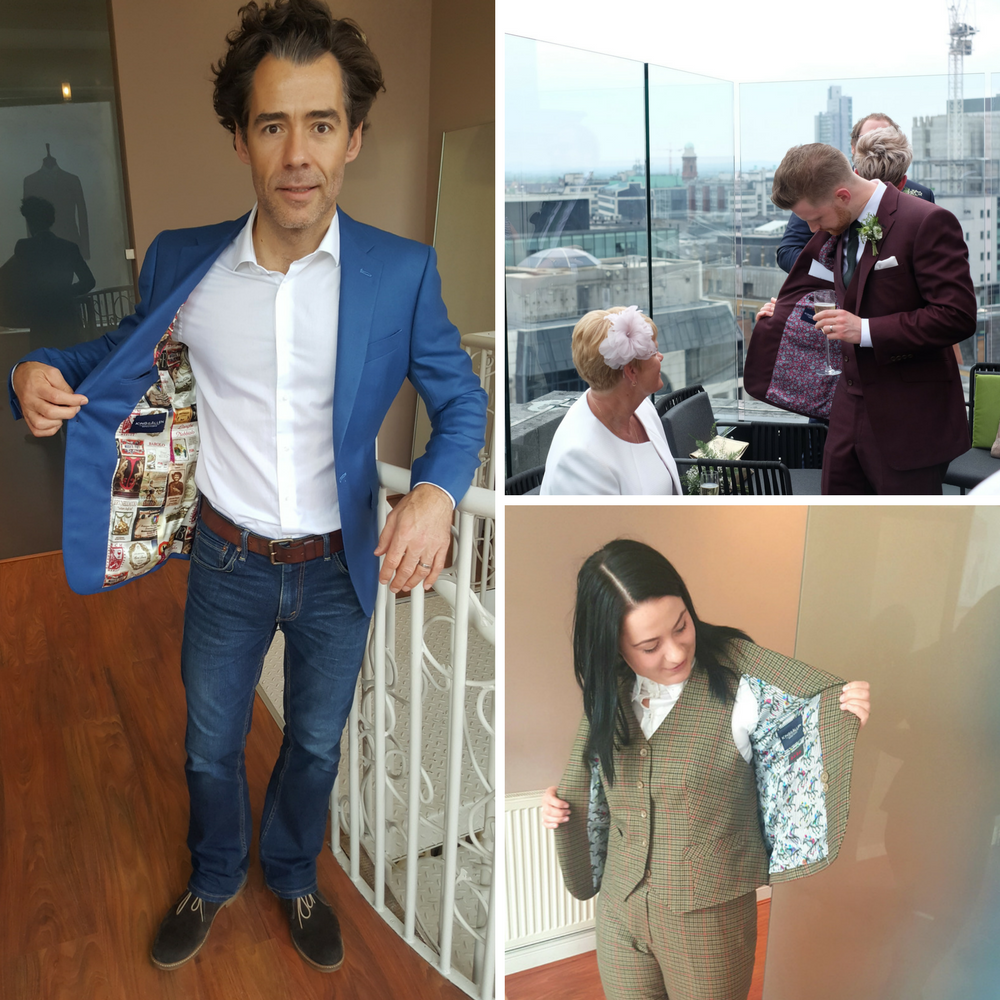 Lining
The lining is your chance to show your personality or to match your pinstripe, check or (in the case of a wedding) to compliment the colour of the bridesmaids' dresses. Whatever you choose, it's an opportunity for expression that's not to be missed.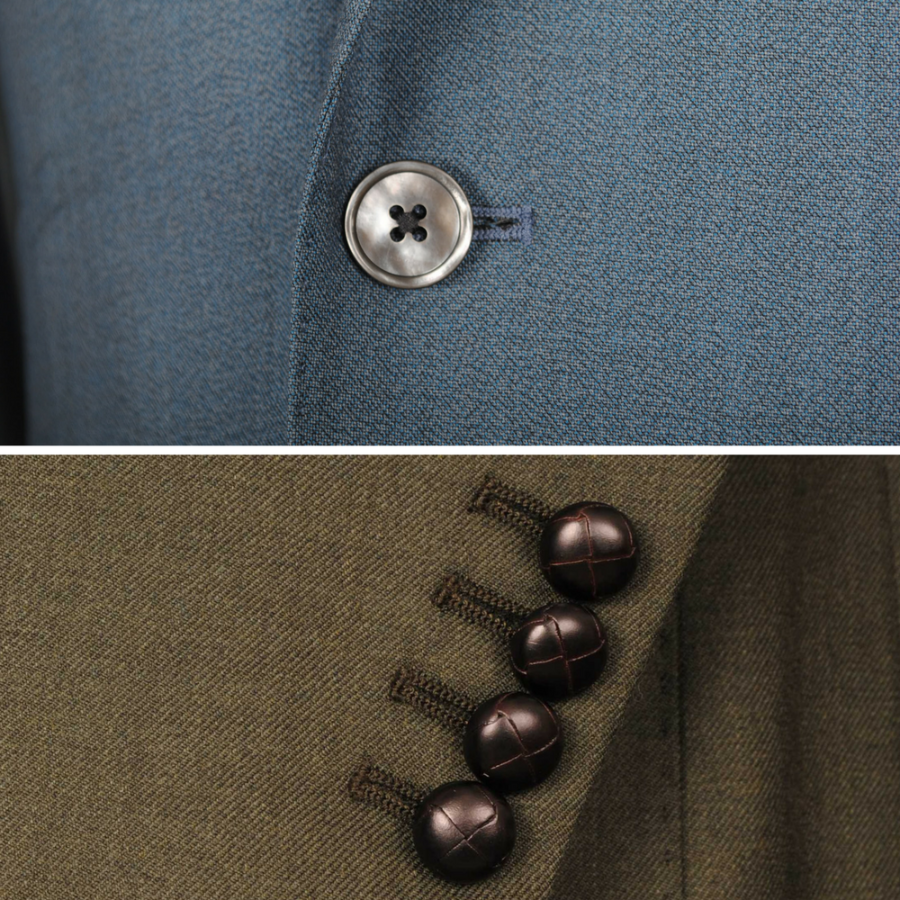 Buttons
Although the buttons are small, they can pack a huge punch. A contrast colour (e.g. white buttons, light blue cloth) will completely transform the look of a suit whilst wooden, leather or horn buttons exude quality and luxury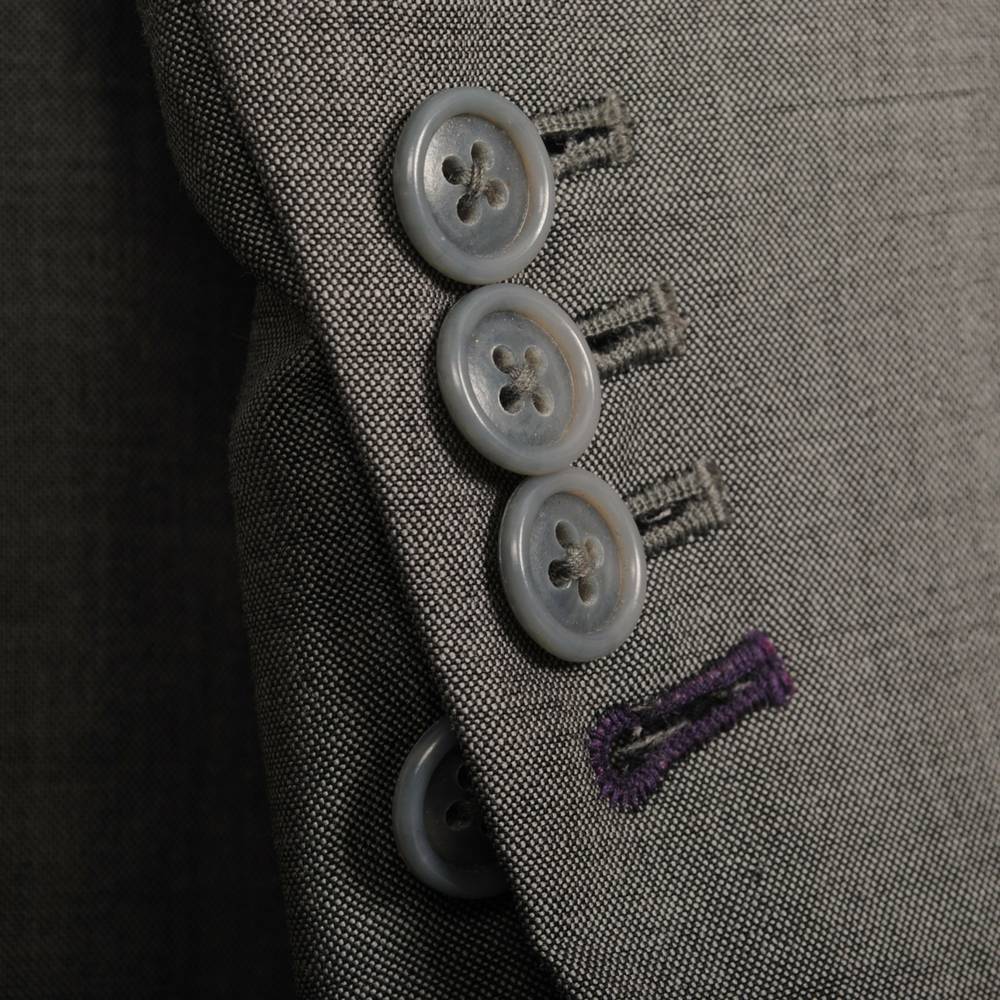 Working Cuffs
The origins of working cuffs is a widely debated topic (in our circles anyway!) One theory is that they enabled surgeons to roll their sleeves up so they could operate without dropping their sartorial standards. Regardless of the derivation, working cuffs have always been one of the tell-tale signs of a bespoke suit and it's lovely to be able to continue that tradition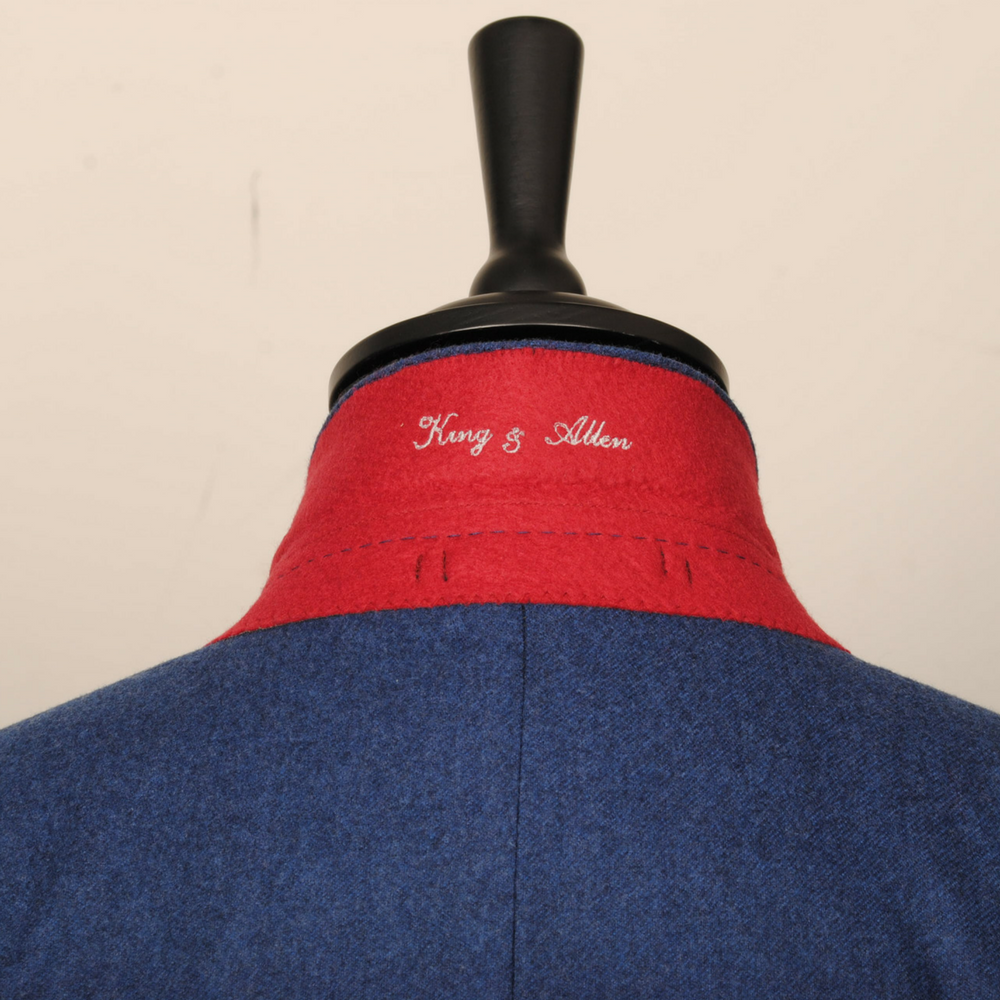 Coloured Melton
The great thing about a melton is that it's only seen when the suit is hanging up, so there's an opportunity to really have some fun with colour. You could also have your name (or a secret message) embroidered there. It's time to let your imagination run wild…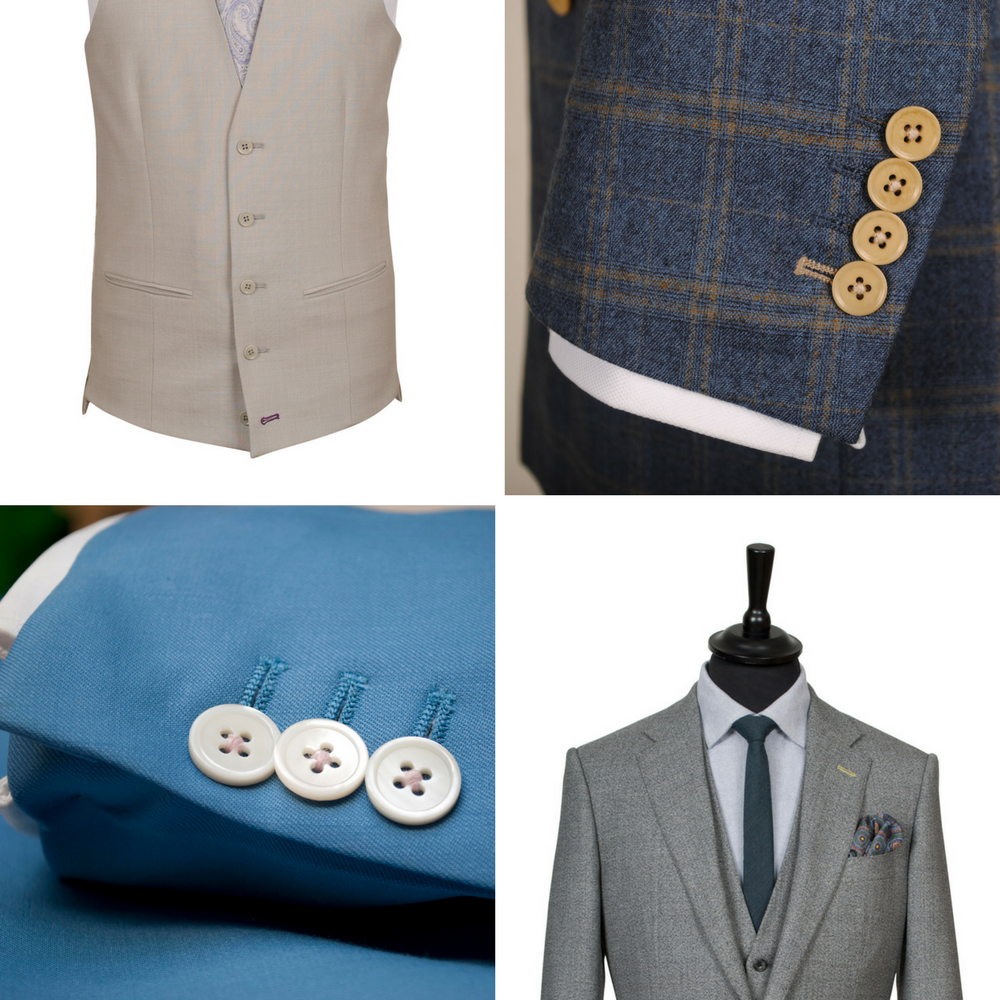 Coloured Stitching
Why not draw a little attention to that working cuff with some subtle coloured stitching – perhaps to compliment the colour of your lining? Or for the adventurous, there's the option of a coloured boutonnière. A coloured button on your waistcoat is a lovely touch too! However, if you want to be understated you could have the cotton that attaches your buttons to your suit in a colour of your choice. Subtle and beautiful.
This is just a handful of the options available...
When you go bespoke, the style options are endless… To discuss them further, please book a free initial consultation. Your tailoring consultant will be happy to help!
27 June 2019
Music and fashion have always been inextricably linked, with many catwalk collections drawing inspiration from rock and pop stars over the years. Here, we take a look at four of our favourite music legends, each with their own signature style, but all of whom really knew how to rock a suit.
Style Tips & Advice
Celebrity Style
Style History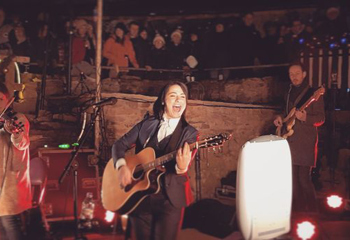 27 June 2019
June is Pride month. A chance to reflect on the strides made towards achieving equality and to acknowledge that there is still a way to go, as well as a time to celebrate the breadth and diversity of the LGBTQ+ community.
Style Tips & Advice
Celebrity Style
Style History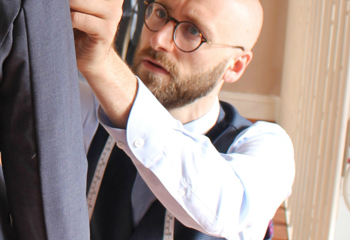 25 June 2019
When it comes to bodies, there's no such thing as a standard shape or size. Sure, plenty of us might have long legs or broad shoulders, but ultimately your proportions are unique to you. Is it any wonder, then, that so many people are left disappointed with the final fit when they choose an off-the-peg suit?
Style Tips & Advice