Celebrating Pride 2022
2022 is a very special year for Pride, as it marks 50 years since the first ever march in 1972. While there were only 700 bravely marching then, this year it is expected there will be over 2 million attendees! Of course, many historical milestones have been achieved since 1972.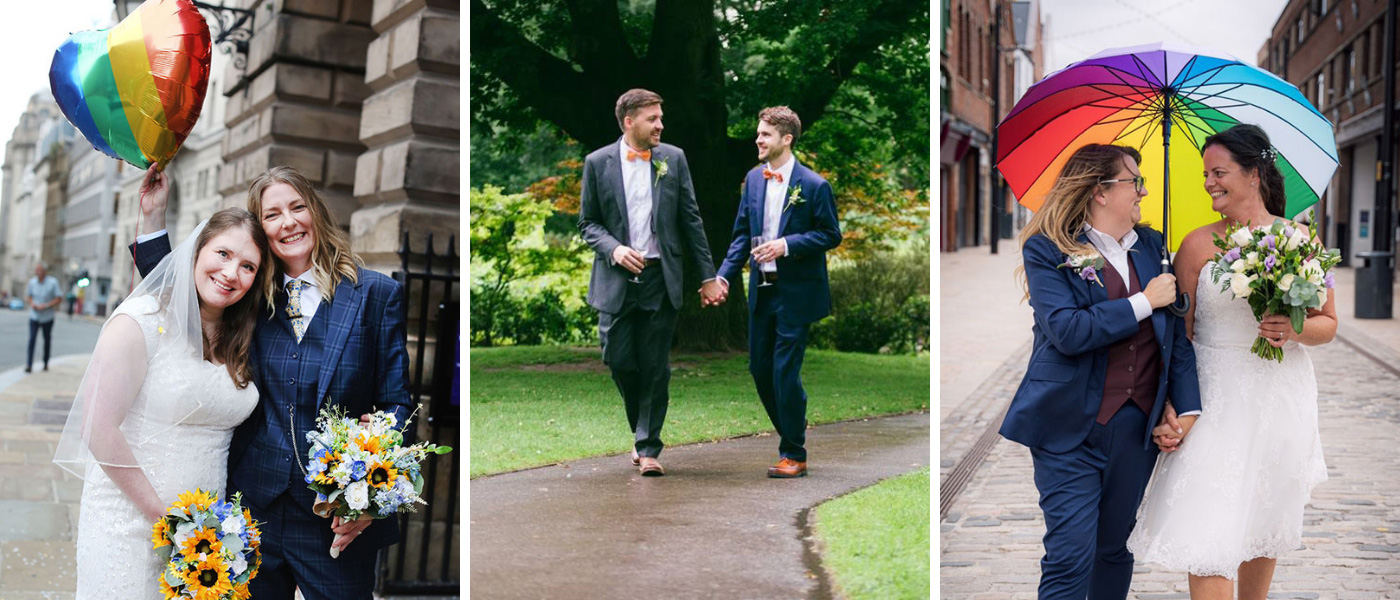 Such as, the first legally-recognised same-sex wedding, in 2001; which involved 4 couples in Amsterdam and was ordained by the mayor of Amsterdam. In the same year, many countries followed to legalise same-sex marriages. Now that more and more countries are following suit and legalising same-sex marriage, and pandemic levels have thankfully decreased, weddings are on the rise.
Today LGBTQ+ weddings are changing the game to celebrate love and equality; giving their big day a modern twist and creating new traditions, having ceremonies that are personal and showcases love in all its forms. For example, not everyone feels comfortable with traditional wedding attire, so what other options are there?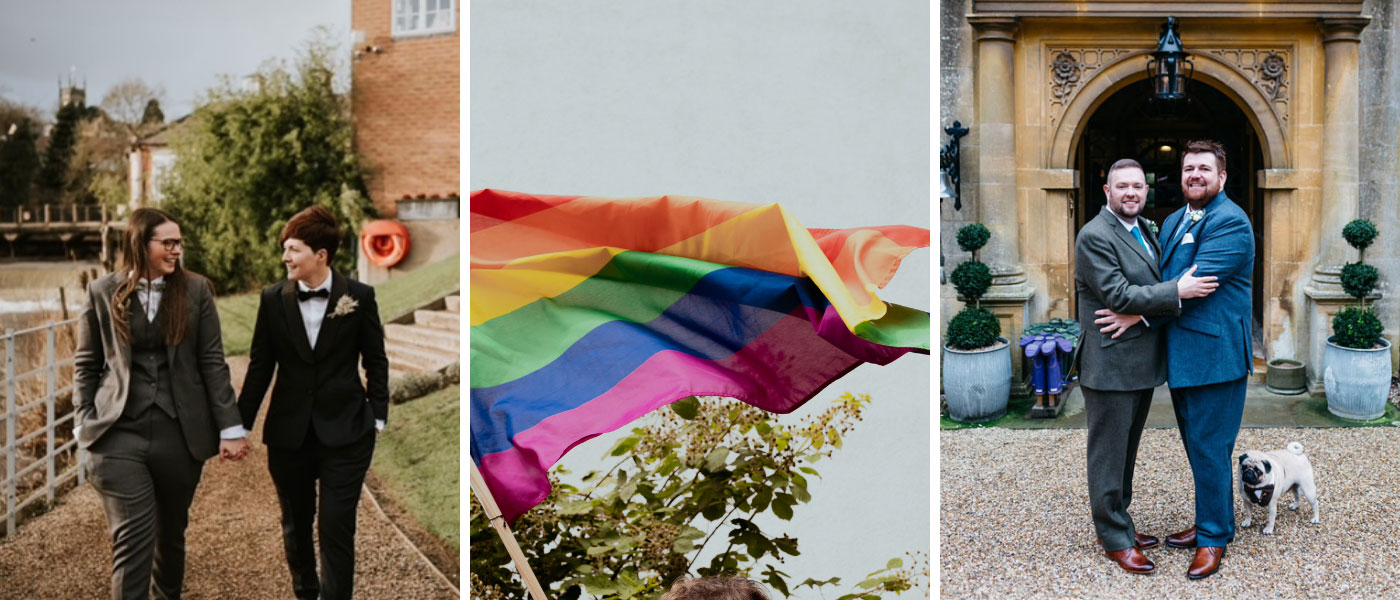 Pinterest reports that searches for 'non-binary wedding outfits' and 'wedding suits' have increased. People are opting for stylish two or three-piece suits for their big day, and are experimenting with different styles, shades and silhouettes. The trend is individuality; whether you are looking for something feminine, masculine or androgynous. Here at King and Allen, we provide a diversity of choice. We want our clients to have the freedom of any colour, style, pattern, or silhouette they want.
You can show off some pride by making a statement with a bold colour suit, or accessorise a simple suit with brightly-coloured shoes. You can also honour pride month in a subtle way such as having personalised embroidery in rainbow hues; this could be your partner's name, date of wedding, or have it say '50 Years of love' for pride. You can have rainbow print on the soles of your shoes, or cufflinks.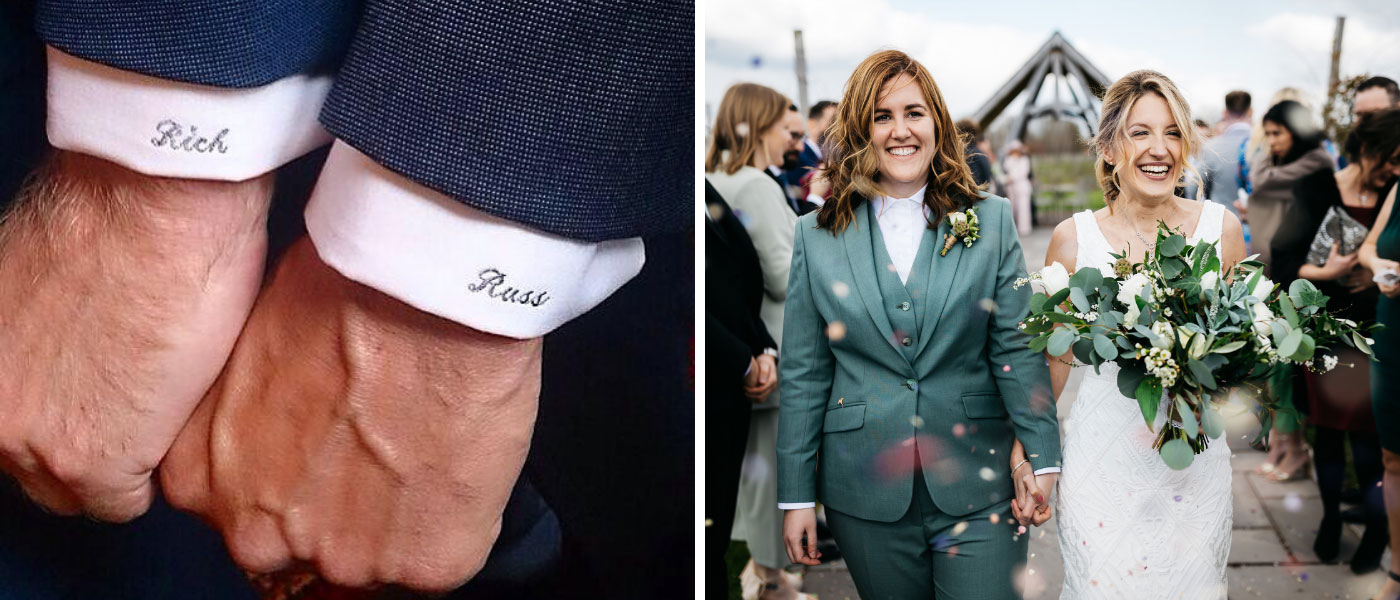 At King and Allen, we are celebrating Pride Month in June and our LGBTQ+ clients all year-round by honouring individuality, inclusivity, and equality. We are proud to be part of such an important movement and deliver a service that brings love together.
Our bespoke suits let every client be their truest self and allow their personality to shine through.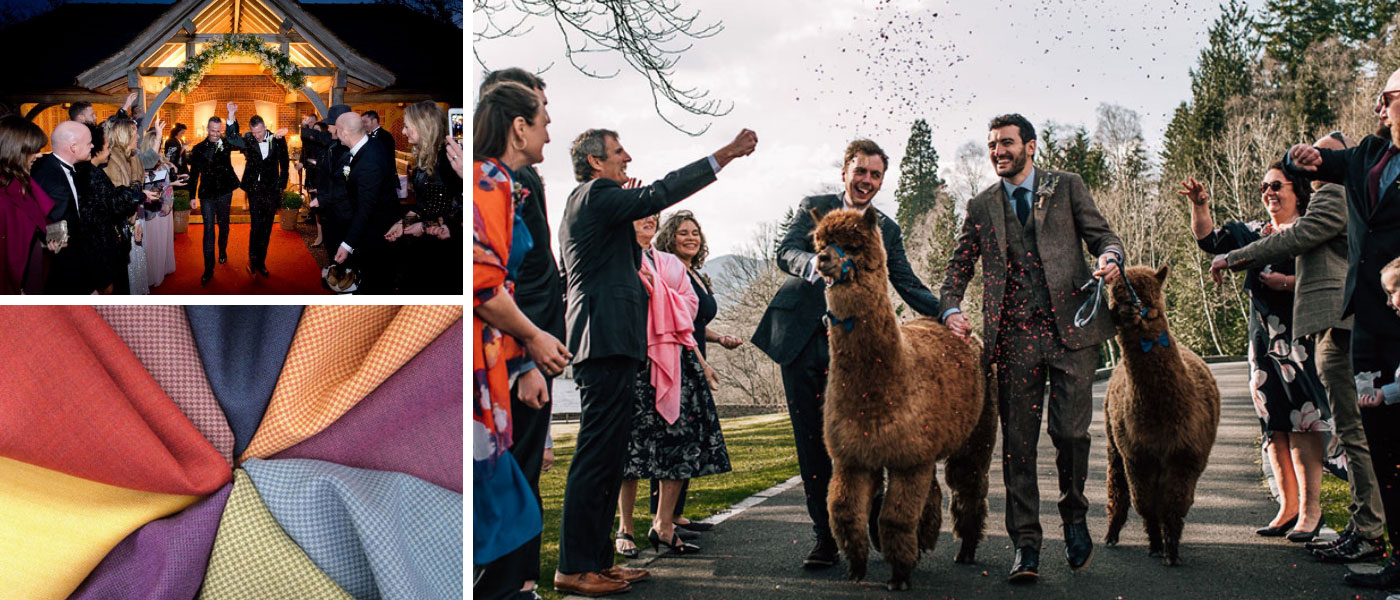 If you'd like to come and see us for a new suit, contact us today or arrange a fitting here.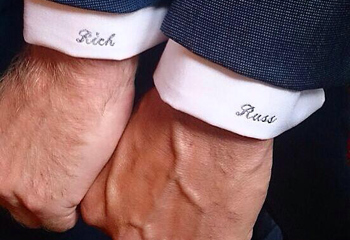 26 May 2022
Planning for your wedding can be a stressful time for some and the day itself often passes in a blur of joy and excitement. That's why it's important to 'stop and smell the roses' during your wedding journey and remember all of the reasons you've chosen to marry the love of your life. After the event itself, there are a plethora of ways you can look back fondly on the day, from the photos, to the video, to the signatures in the guest book. But did you know that your wedding suit can also serve as a reminder of the best day of your life? Read on to find out how...
Weddings
26 May 2022
Queen Elizabeth II recently celebrated 70 years on the throne and it is her official birthday on the second Saturday in June. The Queen has created quite the signature fashion lookbook that deserves its own jubilee. Her style has, quite literally, stood the test of time. Through nine decades, with her vibrant pant-suits and matching hats, stunning heirloom brooches - not to mention the symbolism behind every ensemble - it's no wonder the Queen is our style icon.
Style History
18 May 2022
Bespoke tailoring is often seen as very formal but did you know that King & Allen offer a range of different garments for casual-wear. From sports jackets and chinos, to coats and shirts, we can elevate your casual attire to the next level. Read on to find out more about how to create your casual look.
Style Tips & Advice