Bespoke Trousers
One of the aspects our clients love the most about the bespoke experience is the sheer breadth of options that are available for a suit. We've previously explored how it is these small details, such as the lining, that can really make your suit pop. But what about the trousers? Often overlooked, a well-fitted pair of trousers really brings together the entire look. Read on to find out about a few of the different choices available for your bespoke trousers...
Fit
The fit of the trousers is something that tends to move in line with fashion trends (think the extreme wide legs of the 70s) but there are a couple of options that are timeless. You could go for more of a neutral silhouette in a classic fit if you're looking for something to stand the test of time.  In recent years, there has been a trend for a more tapered fit, which looks great in a slightly shorter fit in lighter weight cloths. Alternatively, a wider leg has been seen making a resurgence on the catwalks, which can look fantastic for a pair of standalone trousers or as part of a tweed three-piece.
Belt Loops, Side Adjusters or Braces?
On of the absolute musts for a bespoke suit is that you feel confident and assured when you put it on. You don't want to feel uncomfortable or be worried that your trousers are at risk of falling down! To combat this problem, there are a few options. The first are belt loops, which are often seen on more casual trousers, such as jeans or chinos. While this can help you feel secure, a belt can often look bulky in contrast to the fit of the suit and can cut the silhouette of the suit in. They also look out of place if you forget to wear a belt. At King & Allen, we tend to recommend the second option, side adjusters. These come in two different styles: buckles and buttons. The buckles work by a sliding strap that tightens and loosens the waistband. Buttons work by fastening a tab to one of three different buttons. Buckles tend to be more adjustable, so again we tend to recommend these. The other option is braces. They work by attaching to brace buttons which are placed on the inside of the waistband. They give you a lot of room on the waist measurement and tend to be the most forgiving in fluctuations to your waistline!
Length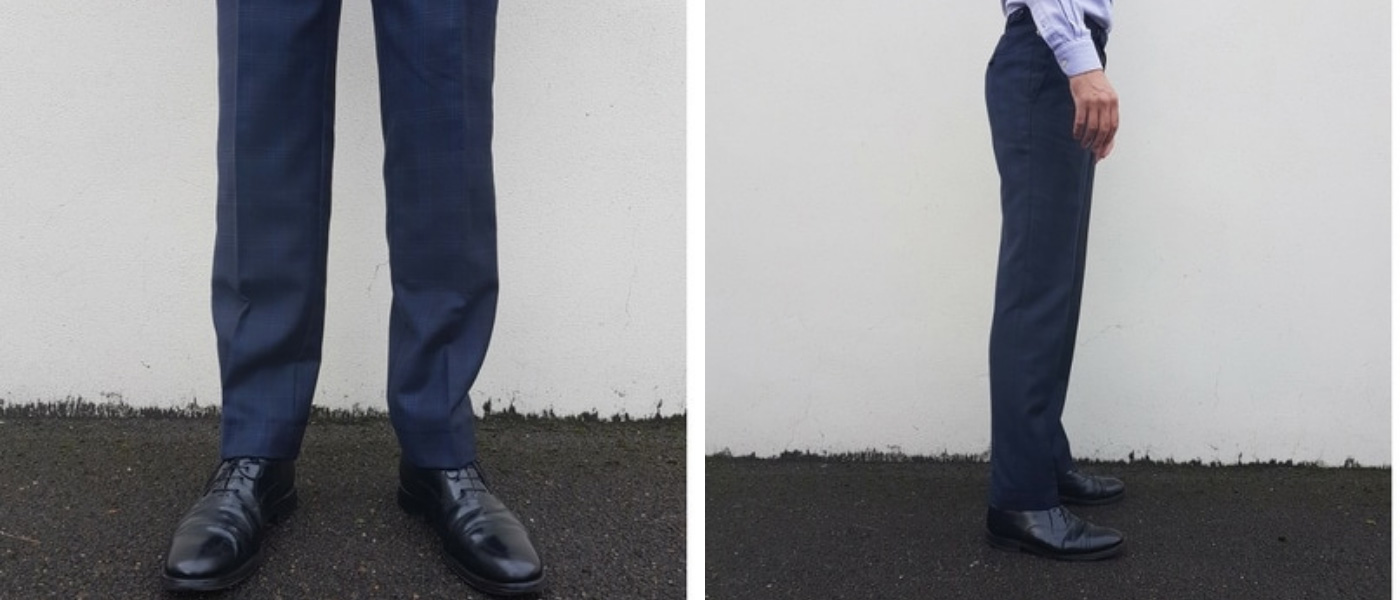 As with the fit of the trousers, the length is also subject to different fashion trends. For a timeless style, we'd recommend the classic fit. This means that the end of the trousers hit the top of your shoe, causing a single 'break' in the fabric. A break is where the fabric folds slightly inwards as it hits the shoe. If the trousers have more than a single break, they can look rumpled and untidy. Recent years have seen a trend for a shorter fit on trousers, with the option to flash a bit of ankle or some snazzy socks. You might also prefer to wear your trousers slightly longer. The typed of shoe and the heel height you wear with the trousers will also affect the length, so we tend to ask people to come in for fittings wearing the shoes they're most likely to wear with the suit.
Pleats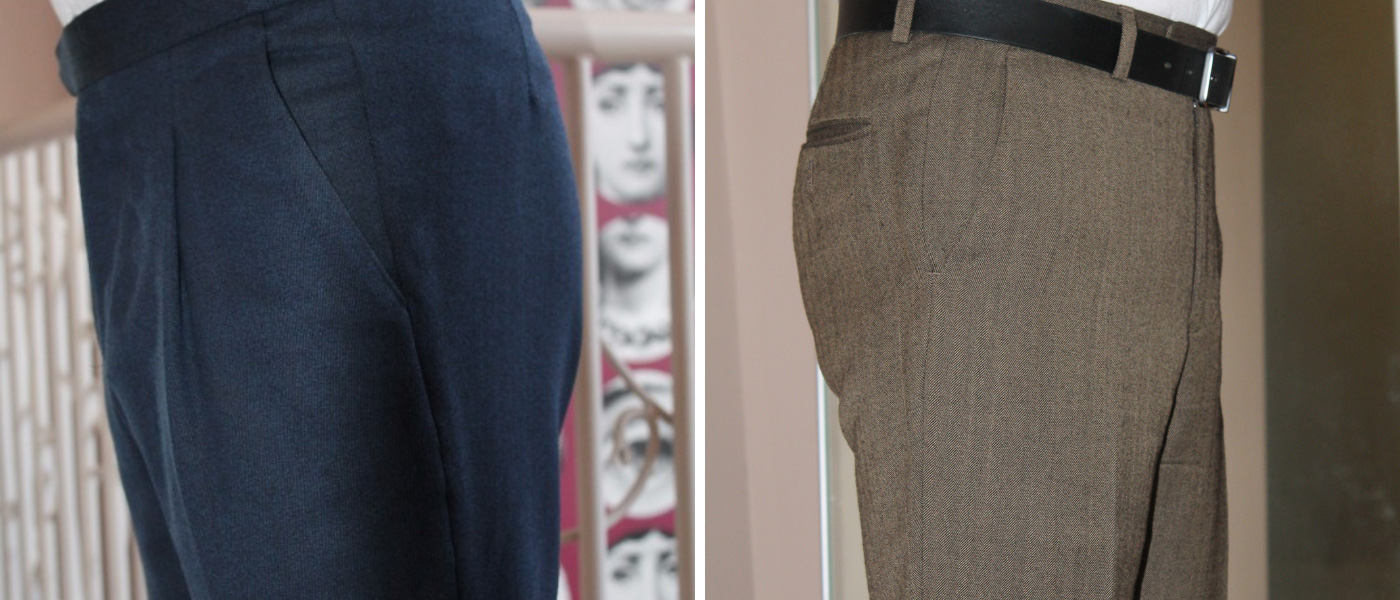 We offer three options for pleats (the fold of fabric just below the waistband). You can choose to have no pleats at all, which creates a seamless, flat look at the front of the trouser, which has a more modern appeal. You can also opt for a single or a double pleat. Pleats have a more classic, old-world look (think Cary Grant or Katherine Hepburn) and can add some texture and drape to the trousers. You can also choose between forward pleats (facing towards the inside leg), or reverse pleats (facing towards the pockets). As Chloe, our tailoring consultant at Surbiton and Liverpool Street says 'I'd recommend reverse pleats for women, as it gives more room over the pocket area.'
Pockets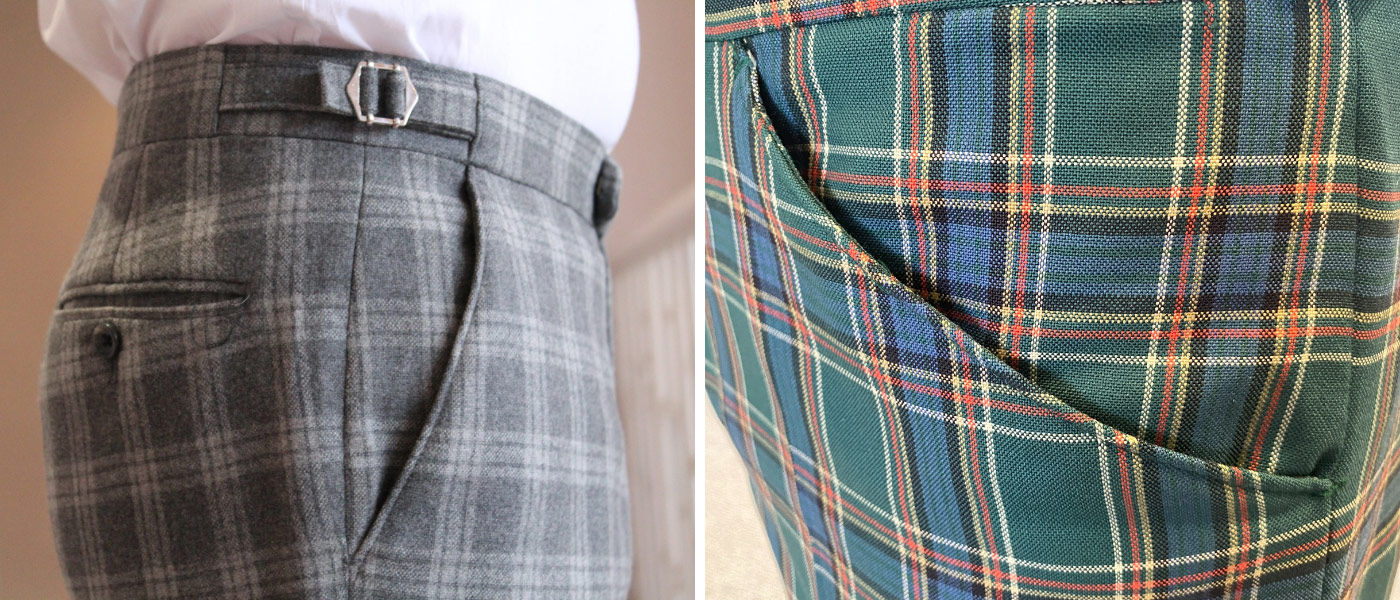 There are a few different options in terms of pockets on your trousers. You can choose to have no pockets at all, which leads to a more slick look but perhaps not as practical. You might choose side pockets on their own or also choose to have pockets at the back. We'd always recommend not keeping too many items in your pockets, as this can sometimes warp the fabric and ruin the sleek look of your suit. In terms of the style, you could choose straight pockets, slanted (above left) or cross pockets (above right), as well as other, more unique designs.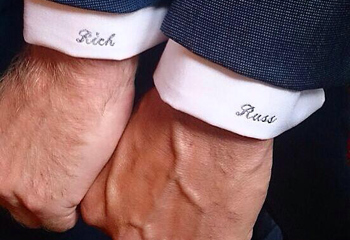 26 May 2022
Planning for your wedding can be a stressful time for some and the day itself often passes in a blur of joy and excitement. That's why it's important to 'stop and smell the roses' during your wedding journey and remember all of the reasons you've chosen to marry the love of your life. After the event itself, there are a plethora of ways you can look back fondly on the day, from the photos, to the video, to the signatures in the guest book. But did you know that your wedding suit can also serve as a reminder of the best day of your life? Read on to find out how...
Weddings
26 May 2022
2022 is a very special year for Pride, as it marks 50 years since the first ever march in 1972. While there were only 700 bravely marching then, this year it is expected there will be over 2 million attendees! Of course, many historical milestones have been achieved since 1972.
Style Tips & Advice
Style History
26 May 2022
Queen Elizabeth II recently celebrated 70 years on the throne and it is her official birthday on the second Saturday in June. The Queen has created quite the signature fashion lookbook that deserves its own jubilee. Her style has, quite literally, stood the test of time. Through nine decades, with her vibrant pant-suits and matching hats, stunning heirloom brooches - not to mention the symbolism behind every ensemble - it's no wonder the Queen is our style icon.
Style History