Hype For Pinstripe
The term 'pinstripe' refers to the very thin, parallel lines that run through a cloth, contrasting with the main colour. Taken at face value, it would seem to be a fairly bland description of a simple fabric pattern. But the history of the pinstripe suit is anything from bland and, indeed, the suit itself has a host of connotations attached to it. From gangsters to bankers, we take a look at the pinstripe suit; why it's inimitable style has persisted and why it's having a renaissance in popular culture.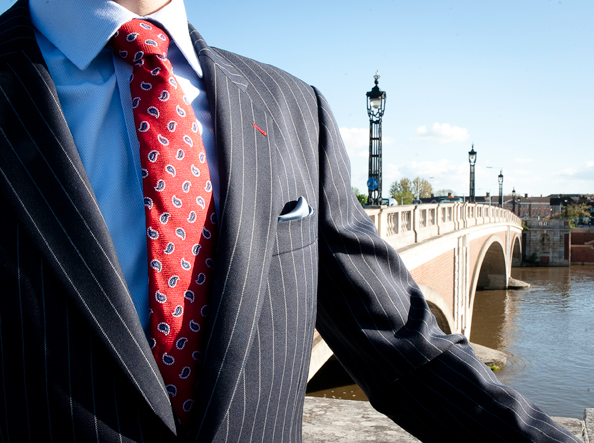 The (Brief) History of The     Pinstripe suit
As with most of fashion history, the history of the pinstripe suit is hotly debated, with people either claiming that it came from the uniforms of boatmen or the day-to-day dress of bankers. In the nineteenth century, bankers would wear formal attire to work. This usually consisted of a morning suit, with pinstriped trousers. Each bank had its own unique stripe, usually achieved through a variation in line thicknesses, which distinguished the bankers from each other. 
The next step in the pinstripe suit's rise in popularity was when it crossed the pond to America in the early part of the twentieth century. Think Al Capone in a wide-striped three-piece with even wider lapels. This popularity only increased when Hollywood stars started adopting the style. Cary Grant famously wore pinstripe suits in a range of films, from 'An Affair to Remember' to Alfred Hitchcock's 'Notorious.'
But it was in the 1980s, thanks to one film in particular,  that the suit morphed into the incarnation we know so well today. When 'Wall Street's' Gordon Gekko proclaimed 'greed is good' and sported a range of pinstripe suits, it spawned an entire movement in menswear, where a bold wardrobe went with a bold lifestyle.
The pinstripe suit has moved on from the days of gangsters and flashy bankers. Nowadays, it embodies the boldness of its past iterations while also being a stylish way to feel strong and empowered. We loved this look from Blake Lively in 'A Simple Favour,' which nods at the storied history of the pattern and also gloriously epitomises the new era for the pinstripe suit.
How To Wear It
Wide Stripe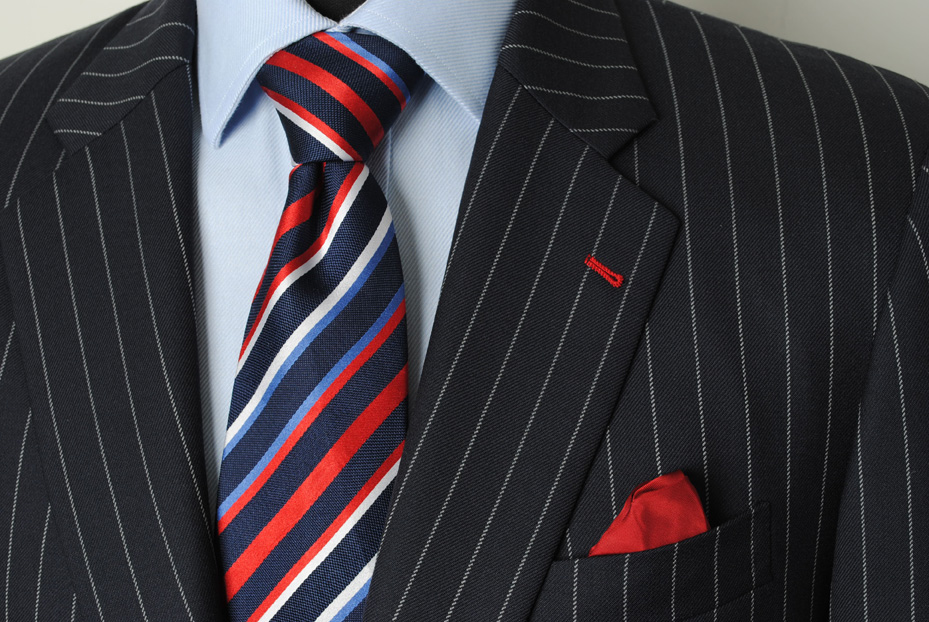 This is the classic look. A dark, navy background with a wide, bold stripe. This navy pinstripe is a bold, almost audacious look that really stands out.
The Three-Piece Pinstripe Suit
A fresh take on a classic look. Nods to the history of the pinstripe suit with the wide lapels and five-button waistcoat, with more modern touches like the contrast buttonholes and ticket pocket. 
Shades of Grey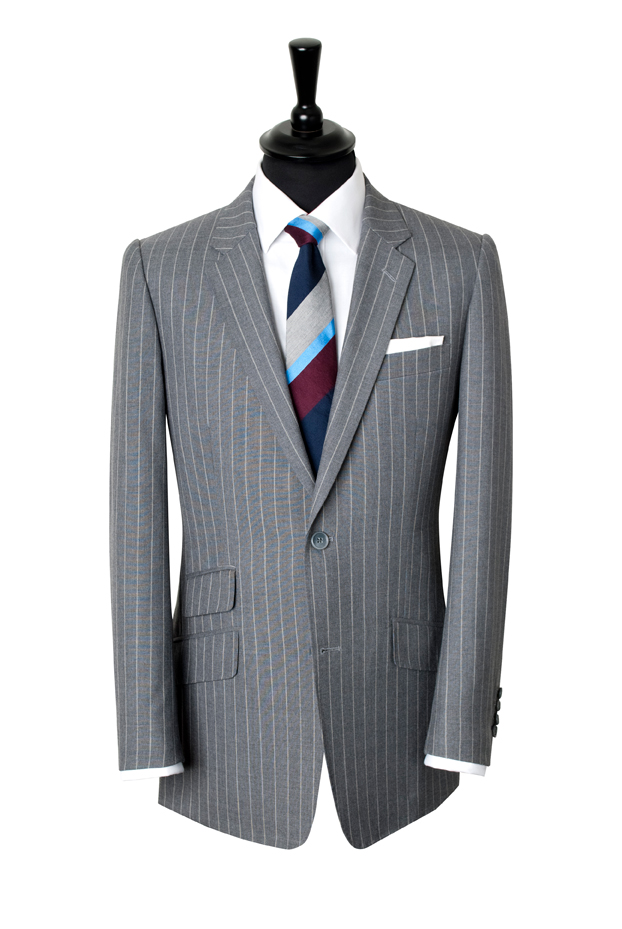 A subtle white stripe on a grey background for a more understated look for the workplace.
New and Bold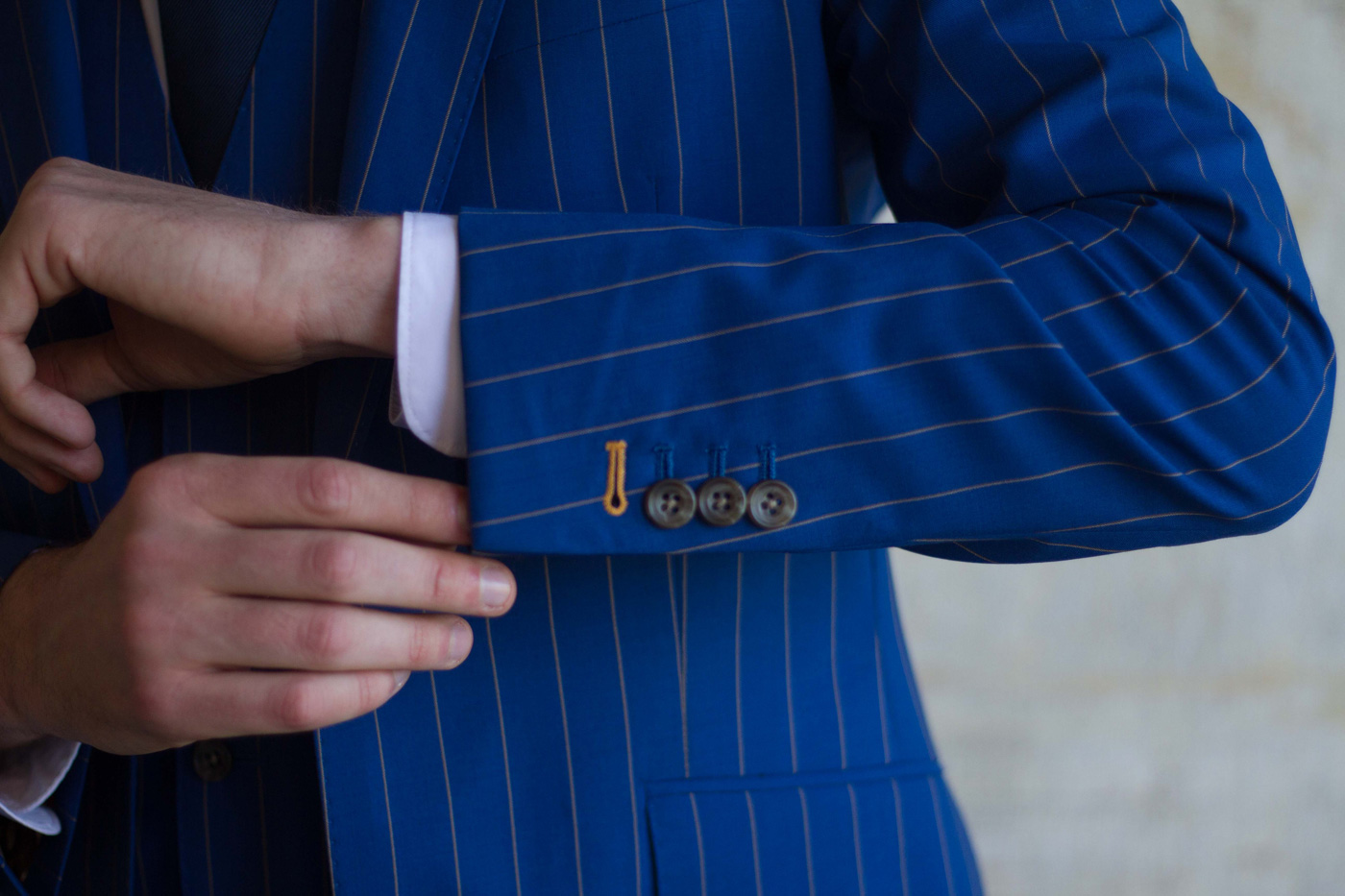 For a brand-new take on the pinstripe suit, why not opt for a different hue of blue like this royal blue colour, with a bright gold stripe and buttonhole to match!
If you would like to take a look at some of our pinstripe cloths, you can order a swatch sample here. Alternatively, you can arrange an appointment to see our full range of cloths.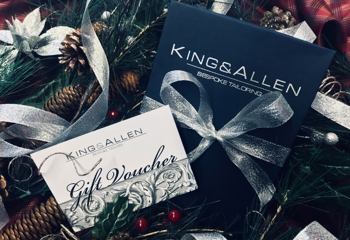 22 November 2021
With Christmas fast approaching, take a look at our gift recommendations for the suit-lover in your life. From vouchers, to pocket squares, to cufflinks, you need look no further for the perfect Christmas present!
Style Tips & Advice
King & Allen News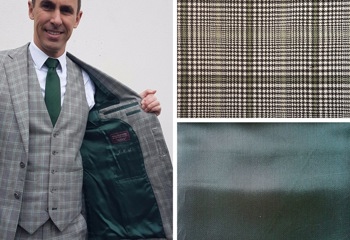 11 October 2021
The lining of the suit is often overlooked but, at King & Allen, this is often one of the most fun moments for our customers. 'The lining choice is a chance for you to show some flair,' says Jake Allen, 'even if your suit is quite plain, the lining can really liven it up and show off your individuality.' We've outlined some cloth and lining pairings below, to give you some inspiration for your next suit!
Style Tips & Advice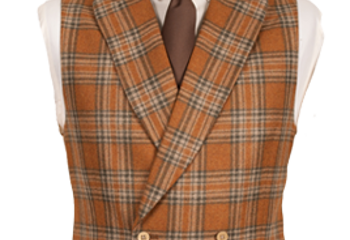 11 October 2021
Now the seasons have turned and autumn is in full swing, it's time to delve a little deeper into the upcoming trends of the next few months. Our linens and cottons are safely packed away and it's now the perfect opportunity to look at what additions we can add to the wardrobe to get us through the cold winter months.
Style Tips & Advice