How to create the perfect blue-themed wedding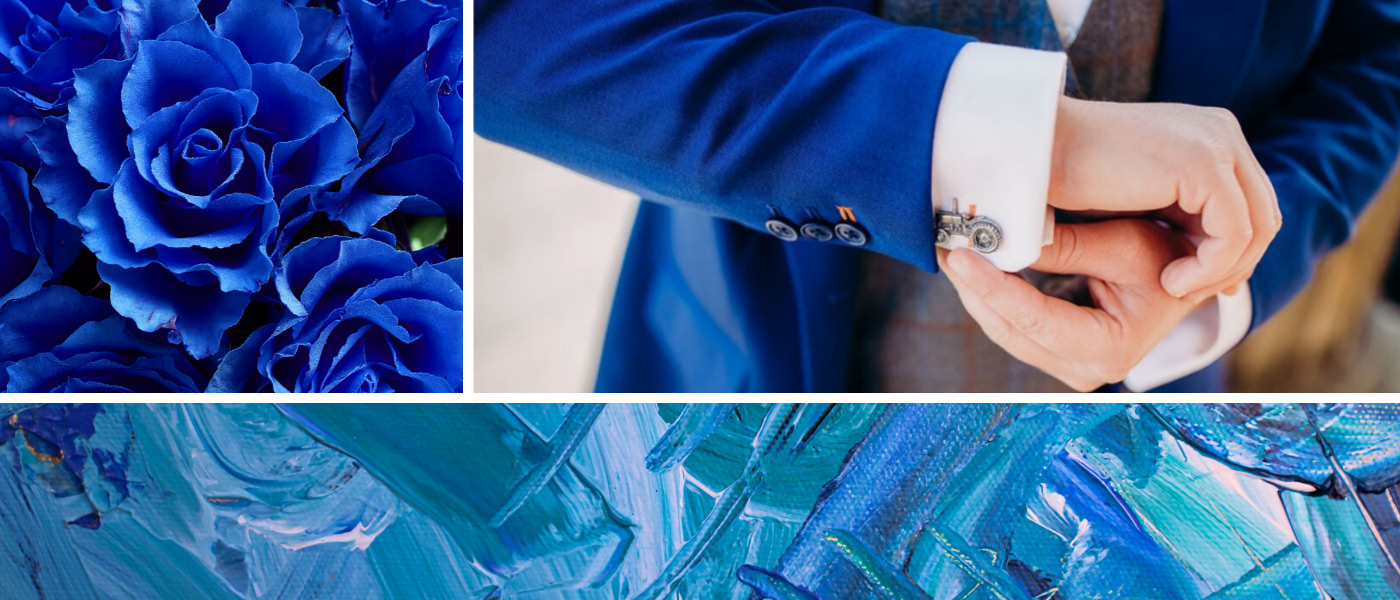 Get ready to see a surge of blue at weddings this year, thanks to Pantone's announcement that its Colour of the Year for 2020 is 'Classic Blue'. Pantone's annual colour choice has influenced everything from fashion to home furnishings for more than 20 years.
When it comes to weddings, though, blue has always been more than a passing trend; it's a well-established tradition. Think of the Victorian rhyme 'Something old, something new, something borrowed, something blue', in which each 'something' represents an item to be given to the bride before she walks down the aisle.
Ever wondered why blue, though? Well, the romantics among you will be relieved to learn that it's not simply to make the verse scan nicely. In fact, the colour blue was said to stand for purity, love and fidelity, making it the perfect symbolic hue for the most romantic of occasions.
The great thing about blue is just how versatile it is, so whether you're thinking about plunging in, or making the merest nod to nuptial tradition, here are our tips for ensuring your big day is a real rhapsody in blue.
Hue
The spectrum of blue hues is endless – from palest powder to darkest midnight. Choosing the right shade and tone for you depends on your taste but it's also worth consider the season, time of day and venue, along with any other wedding colours you're planning to incorporate.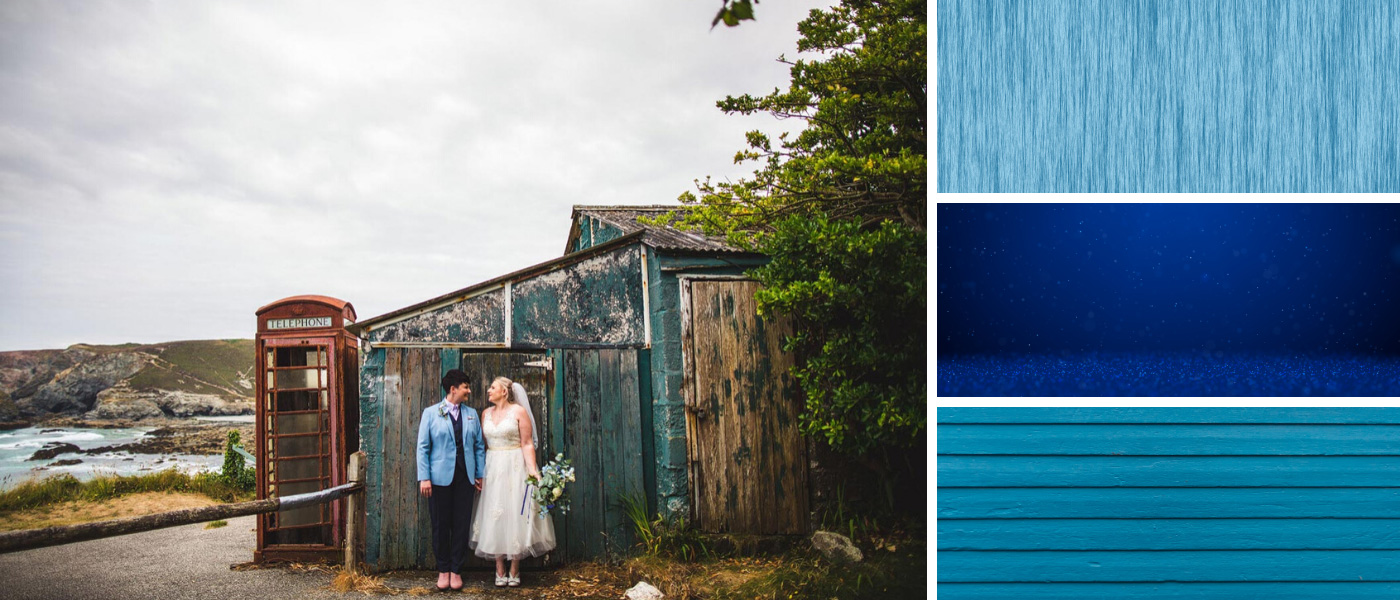 Darker shades (navy, midnight and indigo)
Navy is less harsh than black but still gives an air of formality, so it's perfect for a swanky evening affair and also looks sensational in a formal dinner suit. It also complements a wide range of colour schemes, though we think light pinks, pastel blues and deep reds work particularly well with this darker shade.
Who wore it well:
Musician James Righton donned a sharp navy suit and pale blue tie for his low-key Provencal nuptials to actress Kiera Knightley in 2013. The sixties-vibe two-piece perfectly matched her vintage-feel, above-the-knee, strapless tulle dress by Karl Lagerfeld for Chanel. 
Brilliant blues (French, royal and this year's Pantone 'Classic Blue')
While a bolder choice, royal blue combines some of the formality of navy with a touch more pizzazz. These hues are ideal for those looking for a more contemporary feel. Medium blues, such as French and brilliant, are particularly versatile. They work in any season or climate and are especially popular for outdoor barn and farm-style weddings since they mix well with earthy tones. Choose two different hues for you and your attendants to create a look that both contrasts and complements. It worked wonders for K&A customer Belinda and her daughter, and best woman, Natalie, who both shone in suits of royal blue and periwinkle.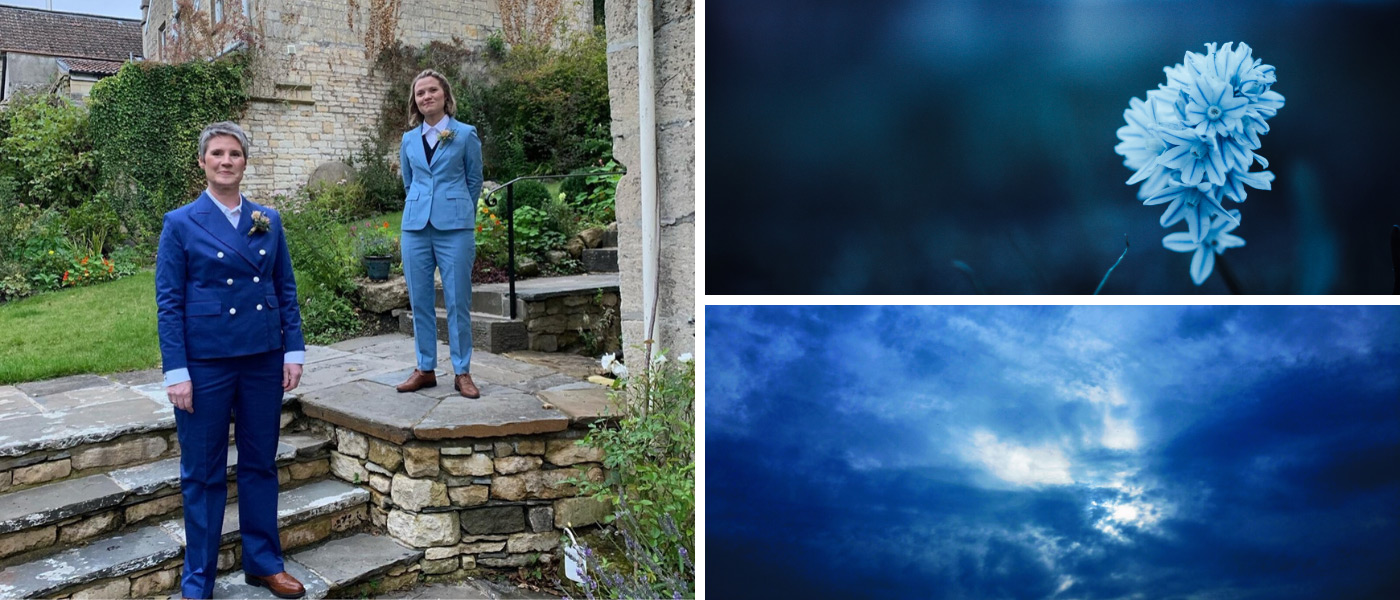 Who wore it well:
When soap star Adam Thomas married girlfriend Caroline Daly in 2017, he wore one of our own bespoke three-piece suits in striking mid-blue flannel with a contrasting grey waistcoat. And, with his young son, Teddy, dressed to match, the pair cut quite a dash at the Cheshire manor nuptials.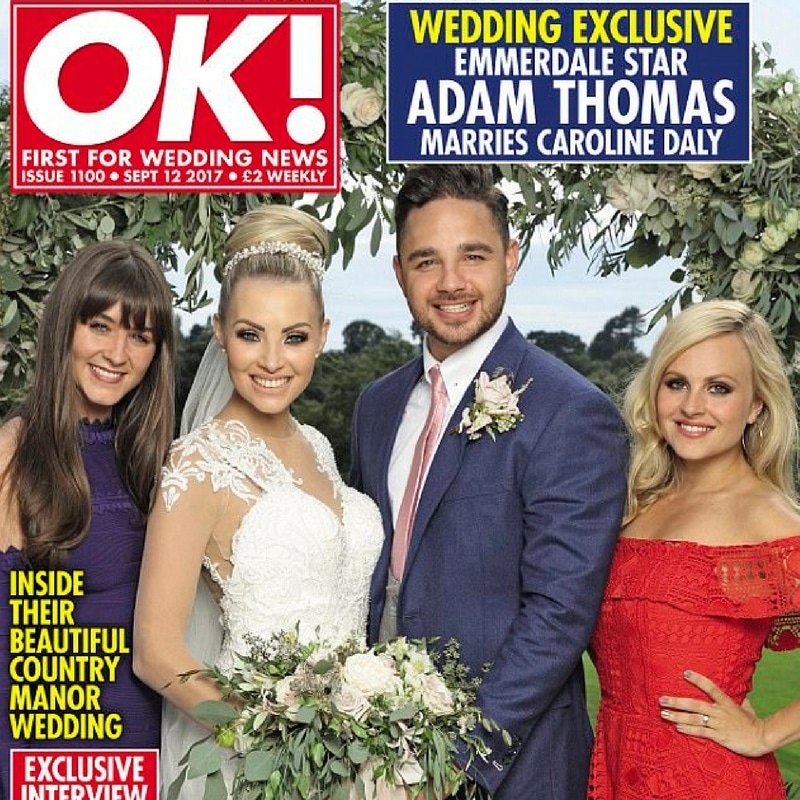 Lighter blues (powder, baby and sky)
Ideal for spring, summer and warm-weather destination weddings, these shades of blue work especially well in a beach setting as they complement the neutral backdrop of the sea and sand. They're also a natural partner for pale pastels, such as peach, mint and pink, which are popular colour schemes for such locations. Plus, light blue is a great option for those who wear a business suit every day and want their wedding day attire to be entirely different. You'll certainly stand out from the crowd.
Who wore it well:
We think The Kills guitarist Jamie Hince rocked his YSL powder blue, double-breasted suit for his Cotswold wedding to supermodel Kate Moss in 2011.
Texture
This is where you can be a bit more flamboyant. Go for something striking, like a patterned cloth with blue running through it, or, if you prefer something a little more subtle while still catching the eye, why not opt for tweed? Perfect for an autumnal wedding in the country. Or, if you really fancy making heads turn, take a blue suit and add an embellishment, such as embroidery or crystals.
Who wore it well:
Former wheelchair basketball Paralympian Ade Adepitan wore a petrol blue silk suit embellished with rhinestones on both shoulders (designed and created by our very own Jake Allen) when he married Scottish singer Linda Harrison, aka Elle Exxe, at St Paul's Cathedral in 2018.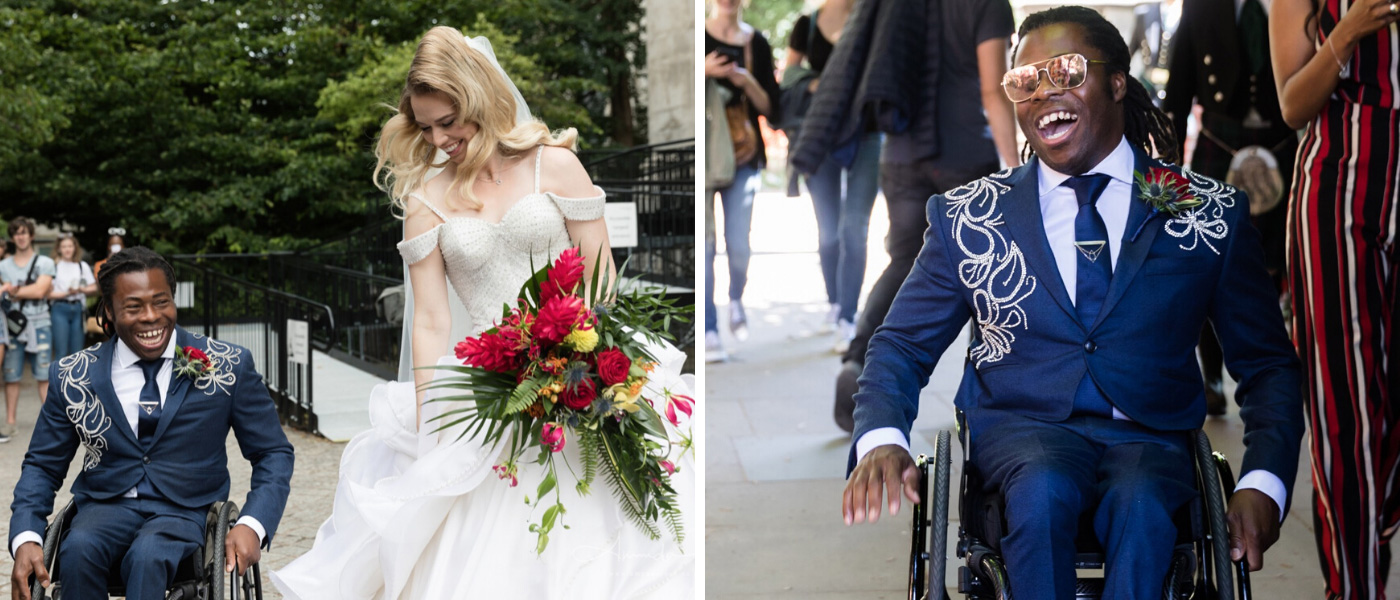 Accents
If a solid blue palette isn't for you, why not add accents? Choose a blue thread for the stitching and buttons or opt for a striking suit lining that you can show off as little or as often as you like. Alternatively, contrast your suit with a blue waistcoat, tie and pocket square. Slate grey and electric blue, for example, work perfectly together and, if you and your partner decide to wear matching suits, you could opt for different shades of blue for your accessories. You could even go for a hidden accent. Have the date of your wedding or a meaningful phrase stitched into the lining of your suit in blue thread for your intended's eyes only!
Who wore it well:
When Jack Brooksbank married Princess Eugenie at St George's Chapel at Windsor Castle in 2018, he paired his traditional morning suit with (rather appropriately) a royal blue waistcoat and pale blue tie. To finish off the look, his buttonhole was a blue thistle to match those in his bride's bouquet.
Best of the rest
There are so many ways you can incorporate blue into your wedding day beyond the obvious attendants' outfits. Here are a few suggestions:
Flowers: from blousy summer blooms like delphiniums and hydrangeas to delicate nigella or hardy winter thistles, blue flowers lend themselves to both formal and more casual affairs, helping to set the tone of your big day. 
Tableware: go bright and bold or pale and pretty with everything from linens and candles to glassware and crockery.
The cake: break with tradition and swap your ivory tiers for a striking jewel-toned stunner. Or for a more subtle approach, decorate your cake in the faintest duck egg blue, the perfect backdrop for garland of pastel summer florals.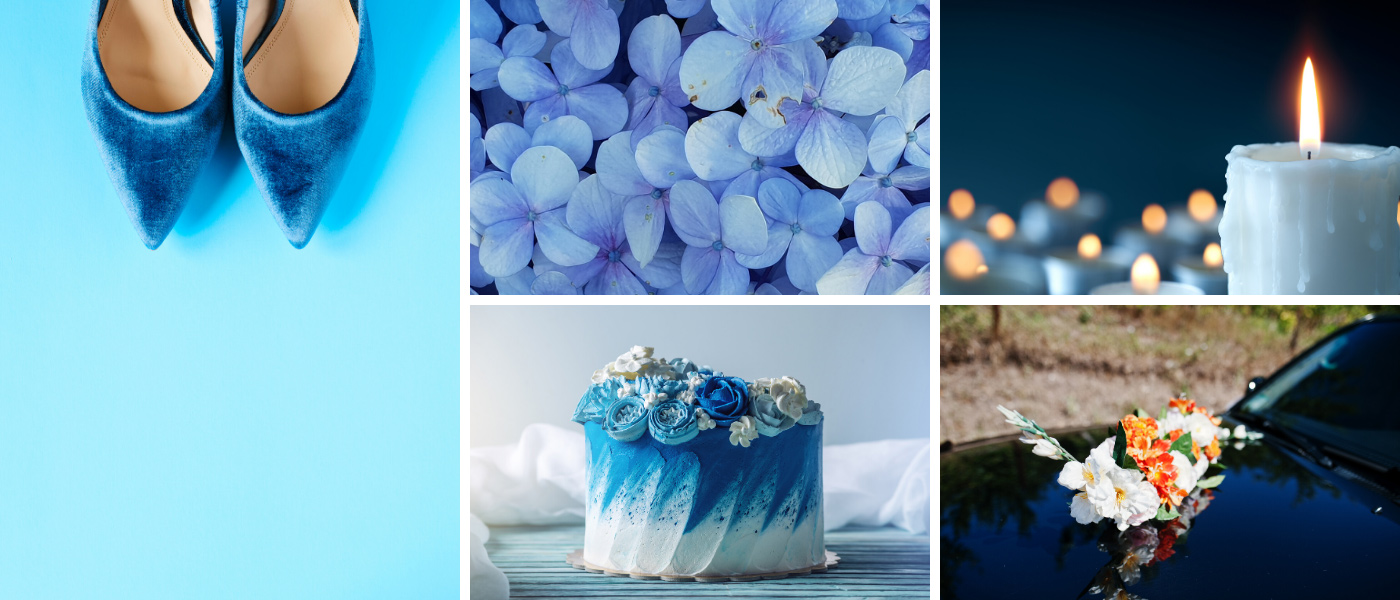 Accessories: make a statement with a pair of striking blue shoes, your jewellery, or follow Beyoncé's lead  ̶ she had her nails painted in a deep royal blue when she tied the knot with rapper Jay-Z back in 2008.
Getaway car: hire a classic American car, like a vintage Chevy, in cool blue and you'll drive off into the sunset in 'something old' and 'something blue'.
Take a look at our ultimate guide to wedding planning for more advice on what to book and when.
If you are looking for a bespoke wedding suit to make your big day a true blue affair, then do contact us to make an appointment. We have showrooms in central London, Surbiton, Wilmslow and Birmingham.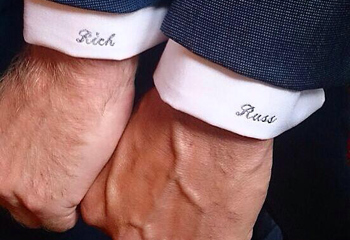 26 May 2022
Planning for your wedding can be a stressful time for some and the day itself often passes in a blur of joy and excitement. That's why it's important to 'stop and smell the roses' during your wedding journey and remember all of the reasons you've chosen to marry the love of your life. After the event itself, there are a plethora of ways you can look back fondly on the day, from the photos, to the video, to the signatures in the guest book. But did you know that your wedding suit can also serve as a reminder of the best day of your life? Read on to find out how...
Weddings
26 May 2022
2022 is a very special year for Pride, as it marks 50 years since the first ever march in 1972. While there were only 700 bravely marching then, this year it is expected there will be over 2 million attendees! Of course, many historical milestones have been achieved since 1972.
Style Tips & Advice
Style History
26 May 2022
Next week, the whole world will be watching as we celebrate 70 years with Queen Elizabeth II on the throne! The Queen has created quite the signature fashion lookbook that deserves its own jubilee. Her style has, quite literally, stood the test of time. Through nine decades, with her vibrant pant-suits and matching hats, stunning heirloom brooches - not to mention the symbolism behind every ensemble - it's no wonder the Queen is our style icon.
Style History