Karl and Daniel: Celebrating Ten Years of Tailoring in Wilmslow
As King & Allen's Cheshire branch celebrates its 10th anniversary, we talk to two members of staff who have been there since the very beginning: store manager Karl, a firm customer favourite, and tailor Daniel, for whom suit-making is in the blood. Describing the shop as 'their baby', they share their personal highlights of the past decade - from their early days on the Wilmslow project together to working with celebrity clients. But, as both agree, it's providing the perfect bespoke experience that really keeps them passionate about the biz.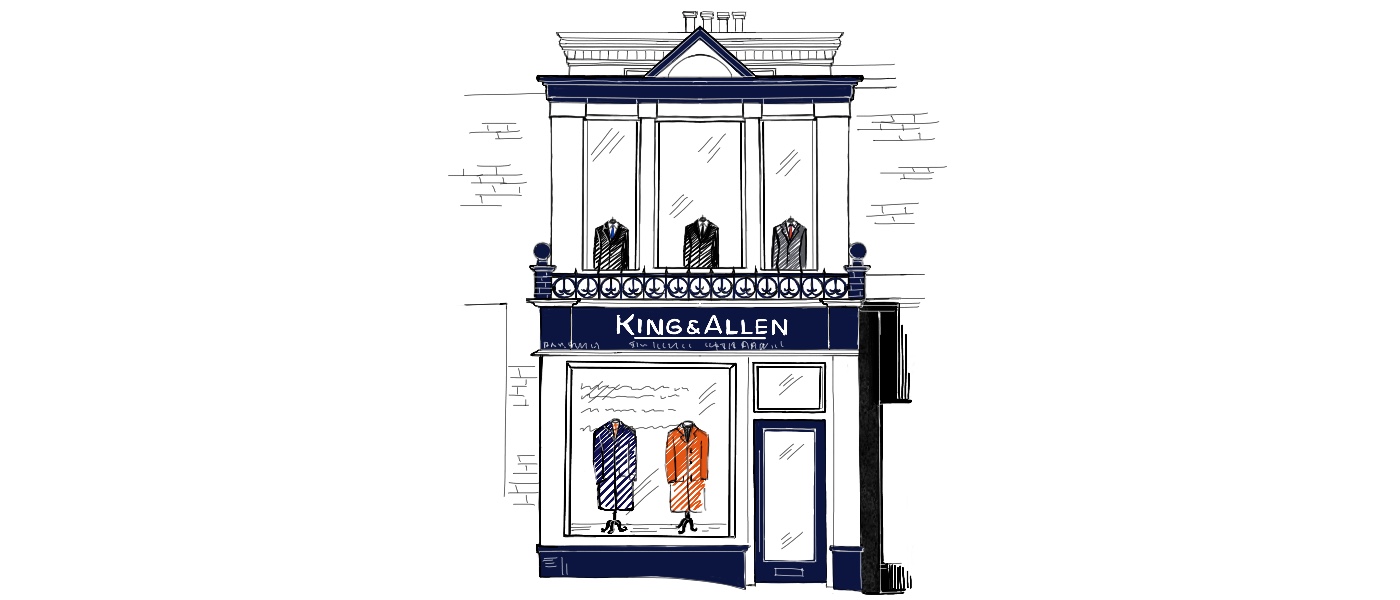 How did you both get into tailoring?
Daniel: I learnt it in school back in Slovakia, so I've always been working in fashion and tailoring. My mum and grandma were both tailors too, so I grew up in this environment.
Karl: I studied fashion design at Nottingham Trent University. I wasn't really into trends or fast fashion, but I was interested in how clothes were constructed, so my natural progression was to go into tailoring. We've both got an interest in textiles, but more so the process of actually getting it on the body.
How did you both end up with King & Allen?
K: Because I'd done the course, I thought I'd become a tailor – make one or two suits a week and that would be me for the rest of my life. But, it turns out I was completely naïve about the business side of things. I started at King & Allen doing work experience, where I shadowed Adam King for about six months. That really opened my eyes. I realised that you can't run a business and make suits. Tailoring is a huge operation. That's how I ended up on the management side.
D: Back in Slovakia, I worked as a professional pattern cutter and when I came to the UK, I knew I wanted to do something similar. I saw an advert, came in for an interview, King & Allen trialled me and I've been with them ever since. It doesn't feel like 10 years to be honest!
What keeps you passionate about your jobs at King & Allen?
K: Originally, I was asked to come and start the Manchester showroom. We did tour days where we would go and visit other locations and we saw Cheshire as a great place to have a tailoring shop. I was asked to be part of the team setting up the Wilmslow project. Daniel joined us a bit later as the on-site tailor and we've both been here since then. It's really been our baby.
D: It's true, people have come and gone, but we're both still here.
K: Now the shop just runs with the two of us. So, it's the challenge that's kept us here, but also the customers. When they come into the showroom, they're not here to shop. They've already got an idea of what they want; it's the experience people are after.
D: Yes, it's certainly not boring. Every customer is different. The challenge is constantly changing.
K: And the customers become our friends. By the time they're on their second suit and they've had all the fittings, we've spent a lot of time with them.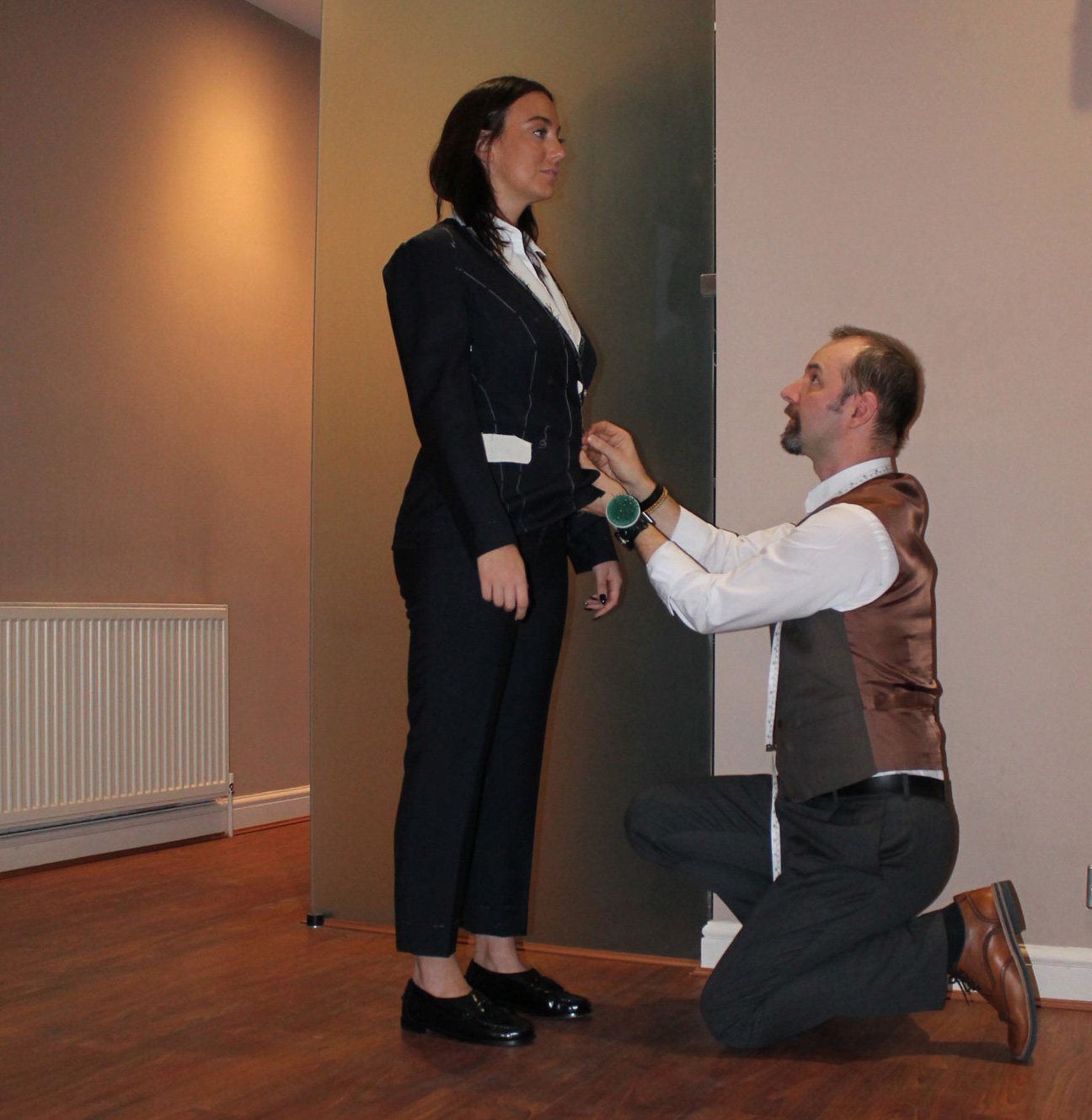 What have been some personal highlights over the past 10 years?
K: One of our previous customers came back to us and asked us to make a bespoke suit inspired by the Netflix show Gotham. It was a three-piece suit based on the Riddler's green suit and purple overcoat and it looked really cool.
Another highlight was when the ITV show, The Trials of Jimmy Rose filmed some of the series in the shop. I got to be a in a scene with its star, Ray Winstone, for about 10 seconds. He even says 'Nice one Karl' in it – so it became a bit of a soundbite.
So, those are cool little snippets, but what's really rewarding is showing less confident people how great they look in a suit. Generally, they don't know what suits them, what fits them, what size they are – both men and women – and they feel uncomfortable standing in front of a mirror.
Some people feel they have to apologise for their shape but as far as we're concerned, it's just a different body to make a suit for. No body shape is right or wrong; they're all different.
D: Because it's made specifically for them, that's why they look so good in it. It still feels good when people tell me: 'I look fantastic! Thank you very much.' It's very satisfying work.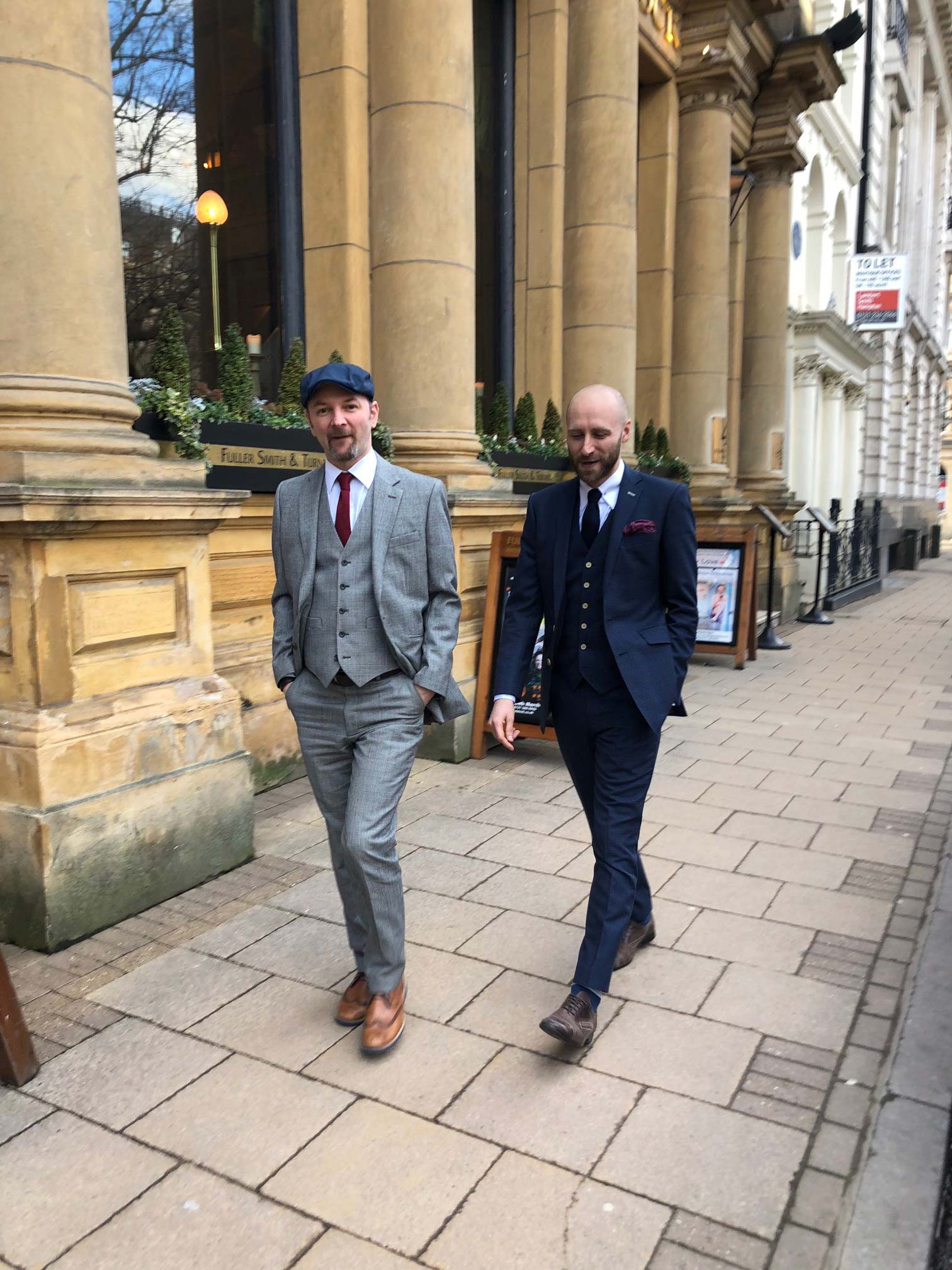 What changes have you noticed since you first started in the industry?
K: Originally it was more price focused. Now, it's more about style and fashion. It's a very slow process in tailoring, we're talking hundreds of years of tradition. You don't really adhere to trends, you fit the body. For most people, what they can get off-the-peg doesn't interest them.
For example, if you get an older gent who's been having suits made for years; he likes the high-waisted trousers, the double pleats, the turn-ups in his trousers – what some might consider old-fashioned – but he can get it here. To him, it's not old-fashioned, it's classic. Alternatively, if you want something uber trendy, perhaps you've seen something on Instagram but it's not in the shops yet, we can do that, too.
I suppose the other significant change has been the legalisation of same-sex marriage; there has been a big boost in people getting married and wanting suits made for the occasion.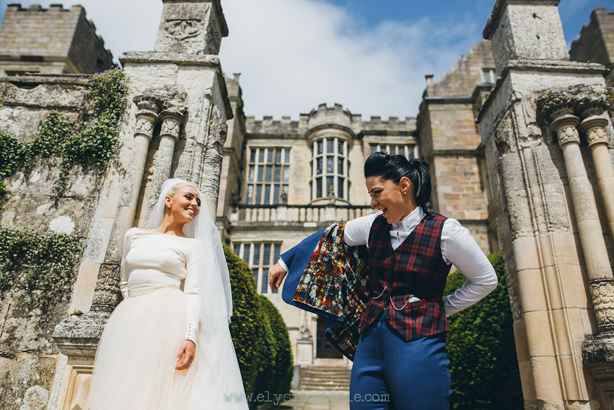 What are your favourite suits?
D: My latest one is a blazer and a waistcoat in a green, lightweight mesh fabric with a very loose weave, so it's incredibly breathable. I love it. Worn with black trousers and a black skinny tie, it's a really nice contrast.
Are there any particular suiting styles that have gone out of fashion that you would like to see make a comeback?
K: I've got two pocket watches, so I've got a few waistcoats with an extra button hole added to accommodate the chain.
D: I've got a few double-breasted waistcoats – I love them. I think they always look good. It's not usual to see people in them nowadays, though.  
K: The double-breasted waistcoat tends to come in and out of fashion and not for very long, which is a shame. I think they look great on really big or really skinny guys. Waistcoats always look great on women, too, because they accentuate the curves, almost like a corset effect, but more comfortable.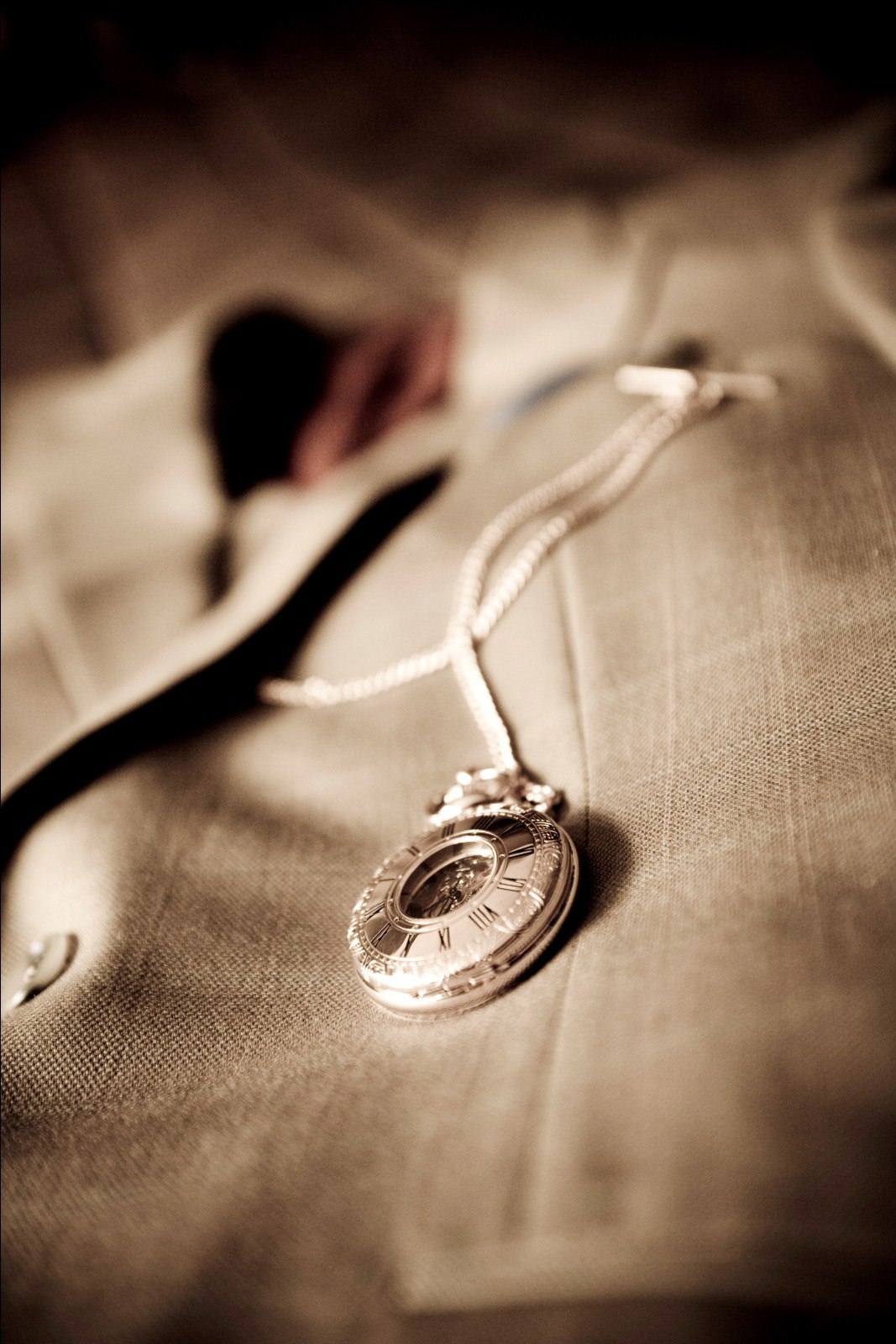 Have you created any suits for any famous people in your time?
K: X Factor musician Lucy Spraggan was a highlight – we did her wedding suit. We also made a suit for Mark Radcliffe from 6 Music. And, we did the suits for actor Adam Thomas's wedding, which featured in OK! Magazine. Plus physician and presenter Dr Rangan Chatterjee. I did Ritchie Neville from the band 5ive, too. They were all really nice.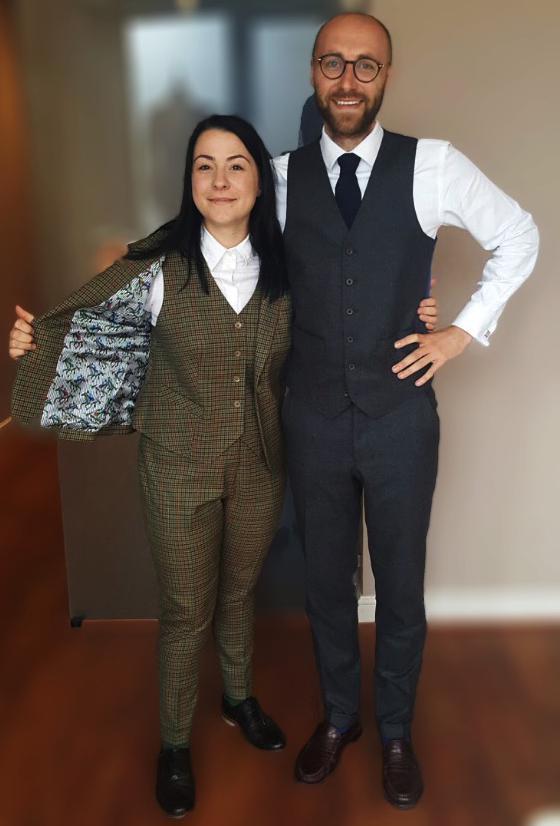 Do you have any tips for people who want to pursue tailoring as a career?
K: Pick an area to specialise in; don't try to do it all at once. Maybe become a pattern cutter, or an alterations tailor. On Savile Row, you'll find people who just hand-stitch button holes, for example, so go specific.
If you're based in the northwest of England and would like Karl and Daniel to help you create your next bespoke suit, get in touch with our Wilmslow store in Cheshire today.
27 July 2022
A styling guide for the challenging task of finding the right suit to wear as a wedding guest. It's important not to upstage the bride and groom, but that doesn't mean you can't add your own style in your suit.
Style Tips & Advice
Weddings
27 July 2022
Barrister Samuel March is an important influencer and contributor in the vegan community; being an advocate for animal rights and a vegan. Here he shares his experience with vegan tailoring.
Vegan
Press
29 June 2022
Many couples start with the season in which they are getting married as the basis of their wedding theme. Now that we are in the hotter months, we are looking into summer wedding themes and how your King & Allen suit can play a big part of it...
Style Tips & Advice
Weddings