Focus on: Linen Suits
As Summer approaches more customers are asking about lightweight suits and linen suits in particular. Finding a linen suit off the peg is not easy: choice is minimal and quality varies considerably.
To help you in your research, below are our Top 5 tips for choosing the perfect linen suit. Or if you would like some useful advice direct from the experts, please get in touch or call us on 0800 027 4430.
Choosing a Linen Suit – Tip 1
Consider what weight you would like the cloth to be. Where and when will you be wearing the suit? Will you need to travel with it? Will you be wearing it for lengthy amounts of time? The heavier the linen the less it will crease.
Choosing a Linen Suit – Tip 2
Consider what colour you would you like the suit to be. Conventionally linen suits are navy blue or cream, but if you go bespoke the choices are plentiful. Darker cloths are more practical in that they show dirt less easily. Lighter linen suits reflect the sunlight and will therefore keep you cool – even in very hot temperatures.
Choosing a Linen Suit – Tip 3
Consider the cut of the suit. Traditionally a linen suit is cut with 2 buttons and a notched lapel, but there's no reason if you go bespoke why you couldn't have the suit exactly how you like it. For example, if you would like to look taller you may opt for the one button jacket, which elongates the upper body. These are all requirements you can discuss with your tailor.
Choosing a Linen Suit – Tip 4
Consider what style linen suit you are looking for: you could, for example, opt for a 1960's French Riviera style, which is very on trend for this summer. Or you could go for more of a Henley Regatta rowing style, by adding piping to the boarders of the lapels. Or you may prefer a classic style that is elegant and understated, that fits you perfectly and can be enjoyed for years to come. The choice, of course, is all yours.
Choosing a Linen Suit – Tip 5
Have you considered alternatives to linen? Many clients enquire about a linen suit because they want a very lightweight suit for summer wear, when actually they don't like the creasing effect associated with linen. We offer a variety of 'cool wools' that go down to as light as 7oz (lighter than most linens), but because of the sophisticated way the yarns are woven they do not crease. They therefore offer the best of both worlds. For more information read our article on Summer Suits.
Prices for our linen suits range from £399-£999. If you prefer we offer garments as separates. There are no hidden charges. To find out more about our prices click here.
26 September 2019
An increasing number of companies are adopting a less formal office dress code these days, with fewer businesses expecting their male employees to show up in a suit and tie. Instead, the new watchword is 'smart-casual'. But where does that leave the suit lover?
Style Tips & Advice
Business Style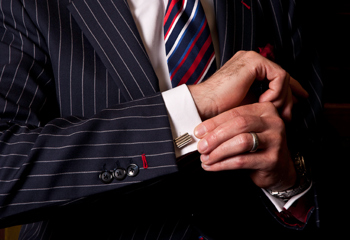 12 September 2019
The term 'pinstripe' refers to the very thin, parallel lines that run through a cloth, contrasting with the main colour. Taken at face value, it would seem to be a fairly bland description of a simple fabric pattern. But the history of the pinstripe suit is anything from bland and, indeed, the suit itself has a host of connotations attached to it.
Style Tips & Advice
Style History
27 August 2019
The new Peaky Blinders series is back with a bang and we're not just talking about the storylines. As ever, Tommy and his crew look as sharp as the razor blades the real-life Peaky Blinder gang were rumoured to stitch into the peak of their flat caps.
Style Tips & Advice
Celebrity Style
Style History