Interview with Samuel March
Barrister Samuel March is an important influencer and contributor in the vegan community; being an advocate for animal rights and a vegan. He is widely known for breaking a 200 year old tradition of Barristers wearing horsehair wigs by creating a new wig made from hemp.
We interviewed him for his views on vegan clothing and his experience with vegan tailoring at King & Allen.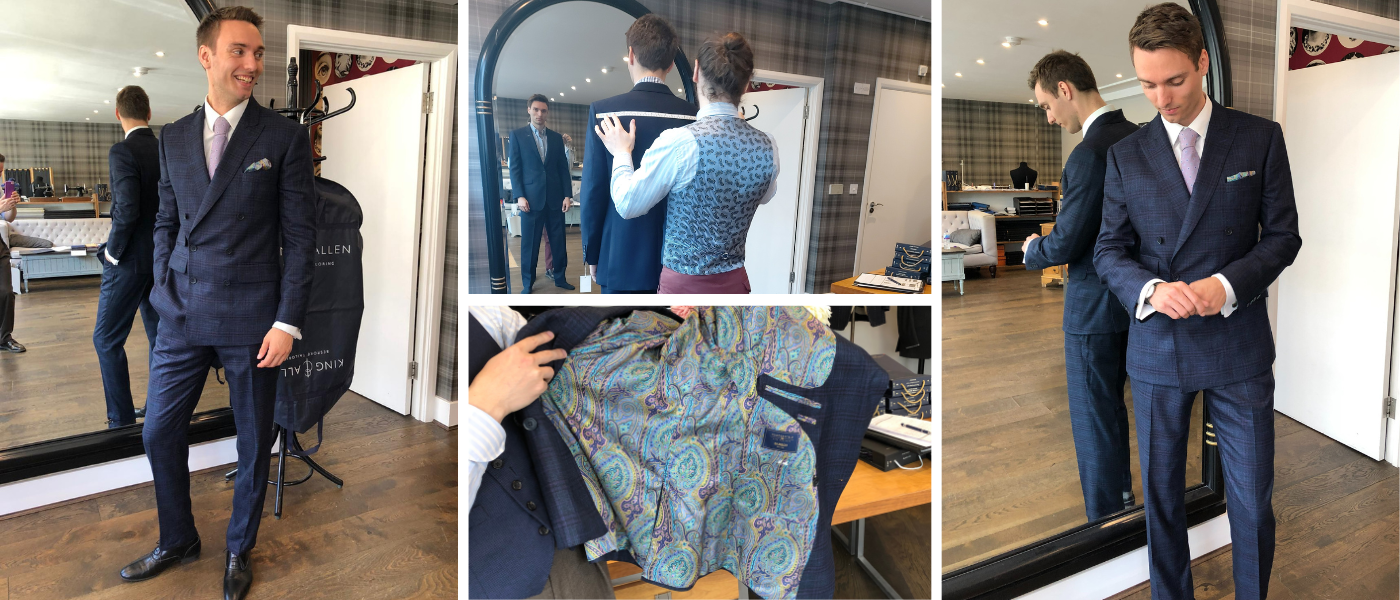 You are well known as the Barrister that broke the 200 year old tradition of horse-hair wigs, and had a wig made from hemp instead. Can you expand on how that happened?
I have been vegan for a few years now, which means I am opposed to all forms of animal exploitation. Fighting for animal protection was a key factor in my decision to pursue law and develop a niche practice. Given how firmly those beliefs are held, I was distressed at the idea of having to wear a wig made from horse hair. Whilst I accept that taking hair from a horse may be able to be done without harming the horse, the fact is that horses are exploited in all sorts of ways and the reason they can be traded, eaten, and raced to death is because they are seen as property, rather than sentient beings. A wig is a high value item and I did not want any of those funds to go to add value to the practice of animal ownership.
As a result I declined to wear the horsehair wig and instead worked with a hemp supplier and wigmaker to have my own plant-based wig made. I was aware that there were some synthetic options out there, but the main option available at the time was to have an expensive synthetic wig flown across the globe from Australia. That did not sit well with me as an environmentalist. The wig is such a symbol of justice and the profession that I wanted mine to be something I would be proud to wear, and that represented my values.
My wig made it into national and international news, and I started to be contacted by vegan lawyers across the commonwealth, expressing an interest – so I set up Hemp & Hemp wigs, to ensure that other barristers could do the same. Any profits I make will go to causes that use the law to help animal protection.
How would you describe shopping for a vegan suit and vegan clothing in general to a non-vegan?
In all areas of life, being a vegan is easier now than it would have been a generation ago. Even over the last five years since I went vegan, I have noticed an increasing number of options springing up. I am limited somewhat by the fact that I try to buy most of my clothes second hand, unless it is something like suits or formal shorts that really need to fit well and look sharp.
When it comes to casual clothes, it is fairly easy to shop vegan. There is no shortage of options for clothes that are second hand cotton, recycled plastic or other planet and animal friendly options.
When it comes to formal clothes, the search is much more challenging. Many of the materials that feel both high end and natural such as leather, silk and wool are all derived from animals. Without wool suits, leather shoes/belts and silk ties/linings/handkerchiefs, very often the only options are synthetic materials that feel unnatural, tacky and cheap.
What has your experience been when buying a suit elsewhere?
I never throw things away, so I have held on to an old wool suit. I have a velvet suit which is vegan but limited in the settings in which it feels appropriate to wear. Other than that, until I came across King & Allen, I had reluctantly resorted to buying cheap suits made of very synthetic materials.
Were you aware about vegan tailoring and vegan clothing in general prior to your initial consultation with King and Allen?
I was certainly aware of the growing market for vegan clothing in general, although King & Allen have been the first tailors I have come across that really seem to get it, and to understand that vegans very often don't JUST want something animal-product free, but want something positively plant-based. So I was thrilled to hear about the bamboo range. One of my friends sells bamboo t-shirts and so I knew how soft and comfortable Bamboo is, and was aware of why, from an environmental perspective, it is far preferable to other plant-based options like cotton.
You said on Twitter that you have "never had the full tailor experience". How did King and Allen change the game for you?/ What was your experience with King and Allen?
Before my experience with King & Allen, my approach to choosing suits had been a case of going to a shop, eliminating all the things I couldn't wear, or didn't fit, or weren't suitable for court and then choosing from the one or two options left; finding something that just about fit my shoulders and taking it to the dry-cleaners to have the waist taken in.
My experience with King & Allen was eye-opening. Measurements were taken in advance so I knew with absolute confidence the suit would fit like a glove. I then got to pick every detail of the suit, under the guidance of Joe Goad, my tailoring consultant.
I could choose any pattern from books of bamboo or eco-cloth (recycled plastic) and any lining from an seemingly infinite selection of paisleys, comic book prints, block colours and other designs. I found myself being pulled in two directions: on the one hand, I desperately needed a double breasted suit  in a dark and sensible colour that I could wear under my gown in court. On the other hand, there was such a dazzling choice of colours and patterns that my inner peacock cried out for something fun, something I would be excited to wear. I like to go for a drink after work from time to time, but I hate wearing black three piece court suits anywhere other than in court, and desperately wanted something that I felt as happy wearing in court as I did out around Soho afterwards.
Joe helped me select a very dark pattern with subtle highlights of purple that perfectly balanced these competing drives. We then found a psychedelic paisley lining, adding an exciting flash of colour to the inside and which pulls out like a built in pocket square. I was then guided through the choices of styles and colours for buttons, highlights, and pockets. I had no idea that buttons are very often not vegan!
The colours work perfectly. Under a wig, white bands and a black gown the suit's highlights are barely noticeable; but when the sombre court accessories are swapped for a colourful tie and pocket square, the suit comes to life.
After the initial measurement and selection, I had a further fitting a few weeks later when the suit was prepared. At that fitting we decided on a few minor adjustments and a couple of weeks after that the suit was ready to wear.
I have worn it at every available opportunity since. The pattern and style have drawn admiring comments from my colleagues at the Bar, to encounters at the bar.
What did you enjoy most about the King and Allen experience?
I have always loved clothes, but I did not go to a school that wore formal uniforms, never wore suits in my old marketing career and my dad is an artist and ageing hippy who loathes wearing a tie. As a result, whilst I have been keen to get a good suit for some time, I have often felt I didn't understand all of the rules: how many buttons to do up, how much of my cuffs should be visible, how the trousers should sit above my shoes, whether it's okay to wear a tie that matches a pocket square. A couple of my early suits I feel like those tailors just told me that it was the right fit, but I left feeling like you do after a so-so haircut, where you couldn't quite bring yourself to say anything other than "great, looks good", when it wasn't really what you had hoped for.
What I really liked about Joe's advice, was that he knew all the rules, and traditions, guided me through without any snobbery, and never made me feel silly for asking, nor did he make it feel like the "rules" needed to be stuck to slavishly; I felt like the whole experience was genuinely about getting to know me and what I was looking for, and helping me to make the right choices. 
People can be sceptical or unsure about vegan clothing.. How did the suit feel and would you recommend it to non-vegans as well as vegans?
I would absolutely recommend it to anyone. Bamboo is such a soft, comfortable and lightweight material and the range of designs means there is something for everyone. Even if I wasn't vegan, I would take bamboo over wool every time for a summer suit.
Do you plan on ordering more from our vegan collection?
Absolutely. From now on King & Allen will be my go-to. I've already emailed to see whether you can do barrister shirts!
If you'd like to find out more about our bespoke vegan suits or our made-to-order suits, please contact us today.
27 July 2022
A styling guide for the challenging task of finding the right suit to wear as a wedding guest. It's important not to upstage the bride and groom, but that doesn't mean you can't add your own style in your suit.
Style Tips & Advice
Weddings
29 June 2022
Many couples start with the season in which they are getting married as the basis of their wedding theme. Now that we are in the hotter months, we are looking into summer wedding themes and how your King & Allen suit can play a big part of it...
Style Tips & Advice
Weddings
29 June 2022
We are proud of the beautiful suits we make and providing a unique bespoke journey for all. We love receiving our clients' photos, and seeing the transformative power of our suits. It is for this reason that we are launching our annual Photography Competition!
King & Allen News