The Guide to Double-Breasted Suits
One of the first style questions we ask our customers when they come in for their bespoke suit is 'double-breasted or single breasted?' While the single-breasted suit is often more popular, for both business and weddings, we are huge fans of the double-breasted suit. Read on to see why we rate this style and how you can make it work for you.
Elegance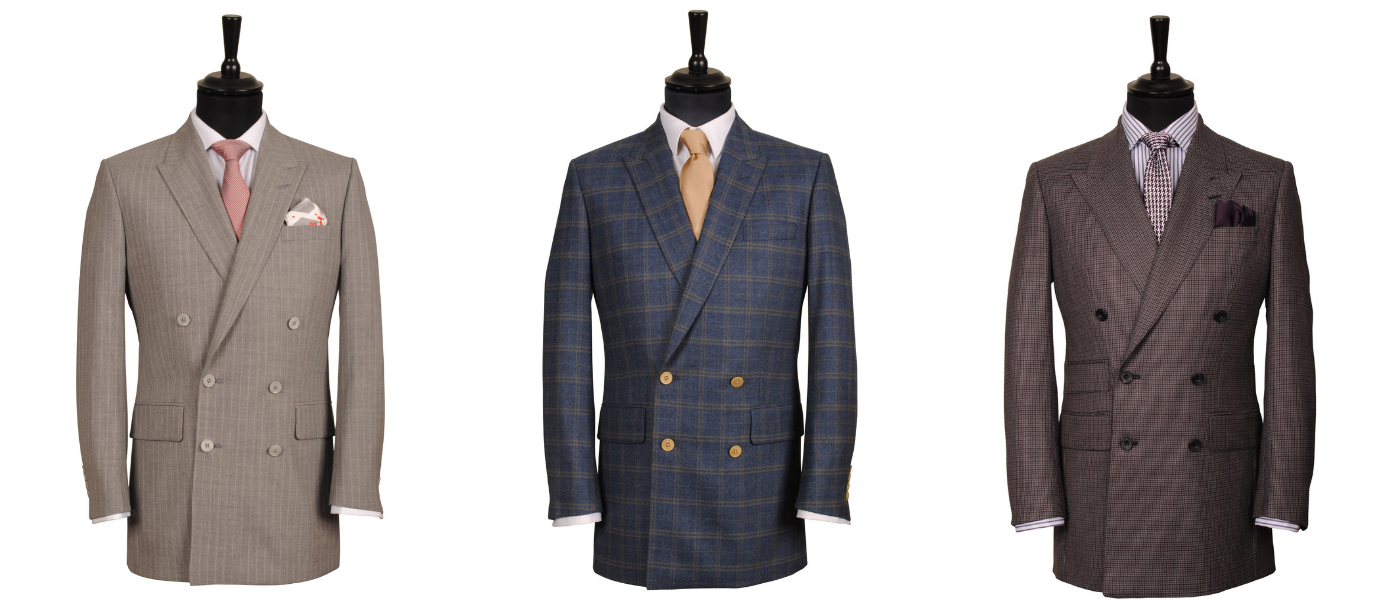 The double-breasted suit has moved in and out of fashion over the decades but it always comes back. With its classically debonair look and versatility in terms of fit, we think it always looks really elegant and sharp. Think classic movie icons such as Steve McQueen, Clark Gable and Katherine Hepburn or look at modern styles such as Dev Patel or Cara Delevingne. The silhouette can be loose for greater freedom of movement or more closely-fitted to enhance your shape. Small style details, such as contrasting buttons can really make the suit stand out.
Patterns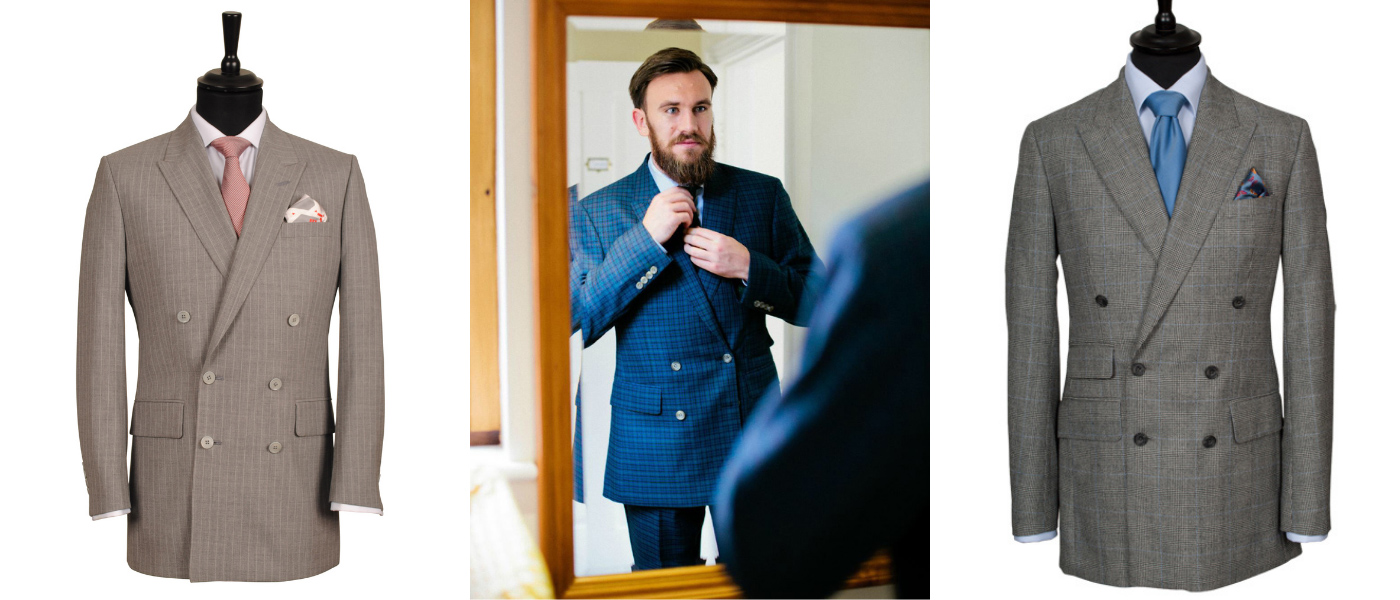 The double-breasted suit lends itself well to patterns, such as stripes and checks. A pinstripe can look great for a business suit with a twist, while a double-breasted check suit is a fantastic choice for a bold wedding suit. A double-breasted check sports jacket in a heavier tweed can also look great for a more laid-back vibe with a pair of chinos or jeans. 
Be bold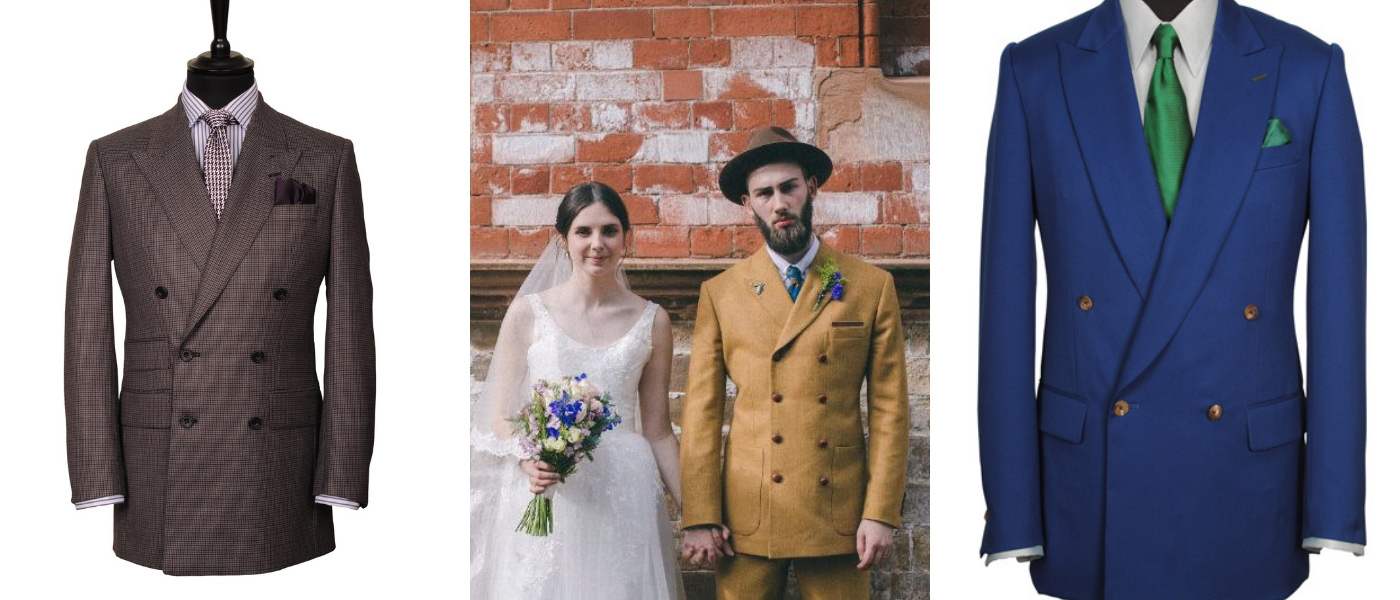 As well as patterns, the double-breasted suit can look really great in a bold hue, while still also looking elegant. Add in some peaked lapels or contrasting trousers for an even more adventurous look or pare it down with a more neutral colour palette for a more classic, vintage aesthetic. 
Try a Waistcoat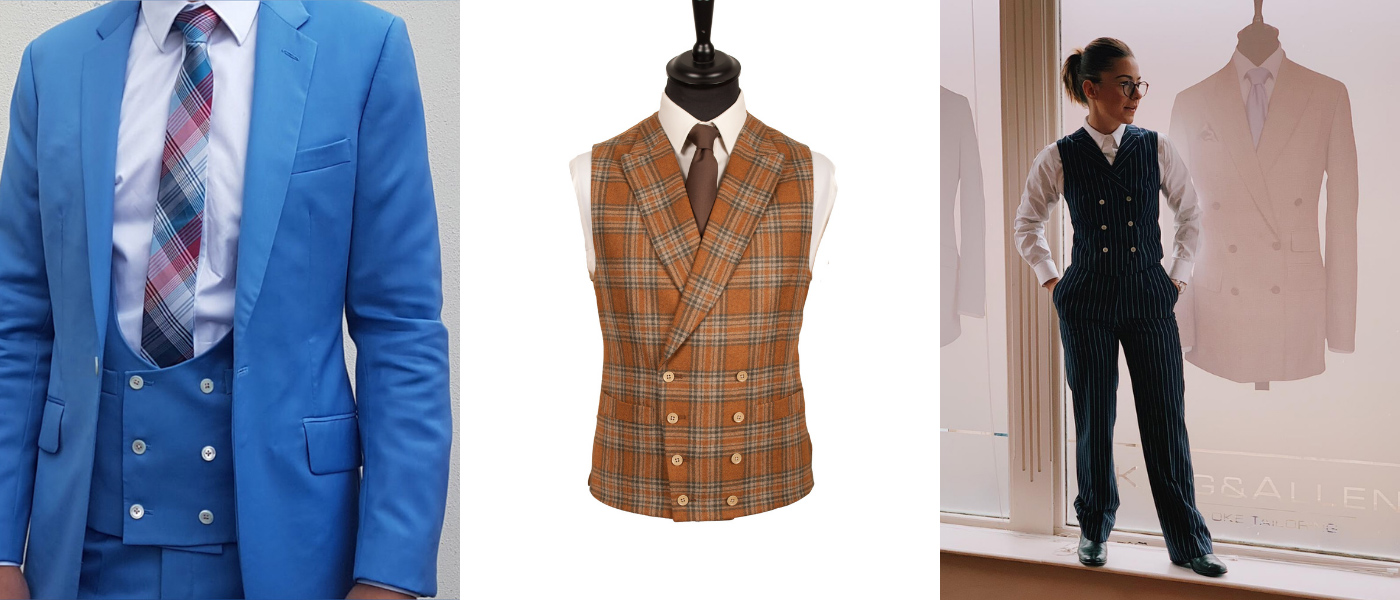 If you're not quite ready for the full double-breasted suit, you could always opt for a double-breasted waistcoat, paired with a single-breasted jacket. This can look really unique, especially if you opt for a scoop-neck waistcoat (see above left) or a contrasting pattern to the main suit. The great thing about waistcoats is that you can take off your jacket and still look smart, especially with the trim silhouette that the double-breasted waistcoat provides.
The most important thing to remember when buying a double-breasted suit is to make sure the fit is right. At King & Allen we have years of experience creating beautifully-fitted suits. To find out more, or to book an appointment, please contact us today.
18 August 2021
Linen has been used for many thousands of years. Indeed, flax fibres were found in a prehistoric cave in Georgia, dating from around 36,000 years ago! Nowadays, linen is a lightweight, breathable fabric that is particularly popular during the summer months or in hotter climates. It's also a vegan fabric, which is perfect for those looking for a suit free from animal products.
Style Tips & Advice
Weddings
16 August 2021
It's often the smallest details that can really make something ordinary really stand out. The understated elements of a suit can often make a big difference in not only how we're perceived by others, but how we feel about ourselves. At King & Allen, a well-put-together suit and detailed design elements always leave us feeling more confident and with a spring in our step.
Style Tips & Advice
14 June 2021
While not everyone will want to go for an audacious check, there are ways to incorporate bold hues into your wedding suit and something for everyone...Read on for our five tips on how to wear a bold colour on your wedding day...
Style Tips & Advice
Weddings