Bespoke Shirt Options
With many of us still working from home, loungewear has become de rigueur, with a mad dash to put on something more presentable before that all-important Zoom meeting. And so, the humble shirt has stepped into the spotlight. No longer consigned to the backseat, for many of us, wearing a shirt to an online meeting can make us feel better and look presentable and professional. There are so many options that will make a bespoke shirt really stand out and leave you looking (and, more importantly, feeling) your absolute best. Read on for our guide to making your bespoke shirt top notch.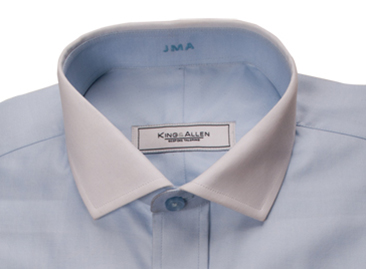 Colour
White is the classic colour for a shirt - from day-to-day business, to formalwear, to a shirt that makes your wedding suit come together. A good, crisp white shirt makes anyone feel more confident but have you considered branching out into a wider-range of colours and patterns. Light blue is another classic that goes with almost anything and pink is a bold choice to make you feel more enlivened. A dark blue, or even black can look really stunning as a monochrome look with a blue or black suit. A check shirt can also add a bit of individual flair, or maybe even a bold stripe? There are so many choices. You can contact us to find out more about our wide range of shirt cloths.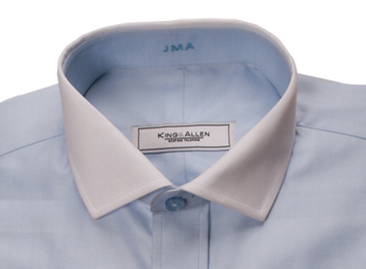 Contrast
If you'd rather stay neutral but still want a hint of colour, you could always try a contrasting colour or pattern under the collar of the shirt, inside the placket (where the buttonholes are placed, or on the inside of the cuff. You might also like to include some contrast piping on the shirt. These small hints are what set a bespoke shirt apart from off-the-peg options and give you an opportunity to show your unique taste.
Collar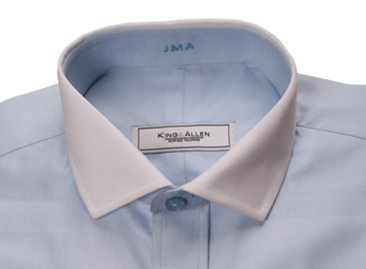 Clockwise from left, the Kent collar, the club collar, the semi-cutaway, the cutaway, the button-down collar.
At King & Allen, we offer a variety of different shirt collars:
The Kent is one of the most classic styles with a slightly longer tip, which can allow for a collar tab.
The cutaway collar gives more space for a larger tie knot while the semi-cutaway will sit somewhere between the cutaway collar and a regular collar, which is ideal if you want to wear the shirt with or without a tie.
For a more distinctive look, the club collar has increased in popularity over the past few years, with the popularity of shows like Peaky Blinders.
We also offer wing collars for more formal attire, button-down collars and nehru collars.
Cuffs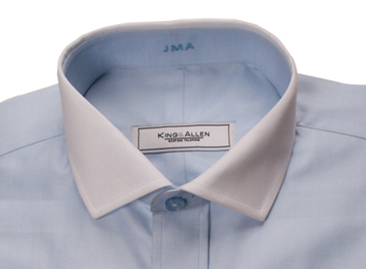 As with the other options, there are also a number of choices available, with regards to the cuffs of your bespoke shirt. The double cuff is more formal and is worn with cufflinks - perfect for a wedding or if you want to feel a bit more glamorous or dapper. The single cuff is always a buttoned cuff. The ends of the cuffs can be round, straight or beveled (where there is a notch in the cuff by the buttonholes). As we mentioned above, you can really add some flair by adding in a contrasting colour or pattern, or perhaps some contrast buttons.
If you're interested in having a bespoke shirt made, please contact us today!
18 August 2021
Linen has been used for many thousands of years. Indeed, flax fibres were found in a prehistoric cave in Georgia, dating from around 36,000 years ago! Nowadays, linen is a lightweight, breathable fabric that is particularly popular during the summer months or in hotter climates. It's also a vegan fabric, which is perfect for those looking for a suit free from animal products.
Style Tips & Advice
Weddings
16 August 2021
It's often the smallest details that can really make something ordinary really stand out. The understated elements of a suit can often make a big difference in not only how we're perceived by others, but how we feel about ourselves. At King & Allen, a well-put-together suit and detailed design elements always leave us feeling more confident and with a spring in our step.
Style Tips & Advice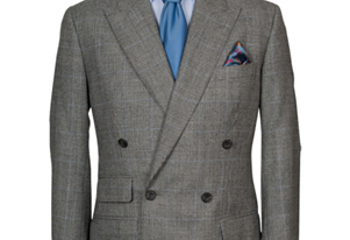 16 August 2021
One of the first style questions we ask our customers when they come in for their bespoke suit is 'double-breasted or single breasted?' While the single-breasted suit is often more popular, for both business and weddings, we are huge fans of the double-breasted suit. Read on to see why we rate this style and how you can make it work for you.
Style Tips & Advice