How to style a country wedding suit
What's not to love about a wedding in the country? It's quintessentially British (think Four Weddings) and it's the perfect way to embrace the great outdoors in a relaxed environment. No wonder so many of us are opting to tie the knot in a rural setting. According to a survey by wedding planning website Hitched, 28% of UK couples who married in 2018 chose to host their reception in a barn, making it the most popular choice of wedding venue.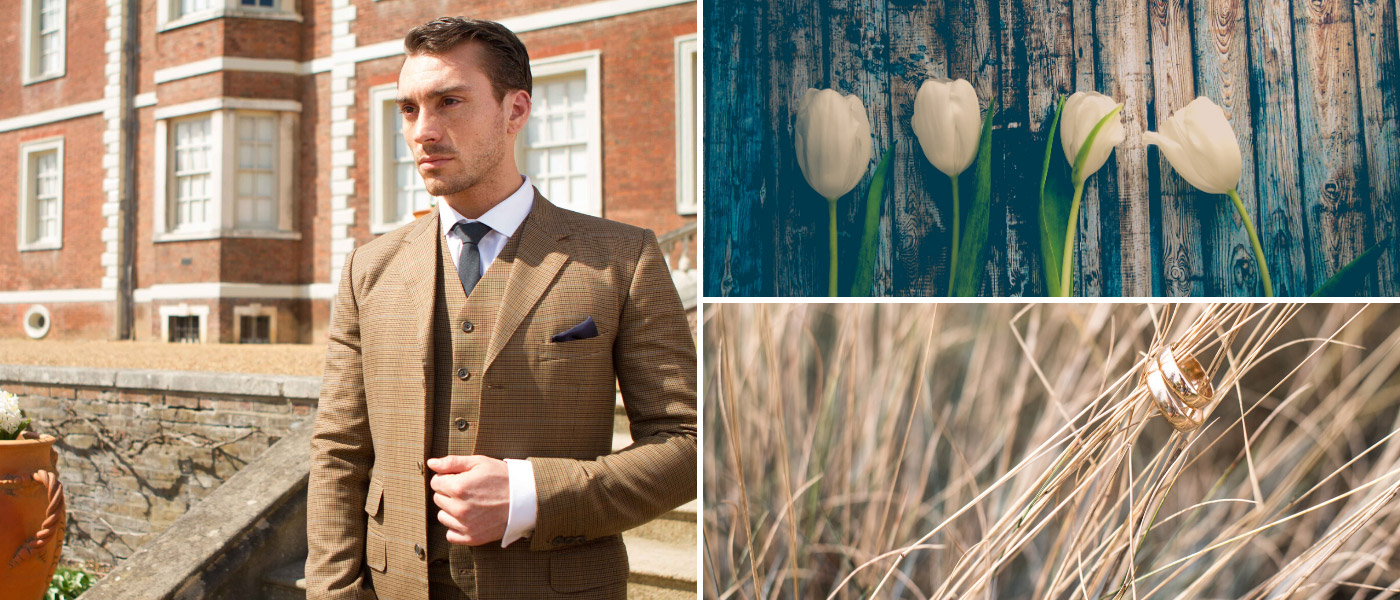 But you don't have to head for the hills to create a country vibe and you can still look dapper without surrounding yourself with a flock of sheep. The best place to start is with your fabric – after all, nothing says country chic quite like tweed. Indeed, thanks to TV shows like The Crown and Peaky Blinders, this heritage twill has been propelled back into the heart of the fashion world. Classic lines and fitted styles of vintage suits are all the rage, so here's our guide to a country-inspired bespoke wedding suit. 
Go for tweed
Tweed is extremely robust. It maintains its shape well, hangs beautifully (so no nasty creases for the photos) and actually improves with age. Invest in a three-piece suit for your wedding and it can be mixed and matched for a variety of different outfits and occasions well after the big day.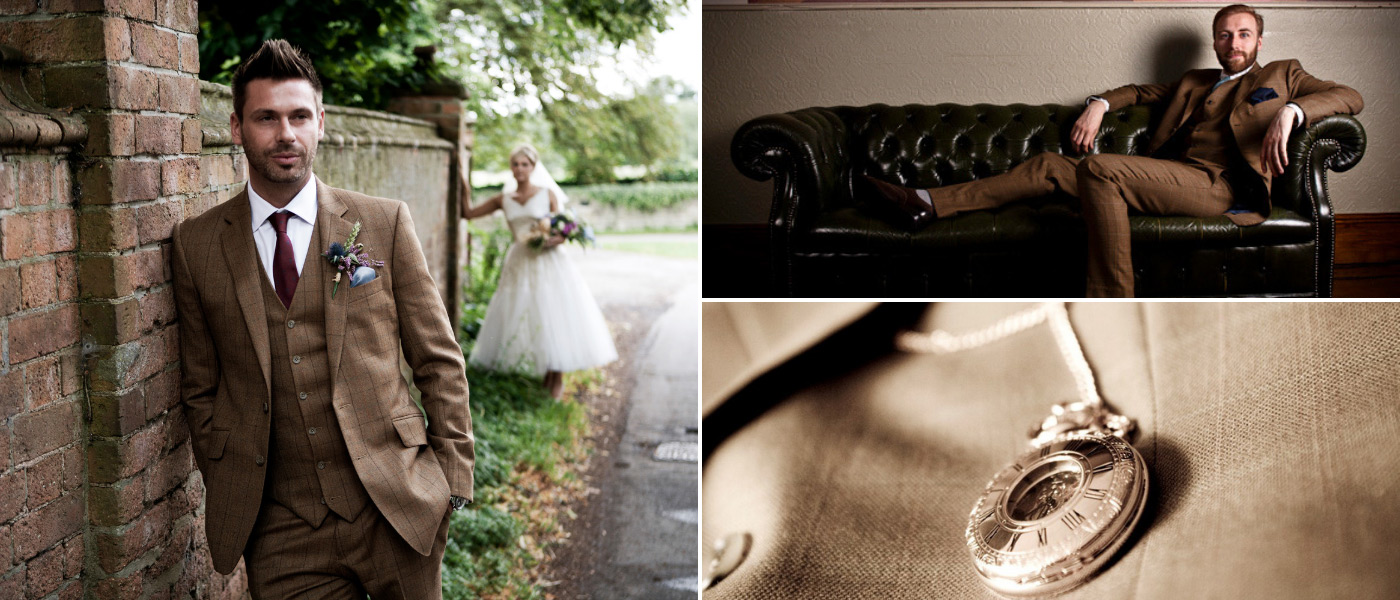 On a more practical note, if you're marrying in the UK, you can't always guarantee good weather and because of its tightly woven fibres, tweed is a stylish way to stay warm without bulking up in layers of clothing. This is a real bonus if you're spending some, if not all, of the day outside. 
Most of all, tweed lends itself to any look, whether you're going for edgy, relaxed, boho or sharp. It's all in the styling: opt for head-to-toe tweed for the full country effect, or just incorporate elements into your wedding suit. Here are a few ways you can do that:
Be bold: there's no denying that tweed looks great in rustic tones and earthy shades (brown, green and beige are the classics), but for a country wedding suit why not go for a pop of colour, such as petrol blue or deep plum? Or mix it up a bit – have your jacket and trousers made in striking air force blue Moorland tweed from our favourite fabric supplier, Holland & Sherry, and your waistcoat in contrasting tan, for example. Dress your wedding party in matching tan tweed suits with blue ties and you've created a cohesive look, while setting yourself apart.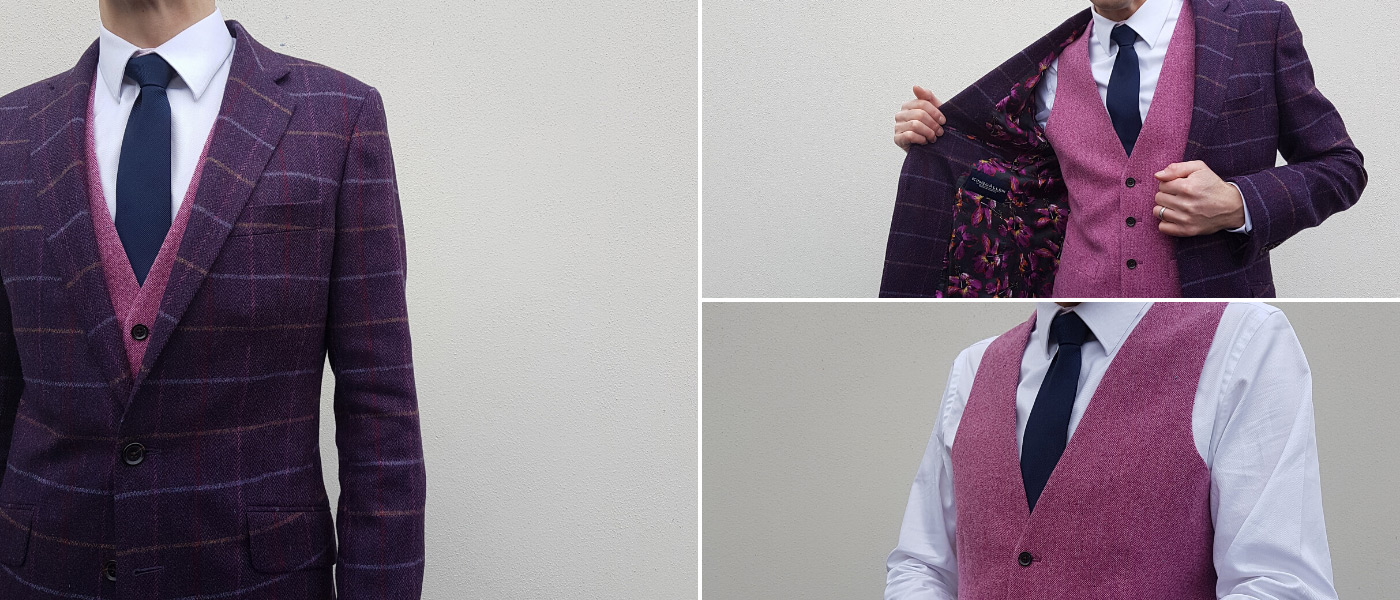 Check it out: if you're feeling adventurous, go for a modern windowpane check, such as  Holland & Sherry's contrasting russet and plum. Too much? Then confine the tweed to your waistcoat and choose a suit in a complementary colour and fabric.  
Natural companion to a kilt: tweed works particularly well with a similarly weighty wool kilt – a popular choice for many a Scottish wedding. Pick out a shade from your tartan, but stick to a block tweed. Competing patterns are a definite nuptial no-no. 
Rad not trad: Just because you're going for a country feel doesn't mean you have to go for a traditional rustic look. Add contrasting piping to your tweed suit for an ultra-modern effect.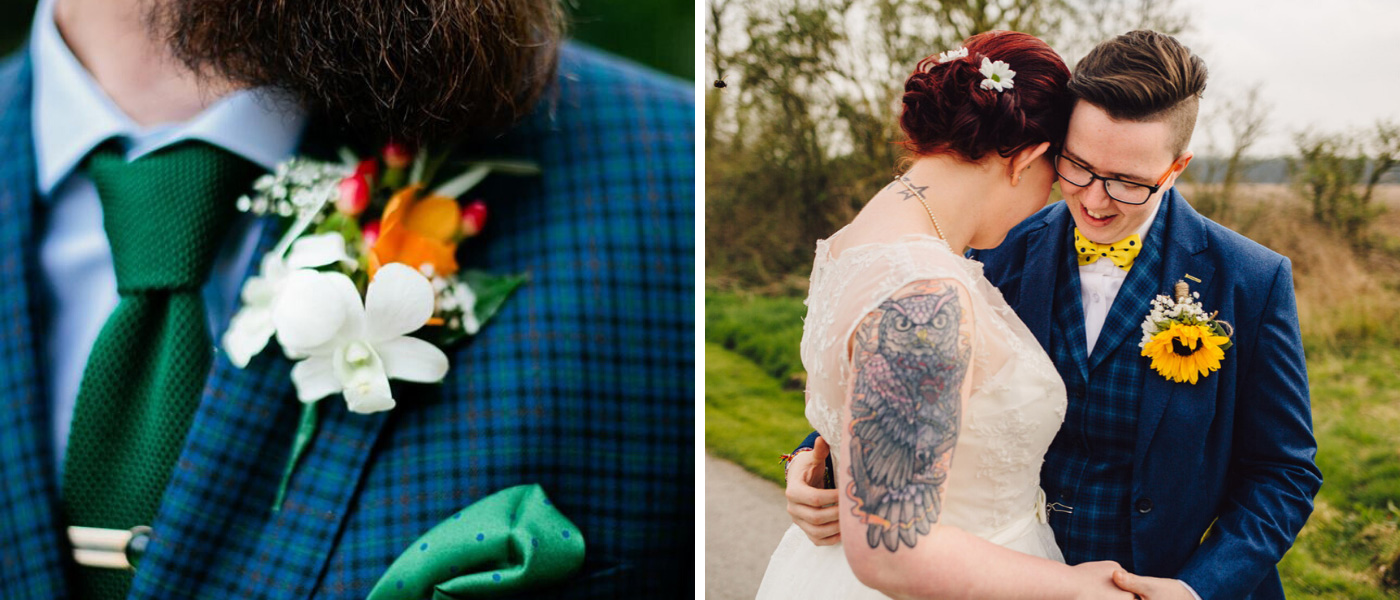 Accessorising your country look
A boho vibe is perfect for a country theme. So, why not pair your suit with a floral shirt for a more laid-back feel? Just keep the colour palette simple. Alternatively, a jaunty bow tie can provide a splash of colour against a more muted tweed. Add a matching pocket square to finish off the ensemble. And, in colder weather, why not take the opportunity to incorporate a seasonally stylish accessory, such as a wool scarf, or even a flat cap in a nod to the ever-growing Peaky Blinders craze? 
When it comes to shoes, you can't go wrong with a classic brogue, but if you're after something edgier, take a tip from our American friends and slip on a pair of leather cowboy boots. Or, go quintessentially British and have matching Wellies at the ready for you and your partner. Not only are they a fun foil to your formal attire, but they could come in very handy if the weather takes a turn for the worse.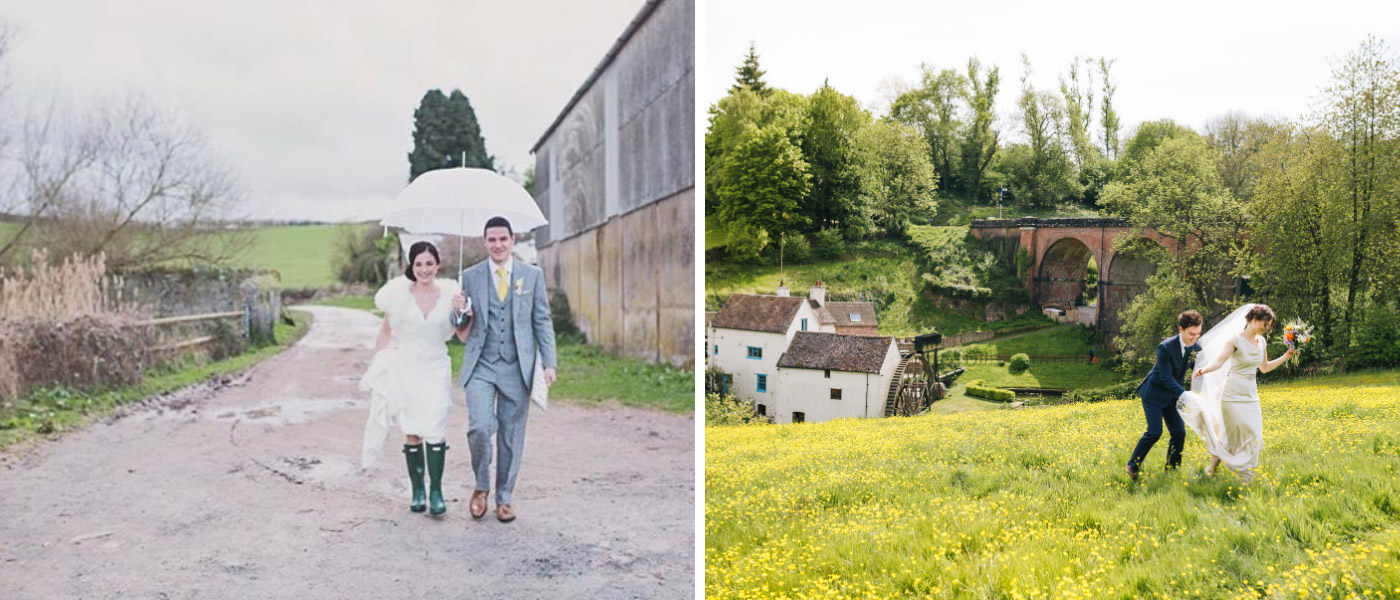 Lastly, finish off your outfit with a country-themed buttonhole. Eschew hot house blooms for something more rustic, such as a sprig of wheat or a few vibrant feathers. A word of caution though: wildflowers may look the part, but they're unlikely to make it through the day without wilting. 
Make your wedding full-on country
Wherever you're marrying, a few added touches from nature that are guaranteed to get your guests talking. Here are four ways to give your day that extra bucolic beauty:
Use hay bales covered in cosy blankets and cushions as seating options for your ceremony and/or reception.
Fill milk churns or mason jars with seasonal flowers.
Swap a formal sit-down wedding breakfast for a casual BBQ or afternoon tea picnic. 
Give tree saplings or packets of seeds as wedding favours.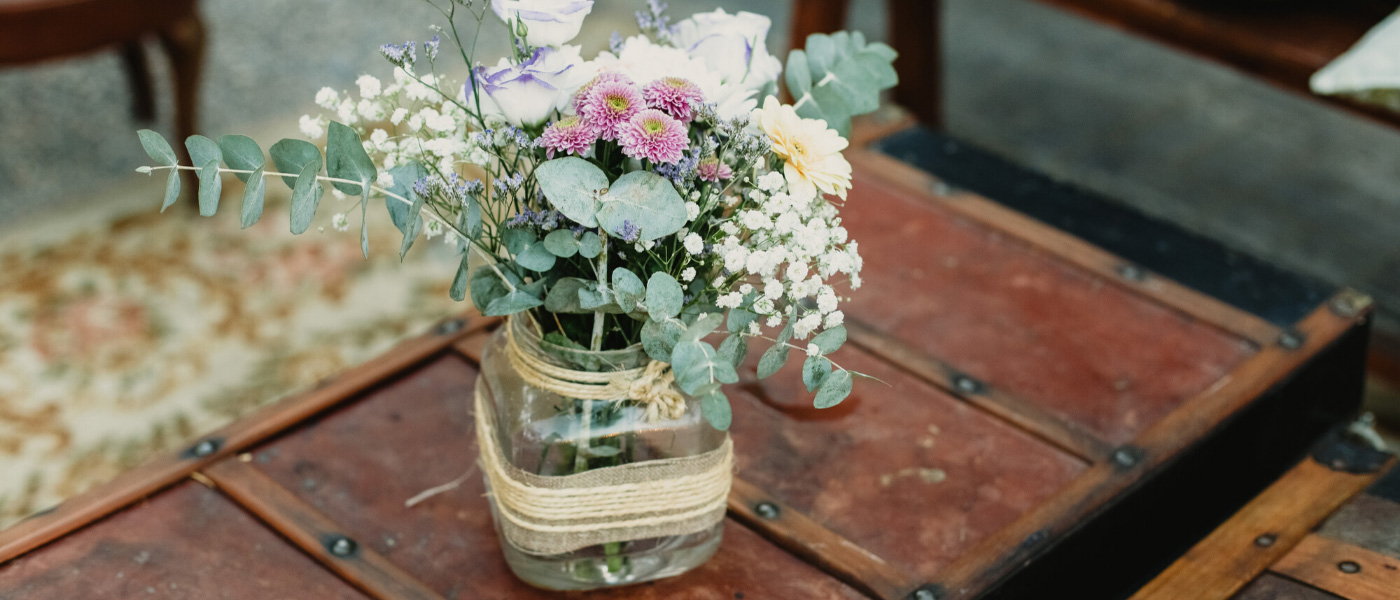 If you're thinking of marrying in the country or simply want to incorporate a country feel to your wedding, then our tweed and country lookbook is a great place to get some initial inspiration. Alternatively contact King & Allen to make an appointment and we'll be happy to help you create the perfect outfit for your big day.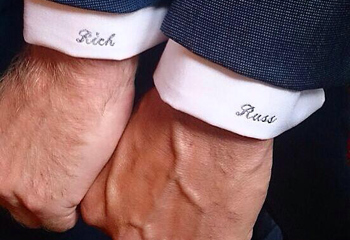 26 May 2022
Planning for your wedding can be a stressful time for some and the day itself often passes in a blur of joy and excitement. That's why it's important to 'stop and smell the roses' during your wedding journey and remember all of the reasons you've chosen to marry the love of your life. After the event itself, there are a plethora of ways you can look back fondly on the day, from the photos, to the video, to the signatures in the guest book. But did you know that your wedding suit can also serve as a reminder of the best day of your life? Read on to find out how...
Weddings
26 May 2022
2022 is a very special year for Pride, as it marks 50 years since the first ever march in 1972. While there were only 700 bravely marching then, this year it is expected there will be over 2 million attendees! Of course, many historical milestones have been achieved since 1972.
Style Tips & Advice
Style History
26 May 2022
Next week, the whole world will be watching as we celebrate 70 years with Queen Elizabeth II on the throne! The Queen has created quite the signature fashion lookbook that deserves its own jubilee. Her style has, quite literally, stood the test of time. Through nine decades, with her vibrant pant-suits and matching hats, stunning heirloom brooches - not to mention the symbolism behind every ensemble - it's no wonder the Queen is our style icon.
Style History