Choosing a wedding suit to fit the season
There are lots of decisions to be made when you're getting married – not least when and where to have the wedding. The choices you make about your preferred season and setting will influence everything else in terms of your tone, theme and style for the day. And, of course, that makes all the difference when it comes to what you wear. For instance, a pastel-coloured linen wedding suit probably won't be your first option for a winter wedding, just as tweed won't work in the height of summer. To help you decide, we've picked out a wedding for each season, with top tips on what to wear on the big day, along with a little something to give your celebrations that extra edge.
Spring: destination wedding
You'd like to get married in the spring, but, with the notoriously unreliable great British weather, you shouldn't necessarily fancy your chances of glorious sunshine on your big day. So, why not opt for a destination wedding? This is the best time of year to visit the Caribbean or Indian Ocean, after all. And, as well as the guaranteed warmth, a beach wedding abroad is perfect for those who'd prefer small-scale, laid back nuptials. Plus, of course, there's the added bonus of already being on your honeymoon!
What to wear:
As well as looking smart, it's important to stay cool. Red-faced and sweaty is no look for any bride or groom. Fabric is the key to achieving the right balance. Lightweight, breathable materials, such as linen, cotton, or a blend of both, will keep you cool while providing a more relaxed vibe. Just make sure your suit is perfectly pressed; linen wrinkles easily, especially during travel, and you want to look sharp. As for colour, dark tones retain the heat, so opt for lighter shades, such as pale grey, powder blue, beige or cream. 
A three-piece suit is the ideal option. You'll be really smart for the ceremony and can then remove your jacket for a more comfortable, but still dapper, waistcoat and shirtsleeves look in which to party under the stars. Barefoot on the beach more your thing? Why not ditch the suit altogether and pair trousers with a different-coloured blazer, open-necked shirt and no tie? Keep the fit slim, however; you may think baggy clothing will keep you cooler, but it just looks sloppy. Finish off the look with a local exotic bloom for your buttonhole. 
Added extra:
Why not show your guests how much you appreciate them travelling by surprising them with a welcome pack? You could include a map of the island or local area, details of places to visit when they're not celebrating with you, hangover remedies for the morning after, and a bottle of the local brew.
Summer: an outdoor celebration
We're talking prime wedding season and, as the weather is far more likely to be forgiving, outdoor weddings are a popular choice at this time of year. Whether you're opting for a church service followed by marquee reception or celebrating in the grounds of a stately home or swanky hotel, there are plenty of opportunities for styling your big day to your own personal taste.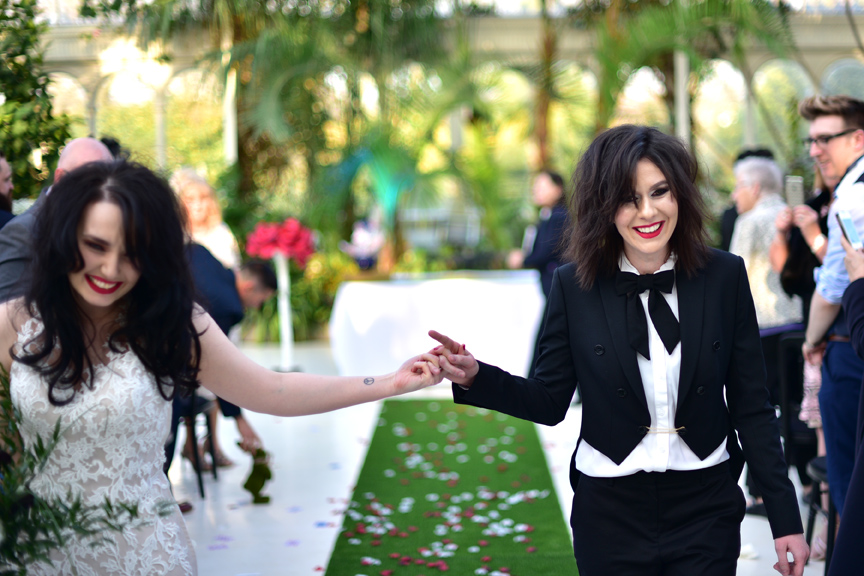 What to wear:
Want to keep it traditional? A classic formal morning suit is the 'go-to' when it comes to wedding attire. This is typically a single-breasted black or Oxford grey tailcoat, dress shirt, dark grey formal trousers (usually striped), and a buff or dove grey waistcoat. But, it's your day, so give it your own spin.
If you're looking for a suit you can wear again and again, though, or would prefer something less formal, then the three-piece lounge suit might be more your taste. Wool and silk blends are ideal fabric choices  ̶ not too heavy for those warm summer days, but not too lightweight for cooler evenings when the sun's gone down. Charcoal grey is a perennial, while a blue wedding suit, with all its variations from cobalt to midnight, really lets you tailor to your personality. And, of course, there are plenty of ways to customise your suit, from a distinctive lining with a special message, to having a date or phrase embroidered inside your jacket. Accessorise with a contrasting tie, pocket square and maybe even a tie pin.
Added extra:
If you're planning an early ceremony and have several hours of daylight to enjoy, why not entertain your guests with some outdoor games, such as Giant Jenga, Chess or Connect Four? Or, embrace the English garden party theme with a spot of croquet. 
Autumn: a wedding in the country
Country-themed weddings are increasingly popular and autumn, with all its earthy, rustic hues, lends itself perfectly to a rural celebration. As the weather turns colder and the nights draw in, revel in the warmth of a splendid country house setting or fill a converted barn with wildflowers and fairy lights for a more casual, back-to-nature vibe.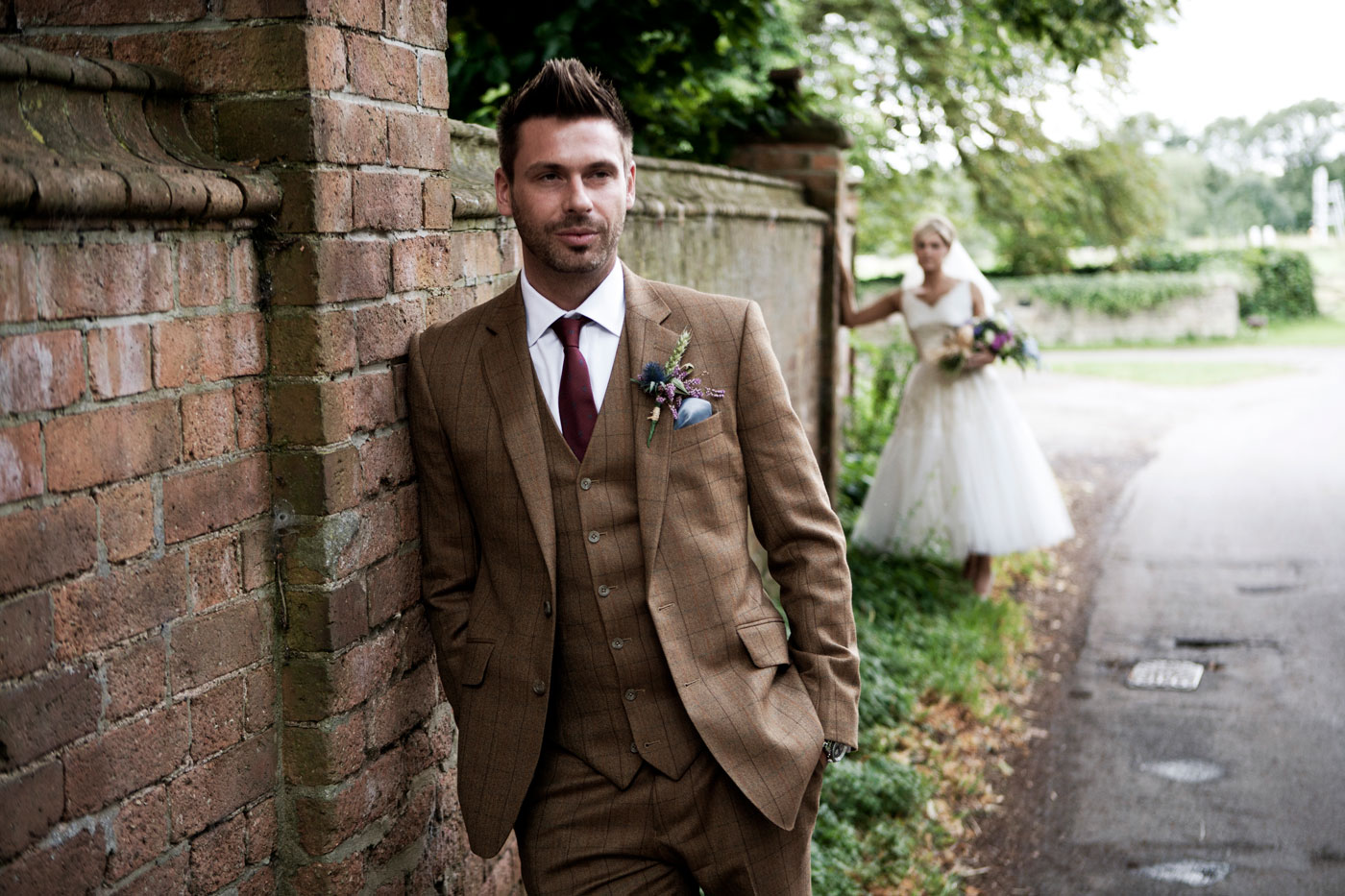 What to wear: 
While a classic wedding suit works just as well, country weddings do offer a bit more flexibility. Dark colours tend to dominate in the cooler months, but why not swap blue or grey for more bucolic brown or green? As for fabric, wool, worsted or wool-silk suits not only provide warmth and great quality, they also maintain their shape over long periods of time, so that dashing bespoke three-piece can be worn for many years to come. Alternatively, tweed offers a quintessentially rural look and feel for a country wedding suit. The effect can be edgy, dapper, relaxed or eccentric, depending on how you style it. Really embrace the theme and add a bow tie and buttonhole of non-flowering greens.
Added extra:
To keep your guests warm, why not offer an outdoor hot chocolate or hot toddy bar, complete with cream, marshmallows and cinnamon sticks. Pull the comfy, rustic vibe together with soft blankets and cosy chairs.
Winter: an evening wedding in the city
The dark winter months are ideal for a wedding in the city  ̶  all twinkly lights, sparkling jewels and formalwear. Why not opt for an evening ceremony before you party the night away? Choose a glamorous hotel setting and, if you're getting married near Christmas, you can incorporate festive touches into your décor and attire.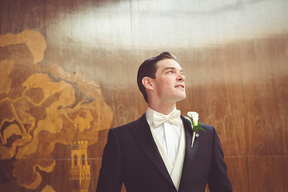 What to wear:
This is a swanky affair so dial up the glamour stakes. Go full-on formal with white tie and tails or, for that city chic look, channel your inner-James Bond in a sharp tuxedo. A typical tux will be black, but midnight blue makes an attractive alternative, worn with a pleated white dress shirt and matching silk tie. If you're opting for a bow tie, just make sure it's hand tied. 
Looking for something a bit different? Why not go for a rich, jewel-toned smoking jacket in plush velvet or textured brocade? At this time of year, deep reds, greens and blues are the perfect foil to a festive-themed wedding and work particularly well in these sumptuous fabrics. 
Added extra:
We all know it's customary to serve Champagne at a wedding, but why not bring yours bang up to date by offering a gin bar, too? Following the recent influx of artisan blends from independent producers, it's definitely the sophisticated spirit du jour. 
If you are interested in having a bespoke suit made for your wedding, whatever the season, contact King & Allen for an appointment with one of our consultants who will be happy to advise you. We have stores in Surbiton, London, Wilmslow and Birmingham.
22 October 2020
At King & Allen, we are always looking for new ways to break new ground, grow and bring the best possible service to our clients. A big part of that is making sure that we keep up-to-date on the very latest styles, trends and fabrics, as well as innovating ways to improve our service and our standards. That's why we're so excited to announce our new fabric range, made from recycled bottles!
Style Tips & Advice
King & Allen News
Vegan
22 October 2020
As you may know, King & Allen are strongly committed to innovation and producing suits that are not only beautifully-crafted but that also reflect our clients and their needs in a diverse, ever-changing world. We take our corporate social responsibility seriously and we are always looking for ways to contribute to a better, more sustainable world.
King & Allen News
Vegan
01 October 2020
As you may know, King & Allen have been making suits for singer-songwriter Lucy Spraggan for a few years now and we just love her sartorial flair! When she recently lost weight, her suits needed an update and she brought them along to Karl at our Wilmslow branch for some alterations.
Style Tips & Advice
Celebrity Style