An Update from Jake Allen
An Update from Jake Allen
Following the announcement by the Prime Minister on the 23rd March, we will be temporarily closing all of our stores effective immediately. We will be contacting all customers who are having a suit made with us over the next few days, as well as anyone who has an upcoming appointment. 
In the meantime, keep an eye on our social media channels for any updates, or if you want to have a chat with any of our staff. We strongly believe in creating an online community where we can enjoy each other's company, talk suits and look forward to brighter days.
If you have an appointment coming up, or if you have any concerns, you can contact us here or call 020 8390 6134.
18 August 2021
Linen has been used for many thousands of years. Indeed, flax fibres were found in a prehistoric cave in Georgia, dating from around 36,000 years ago! Nowadays, linen is a lightweight, breathable fabric that is particularly popular during the summer months or in hotter climates. It's also a vegan fabric, which is perfect for those looking for a suit free from animal products.
Style Tips & Advice
Weddings
16 August 2021
It's often the smallest details that can really make something ordinary really stand out. The understated elements of a suit can often make a big difference in not only how we're perceived by others, but how we feel about ourselves. At King & Allen, a well-put-together suit and detailed design elements always leave us feeling more confident and with a spring in our step.
Style Tips & Advice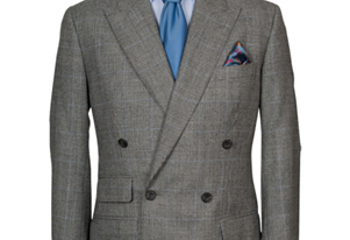 16 August 2021
One of the first style questions we ask our customers when they come in for their bespoke suit is 'double-breasted or single breasted?' While the single-breasted suit is often more popular, for both business and weddings, we are huge fans of the double-breasted suit. Read on to see why we rate this style and how you can make it work for you.
Style Tips & Advice