Vegans with A-list style appeal
November is World Vegan Month, when vegans around the world celebrate their lifestyle choice and champion others to do the same. And it seems more and more of us are making the switch. In 2018, there were 3.5 million registered vegans in the UK, up from around 540,00 in 2016, according to a study by The Vegan Society, which just happens to be celebrating its 75th birthday in 2019.
The number of celebrities choosing a vegan lifestyle seems to be on the rise, too. So, to celebrate, we take a look at our five favourite high-profile vegans, who have fully embraced the lifestyle and aren't afraid to shout about it. They don't half look snappy in a suit, too!
Benedict Cumberbatch
Although fairly new to veganism – the Sherlock and Dr Strange star reportedly started following a plant-based diet in 2017 – the actor has become a vocal advocate of ditching animal products and encourages his fans around the world to do the same. Perhaps not surprising, then, he was named by the non-for-profit organisation, People for the Ethical Treatment of Animals (PETA), as one of their Most Beautiful Vegan Celebrities of 2018, alongside filmmaker Ava DuVernay. 

But, it's not just Benedict's food choices that are compassionate – the 43-year-old actor refused to wear leather during a cover shoot for GQ magazine, opting instead for vegan boots and a suit made of 'future wool'. And, he made quite an impact at the 2019 Met Gala, the annual fundraising event for the Metropolitan Museum of Art's Costume Institute in New York. Arriving with his wife, director Sophie Hunter, he had the fashion world buzzing with his all-white vegan ensemble of bamboo suit and cruelty-free silk shirt, made from a process that doesn't involve killing the silkworms. A true Hollywood hero with heart.
Ellen Page
For the 32-year-old LBTQ activist and actress, being a vegan isn't just about her diet, it's about how she views the world. The Canadian star, best known for her breakthrough role in Juno, sci-fi flick Inception and appearing in two X-Men films, often speaks out on social media about animal cruelty in the meat industry. In 2011, she famously tweeted: "Why are vegans made fun of while the inhumane factory farming process regards animals and the natural world merely as commodities to be exploited for profit?" 
In 2014, she was named the Sexiest Vegan/Vegetarian by PETA. And, since coming out that same year, Page has thrown off Hollywood convention for feminine frocks and heels; instead, preferring a sharp suit for red carpet occasions like the Oscars. Speaking to online fashion magazine Porter earlier this year, she said: "I will never let anyone put me in anything I feel uncomfortable in ever again."
Lewis Hamilton
Six-time Formula 1 champion and PETA's Person of the Year 2018, Lewis Hamilton adopted a vegan diet in 2017 after watching a documentary about the meat industry and its potential effects on the environment, animal welfare and human health. He regularly shares animal rights messages and protein-packed vegan meals with his 13.2 million followers on Instagram. 
And, in his latest collaboration with US designer Tommy Hilfiger, he this year launched a collection of streetwear that includes vegan items, such as hoodies, joggers, shorts, T-shirts and shoes. The vegan trainers are made from faux leather, recycled mesh and rubber. 
He has also co-founded Neat Burger, which claims to be "the world's first international plant-based burger chain. And, the committed vegan recently announced that he was an executive producer on a documentary about athletes and action stars who have moved on to a plant-based diet.
Bill Clinton
It doesn't get more high profile than a former President of the United States. The nation's 42nd commander in chief, and PETA's 2010 Person of the Year, chose to become vegan that same year for health reasons. Speaking at the 2017 Presidential Leadership Scholars program series, he was asked if the life choice had been a difficult one, to which he replied: "Not when you have had a quadruple heart bypass and you want to live to be a grandfather." He added: "I didn't give it a second thought. I realised that I was highly prone to arterial blockage, and I thought I'd cut my chances."
His vegan diet certainly seems to be doing the trick, too. Clinton has lost more than 30 pounds (13kg) Following advice from his doctor, he now incorporates fish and eggs into his diet occasionally, so is more of a 'chegan' (cheating vegan), but he continues to follow a primarily vegan diet and publicly promotes it.
Jessica Chastain
Hollywood star Jessica Chastain turned vegan in 2005, when she was in her 20s. Her decision to adopt a plant-based diet was initially made for health reasons but the two-time Oscar nominee is also a committed animal lover. "I don't want to torture anything," she once said in a press statement. "It's about trying to live a life where I'm not contributing to the cruelty in the world." In 2012, she topped PETA's Sexiest Vegan Celebrities list.

As a volunteer for the Humane Society of the United States, she has supported the animal rights organisation in its partnership with 200 US school districts to bring vegan menus into their cafeterias. She also works with fashion brands to aid them in creating cruelty-free products. "The more success that I've been afforded in my industry, the more I've gotten to learn about what's going on in the fashion world," she told People magazine. "I very strongly believe in buying products that are cruelty-free."
Suits you
Whatever their reasons for becoming vegan, our five fab celebs all have one thing in common: they're super-stylish dressers and they all look sensational in a suit. 
If you're a committed vegan in search of something sharp and sleek, yet animal-free, we can help. 
In 2018 we won a PETA Menswear Fashion Award and our tailoring services are endorsed by the organization.
Sourcing a fully vegan suit can be quite complex, says our co-founder, Jake Allen. "Many components that tailors normally choose are animal-derived products  ̶ even the ones you can't see," he explains. "You need to do your homework and look beyond the obvious. However, with the correct tailoring advice, it's entirely possible to stick to a strictly vegan ethic, whilst also enjoying a beautifully tailored suit that will endure for years to come."
Here are our top tips on what to consider when buying a vegan suit:
Fabric: most bespoke suits are made from wool or silk, but there are a number of vegan alternatives, such as bamboo, cotton and linen, or velvet.
Lining: often made from silk or silk blends, it can, however, be fashioned from poly blends, viscose, or Cupro, a biodegradable cotton-fibre.
Buttons: often made from animal horn or mother of pearl. Ask for 100% natural Corozo nut instead; it makes a great alternative.
Construction: pretty much all the parts you can't see that give a suit structure are typically made with materials like wool, horsehair and silk. We have animal-product-free options for each part.
For more on these crucial components, check out our comprehensive guide to vegan suits. Or, if you would like explore commissioning your own bespoke, fully vegan suit, contact King & Allen for an appointment.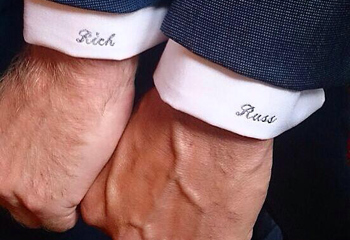 26 May 2022
Planning for your wedding can be a stressful time for some and the day itself often passes in a blur of joy and excitement. That's why it's important to 'stop and smell the roses' during your wedding journey and remember all of the reasons you've chosen to marry the love of your life. After the event itself, there are a plethora of ways you can look back fondly on the day, from the photos, to the video, to the signatures in the guest book. But did you know that your wedding suit can also serve as a reminder of the best day of your life? Read on to find out how...
Weddings
26 May 2022
2022 is a very special year for Pride, as it marks 50 years since the first ever march in 1972. While there were only 700 bravely marching then, this year it is expected there will be over 2 million attendees! Of course, many historical milestones have been achieved since 1972.
Style Tips & Advice
Style History
26 May 2022
Next week, the whole world will be watching as we celebrate 70 years with Queen Elizabeth II on the throne! The Queen has created quite the signature fashion lookbook that deserves its own jubilee. Her style has, quite literally, stood the test of time. Through nine decades, with her vibrant pant-suits and matching hats, stunning heirloom brooches - not to mention the symbolism behind every ensemble - it's no wonder the Queen is our style icon.
Style History