Peaky Blinders: your guide to the iconic flat cap
The Peaky Blinders return to our screens on the 25th August 2019, guaranteeing two things: a whole lot of drama and a whole heap of sartorial style. But while each Peaky Blinder has their own individual suit style, they all share a love of one particular statement piece – the flat cap. 
And thanks to Cillian Murphy and the gang, we all love them now, too. So much so that that the humble flat cap made it onto 'what's hot' lists and even into the Office of National Statistics' 2019 inflation basket of goods and services, a rundown of what Britons spend their money on. 

Flat caps might be all the rage right now, but this piece of ordinary headgear is no new phenomenon. Here's the story of how it's evolved from being a trademark of the working man to 21st-century sartorial statement.
History of the flat cap
The very first iteration of the flat cap emerged some 500 years ago in northern England. Back then, this round cap was made from a single piece of cloth that stretched over a small, stiff brim and was called a bonnet. 
But it was in 1571 that the cap became part of the working man's 'uniform' thanks to a law passed by Queen Elizabeth I's Parliament, which stated that all men six years old and over (except nobility) had to wear wool caps on Sundays or be fined three farthings a day. The arbitrary law, intended to encourage domestic wool consumption, was eventually repealed in 1597, but by then, the fashion had well and truly stuck.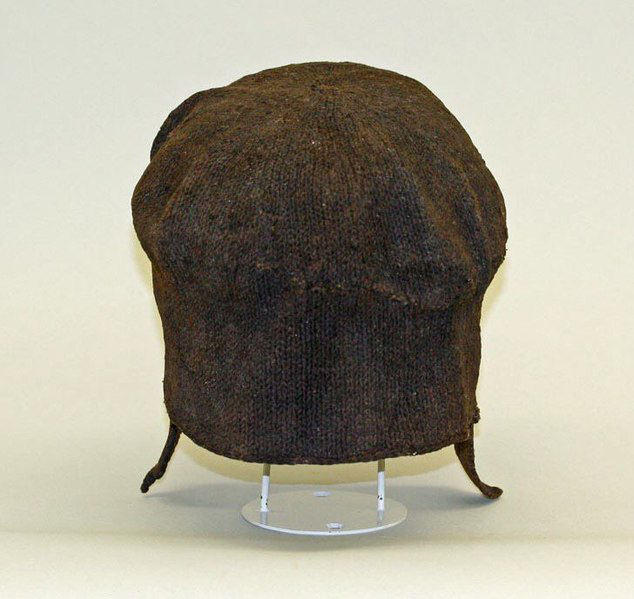 16th Century Wool Cap
And so it stayed for around 200 years - until the 19th century and the rise of new leisure pursuits, such as golf and driving. An upper-glass gentleman needed to look the part while teeing off or roaring down country lanes, hence the flat cap – often made in fancier fabrics such as cashmere and tweed – quickly became the ideal accessory. Known as the schoolboy cap, or golf hat, this new style strongly resembled the traditional flat cap in shape but was made of eight panels and had a fuller body with a button at the peak.
The fashion crossed the pond as well, arriving at the turn of the 20th century with mass Irish immigration. The cap's popularity peaked in the 1910s and '20s, when it became known as the newsboy cap after the children who wore them while selling newspapers. Other popular names included the cabbie cap and bakerboy.
As well as crossing geographical borders, the flat cap became a staple right across the social spectrum. Schoolboys wore them with knickerbockers and Edward VIII commissioned versions in his own Prince of Wales check, whilst the real-life Peaky Blinder gang and Charles Sabini (the London gangland boss famed for keeping the Peaky Blinders out of his city) were also fans.  

Stephen McHickie, Thomas Gilbert and Ernest Bayles, the 'real' Peaky Blinders.
As hat-wearing fell out of fashion, it looked like the flat cap's days might finally be numbered. Then in the dying years of the last millennium, something unexpected happened: Guy Ritchie. As well as revitalising British cinema with his crime comedy Lock, Stock and Two Smoking Barrels, the film director was rarely seen outdoors without his flat cap. Others, like his Lock, Stock star Jason Statham, followed his lead and, two decades later, everyone from Justin Timberlake (a former GQ world's best-dressed man) and Samuel L. Jackson, to Idris Elba and Leonardo di Caprio has been snapped wearing one. This isn't just a look just for the boys, either; Madonna, Hilary Duff, Cameron Diaz, Nicole Kidman and Gwen Stefani have all rocked the flat cap in every style, from block pastels to classic tweed. 
Today, you can buy many different styles of flat cap – from the traditional York and its modern contemporary, the Towton, to the Helmsley, based on the traditional shooting cap, and the Aberford, with its wider cut crown, curved peak and press-stud finish.
Flat cap etiquette

The wearing of flat caps (or, indeed, any hat) may be a fashion statement for the few today, but in the past the practice was accepted as a social necessity. Everyone, rich or poor, wore a hat. Such was their significance that during the Second World War hats weren't rationed because they were considered a morale booster.
There were, however, rules that had to be followed. Traditionally, gentlemen would remove their hat when introduced to someone, or as a mark of respect to their host when stepping indoors. However, if the building was deemed a public place, such as a lobby or corridor, hats could be kept on for the sake of personal hygiene.
Tipping was, and still is, a way of communicating thanks or acknowledgement and is considered polite, although it was usually only a courtesy paid to a woman. So, if you're wearing a flat cap, don't forget, social conventions may have relaxed today, but good manners never go out of date.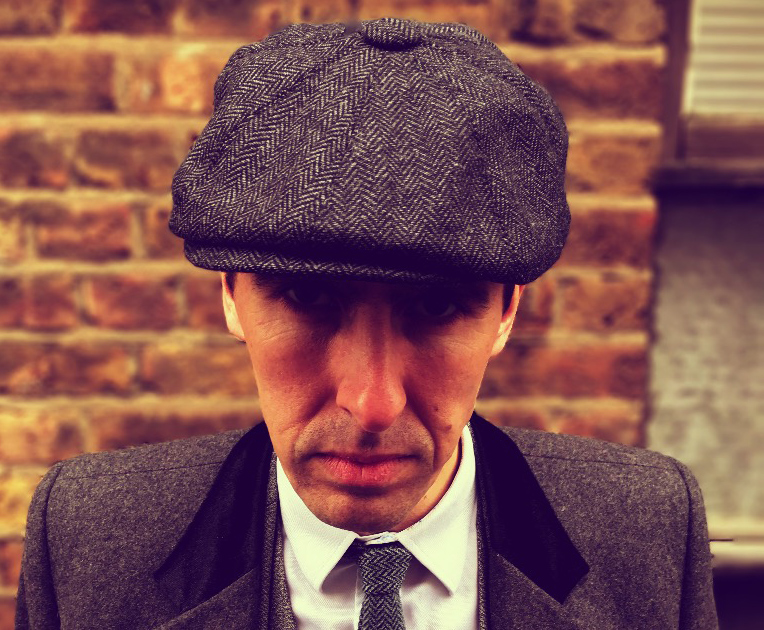 Tips for choosing a flat cap
With Peaky Blinders switching to BBC1 – and, presumably, a bigger audience – it seems likely that this unassuming headgear's latest revival will be with us a while yet.  If you're loving this particular fashion craze and want to get the look, here are a few failsafe tips to buying a flat cap:
Get the fit right: too big or small and your cap will look all wrong. A flat cap should fit like a baseball cap – gently snug around the sweatband without being too tight. There should be extra room in the crown, so the fabric doesn't have to stretch over your head. Since this hat isn't sized like other, more formal hats, you'll need to refer to the individual hatmaker to determine your size.
Stick with the classics: the original flat caps were constructed in wool, tweed and cotton and there's a reason they've endured for so long in these fabrics. We recommend avoiding non-traditional materials, such as leather or denim. 
Buy the best: choose a 100% natural fabric for the best insulation and breathability. The addition of synthetic materials, such as polyester, will hinder both. 

Keep it timeless: for a cap that will last you a lifetime, avoid buying patchwork or multi-pattern versions, which tend to fall in and out of style.

We make bespoke flat caps and have helped many clients create Peaky Blinders-inspired suits. So, if you'd like some advice on how to blend the style with your own look, give us a call or arrange a fitting online. We have stores in London, Surbiton, Wilmslow and Birmingham.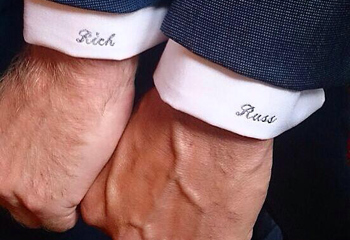 26 May 2022
Planning for your wedding can be a stressful time for some and the day itself often passes in a blur of joy and excitement. That's why it's important to 'stop and smell the roses' during your wedding journey and remember all of the reasons you've chosen to marry the love of your life. After the event itself, there are a plethora of ways you can look back fondly on the day, from the photos, to the video, to the signatures in the guest book. But did you know that your wedding suit can also serve as a reminder of the best day of your life? Read on to find out how...
Weddings
26 May 2022
2022 is a very special year for Pride, as it marks 50 years since the first ever march in 1972. While there were only 700 bravely marching then, this year it is expected there will be over 2 million attendees! Of course, many historical milestones have been achieved since 1972.
Style Tips & Advice
Style History
26 May 2022
Next week, the whole world will be watching as we celebrate 70 years with Queen Elizabeth II on the throne! The Queen has created quite the signature fashion lookbook that deserves its own jubilee. Her style has, quite literally, stood the test of time. Through nine decades, with her vibrant pant-suits and matching hats, stunning heirloom brooches - not to mention the symbolism behind every ensemble - it's no wonder the Queen is our style icon.
Style History