Peaky Blinders: why we love Aunt Polly's suit style
This article contains spoilers
The new Peaky Blinders series is back with a bang and we're not just talking about the storylines. As ever, Tommy and his crew look as sharp as the razor blades the real-life Peaky Blinder gang were rumoured to stitch into the peak of their flat caps. 

But this season it's not just the men rocking the suits: when the BBC released the official season five press shots, all eyes were on Polly Gray, played by Helen McCrory. Leaning against a vintage car, Aunt Polly wears a stunning black and grey three-piece suit, green leather gloves, dark aviator sunglasses and fedora. And while this isn't the first time that she's worn a suit, Polly's latest look suggests the family matriarch is not planning on taking a back seat any time soon.
For anyone snoozing under a rock these past seven years, Polly Gray is the Shelby matriarch – a certified accountant, she kept family business going while the boys were fighting in France. When they return, she has no intention of handing that power back. To be fair, the thought never seems to cross Tommy Shelby's – played by Cillian Murphy – mind. As events unfold, it becomes clear that he relies on his aunt for her judgement, gypsy roots and no-nonsense approach to problems. She matches him, toe to toe, in both ruthlessness and style. 

And it is perhaps Aunt Polly whose story arc is best reflected in the clothes she wears. From the moment she arrives on screen in the first series pointing a gun at her nephew John Shelby's head, Polly means business. And she always dresses for it, too. In that very first scene, she wears a fitted pin-stripe skirt suit, with wide lapels and a spotted scarf – a recreation of an original piece according to Peaky Blinders costume designer Stephanie Collie. Polly is not afraid to get her hands dirty, but she'll damn well look the part while she does it. Her look at this point is still quite Edwardian, in keeping with the day suit style that many women wore during the latter half of the 1910s. For more on the history of women's tailoring check out our three-part series.
The pin stripe and spotted suit combination returns later in the same series when Polly confronts barmaid and undercover police agent, Grace Burgess. This time, a gold purse, containing her ubiquitous dark cigarette, hangs from a hefty brass buckle on her belt. Like another of her outfits in this series – a black deep-cut waistcoat over a chiffon red shirt – it is this blend of strong lines and fitted silhouettes with softer, layered fabrics that mean Polly could never become a caricature.
Polly even likes to carry out murder in style. Like many of the big moments in her life, she chooses to wear a suit to get the job done. This time it's the series two finale and she's wearing a black and white chequered suit, with matching gloves, hat and lace choker. After the deed is done – inside a phone booth no less – she emerges with a red blood stain blooming across the beautiful jacket, just below her heart. From here on in, when you see Polly in a suit, you know things are going to get messy.
It's in the fourth series, though, that Polly's style really reflects the shape of her story. As the show opens, we find a broken woman, still scarred by a near-death experience at the gallows. She has retreated into pills, apparently talking to her dead daughter. Her fragility is reflected in softer fabrics, long skirts and floral patterns. But Polly transforms over the course of this series – she is intent on revenge and no longer afraid of death. As McCrory herself explained at the time to entertainment website Den of Geek: "She has a fearless quality that makes somebody very dangerous, when they no longer fear death. There's no stopping her."
It's little surprise, then, that as the season four storyline progresses and the stakes rise, Polly's style begins to mutate. The glamourous dresses and fur coats are still in action, but by episode three she's cut her hair short and is wearing a gorgeous oyster pink and black skirt suit, black gloves and black ankle boots, sharply accessorised with the traditionally male briefcase. Later, we see her running the betting shop in a fitted white shirt, black tie and tie pin. By episode four, she's dropped the pink in favour of an all-black pencil skirt suit, complete with shoulder gun holsters. The femininity is still there in the curls and drop earrings and the detailing but there's no denying the masculine edge on those shirt collars.
And so to series five, episode two and *that* suit. The look is pure 1920s and yet would not look out of place on our 21st century streets. Interestingly, the piece is vintage and earlier in the year McCrory told reporters that she "had to wear silk underneath to prevent the acid of the skin ruining it."
One thing that never changes in Peaky Blinders is Polly's ability to make an entrance. With the family facing a new crisis and her son Michael returning from America in potential disgrace, Polly is front and centre of the action. And if the sight of Arthur Shelby and a couple of heavies welcoming him back to Birmingham wasn't enough to make Michael nervous, then surely his Mum leaning against a vintage car, dressed head to toe in the sharpest of tailored suits and smoking her trademark cigarette ought to have him straight back on the boat and across the pond. Polly doesn't need to shout about her power, her clothes and intrinsic determination do it for her.
If you've fallen for Polly's suit style and are looking for help creating a classic look with a contemporary twist, we can help. Alternatively, if it's a male Peaky Blinders-inspired suit you're looking for, give us a call to make an appointment. We have stores in London, Surbiton, Wilmslow and Birmingham.
26 May 2020
Following the announcement by the Prime Minister on the 25th May, we will be reopening our Surbiton, Liverpool Street and Wilmslow stores on the 16th June.
King & Allen News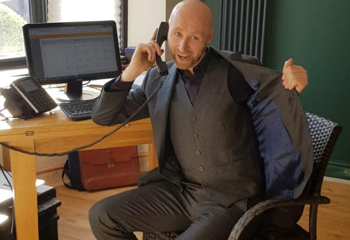 15 May 2020
We've put  together a brief guide and some resources for what to do once you've decided on a new date for your big day.
Style Tips & Advice
Weddings
14 May 2020
While we look forward to re-opening and helping you all find your fit for your special day, we also thought it might bring a smile to our follower's faces to see how some people have kept their lockdown weddings and celebrations going.
Style Tips & Advice
Weddings