Our best party season looks
Christmas is right around the corner which can only mean one thing: party season! For lots of us, getting glammed up for the office party is just as much a ritual as tree-trimming and gift-giving. It's also a great opportunity to flash a bit of personality – be it a pair of Christmassy earrings or a classic Santa hat. 
To get you in the festive mood, we asked our four King & Allen consultants to tell us about their 2019 festive outfit (hint: they all involve a suit) and share their style tips for the perfect party mood...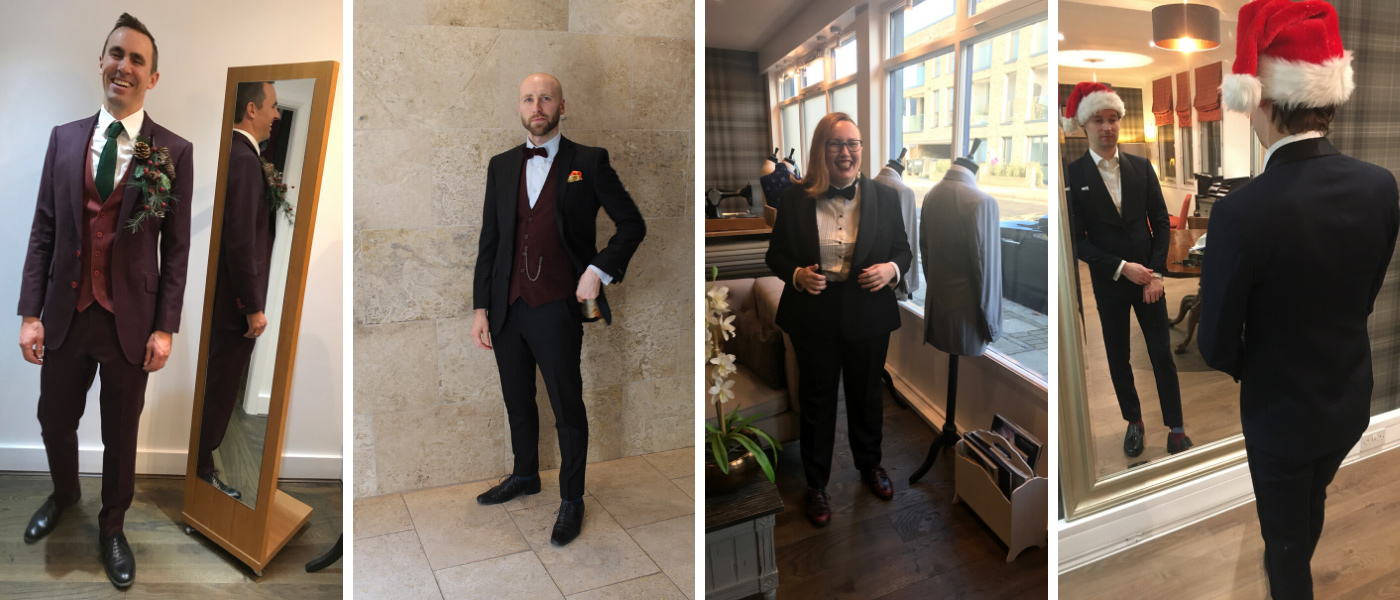 JAKE ALLEN 
Describe your festive look...
It's a bespoke burgundy suit in a woollen flannel with a waistcoat in a lighter shade – more cherry. It's also got cherry-coloured corozo nut buttons. We use them on our vegan suits in place of mother-of-pearl and animal horn. The nut takes the dye really well, so you get these lovely, bright colours. Obviously, I wanted a Christmas feel, so I went for red and green. I haven't worn this tie with this suit before, but the texture in the woven tie adds a little something extra. Of course, it also helps if you add in a massive Christmas decoration! This has wire in it which I can loop round under my jacket lapel.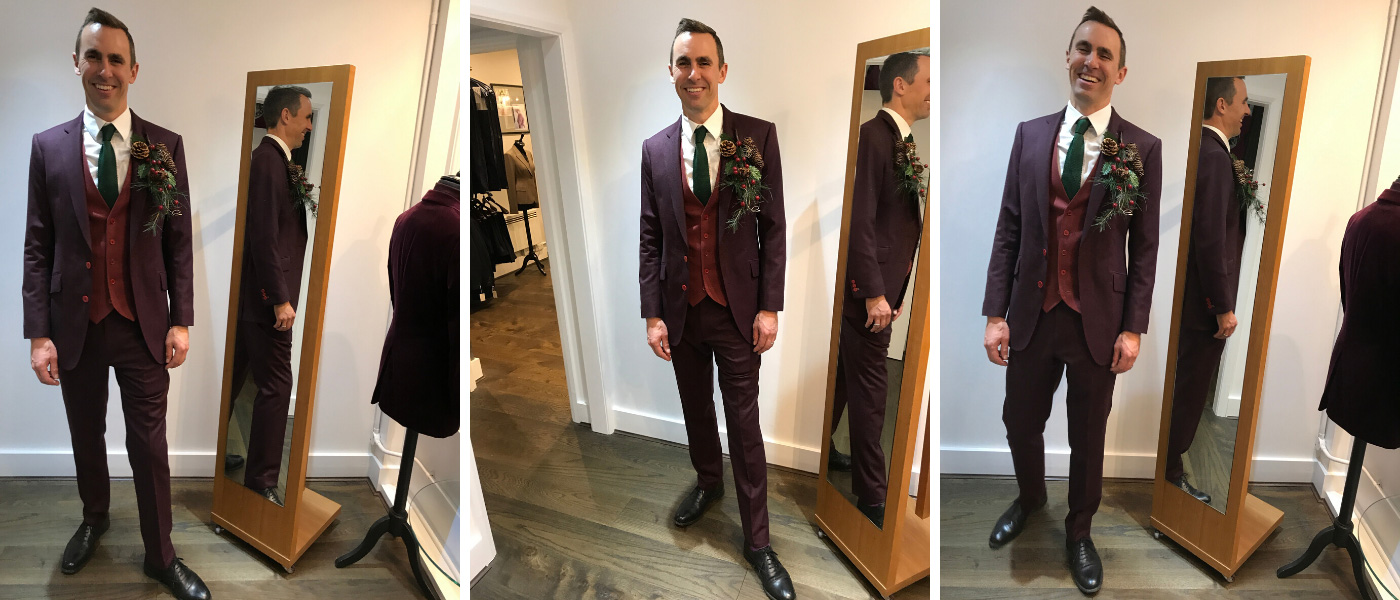 What's your favourite thing about Christmas?
The food!
What's your top festive style tip?
The Christmas sock is very underrated. Something in the lapel, like a sprig of holly, always works. It's about making subtle changes to a suit to fit the occasion – so the slightly brighter green tie or a decoration. 
Why choose a suit this party season?
Because Christmas should be celebrated and nothing creates a sense of occasion like dressing up and taking yourself out of your comfort zone. A suit sets the tone – if people arrive dressed up it creates a greater sense of occasion. 
While Jake's suit is made of wool, we are also experts in tailoring completely vegan suits. Find out more in our guide to vegan suits.
KARL LEWIS
Describe your festive look...
I went for a black suit with burgundy waistcoat and bow tie, so it's classic with a bit of a twist. It's also got an uber-modern cut with skinny sleeves and trouser legs, but I've combined that with more traditional features, such as the pocket watch. My waistcoat has a bespoke pocket for the watch. I love that look; it's something we can add in for clients. The bow tie makes it look more formal, but also different because I'm wearing a three-piece suit, not a tuxedo. Then I chose a pale blue shirt, which frames the whole thing, especially with the darker contrast waistcoat. A lot of grooms choose a contrast waistcoat, but they tend to go for a lighter option. With this darker interpretation, you don't avoid looking like you're heading for a wedding. Then, finally, a splash of colour with the orange and yellow pocket square, which also happens to be the lining for my jacket. 
What's your favourite thing about Christmas?
My mum's Christmas dinner, a massive roast with all the trimmings. She cooks a good one!
What's your top festive style tip?
I would say dress smart but comfortable, because you end up drinking and eating more than you normal over Christmas. So, make sure you've got your looser waistcoat on and let out your side adjusters.
Why choose a suit this party season?
Because you look good and feel good. If you've had a bespoke suit made, then it's going to be super comfortable. We get a lot of people who tell us they always take their jacket off, but when the outfit is bespoke you don't notice that as much.
We love a contrast waistcoat, but do you know which English king started the trend? Find out in our guide to the waistcoat.
NATALIE WALKER
Describe your festive look...
I went for a formal two-piece dinner suit with a tuxedo shirt and a bow tie. I then I matched it with Christmas socks and earrings that I got from my mother. The socks have a mountain range and trees and a moose on them. I also chose burgundy braces and a dress shirt. I'll take any excuse to get dressed up! My birthday this year had a 1930s theme and I made all my friends wear evening dresses. 
I love a dinner jacket because you don't get to wear them very often. People don't realise that there are lots of ways you can add small touches of personality to a dinner jacket – socks, shoes, braces. I love incredibly bright clothes, so I've got a contrast lining in the jacket that reminds me of old school Batman, from the days when Adam West played him on television.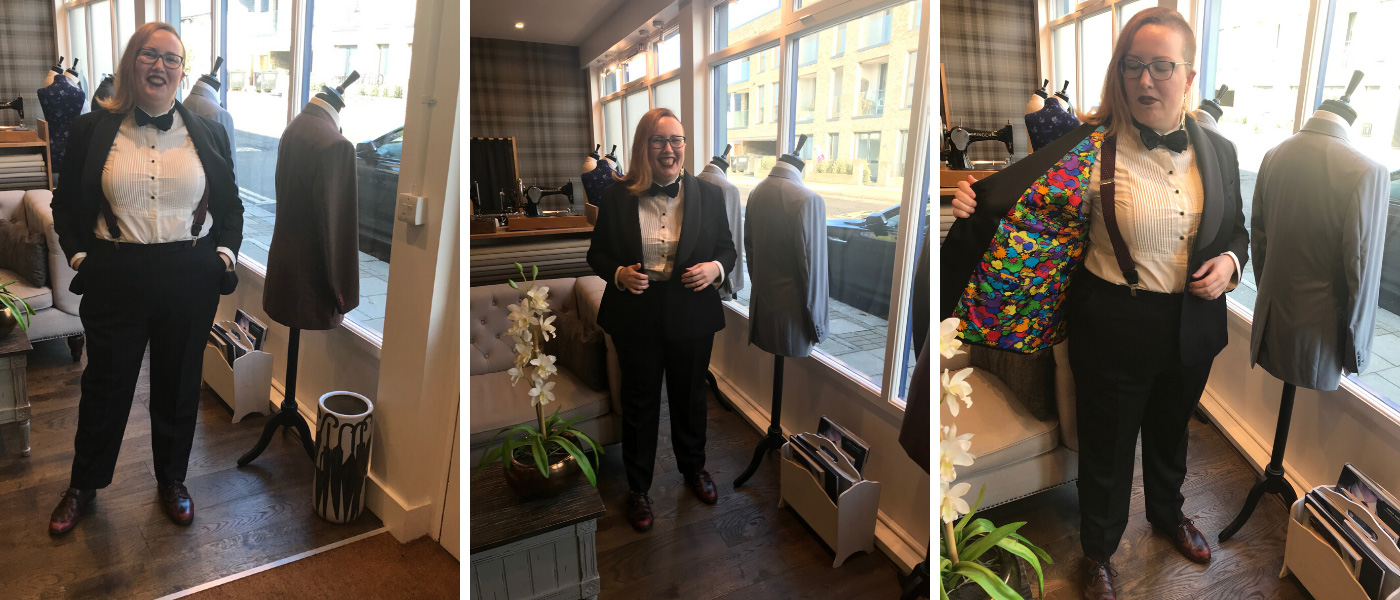 What's your favourite thing about Christmas?
I'm from mid-northern Canada so if I was home, I'd say snow. It started snowing back home before Halloween. 
What's your top festive style tip?
You can't beat a classic – the little black dress or the dinner jacket. 
Why choose a suit this party season?
For women, I think it's all about the kind of attitude you're going for. I feel powerful when I wear a suit. When you walk into a Christmas party, it's a great confidence boost. When you're sneaking around at night in a suit, you feel like a spy. I love that. 
Take a look at our two-part history of women's tailoring.
JOE GOAD 
Describe your festive look...
I've gone for a two-piece dinner suit, but I wanted to dress it down, not be too stuffy. So, I've got a burgundy contrast lining with my name sewn inside –that's a popular suit customisation for a lot of our wedding clients – and I've tossed in the bow tie and paired it with some fun accessories, such as the argyle check socks and bottle-shaped cufflinks. I went for a simple white pocket square, to create symmetry. And, then of course, there's the Christmas hat. I love wearing a suit – a lot of people complain about the comfort, but if you have a bespoke one made, there's nothing like it.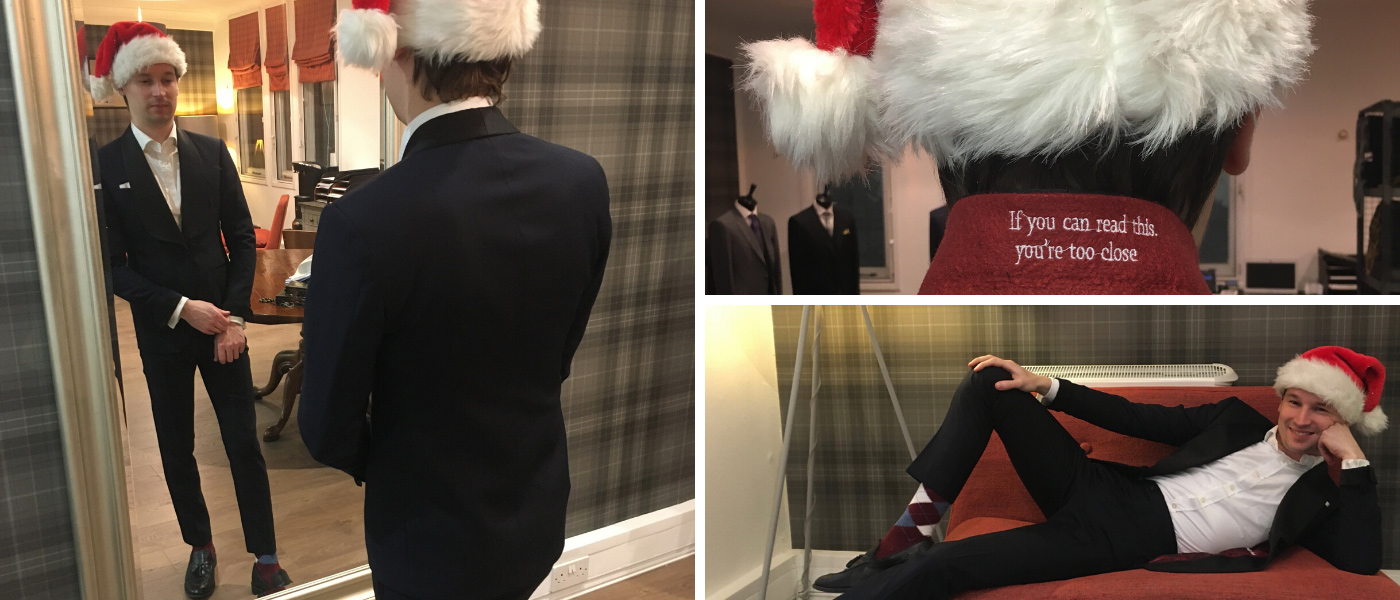 What's your favourite thing about Christmas?
It has to be dinner. It brings everyone together and you've got all the extras – I don't care if it's turkey, you have to have Yorkshire puddings with it. 
What's your top festive style tip?
I always say don't take yourself too seriously – hence the hat! You can dress formally but have some fun with it. Christmas is the one time of the year that you are never going to be overdressed. I work in our London showroom so I see a lot of clients from the city, but you can push the boat out on the accessories – bright socks, ties, shirts, or a contrast lining. Something that shows a little bit of flair. 
Why choose a suit this party season?
It's versatile. There are so many little accessories that you can add to bring your suit to life. If you wanted to you could wear a suit over your Christmas jumper and get the best of both worlds!
Check out our guide to customising a wedding suit to see all the ways in which we can help you create a bespoke suit that is as unique as you are.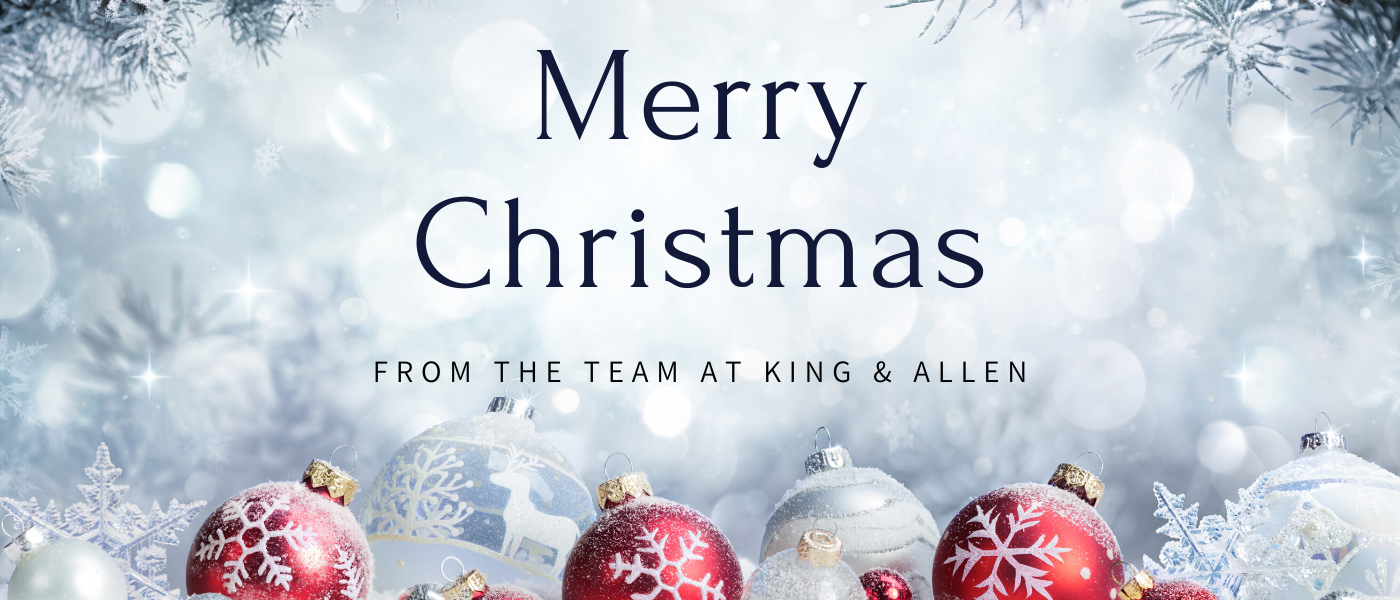 We hope you have a very merry Christmas party season! If one of your new year's resolutions is to have a bespoke suit made, don't hesitate to get in touch and contact us for an appointment at one of our showrooms. We're based in Surbiton, Birmingham, Wilmslow and central London.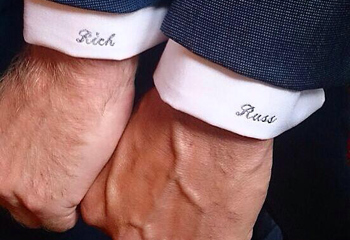 26 May 2022
Planning for your wedding can be a stressful time for some and the day itself often passes in a blur of joy and excitement. That's why it's important to 'stop and smell the roses' during your wedding journey and remember all of the reasons you've chosen to marry the love of your life. After the event itself, there are a plethora of ways you can look back fondly on the day, from the photos, to the video, to the signatures in the guest book. But did you know that your wedding suit can also serve as a reminder of the best day of your life? Read on to find out how...
Weddings
26 May 2022
2022 is a very special year for Pride, as it marks 50 years since the first ever march in 1972. While there were only 700 bravely marching then, this year it is expected there will be over 2 million attendees! Of course, many historical milestones have been achieved since 1972.
Style Tips & Advice
Style History
26 May 2022
Next week, the whole world will be watching as we celebrate 70 years with Queen Elizabeth II on the throne! The Queen has created quite the signature fashion lookbook that deserves its own jubilee. Her style has, quite literally, stood the test of time. Through nine decades, with her vibrant pant-suits and matching hats, stunning heirloom brooches - not to mention the symbolism behind every ensemble - it's no wonder the Queen is our style icon.
Style History