LGBTQ+ Icons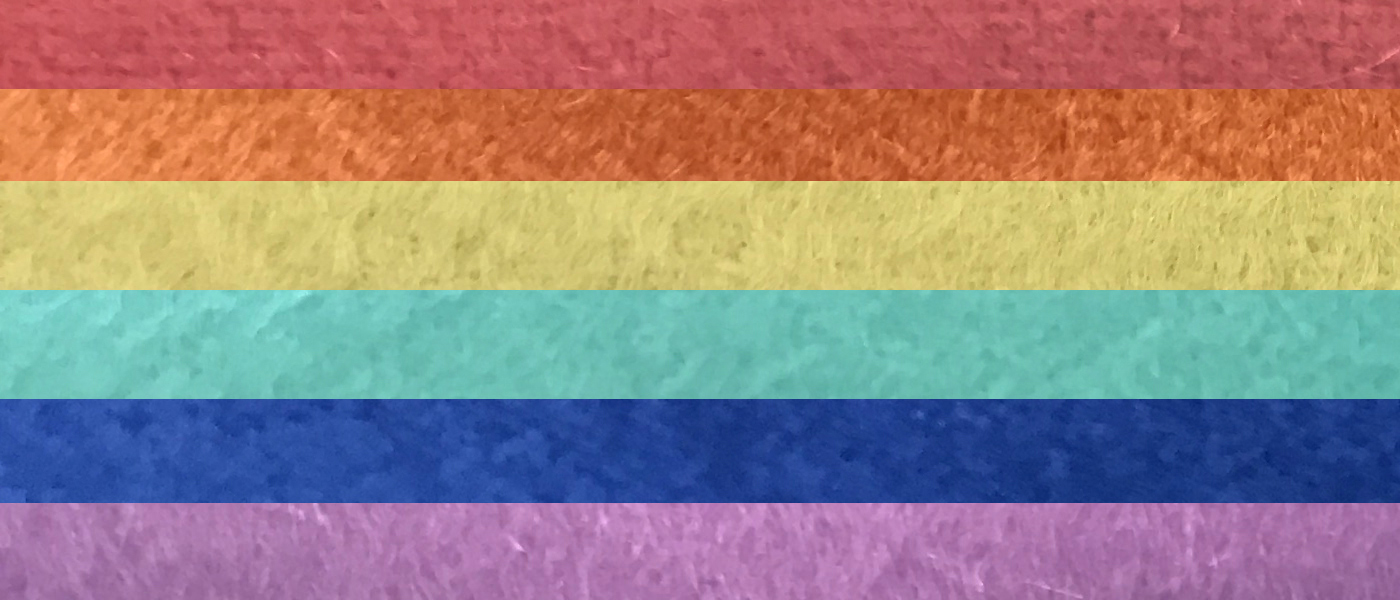 June is Pride month. A chance to reflect on the strides made towards achieving equality and to acknowledge that there is still a way to go, as well as a time to celebrate the breadth and diversity of the LGBTQ+ community.
With that in mind, we thought we'd take a look at just a few of our favourite suit-wearing, barrier-smashing, world-changing LGBTQ+ icons. Some you'll know well, some you may not...Let us know who you'd like to add to the list!
RuPaul Andre Charles
"Be yourself. Know your proportions. And have a good tailor."
— RuPaul
This is one of our favourite quotes here at King & Allen and no one knows how to be yourself better than the undisputed "fierce angel" of the 21st Century. Infinitely wise, completely tenacious and a veritable powerhouse of sartorial flair, RuPaul Charles can pull off an Elizabethan gown (with full headdress), a skin tight minidress and a impeccably-cut two-piece suit with the same level of effortless, stylish aplomb.
There are so many looks we could choose from but we decided to go with this rather understated, pink double-breasted suit that RuPaul wore to the Emmys last year. The pink is beautifully vibrant and the contrast black buttons are paired perfectly with the crisp shoes, giving a totally smooth look that is also full of joie de vivre.
Lucy Spraggan
"You may never be a scientist. You may never fire a gun. You may never set foot on the moon, but you're already someone. You may never find the missing link. You may never paint a work of art. But you will find faith where they say it is. It's already in your heart."
–Lucy Spraggan, Someone

A King & Allen favourite, ever since we made her wedding suit three years ago, Lucy Spraggan is a phenomenally talented musician who has released five albums, with her current offering 'Today Was A Good Day,' still storming the charts.
We've been lucky enough to make quite a few suits for Lucy over the years and they're all different, all reflective of the singer-songwriter's personality. We've chosen to spotlight the green suit she had made with us in 2017, specifically for her 'Cave Show' - a sold-out gig in Peak Cavern, Castleton.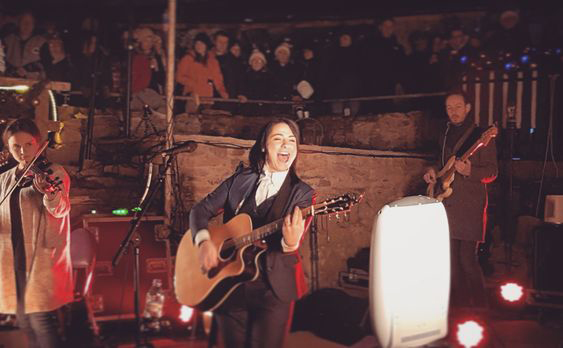 Anjali Lama
"You can't be afraid to be you. Those who don't dare, don't live. Initially, it will be very tough, but don't let the problems scare you, because beyond hardships, you get happiness like you felt never before."
- Anjali Lama
Nepalese model, Anjali Lama was the first transgender model to walk for Lakmé Fashion Week (the biggest event in the Indian fashion calendar) and has, more recently, been a part of Calvin Klein's latest campaign alongside other big-league names.
We love this gold lamé, two-piece suit. This has a more oversized fit which makes it look relaxed and modern, while also being magnificently iridescent, catching the light in a way that makes the whole outfit shine, like the wearer herself.
Neil Patrick Harris
We would be remiss to create a list like this without including the king of 'suiting up,' Neil Patrick Harris. The actor, best known for his role as Barney Stinson on 'How I Met Your Mother,' is also an ardent advocate for LGBTQ+ rights, donating to several charities and speaking out for equal marriage.
There are so many Barney Stinson sartorial smashes, but we thought we'd choose this look, which is a stand-out style statement. The jacket complements his husband, David Burkta's jacket. We love this couple's ability to choose looks that are at once individual and cohesive. The mark of a great relationship!
Cara Delevingne
"My sexuality is not a phase. I am who I am.'
Cara Delevingne
We love Cara Delevingne's style, from her legendary brows to her love of sharp tailoring. We also love the candid, open way she talks about her sexuality and sexual fluidity, placing herself as a highly-visible role-model for LGBTQ+ people everywhere. 
We have chosen this moment when she rocked up to Princess Eugenie's wedding in a morning suit that expertly combined both masculine and feminine elements to create a look that is totally iconic.
Billy Porter
"For me, life is about being positive and hopeful, choosing to be joyful, choosing to be encouraging, choosing to be empowering."
Billy Porter
When Billy Porter glided onto the red carpet in this tuxedo gown, we were blown away by the cut, style and beauty of the whole ensemble. In one, totally elegant moment, Billy Porter turned decades of Hollywood gender roles on their head. He is a strong proponent for fashion being a way to express his identity and inner sense of self.
Ellen Degeneres
"We're all supposed to be different. I want so badly to encourage everyone to say, "Who am I and how do I want to live my life?"
- Ellen DeGeneres
Of course, no list of LGBTQ+ suited icons would be complete without a nod to the queen of tailoring perfection, Ellen DeGeneres. Ever since she came out on her eponymous TV-show in the nineties, Ellen has been a symbol the world over for being true to who you are, even in the face of adversity. And we love her abundance of suits; from her white wedding suit when she married Portia De Rossi to the Yves Saint Laurent suit she wore for the Oscars' promo material. 
The look below is a classic midnight-blue tuxedo-style jacket with contrast black lapel. Teamed with a crisp white shirt with a collar bar for a formal, yet relaxed style.
Who would you like to see added to this list? Let us know on Facebook, Twitter or Instagram. If you've been inspired by any of the looks, come in for a free consultation and we can make you your very own iconic suit.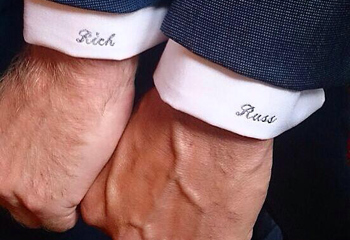 26 May 2022
Planning for your wedding can be a stressful time for some and the day itself often passes in a blur of joy and excitement. That's why it's important to 'stop and smell the roses' during your wedding journey and remember all of the reasons you've chosen to marry the love of your life. After the event itself, there are a plethora of ways you can look back fondly on the day, from the photos, to the video, to the signatures in the guest book. But did you know that your wedding suit can also serve as a reminder of the best day of your life? Read on to find out how...
Weddings
26 May 2022
2022 is a very special year for Pride, as it marks 50 years since the first ever march in 1972. While there were only 700 bravely marching then, this year it is expected there will be over 2 million attendees! Of course, many historical milestones have been achieved since 1972.
Style Tips & Advice
Style History
26 May 2022
Next week, the whole world will be watching as we celebrate 70 years with Queen Elizabeth II on the throne! The Queen has created quite the signature fashion lookbook that deserves its own jubilee. Her style has, quite literally, stood the test of time. Through nine decades, with her vibrant pant-suits and matching hats, stunning heirloom brooches - not to mention the symbolism behind every ensemble - it's no wonder the Queen is our style icon.
Style History