Get inspired with our sustainable Christmas gift list
It's been dubbed the Blue Planet effect - spurred on by Swedish teenage environmental activist Greta Thunberg and the rise of Extinction Rebellion. We are, of course, talking about growing consumer concern about issues such as single-use plastic and climate change. And, with Christmas just around the corner, early indications suggestion that we're starting to think more carefully about our buying habits.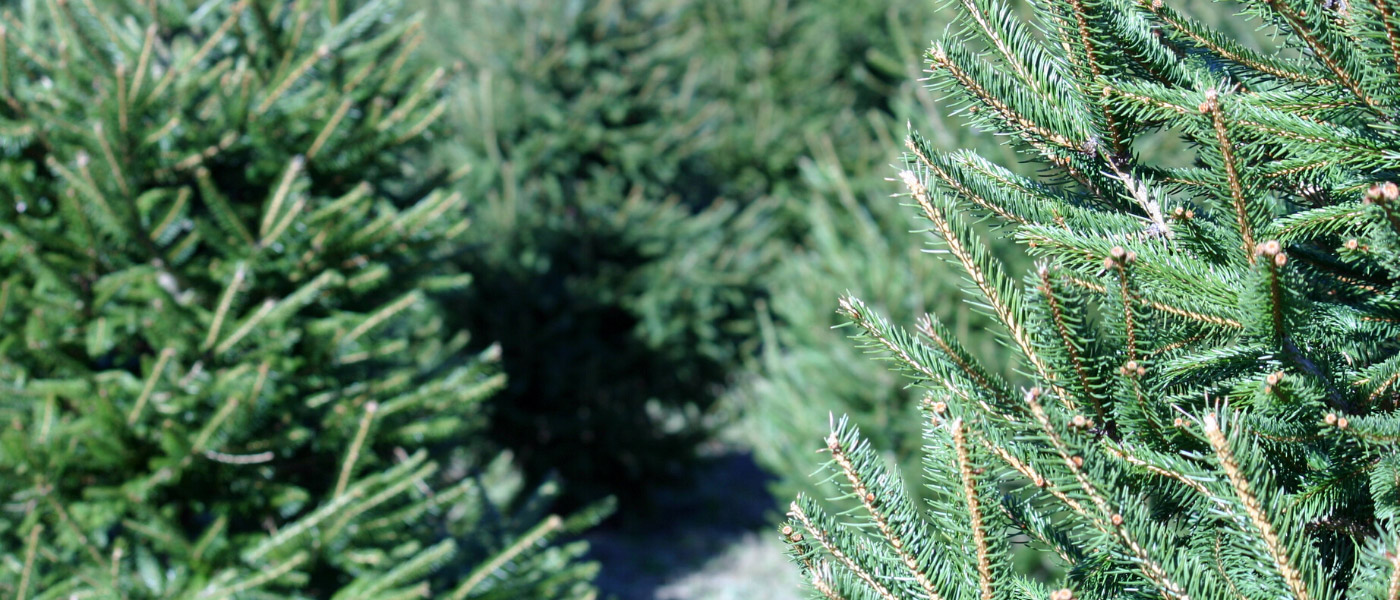 For example, in its 2019 holiday shopping report, Pinterest has reported a 118% rise in searches for sustainable gifts – citing everything from reusable silicone straws to bamboo watches. Meanwhile, 2019 is set to the be the last year you'll find plastic toys in your John Lewis and Waitrose crackers.
The fashion industry has a big role to play in all of this. In the UK alone, around 300,000 tonnes of clothing ends up in landfill each year. According to an article in the Guardian last December, UK shoppers spent around £3.5 billion on Christmas party gear, with an eyewatering 8 million items expected to end up in landfill after just one wear. 
Indeed, a report published by the Ellen Macarthur Foundation found that clothing production has roughly doubled in the past 15 years and contributes more to climate change than air travel and shipping combined. It also found that, if habits don't change significantly, the industry could eventually be responsible for a quarter of the world's carbon by 2050.
But, like our awareness around single-use plastic, things are starting to change – consumers are becoming more cognizant of the issues surrounding what is known as 'fast fashion' and there is a growing trend for more sustainable options, including transactions for second-hand clothes. 
There are also companies like Elvis & Kresse, which is transforming rescued raw materials into luxury items, such as bags, belts and wallets (see our edit below for our favourite piece). The company was formed in 2005 after a chance encounter with the London Fire Brigade led to the discovery that damaged, decommissioned hose was headed for landfill. Since then, Elvis & Kresse has helped to reclaim more than 174 tonnes of material. 
 "We were a little bit ahead of the curve," says Kresse Wesling, one of the company's founders, "but, since Blue Planet, we've definitely seen more people looking for brands that don't use single-use plastics and that has driven an increase in sales."
The company now has two sites – one in Kent and one in Istanbul – and manufactures everything itself using 15 different rescued materials, including parachute silk and rescued leather. "We want to create long-term sustainable employment as well as the eco side and have a very happy team. That's really important to us," adds Kresse.
At King & Allen, we're constantly evolving our tailoring processes to support a more sustainable industry – for example through our suit donation programme with Suit2Go, and through our use of sustainable fabrics such as bamboo in our vegan suits. But, one of the inherently great things about a bespoke suit is the fact that it's the very opposite of fast fashion. With some canny fabric choices and care, there is no reason why a well-made suit can't last you for years. It's also a great way to create a look that really projects your personality – thanks to a host of customisation options. 
If you're currently racking your brain for a sustainable gift idea this Christmas, we have the perfect suggestion – a King & Allen gift voucher. Vouchers get a raw deal sometimes as a non-personal option, but we disagree completely. Your loved ones can put their voucher towards a suit that will be as unique as they are. Presented in a beautiful, yet recyclable cardboard box, our voucher is a great way to help the suit lover in your life enjoy some slow fashion while standing out from the crowd.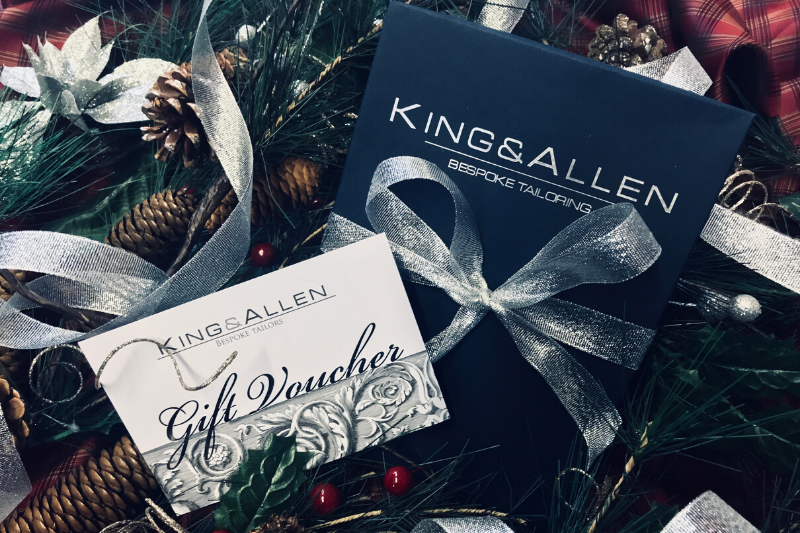 Find out more about King and Allen gift vouchers here.
The K&A sustainable gift edit
We think our gift vouchers make the perfect present for the suit-lover, but there are lots of other options out there, too. Here are six of our favourite sustainable gifts this Christmas…
If your loved one likes a smooth shave without the plastic, then Wearth has the answer. Set up in 2017, the company partners with more than 100 UK brands to make stylish, eco and ethical products like this beautiful shaving kit. The head is metal and the handle is wooden, meaning it's all recyclable. It also comes with a vegan-friendly palm oil-free shaving soap bar made with orange and lavender essential oils and aloe vera to soothe the skin. Good for your face and the planet – what's not to love?
Atlas & Ortus reusable glass coffee cup
Our second option is also available via Wearth but made by Atlas and Ortus. Created in 2018 by two sisters, the company designs zero-waste lifestyle accessories. Made from sustainable, non-plastic materials, this glass coffee cup holds 340ml of your favourite brew, making it a standard takeaway size and, therefore, 100% barista friendly.
Rock Pool bamboo sock box – 4-pack
Set up in 2006 by David Gordon in what he describes as the search for "the Holy Grail of business: where everyone wins – socially and environmentally," BAM offers a range of men's and women's wear, all made of bamboo. But it's the socks we love! Bamboo is a wonderful, vegan-friendly material that also happens to be incredibly soft and super absorbent, meaning these socks will stay fresher for longer compared to your regular variety. BAM prides itself on sourcing its bamboo carefully – you can read more about that on their From Jungle to Jumper page.

Bamboo also makes an excellent suit material and is becoming a popular choice with our vegan clients. Find out more about this remarkable fibre in our 10 curious facts about bamboo feature.
Elvis & Kresse Torpedo Cufflinks 
Cufflinks are a perennial Christmas favourite, but these aren't like any cufflinks you've ever encountered. These are made from old London Fire Brigade fire hose that would otherwise have gone to landfill. Instead, Elvis & Kresse rescued the hose and turned it into luxury accessories. Cufflinks are a wonderful way to flash a little bit of personality and these are guaranteed to get your recipient's friends talking for all the right reasons. But hurry – the team only produces in small batches to maintain quality of product, happiness of team and avoid wasteful overstock. 
Aspinal sterling silver collar stiffeners
Make sure your Christmas gift recipient has the sharpest collars in town with this beautiful pair of sterling silver collar stiffeners from Aspinal. They make the perfect permanent replacement for the cheap plastic options and you can even have them engraved with initials to give them that little extra customised zing. Ideal for a suit lover or, if you're getting married in 2020, an early wedding gift. 
The National Forest dedicate a tree
If you want a gift that is truly sustainable, then you can't go wrong with a tree dedication. Based up in the Midlands, the 200-square-mile National Forest is the first major English forest to be created in more than 1,000 years and it is transforming a landscape that had been left scarred by coal mining and heavy industry. To date, some 8.9 million trees have been planted and you could help that number grow further. All you have to do is select your species, the quantity you'd like to dedicate – each tree costs £15 – create a certificate and you're on your way.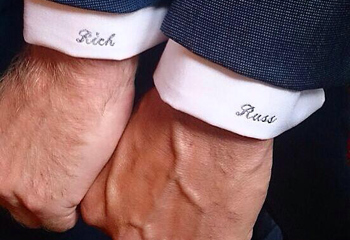 26 May 2022
Planning for your wedding can be a stressful time for some and the day itself often passes in a blur of joy and excitement. That's why it's important to 'stop and smell the roses' during your wedding journey and remember all of the reasons you've chosen to marry the love of your life. After the event itself, there are a plethora of ways you can look back fondly on the day, from the photos, to the video, to the signatures in the guest book. But did you know that your wedding suit can also serve as a reminder of the best day of your life? Read on to find out how...
Weddings
26 May 2022
2022 is a very special year for Pride, as it marks 50 years since the first ever march in 1972. While there were only 700 bravely marching then, this year it is expected there will be over 2 million attendees! Of course, many historical milestones have been achieved since 1972.
Style Tips & Advice
Style History
26 May 2022
Queen Elizabeth II recently celebrated 70 years on the throne and it is her official birthday on the second Saturday in June. The Queen has created quite the signature fashion lookbook that deserves its own jubilee. Her style has, quite literally, stood the test of time. Through nine decades, with her vibrant pant-suits and matching hats, stunning heirloom brooches - not to mention the symbolism behind every ensemble - it's no wonder the Queen is our style icon.
Style History