Fashion Week Chic
It may be cold outside but we're being kept warm by the scorching looks blazing down the catwalks at this season's fashion weeks.There's so much to see and tailoring is set to be a huge trend in 2019 (and every other year in our humble opinion). We thought we'd round up some of our favourite looks both on (and off) the runway from London Fashion Week Men's and New York Fashion week. 
Brace Yourself
David Gandy never seems to miss the mark with his sartorial choices. We love this crisp, blue shirt with a cutaway collar and some braces for a classic, yet cool look. 
Trend it like Beckham
Victoria Beckham looked absolutely stunning in this two-piece, grey suit. The wide, peaked lapels and high-waisted, wide-legged trousers give this an iconic look that is reminiscent of Katherine Hepburn or Marlene Dietrich, while still being up-to-date and chic.
be bold
Bold prints and colours were seen on across the board on sharp, modern tailoring. We love this look from Relax Baby Be Cool, which combines a longline jacket with nehru collar, with a scoop-neck waistcoat in a head-turning pattern. The beauty of having a suit in an adventurous print like this, is that you can use all of the pieces as separates. 
New york, new york
And the audacious hues continued across the pond this last week at the New York Fashion Week, with bright colours painting the catwalks at every turn. This pink, double-breasted suit at the Boss fashion show is redolent of the Pantone Colour of the Year and proves that bold is back.
Seeing Double
The double-breasted jacket was certainly having its time in the sun at New York Fashion Week. This suit, also from the Boss show, takes the elegant, refined look of the double-breasted suit and brings it right up to the present with an eye-catching check.
Street Style
Women's tailoring is set to be the big style trend of 2019. We just love these two examples, snapped at New York Fashion Week. Whether it be a tweed jacket with contrast collar, in a masculine cut or a crisp, emerald green suit, this year is going to be the one to watch!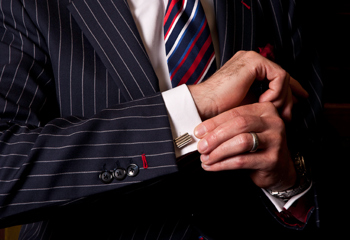 12 September 2019
The term 'pinstripe' refers to the very thin, parallel lines that run through a cloth, contrasting with the main colour. Taken at face value, it would seem to be a fairly bland description of a simple fabric pattern. But the history of the pinstripe suit is anything from bland and, indeed, the suit itself has a host of connotations attached to it.
Style Tips & Advice
Style History
27 August 2019
The new Peaky Blinders series is back with a bang and we're not just talking about the storylines. As ever, Tommy and his crew look as sharp as the razor blades the real-life Peaky Blinder gang were rumoured to stitch into the peak of their flat caps.
Style Tips & Advice
Celebrity Style
Style History
23 August 2019
Nothing pulls an outfit together more than the addition of an overcoat. It's been a staple in the fashion landscape for years and has recently had something of a resurgence in the public imagination...
Style Tips & Advice
Celebrity Style
Style History