Celeb wedding suit styles we love
No one throws a wedding like a celebrity; after all, they've got the means to really put on a show, not to mention access to all the best stylists and party planners. So, if you're tying the knot any time soon and are looking for that stand-out wedding outfit, why not take inspiration from some of the A-list? Here are five of our favourite star-studded nuptial looks  ̶ from the classic to the unconventional, California cool to daringly dapper.
The happy couple: Actor and über-cool DJ Idris Elba when he married model Sabrina Dhowre.
When: April 2019.
Where: At the lavish five-star Ksar Char Bagh hotel in Marrakech. Guests invited to the secret Moroccan nuptials enjoyed three days of celebrations, including a 'colours of the Souk' dinner and white-themed festival party.
What he wore: Rather appropriately, Idris opted for another kind of DJ, a custom-made tuxedo suit from Savile Row tailor Ozwald Boateng that perfectly complemented Sabrina's stunning ivory tulle Vera Wang gown.

Why we loved it: What's not to love about the classic tux? It's suave, sophisticated and never goes out of style, so you can be sure your wedding photos will stand the test of time. Plus, Idris looked every inch the James Bond wannabe (he's one of the bookies' favourites to be the next 007) in his beautifully-cut Boateng. He kept the look clean and simple with a crisp dress shirt and matching black bow tie that only enhanced his cool DJ status when he wore it casually untied around his neck later in the evening. This look works particularly well for an evening wedding. Just be sure to follow Idris's lead and avoid coloured dicky bows and cummerbunds (this isn't the eighties).
The happy couple: TV presenter and former wheelchair basketball Paralympian Ade Adepitan when he married Scottish singer Linda Harrison, known as Elle Exxe.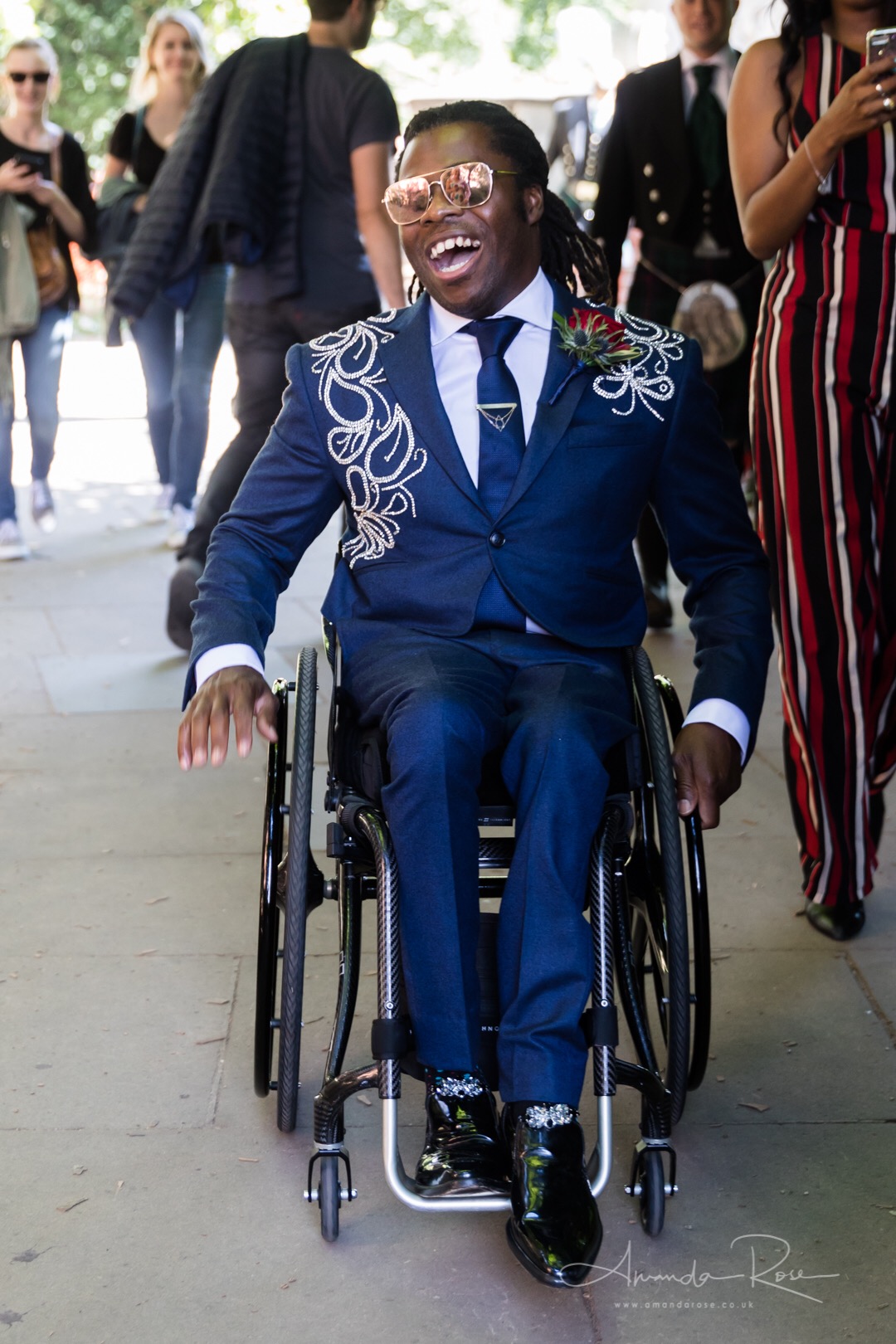 When: August 2018.
Where: At St Paul's Cathedral - the MBE he was awarded for services to disability sport in 2005 gave him the right to wed at the iconic London landmark.
What he wore: Ade wore a petrol blue silk suit embellished with rhinestones on both shoulders that was designed and created by our very own Jake Allen. 
How we did it: Ade was looking for something interesting and showed us a Kanye West denim jacket covered in rhinestones. We couldn't add as many, simply because the weight and structure of denim is quite different from suit fabric. "I started out looking at Paisley patterns for the stitching," says Jake, "but it wasn't quite working. So, then I began to research African symbolism and I found a symbol that means 'eternal love'. It was perfect." Because Ade uses a wheelchair – at the age of 16 he contracted polio – we needed to include some adaptions, such as keeping the jacket short so that it just rests on the trousers when seated, rather than bunching up. Sleeves also need to be a little longer because your arms tend to be bent most of the time. And, of course, Ade is quite broad because of his wheelchair basketball career so we needed create a balanced shape.
Why we love it: Adding a bit of sparkle to his wedding suit really gave Ade a stand-out look that not only provided a fitting foil to Linda's stunning satin YSA Makino for Kavelle Couture gown, but also to the grand surroundings in which they wed. Known for his cheery personality, Ade isn't afraid to be noticed and this look perfectly reflects that. It may not be for everyone, but an embellished suit certainly makes a statement and, after all, why should the bride get all the bling? From a subtle display of delicate beading to a splash of full-on flashy crystals, there are endless possibilities for designing an outfit with a bit of edge that's perfect for an evening wedding.
The happy couple: Singer-songwriter (and Beyoncé's baby sis) Solange Knowles for her wedding to music video director Alan Ferguson.
When: November 2014.
Where: The dress code was all-white (yes, the guests too) in New Orleans. Kicking off the unconventional tone of their nuptials, the couple arrived at Holy Trinity Church by bicycle, before rounding off their celebrations with a street party in the city's famous French Quarter.
What she wore: In a break with tradition, Solange wore an off-white, backless Stéphane Rolland jumpsuit and cape for her wedding ceremony.

Why we loved it: A wedding jumpsuit is the ultimate cool-girl outfit and Solange played it to perfection. Her out-of-the-box option proved that ditching the traditional gown doesn't have to mean sacrificing elegance on your big day. No wallflower, Solange is clearly not one who likes to be constrained by convention and, it seems, she's not alone. As attitudes towards wedding wear shift, more and more brides are choosing something that reflects their own personal style and, with this sensational jumpsuit, Solange certainly achieved that and then some.
The happy couple: Comedian and America's favourite chat show host Ellen DeGeneres when she married actress Portia de Rossi.
When: August 2008. The pair were one of the first celeb couples to wed after same-sex marriage was legalised in California. Ellen announced their engagement on her show the day after the Supreme Court announced the ruling.
Where: In the garden of their LA home.
What she wore: Both brides wore custom-made Zac Posen designs: Portia chose a blush tulle gown with a tuxedo-inspired halter top, while Ellen kept to her signature look in cream trousers with a waistcoat.
Why we loved it: Head-to-toe in off-white and cream (even the shoes), Ellen exuded her trademark SoCal classic cool style. She's famous for her sharp suits, but we love her choice of loose-fitting trousers and unbuttoned waistcoat over a gorgeously gossamer blouse here, which kept the look casual and feminine. Not all weddings are super-formal affairs and this outfit was perfect for the couple's relaxed celebration at home.  
The happy couple: England football legend David Beckham at his marriage to Spice Girl Victoria Adams.
When: July 1999. 
Where: Posh and Becks spared no expense when they hired out the 15th-century Luttrellstown Castle near Dublin for their nuptials. Who can forget those iconic golden thrones?
What he wore: Forget David's all-cream three-piece suit and Victoria's £77,000 custom-made Vera Wang gown (topped with a crown, no less) worn for the ceremony, what really had heads turning 20 years ago were the striking purple outfits (a suit and open-necked shirt for him, floor-length fitted dress for her) the couple donned for their sumptuous evening reception.
Why we loved it: It was bold, brave and different. Yes, the floral corsage might have been a step too far, but who says wedding attire has to be all muted tones and pastels? If you're a bit of a fashion maverick, turning up the volume with a bold colour for your wedding suit is the perfect way to stamp your own personality on the day. We applaud David's daring choice but suggest you swap the matching shirt for something a little more subtle (crisp white or a delicate floral pattern) to make the look more modern metro and less Latin lothario.   
If you are looking for a bespoke wedding suit that is as unique as you are, then do get in touch to make an appointment at one of our nationwide showrooms.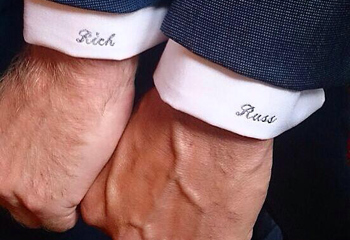 26 May 2022
Planning for your wedding can be a stressful time for some and the day itself often passes in a blur of joy and excitement. That's why it's important to 'stop and smell the roses' during your wedding journey and remember all of the reasons you've chosen to marry the love of your life. After the event itself, there are a plethora of ways you can look back fondly on the day, from the photos, to the video, to the signatures in the guest book. But did you know that your wedding suit can also serve as a reminder of the best day of your life? Read on to find out how...
Weddings
26 May 2022
2022 is a very special year for Pride, as it marks 50 years since the first ever march in 1972. While there were only 700 bravely marching then, this year it is expected there will be over 2 million attendees! Of course, many historical milestones have been achieved since 1972.
Style Tips & Advice
Style History
26 May 2022
Next week, the whole world will be watching as we celebrate 70 years with Queen Elizabeth II on the throne! The Queen has created quite the signature fashion lookbook that deserves its own jubilee. Her style has, quite literally, stood the test of time. Through nine decades, with her vibrant pant-suits and matching hats, stunning heirloom brooches - not to mention the symbolism behind every ensemble - it's no wonder the Queen is our style icon.
Style History