Amazing Aquarret
Creating the perfect suit starts with a high-quality fabric. That's why we work closely with renowned  luxury cloth merchant, Holland & Sherry, to make sure we have the world's best possible cloths available for our clients. While we place great value on traditional methods – for example some of Holland & Sherry's pattern weaving hasn't changed in 200 years – we also believe in keeping one eye firmly on the very latest bespoke tailoring technologies. It's a conviction that the team at Holland & Sherry shares. "We always try to keep abreast of all forms of new products and improve our client offering, so that our partners can offer the very best to their customers," says Holland & Sherry global sales director Lindsay Taylor.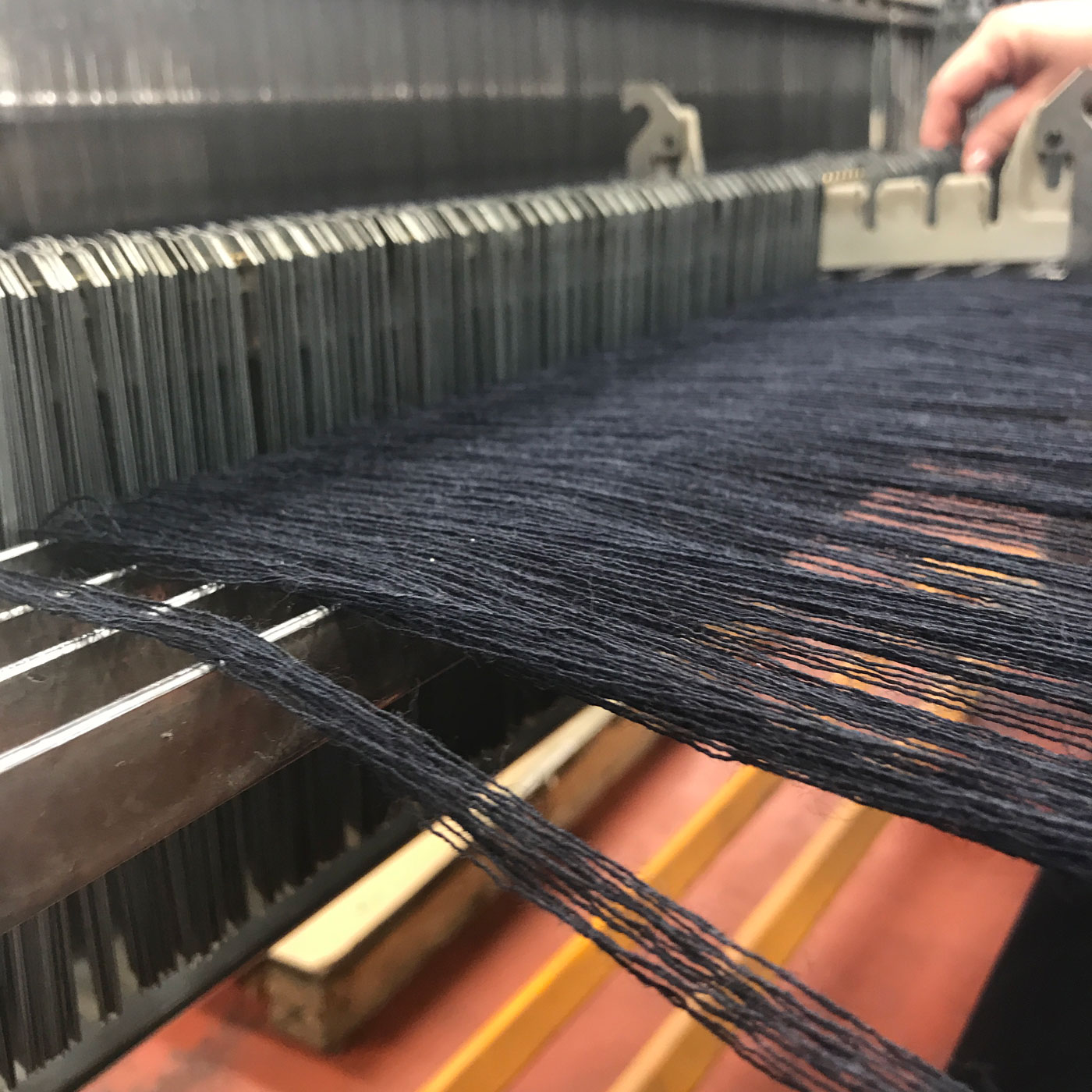 One way in which we're doing exactly that is with a relatively new technology called Aquarret, a finishing technique which actually protects a fabric from spills and stains. Gone are the days of constant cleaning, thanks to Aquarret's clever qualities. Aquarret is applied to a number of Holland & Sherry's ranges or it can be added to an individual piece for a clients suit.  Find out more with our lowdown on this modern textile innovation.
What is Aquarret?
Combining traditional textile skills with the latest water defence finish, Aquarret provides liquid and stain fabric protection, repels dust and dirt and resists static - all while retaining the luxury feel of the natural cloth. Its name, which quite literally means 'water stop', could not be more apt, as liquids simply roll off the fabric (even red wine).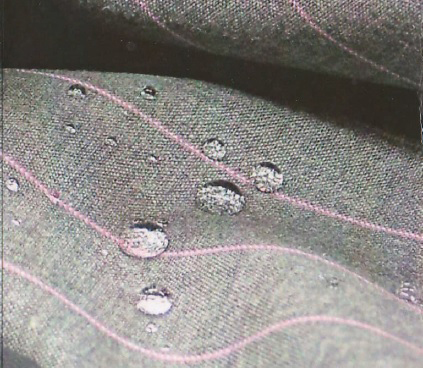 How does it work?
Aquarret incorporates nanotechnology, which involves the application of extremely small particles – or 'nanoparticles'. A nanoparticle is between 1 and 100 nanometres in size and, to give you some idea of scale, about one billion of them can fit on a pin head! In Aquarret, nanoparticles of silica are incorporated into the weave of a fabric to form a coating that repels water and stain-producing liquids. The angle and roughness of the coating creates enough surface tension to ensure that liquids form beads that roll off the fabric like mercury, rather than soaking into it. The natural fibres of cloths such as wool stay in place and retain their softness.
Why is Aquarret useful?
Aquarret keeps your suit cleaner for longer: it does this by rejecting dirt and dust, preventing it from sitting on the weft of the fabric and repelling stains. This a major advantage, according to our co-founder, Jake Allen: "You don't want to dry clean a suit too often because it eventually destroys the fabric," he points out.
It's especially useful in fabrics that are not particularly hard-wearing and benefit from minimal dry cleaning. "We use Aquarret on our Dragonfly fabric," says Lindsay. "It's lightweight with a slight sheen to it and a lovely, smooth, silky handle. It's a beautiful cloth."
Aquarret is water-resistant: which means getting caught in a shower won't ruin your beautiful suit. Water-resistance is not to be confused with waterproofing, though, so don't expect to stay completely dry in a downpour! But it does provide all-important protection in lighter damp conditions.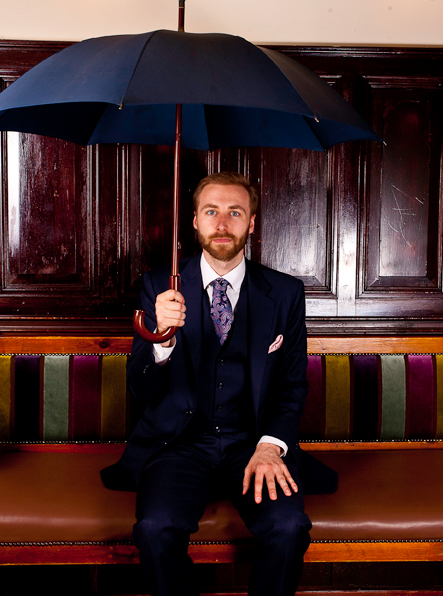 Aquarret is breathable: traditionally, water resistance is added to a fabric by way of a protective spray. However, this creates a membrane that prevents air moving through the cloth. Plus, these sprays usually lose their effectiveness after the first dry clean. Choosing an Aquarret finished fabric eliminates these problems.
"Wool is a great fabric because it regulates your temperature, retaining heat when you're cold and letting it out when you're warm, so spraying a wool cloth with something that prevents that breathability is not a good idea," says Jake. And with Aquarret, you don't have to. The water-resistant fibres are encapsulated around those of the natural cloth, allowing all the favourable qualities of the wool, such as its softness and breathability, to shine through, while counteracting the cloth's natural absorbency, even after dry cleaning. This also means the cloth retains its luxurious finish.
Things to consider when choosing an Aquarret cloth
Aquarret isn't suitable for all fabrics: while Aquarret is perfect for wool, silk or cotton with their smooth spun fibres, some cloths do not lend themselves to the treatment. Corduroy and velvet, for example, have too many hairs and loose surface fibres, so the technology would not be as effective. It could be used in tweed but, again, the short hairy fibres aren't really conducive to the process, so we don't recommend it, especially if you're planning on braving the British countryside in all weathers.

Aquarret can incur an additional cost: during the treatment process, there is an amount of wastage at each end of the cloth, which results in a small surcharge. This is worth considering when choosing a cloth, but we think the benefits far outweigh this initial extra outlay. Plus, Aquarret can be applied to almost the entire King & Allen suit fabric range. This is because each cloth length is cut especially for you, so the process is applied at source. If you're looking for a workday suit that needs to last well, we highly recommend this remarkable technology.
How to protect your Bespoke suit
Whatever fabric you choose, whether it's treated or not, there are some golden rules for extending the life of your suit. 
Don't wear the same suit every day. Instead, rotate your suits to reduce wear and tear. 
Air your suit regularly to keep it fresh so that you don't have to dry clean it too often, as this can wear down the nap of the fabric. 
Hang your suit in a steamy room to encourage creases to drop out. 
Finally, brush your suit regularly to remove any surface dust and dirt.
If you are interested in commissioning a made to measure or bespoke suit with an Aquarret fabric, please contact King & Allen for more information or to make an appointment.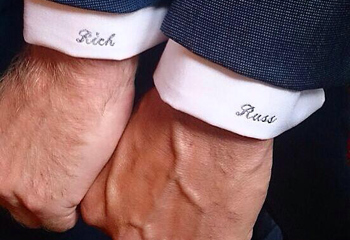 26 May 2022
Planning for your wedding can be a stressful time for some and the day itself often passes in a blur of joy and excitement. That's why it's important to 'stop and smell the roses' during your wedding journey and remember all of the reasons you've chosen to marry the love of your life. After the event itself, there are a plethora of ways you can look back fondly on the day, from the photos, to the video, to the signatures in the guest book. But did you know that your wedding suit can also serve as a reminder of the best day of your life? Read on to find out how...
Weddings
26 May 2022
2022 is a very special year for Pride, as it marks 50 years since the first ever march in 1972. While there were only 700 bravely marching then, this year it is expected there will be over 2 million attendees! Of course, many historical milestones have been achieved since 1972.
Style Tips & Advice
Style History
26 May 2022
Next week, the whole world will be watching as we celebrate 70 years with Queen Elizabeth II on the throne! The Queen has created quite the signature fashion lookbook that deserves its own jubilee. Her style has, quite literally, stood the test of time. Through nine decades, with her vibrant pant-suits and matching hats, stunning heirloom brooches - not to mention the symbolism behind every ensemble - it's no wonder the Queen is our style icon.
Style History