Sumptuous Swatches For Your Spring and Summer Suit.
What could be better than the start of spring? Blossom, birdsong and the burgeoning promise of a summer wardrobe. Here at King & Allen we're more than ready to ditch the austere mantle of winter and embrace our brighter, sunnier side. With the arrival of the spring/summer 2018 cloth bunches from our favourite merchant Holland & Sherry and the approach of wedding season, this is the perfect time to start planning a new suit.
We would suggest, when considering your new spring/summer suit, that you keep in mind the 3 Cs: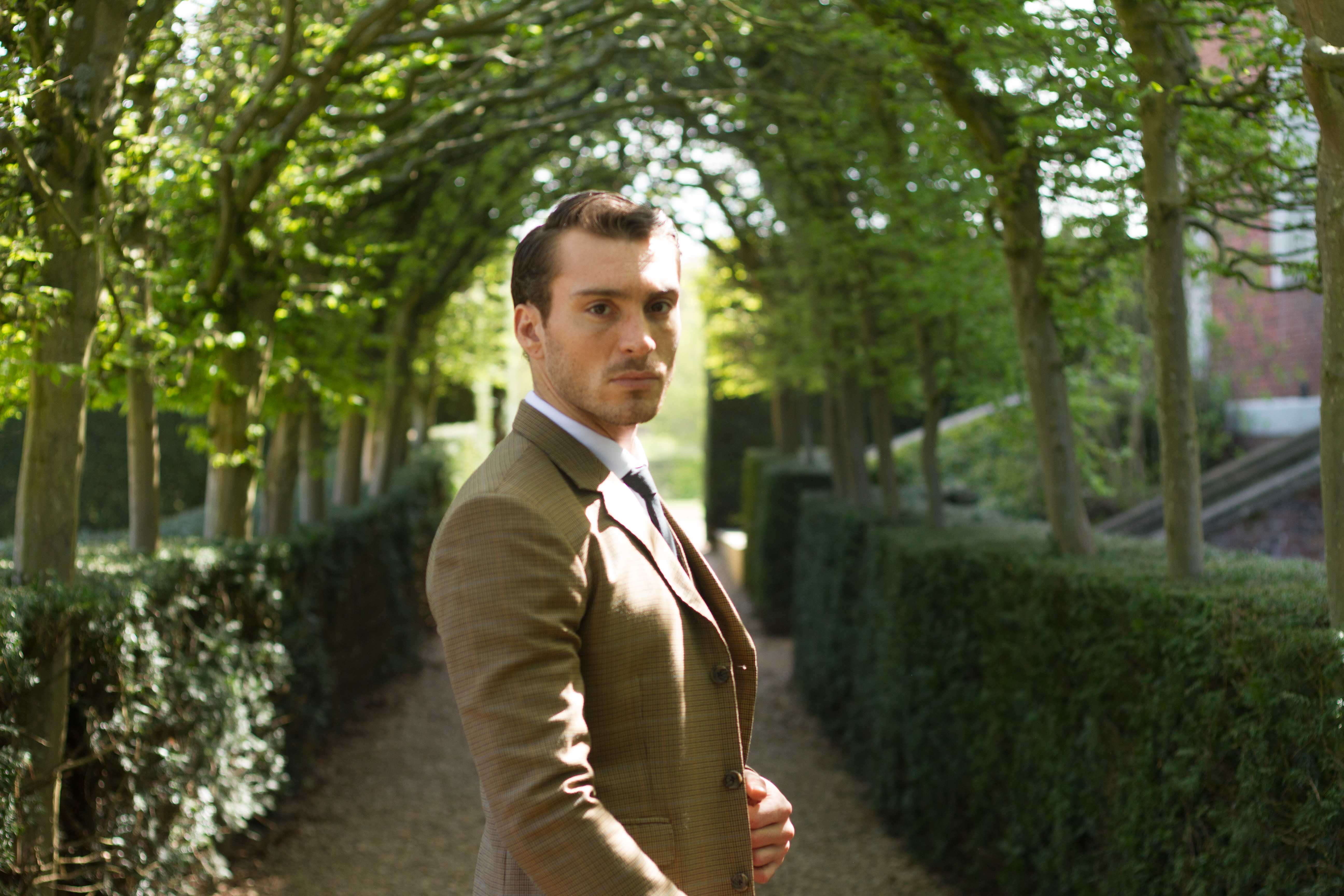 Construction
Adjusting a jacket's lining can make your suit feather-light and more breathable. So, you might opt for half-lined – ideal for the British spring/summer season – or even a Dragonfly lining, which takes its name from the wing-like shape inside the jacket. Essentially it means using as little lining as possible, while maintaining the traditional shape of a jacket. If you're planning to wear your suit in more tropical climes, it might be worth dropping the lining altogether.
Colour
Pastels and lighter, brighter colours obviously reflect light and heat better, which means you can keep wearing your new spring suit right through summer. What we love most about this time of year is that it offers suit fans the chance to throw off the muted greys of winter and have some fun with colour choices and patterns.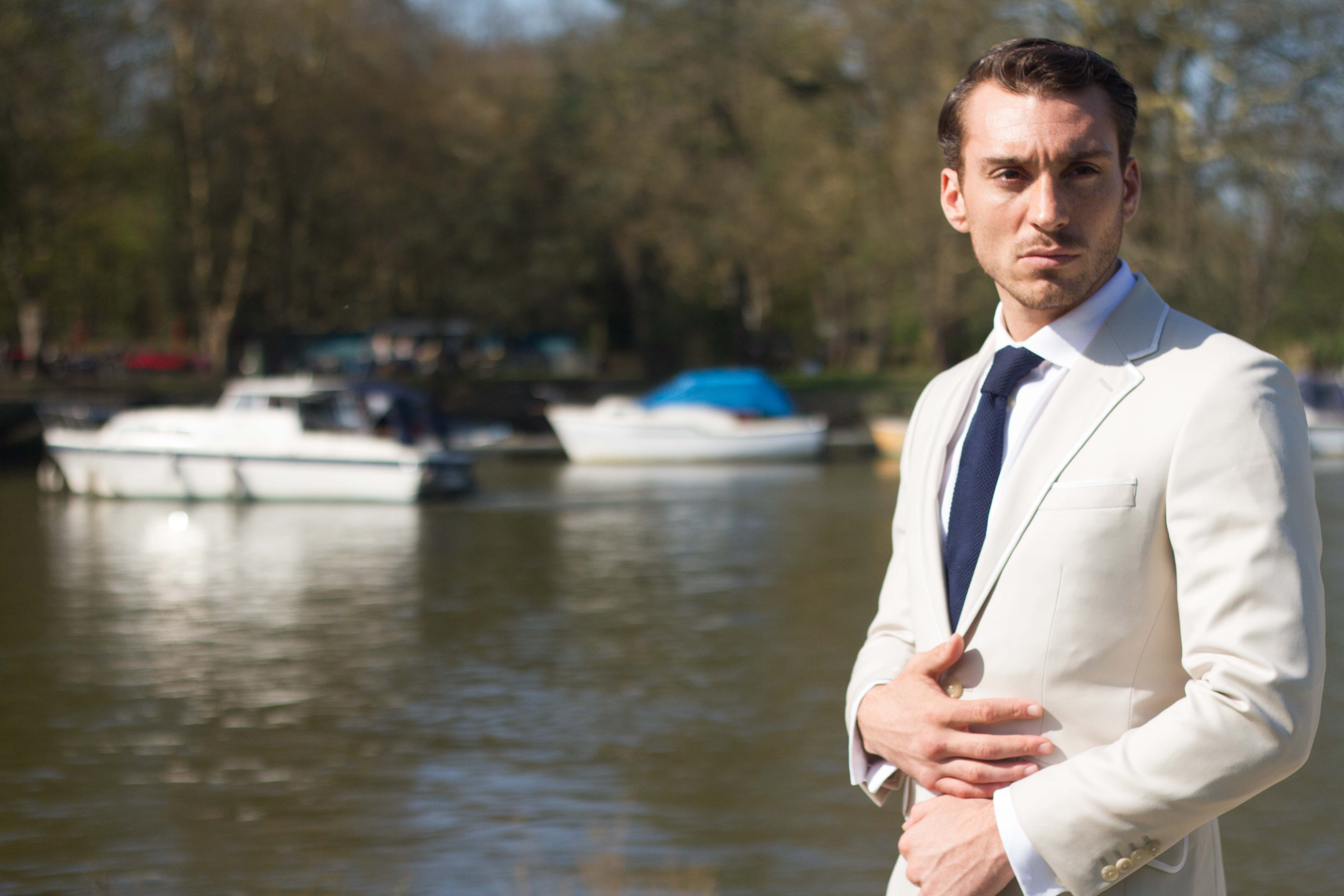 Cloth
Woven fabrics typically breathe better than normal worsteds, while still hanging well. Of course, linen is a great option for summer, but creases easily. If that puts you off, a high quality wool/silk/mohair mix will still keep you cool and hold its shape.
In tailoring, a change in season tends to mean a change in cloth, although it doesn't correlate that lighter means cooler. Indeed, weight is not always the best indication of a cloth's appropriateness for a particular season – for example a heavier, open weave fresco fabric can actually be cooler than a lighter, tightly woven one. It's all about how much the fabric lets your body breathe. Your choice of suit lining will also have an impact and we use a range of natural materials that are very breathable.
For more tips on choosing a spring/summer bespoke suit take a look at Cloth, Construction and Colour – The 3 C's that will keep you cool this summer.
Top tip:
If you're looking to create a spring/summer bespoke suit that really reflects your personality, why not consider a three-piece suit with a matching or contrasting bespoke waistcoat? A waistcoat is a great option for summer weddings when the mercury can bounce up and down the thermometer, since it allows you to remove your jacket on really hot days while still looking sharp
Decisions, decisions…
We asked King & Allen co-founder, Jake Allen, to walk us through some of his top Holland & Sherry cloth picks and show us what's on trend this season:
SHERRY STRETCH – £799 for a two-piece suit in our Modern Bespoke and £1,199 in our Traditional Bespoke.
The spec: wool blended with Lycra, a man-made fibre with exceptional elasticity.
Weight: 7.5-8.5oz
Why we love it: this is the first time Holland & Sherry have incorporated Lycra into one of its fabrics and it's going to be an absolute crowd pleaser – it's lightweight, breathable and stretches with the body, giving an incredibly comfortable fit. We think our female clients will particularly love this option. It's a wonderful fabric that comes in a range of styles, including twill, prunella and glen checks.
Perfect for: a rooftop cocktail party. The versatility of this cloth makes it an ideal choice for the British spring/summer season, when temperatures can vary quite radically.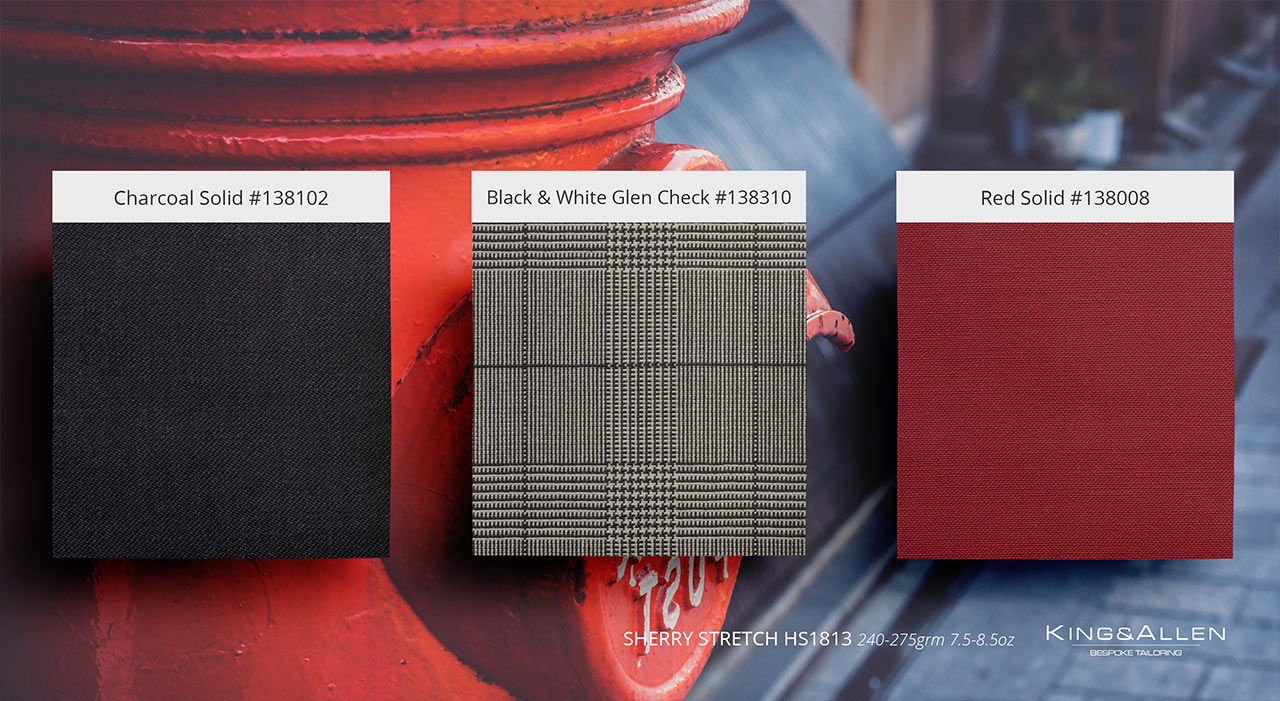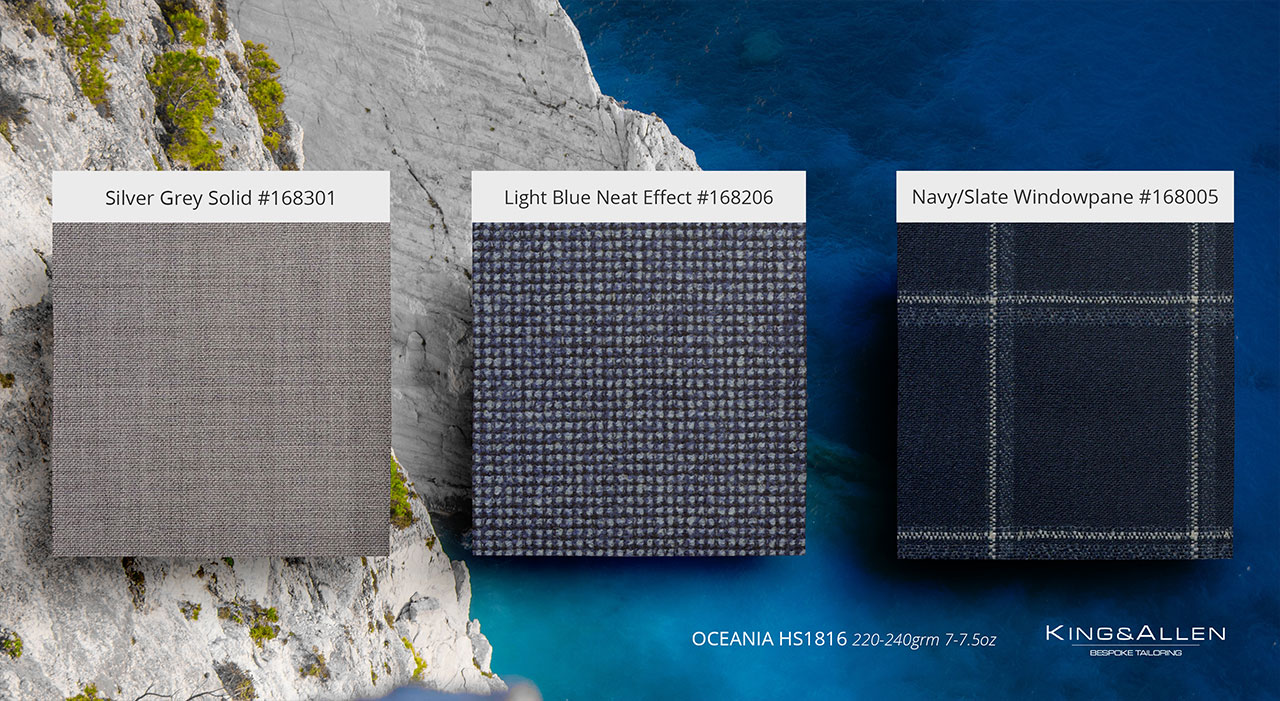 OCEANIA jacketing collection – jacket prices at £600 or £934 for Modern and Traditional Bespoke respectively.
The spec: ultra-lightweight blue tartan and windowpane checks in a range of wool worsted mixes.
Weight: 7-7.5oz
Why we love it: blue remains a popular go-to colour when it comes to business suits – no surprise since it tends to complement most complexions. Many people are wary of windowpane checks and tartans for fear of being too flamboyant, but this jacketing collection pairs classy grey, blue and brown shades with strong patterns, so that the overall look is bold, but infinitely wearable.
Perfect for: a day at the races. The big race events, such as Ascot and Epsom, are as much about the suit these days as they are the hats. An Oceania jacket is a statement piece that will turn heads for all the right reasons.
ROYAL MILE 1976 – £899 for a two-piece suit in Modern Bespoke and £1299 for Traditional Bespoke.
The spec: an updated collection of Super 140s fabrics that are woven using a specialised spinning technique that draws short fibres to the core, allowing long fibres to bind to outside. This has the effect of creating a very even, luxurious yarn.
Weight: 9oz
Why we love it: this is a classy, understated looking bunch, packed with lovely subtle touches, such as the black and white pick and pick herringbone Super 140's with blue and pearl alternate stripe (product code: 318016). It's a very smooth fabric and quite durable – because of the way its spun, the fabric has fewer surface fibres. The name refers to the fact that a Scots mile is 1,976 yards, unlike an Imperial English mile which is 1,760. The cloth comes in a range of traditional weaves, such as herringbone, sharkskin and pinstripe and in an array of greys, blues and browns.
Perfect for: someone looking for a modern take on a classic look. This is a wonderful all-rounder that can be worn throughout the seasons and never goes out of style.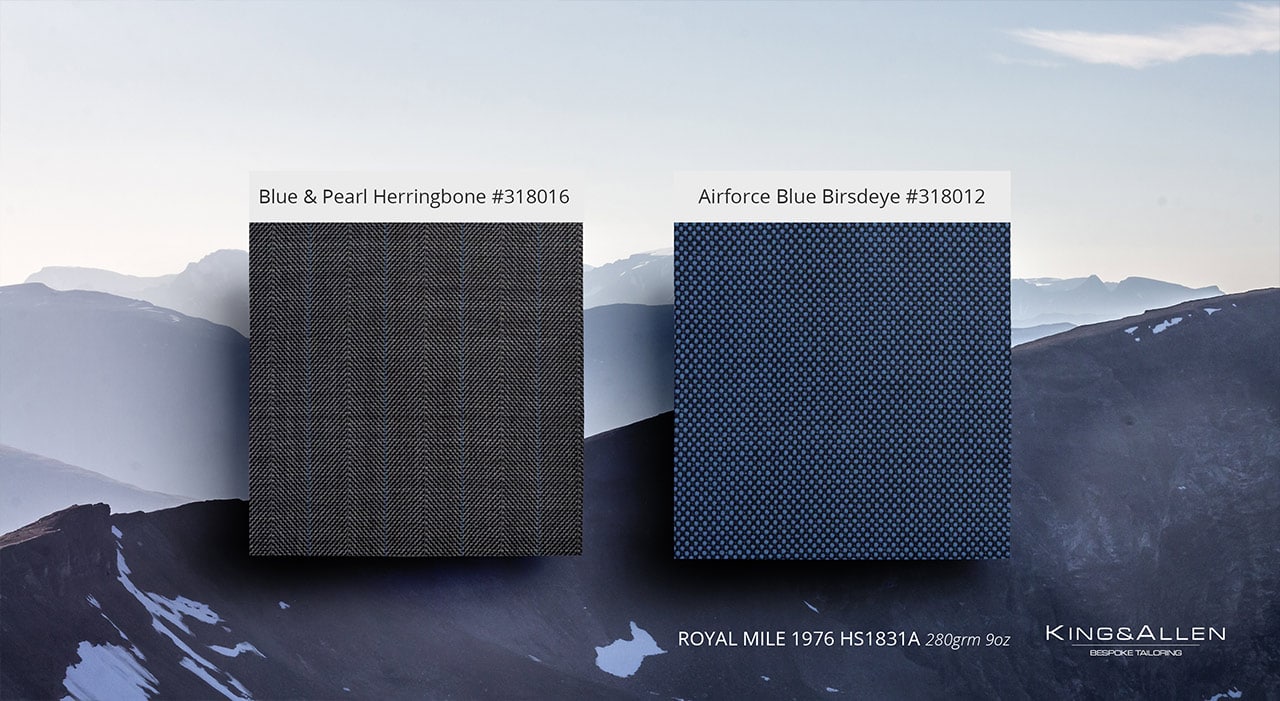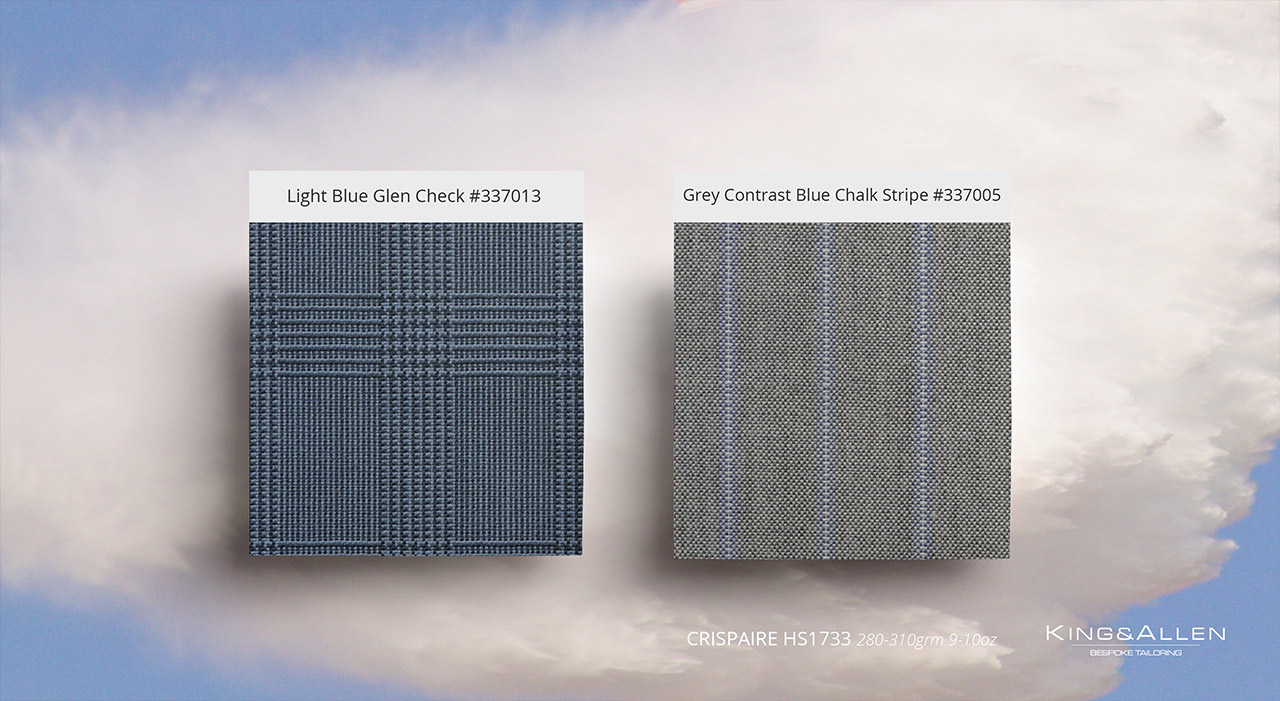 CRISPAIRE – £899 for a two-piece suit in Modern Bespoke and £1299 for Traditional Bespoke.
The spec: 100% wool worsted fabric, in a traditional plain weave.
Weight: 9-10oz
Why we love it: this is a very popular Holland & Sherry core fabric and a King & Allen staple, thanks to the full-bodied crimp of the merino wool, which makes it crease-resistant. The yarn is combed until very round, which also gives the cloth a natural bounce, while remaining very lightweight. All in all, it's a razor-sharp cloth that we use when we want to create a suit with clean, crisp lines.
Perfect for: travelling on business. If you're the sort of person that often moves from airport to meeting room without much time in between, then this cloth's durability makes it an ideal choice for you.
Crystal Springs – £1,099 for a two-piece suit in Modern Bespoke and £1,499 for Traditional Bespoke.
The spec: woven from Super 130s merino wool yarn, or a wool/silk/linen blend, this is a luxurious, durable cloth that drapes the body beautifully. It also has a natural elasticity that makes it comfortable and easy to tailor.
Weight: 6.5-9oz
Why we love it: we've loved this cloth since its initial launch in 2017. It's a gorgeous fabric that comes in a range of colours and patterns, but it is Crystal Spring's bold, yet unfussy, checks that we particularly love. The natural crimp of wool fibre means this fabric also has good recovery from creasing. Although the cloth can be used to make a full suit, the jackets also look fantastic when paired with neutral trousers.
Perfect for: a spring wedding. We're not suggesting you upstage the bride and groom, but a jacket made in a Crystal Spring check is guaranteed to get the other guests talking.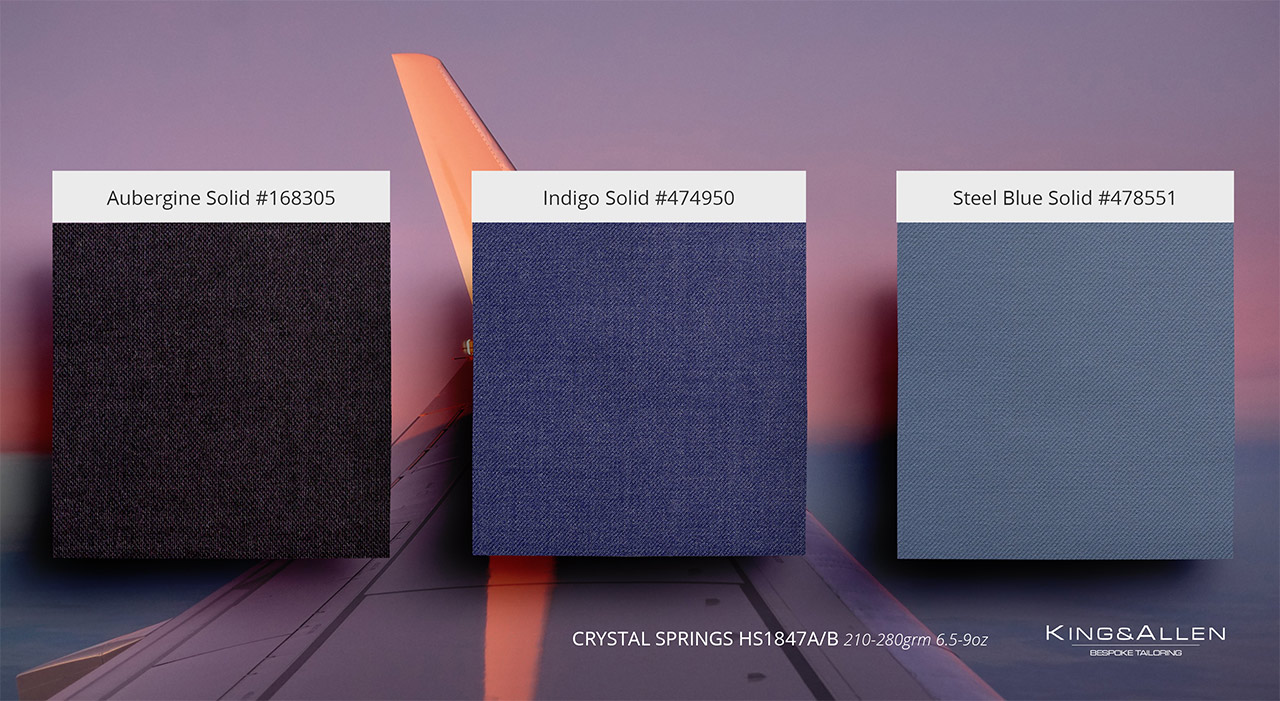 26 May 2020
Following the announcement by the Prime Minister on the 25th May, we will be reopening our Surbiton, Liverpool Street and Wilmslow stores on the 16th June.
King & Allen News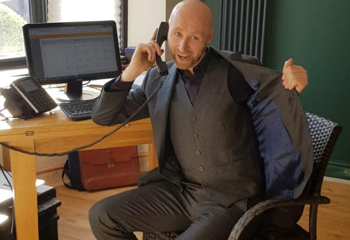 15 May 2020
We've put  together a brief guide and some resources for what to do once you've decided on a new date for your big day.
Style Tips & Advice
Weddings
14 May 2020
While we look forward to re-opening and helping you all find your fit for your special day, we also thought it might bring a smile to our follower's faces to see how some people have kept their lockdown weddings and celebrations going.
Style Tips & Advice
Weddings