How To Wear A Suit Like A Peaky Blinder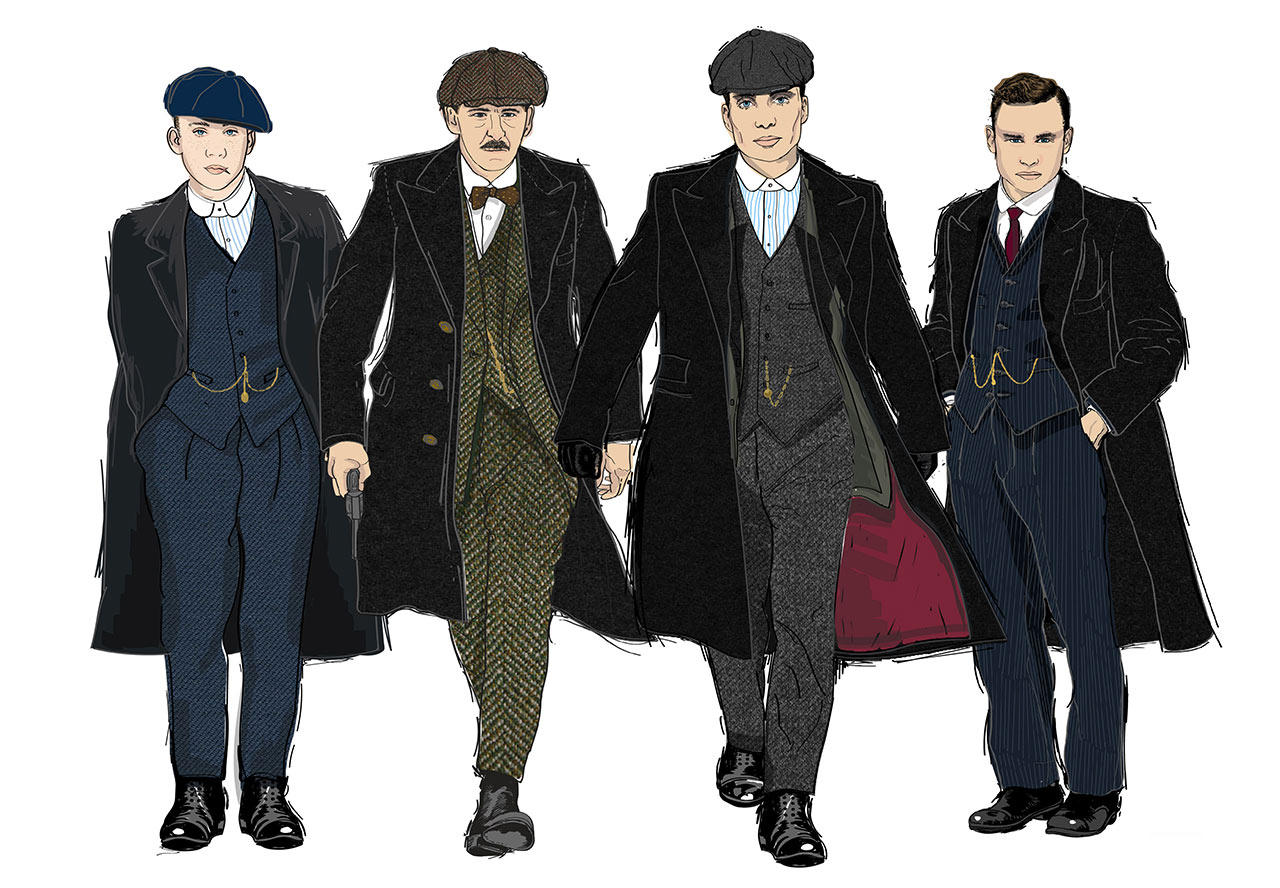 As any fan of the BAFTA-award-winning BBC series Peaky Blinders knows, the Shelby brothers can always be relied upon to look sharp while going about their business – illicit or otherwise. The look is a larger-than-life interpretation of a typical 1920s working man's dress and in the Shelby world what you wear says as much about your place in the local pecking order as your actions.
From Thomas to John, each Shelby brother has his own small stylistic adaptations, but there are a few basic items that you should consider if you're going to pull off the look:
The Club Collar
Also known as the penny collar, this is a round-edged collar that looks best when worn without a tie. Traditionally, collars were detachable from the rest of the shirt, which helped keep laundering costs down – you could remove and wash the collar more frequently than the full shirt. The penny collar was particularly popular during the 1910s, with the more pointed collar often seen worn by Thomas Shelby in later series becoming more popular in the mid-1920s. The collar was first worn by students at Eton College, after the school decided to round the typically sharp edges as a way of distinguishing an Etonian from a regular school boy. It earned the name club because it was considered something reserved for the favoured few.
The Pocket Watch
If you really want to get into the Peaky Blinder detail, then adding a beautiful pocket watch to your suit is the way forward. The pocket watch was an essential accessory for the working man in the late 19th and early 20th century, particularly for railroad workers who needed to keep accurate time. These days the pocket watch is a bit of cult obsession for collectors, but there's no doubt it adds a touch of vintage class to your look. You'll also need an Albert T-bar and a brass fob chain, which slip through a waistcoat buttonhole, allowing you to tuck the watch inside a pocket.
The Waistcoat
This is another Peaky Blinders staple, but if you want to perfect the look, then avoid the low opening style waistcoats that are more common in modern suit design and pick one that crosses high at the chest to help the club collar sit nicely. If you're into your details, then make sure it's also got six buttons and four pockets.
The military-style boots
Leave the shoes at the door and complete your Peaky Blinder look with a pair of Oxford boots – preferably black, above ankle length with a cap toe. And if you really want to go authentic, don't bother with the polish. You want your boots to look like they've stamped the mean streets of 1920s Birmingham.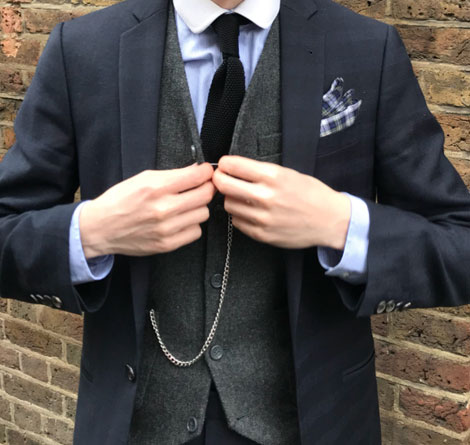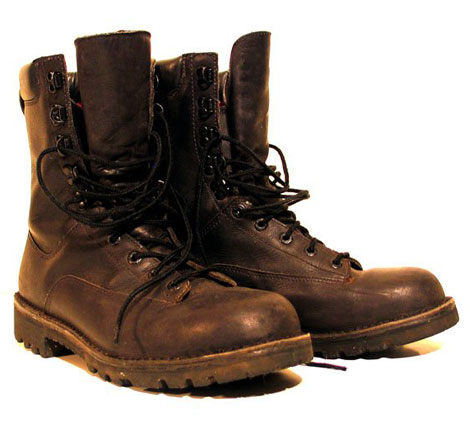 The Newsboy Cap
This is one of the most iconic Peaky Blinders items of clothing, and an absolute must if you want to emulate the full 1920s style. Opt for one in a sober tweed, in grey, navy or dark green.
The Overcoat
The final key Peaky Blinders element is an oversized military-style overcoat with a contrasting velvet or corduroy collar. Tommy's overcoat is particularly reminiscent of the one-size-fits-all style issued to First World War soldiers. Chances are you won't need this in summer, but definitely worth investing in one anyway for the winter season.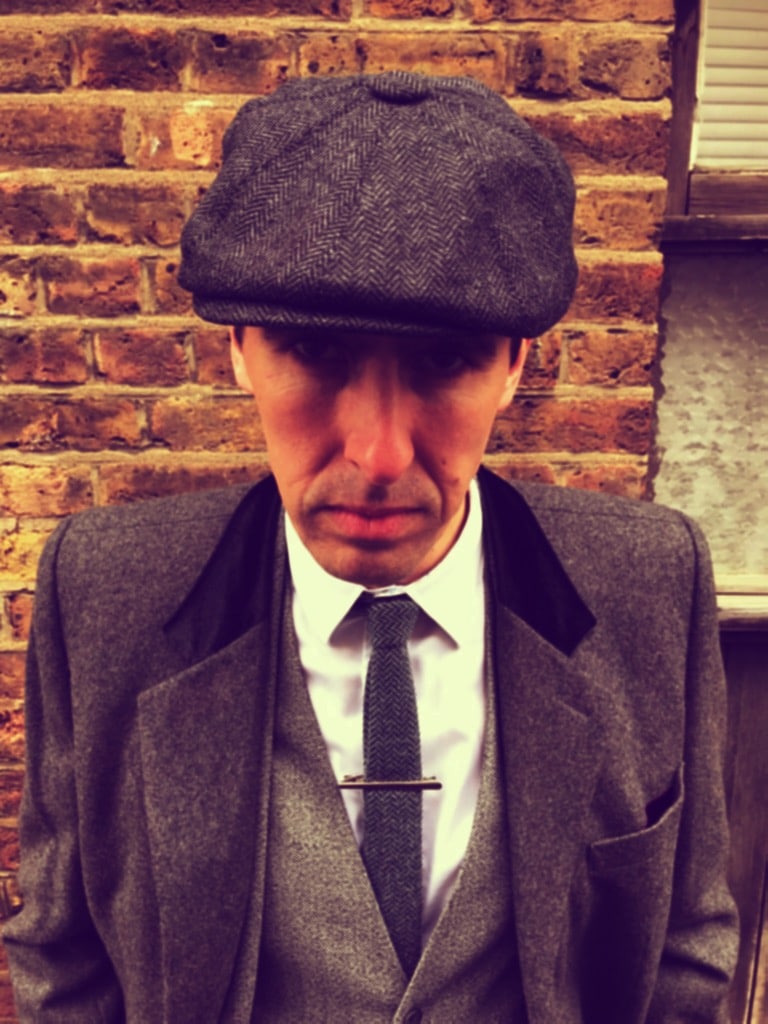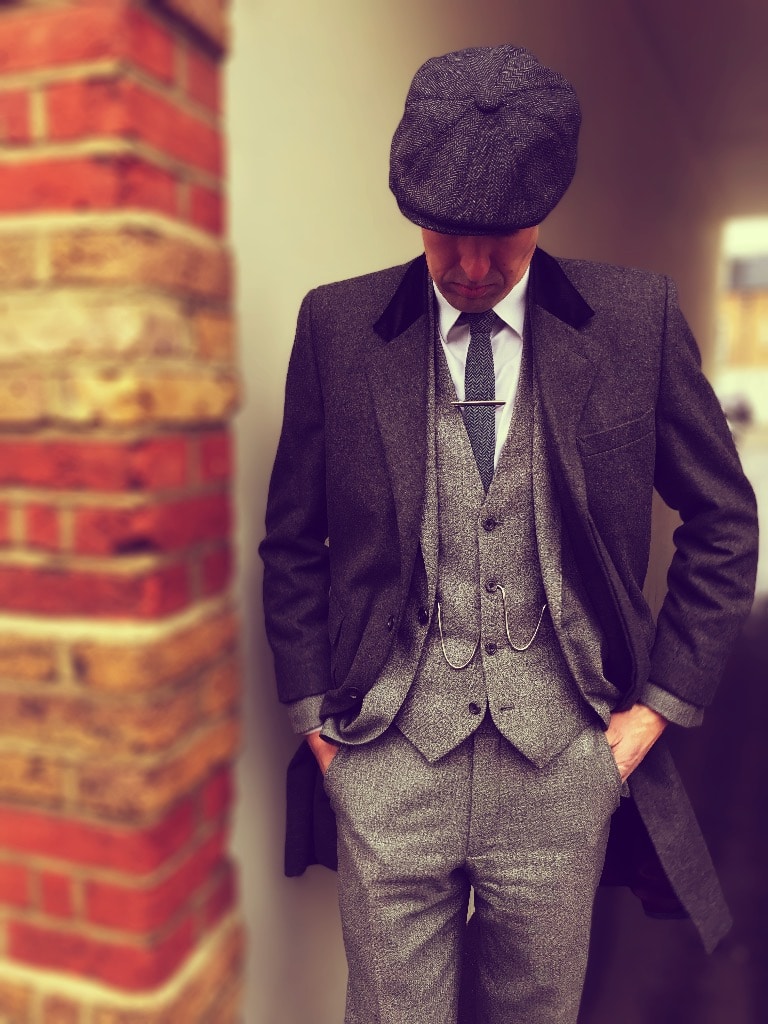 The Style icon: Tommy
If it's the real power behind the Shelby throne that you're looking for, then you need to start with the hair. Tommy dons the archetypal Peaky Blinders haircut, shaved sides and slightly more length on top. From there, make sure your colour and fabric complement each other. Tommy typically wears a grey herringbone suit with standard notch lapels, although as the Shelby empire grows, so too does Tommy's sartorial elegance. Tommy is partial to a pocket watch but generally avoids a tie. In fact, the Shelby brothers are rarely seen wearing one.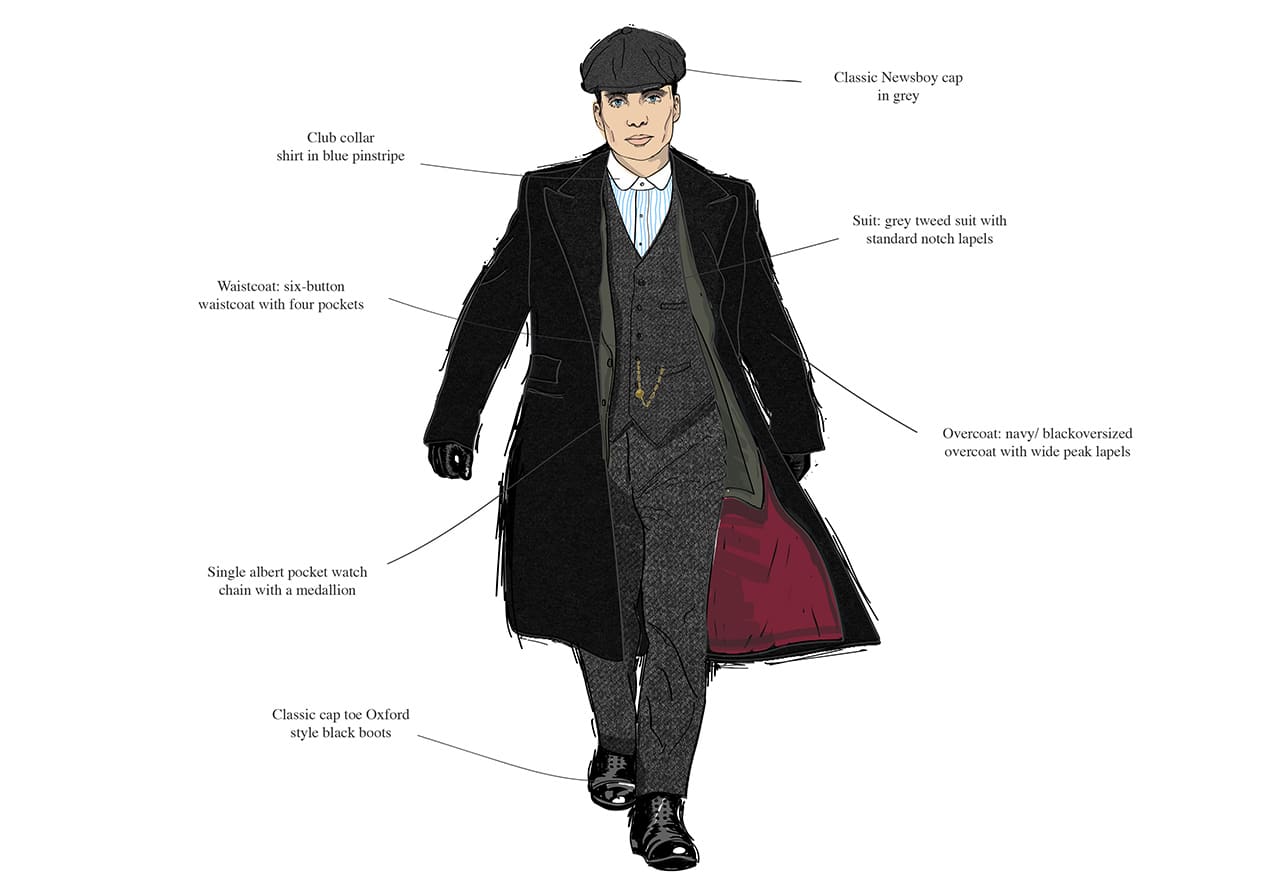 The Rough Diamond: Arthur
Tommy's beloved elder brother, Arthur, is a little rougher around the edges. Like Tommy he struggles with his First World War memories, although unlike Tommy he's often trying to drown them in a bottle. This edginess is seen in his style, too. He, too, sports the traditional Peaky Blinders haircut with shaved sides, but Arthur leaves the top part much longer and slicked back on top with the help of some wax. In terms of the suit, you'll definitely want to go tweed, but in muted, earthy colours, such as a dark green or brown, with standard notch lapels. To really channel Arthur, though, you'll need to sport his signature piece – the bowtie.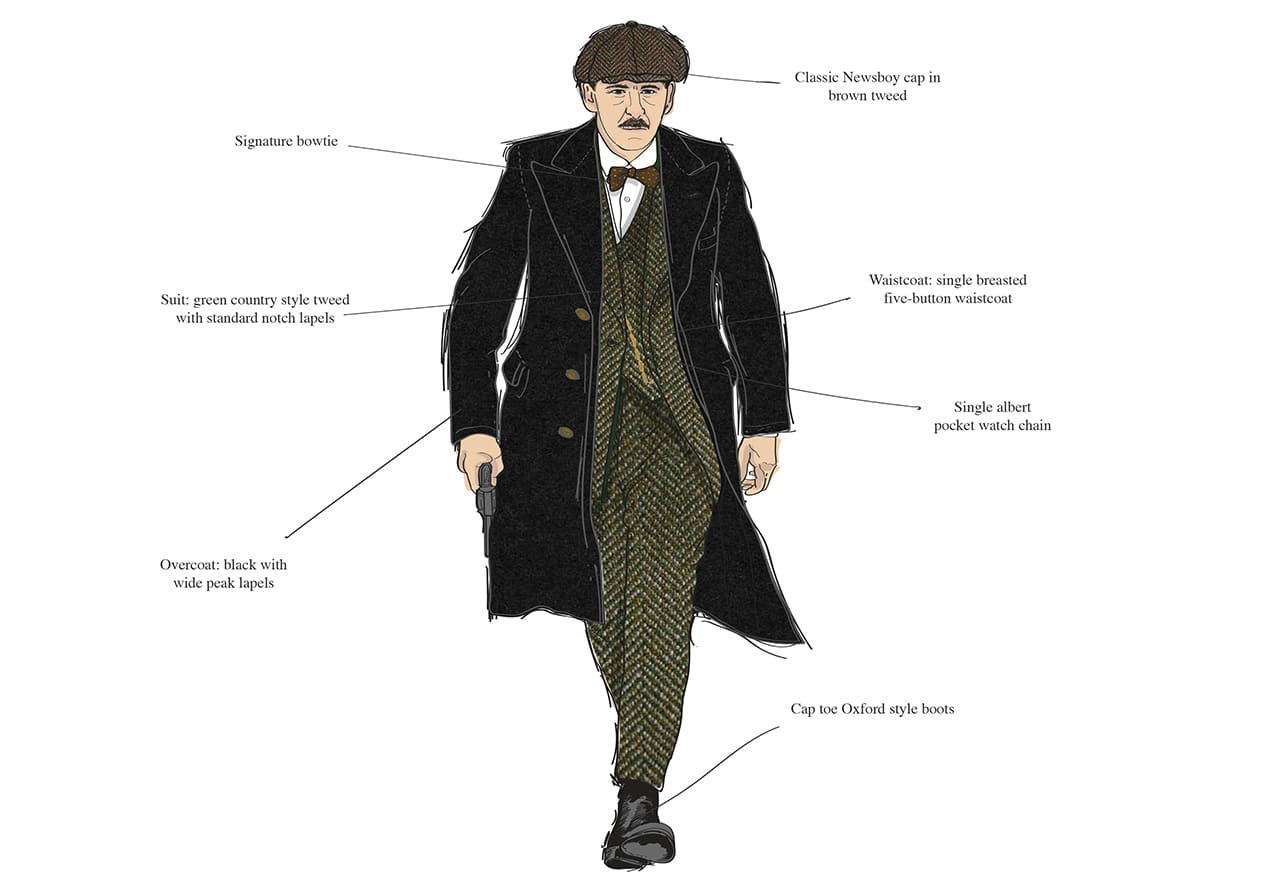 The Peaky Blinders Wannabe: Michael
Polly's son is the legitimate face of the Peaky Blinders' empire, despite his obvious admiration for cousin Tommy. The look here, therefore, is a little more banker – although still incredibly stylish. You'll need a classic three-piece navy pinstripe suit, topped off with a burgundy tie. And forget about the newsboy cap – Michael almost never wears one. His hair is also more 'legit' with an average length on top and no shaved sides.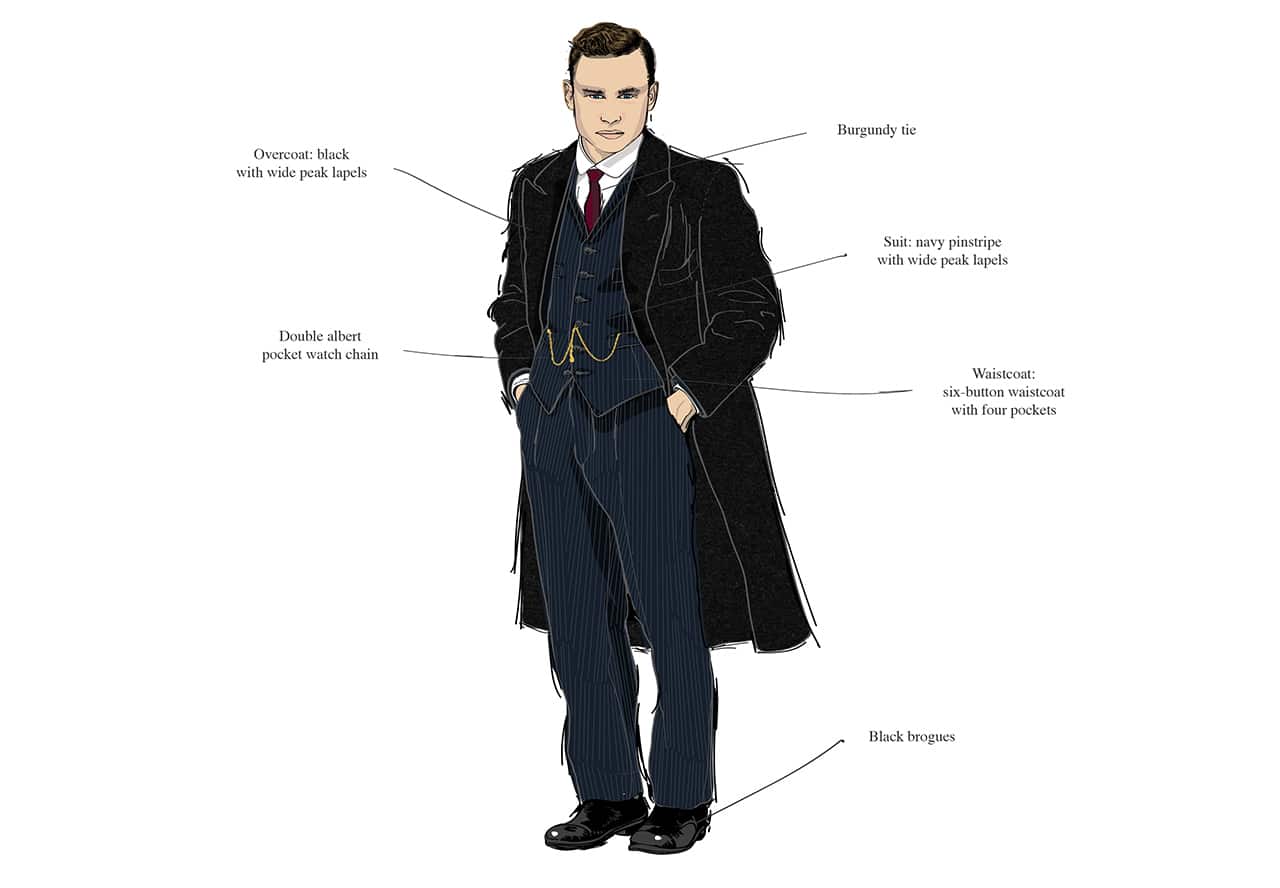 The Baby-Faced Hothead: John
He might be one of the younger members of the Shelby family, but there's plenty of edge to John. To get the full John experience you'll want to pick a bold glen check with a light blue striped shirt and club collar. John's jackets tend to have wider notch lapels, which are straight out of the old-school mobster playbook. You'll definitely need the newsboy cap – although we wouldn't recommend sewing a razor blade into the peak. Instead, wear it at rakish angle to channel some of John's prickly cool. Finish it all off with a signature pinkie ring.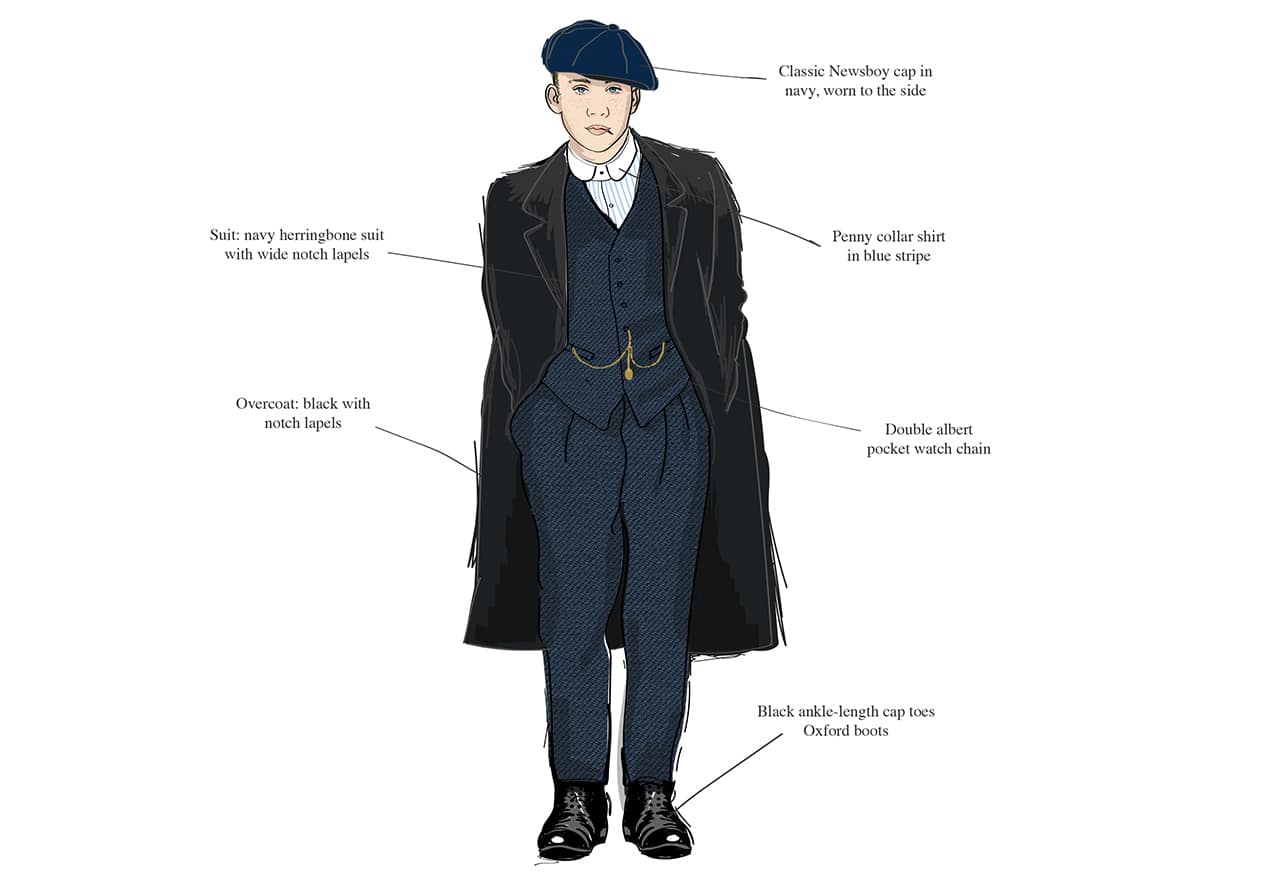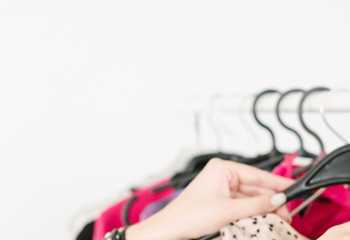 02 April 2020
As the world grapples with the Coronavirus pandemic, millions of people are being asked to work from home. For those unfamiliar with remote working, this has come of a bit of a shock to the system. With psychologists and pundits alike advocating the importance of routine to remain grounded amidst the chaos...
Style Tips & Advice
King & Allen News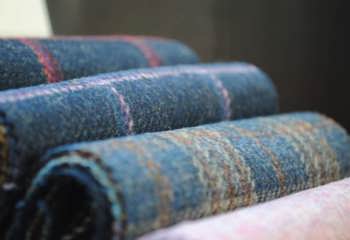 09 March 2020
As you may know, King & Allen have a great relationship with our favourite cloth merchant, Holland & Sherry. They are the world-renowned supplier of some of the finest, most luxurious cloths available. And this Spring, you could benefit from our Spring Cloth Offer, which we are running in conjunction with Holland & Sherry.
Style Tips & Advice
King & Allen News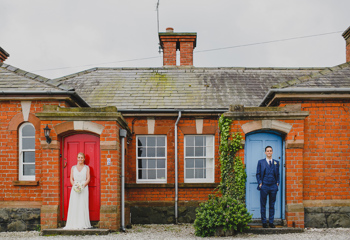 06 March 2020
We've picked out a wedding for each season, with top tips on what to wear on the big day, along with a little something to give your celebrations that extra edge.
Style Tips & Advice
Weddings
Country Style