Dressing The Part For a Graduate Interview. A Parent's Guide.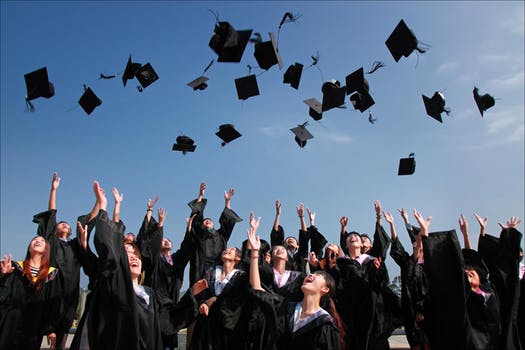 UK graduation season is upon us again, meaning that thousands of young people are about to take the next big step in their lives – their first professional career move.
As a parent or guardian, it's natural to want to support your son or daughter as they venture out into the world, but somewhere between the aptitude tests, three-page forms and video applications, you can start to feel a little redundant quite quickly. One way you can help, though, is by ensuring that they look their best when attending job interviews – and, for that, a bespoke suit is an excellent option.
We asked King & Allen's Jake Allen for some tips on how to help your budding young professional choose a bespoke suit that will knock any interviewer's socks off.
Why bespoke over off-the-peg?
There is a lot to be said for wearing a suit that has been designed to complement your individual figure. Bespoke suits can exaggerate the parts you like and flatter the parts you don't. That extra confidence can make a huge difference to how you feel about yourself, how you carry yourself and, ultimately, how you perform. Plus, we know that in an interview situation, first impressions really do count. Investing in a suit that makes your son or daughter look and feel fantastic will give them a great confidence boost as they walk through that interview door.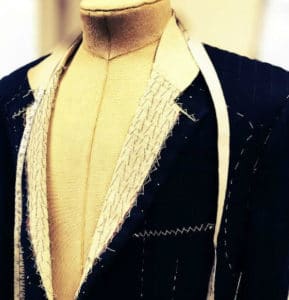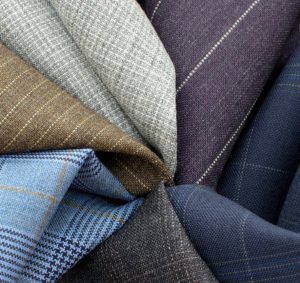 Choosing a bespoke suit: where to start…
Colour
Industries will vary in their formal clothing requirements but, as a general rule of thumb, opting for blue or grey is a safe, stylish bet. For blues, go for a smart navy, midnight or airforce-style blue, particularly if your son or daughter is applying for a communications, customer-facing or sales assistant role. For greys, go dark and think charcoal rather than pigeon grey. Anything too light in colour can look inappropriately casual or create the impression of frantically repurposed summer wedding attire.
Many interviewees fall into the trap of wearing black, which can feel a little sombre. Jake notes, "a black suit is great, and can look really sharp and crisp, but if it's not extremely well pressed then it can look a little cheap or – even worse – funereal."
If your son or daughter is offered a job where they're expected to wear a suit on a regular basis, you may want to invest in a couple of options. The beauty of blue or grey is their versatility – mix the basic suit with different shirts, ties and colour accents and you've got a different look for every day of the week.
Cloth
If your son or daughter is going to be wearing their suit every day, then it's best to choose a hardwearing cloth that will remain suitable throughout the year. Wool is a great staple suit cloth thanks to its elastic recovery, durability and breathability. Most suits – particularly in the ready-to-wear market – are made of worsted wool; anything between 9oz and 12oz is a fantastic option. A 12oz cloth is heavy enough to be quite hard-wearing but not too hot – making it a perfect year-round option.
Jake suggests that a 12oz worsted wool is perfect for our temperate UK climate. "For example, we carry a lovely 12oz worsted wool from Yorkshire, which starts at £699. Holland & Sherry's Intercity range is also incredibly popular for business suits, and offers more choice by way of glen checks, chalk stripes, shark skins and herringbones for the more adventurous graduate to express their style at work once the job offer has been accepted."
Styling
When it comes to bespoke tailoring, it should be a given that the final suit will fit perfectly, but your son or daughter will still need to make crucial decisions about styling. For a conservative interview suit, Jake suggests thinking about the following details:
Lapel width: stick to traditional notch lapels as opposed to trendier peak or shawl lapels, which are not often seen in a corporate environment. You can give the look a modern feel by choosing a slimmer notch lapel, but avoid going too skinny – "it shouldn't be too gimmicky or trendy," says Jake.
Suit jacket buttons: go for a single-breasted jacket with two buttons to create a clean silhouette. A handy tip for a young person who may not be used to wearing a suit is to always keep the bottom button unfastened when sitting to avoid crumpling and stay comfortable.
Trousers: a good consultant will be able to advise on what works best for your son or daughter's frame, but generally it's best to opt for a modern, tapered look. "As with the lapels, avoid overly tapered styles – slim should not equate to tight," says Jake. "Make sure the trouser length breaks nicely on the shoe, and importantly, doesn't show any socks!"
Shirt: choose a classic collar shirt that's white, crisp and clean – but most importantly, ironed!
Prove that they're a good fit by… fitting in
Research shows that, during the first few seconds of an interview, an interviewer will draw most of their information about a candidate from their appearance. In this situation, it's best to blend in with polite conformity, so go for safe, smart options, says Jake, "Basically, you don't want anyone to remember anything about your suit when you walk out – other than it looking smart. Anything too jazzy or distracting runs the risk of turning your son or daughter into 'that guy with the hot dog novelty socks' or 'that girl with the garish lilac chalk stripe.'"
Last-minute 'Do's and Don'ts'
-Don't neglect the tie: again, don't choose anything too loud or showy here. Medium to navy blue suits look great with red, black, dark grey or blue ties. Grey suits look fantastic with purple, dark blue or black ties. Avoid skinny or knitted ties and anything too extravagant, such as a café knot or a double Windsor.
-Don't match your pocket square to your tie: it's great for a wedding, but in an interview this can look a bit contrived. Jake suggests avoiding anything too flamboyant. If your son or daughter wants to add a small accessory, they can't go wrong with a classic white handkerchief.
-Don't forget your shoes: shoes should be freshly polished, of course, and formal. Black shoes finish off a grey suit nicely, dark brown does the same with blue suits.
-Ultimately, the best way to create the right first impression is to be confident, so encourage your son or daughter to wear their new suit with the body language to match and go into that all-important interview with their shoulders back, standing tall, smiling, and looking enthusiastic.
26 May 2020
Following the announcement by the Prime Minister on the 25th May, we will be reopening our Surbiton, Liverpool Street and Wilmslow stores on the 16th June.
King & Allen News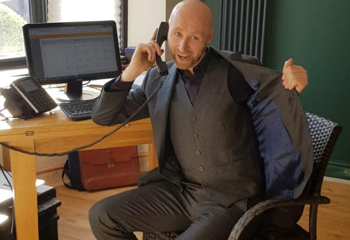 15 May 2020
We've put  together a brief guide and some resources for what to do once you've decided on a new date for your big day.
Style Tips & Advice
Weddings
14 May 2020
While we look forward to re-opening and helping you all find your fit for your special day, we also thought it might bring a smile to our follower's faces to see how some people have kept their lockdown weddings and celebrations going.
Style Tips & Advice
Weddings