The Best of Women's Suit Street Style
Yesterday was International Women's Day – a day to celebrate the amazing ladies in our life. To mark this occasion, we are doing a street style special on the world of women's suits.
There is nothing chicer or more powerful than a woman in a suit. The stylish suits we have featured below range from flowing and feminine to edgy and androgynous in everything from mid-grey to pastel pink.
Scroll down and get inspired by our favourite women's suits as seen on the streets of the world's most fashionable cities…
The Best of Women's Suit Street Style
Flannel Double-Breasted Suit
This flannel suit is a true Winter classic. The relaxed trousers and double-breasted jacket feel very modern and wearable. Layered with a blue shirt and camel sweater, this would work beautifully for business/casual.
Retro Micro-Pattern Suit
The micro-pattern in this suit's cloth gives it a retro 1970s feel. Because of this unique fabric, the rest of the suit has been kept very simple. The contrasting horn buttons used for the fastening are a lovely detail.
Saccharine Sweet Suit
Considering that it is candyfloss pink, this suit could look extremely girly, however, the relaxed fit and the edgy styling gives it a masculine edge that is a lot cooler. Layering a rollneck sweater under a suit is a great way to rock cold weather tailoring, so take note!
Hourglass Double-Breasted Suit
What a beautiful fit! Double-breasted jackets are notoriously difficult to fit properly, so this must be bespoke. Look at the way the jacket nips in at the waist – there is no draping or puckering anywhere. We also love how the pockets sit high on the waist to make the most of her great figure.
Peaky Blindersesque Suit
The styling here is excellent. Wearing a three-piece check suit with a baker boy cap could look cartoonish, but this woman looks absolutely fantastic. The check in the suit feels subtle and summery but could become more wintery with other accessories.
Tomboy Blue Suit
In many ways, this suit is pretty simple with a single button jacket and high-waisted trousers. However, the superb colour and wide lapels really set this apart. When worn with a plain white t-shirt and tortoiseshell wayfarers, this becomes a very cool, androgynous look.
Graphic Monochrome Jacket
Wearing suits as separates has been a major trend for menswear for a while now, so it's no wonder that it is also a feature in women's wardrobes too. This geometric, monochrome jacket is incredibly striking! Wearing it with a black t-shirt and trousers makes a statement without looking too fussy.
Are you looking for a women's suit?
We love tailoring bespoke suits for women, whether it's for work, your wedding or another occasion. In fact, our master tailor has been making women's suits for over 30 years!
If you have been inspired by one of the suits that we shared here or have your own idea for a new women's suit, we'd love to meet you for a free, initial consultation to talk over your requirements.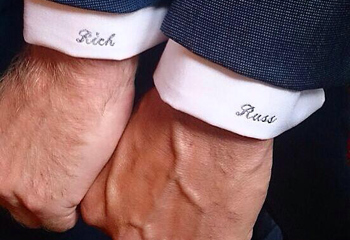 26 May 2022
Planning for your wedding can be a stressful time for some and the day itself often passes in a blur of joy and excitement. That's why it's important to 'stop and smell the roses' during your wedding journey and remember all of the reasons you've chosen to marry the love of your life. After the event itself, there are a plethora of ways you can look back fondly on the day, from the photos, to the video, to the signatures in the guest book. But did you know that your wedding suit can also serve as a reminder of the best day of your life? Read on to find out how...
Weddings
26 May 2022
2022 is a very special year for Pride, as it marks 50 years since the first ever march in 1972. While there were only 700 bravely marching then, this year it is expected there will be over 2 million attendees! Of course, many historical milestones have been achieved since 1972.
Style Tips & Advice
Style History
26 May 2022
Next week, the whole world will be watching as we celebrate 70 years with Queen Elizabeth II on the throne! The Queen has created quite the signature fashion lookbook that deserves its own jubilee. Her style has, quite literally, stood the test of time. Through nine decades, with her vibrant pant-suits and matching hats, stunning heirloom brooches - not to mention the symbolism behind every ensemble - it's no wonder the Queen is our style icon.
Style History