5 Timeless Waistcoat Styles to Wear This Winter
There is something very appealing about waistcoats in the Winter.
Whilst most tailoring enthusiasts wear waistcoats all year round, this extra layer really comes into its own when it's cold outside. If you need any persuasion, take note of the always well-dressed, David Gandy, who is a pro at Winter layering.
Waistcoats found off-the-peg tend to follow the same style formula: single-breasted in a cloth that matches the rest of the suit, however, the style options open up enormously when you go bespoke.
A bespoke waistcoat can be tailored in almost any style you can dream up, but to help you get inspired, here are 5 of our favourite waistcoat styles we will be wearing this Winter.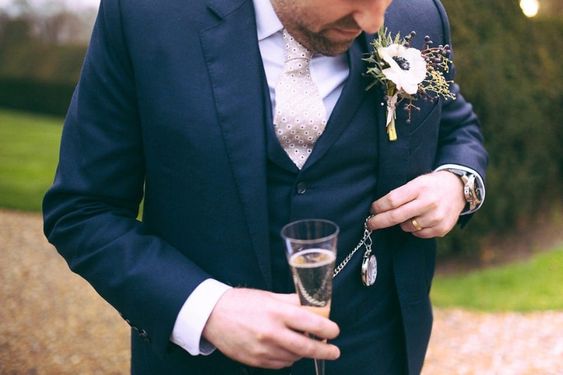 Waistcoat Styles You Need to Know About This Winter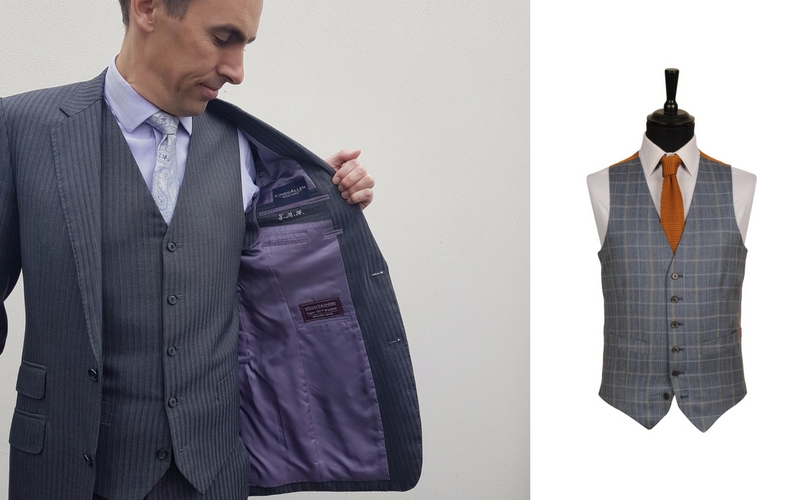 1. Single-breasted waistcoat
As we mentioned earlier, a single-breasted waistcoat is one of the most common styles of waistcoat you will find off-the-peg. There's no wonder that it's so popular: this style is incredibly timeless and looks flattering on every body shape.
Often, they are designed with five buttons, however when you go bespoke, you can have anything from three to seven buttons. Generally, the more buttons you have on your waistcoat, the higher it will fasten on your chest. This is so that the buttons are evenly spaced without being too close or too far from each other.
The bottom of the waistcoat is usually pointed, rather than straight, which has a flattering torso-lengthening effect.
2. Double-breasted waistcoat
A double-breasted waistcoat has a more traditional, formal feel than its single-breasted counterpart. That's why it is very uncommon to wear a double-breasted waistcoat with something like a casual tweed suit.
It feels particularly cold-weather appropriate since the double layering adds extra warmth. Most double-breasted waistcoats found off-the-peg will have a 6×3 button fastening, but when you go bespoke, you could opt for an 8×4 or even 10×5. As with a single-breasted waistcoat, the more rows of buttons, the higher it will fasten on your chest.
Typically, a double-breasted waistcoat will have a straight bottom, as opposed to a pointed one. Because of this, it is even more important that it is the right length in order to avoid showing any shirt.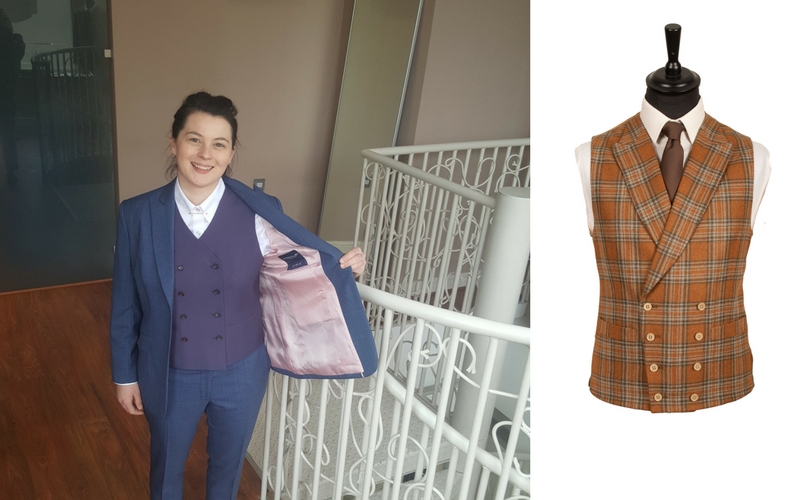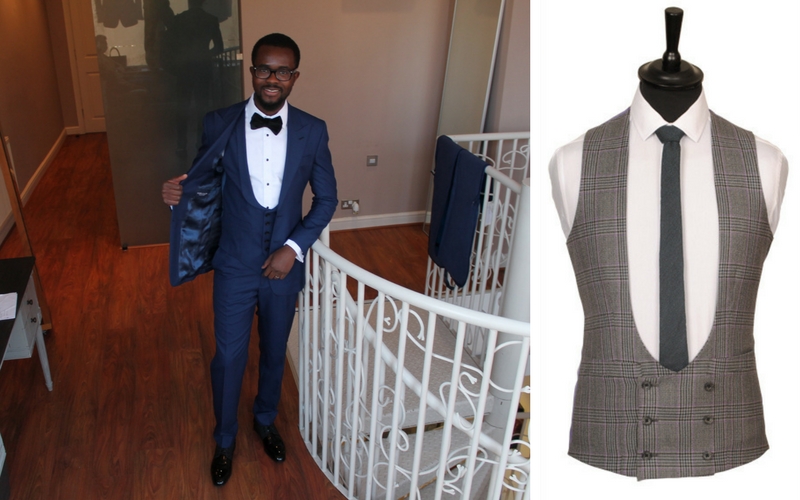 3. Horseshoe waistcoat
A horseshoe waistcoat is the most formal option in this list. Traditionally, a dinner suit should be worn with a "waist covering", such as a cummerbund, however, in cases where you want to wear a waistcoat, a horseshoe style is recommended.
It is has a much deeper opening than a suiting waistcoat to allow space for shirt studs, bibs and pleats whilst covering the waistband of your trousers.
This style can be single or double-breasted and can even feature a contrasting lapel.
4. Waistcoat with a lapel
On the subject of lapels, any bespoke waistcoat can feature a lapel. This is rarely seen off-the-peg, but we offer them in the following styles: notch, peak and shawl.
Most of the time, the waistcoat lapel will use the cloth used in the rest of the waistcoat, however for occasions when you want to make a statement, a contrasting cloth can be used, such as velvet or satin. A small line of hand stitching, known as stab stitching, can be added to the edge of the lapel.
This style is particularly appealing in warm climates when you would feel uncomfortable in a jacket. The lapels make it look extra smart, and can even be made with a buttonhole if you intend to wear a flower.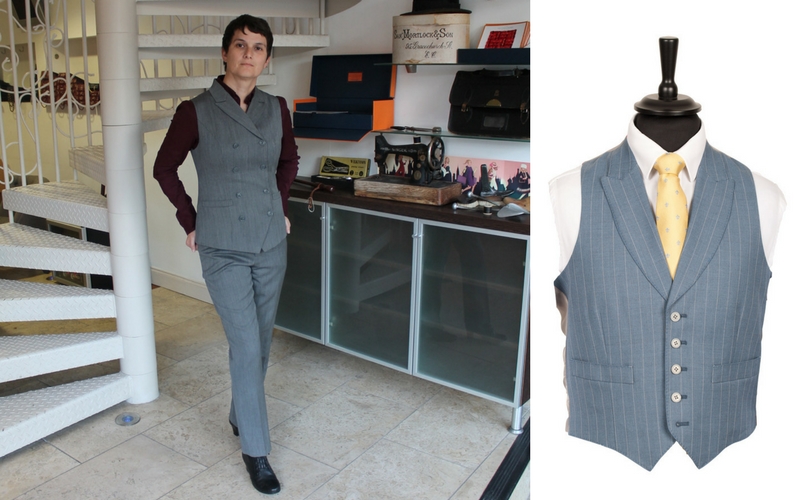 5. Cloth-backed waistcoat
Most waistcoats tend to use lining on the back of them. This is a functional choice: a lining back is smooth against the lining of your suit jacket whilst reducing bulk. It is also cooler to wear.
Historically, the back wasn't meant to be seen in public, since waistcoats weren't worn without a jacket. However, these days, it is more and more common to wear a waistcoat without a jacket. This is when a cloth backed waistcoat really comes into its own.
Using the same cloth on both the front and back of the waistcoat looks extremely smart, making it ideal to wear without a jacket.
For people living in very cold climates, a cloth backed waistcoat is also a good option to wear with a suit jacket since it is much warmer than a lining back.
Bonus: Other Style Options
As you can imagine, the style options are endless when you go bespoke.
You don't have to choose the standard pocket layout. You could have welts, jets, flaps, breast pockets or even make the pocket trims in a contrasting cloth.
The more sartorially inclined can have a vertical chain hole for the chain of their pocket watch.
You can also add a "show button" to the bottom of your waistcoat. The bottom buttonhole rule is so widely practiced that now, some very special waistcoats have bottom buttons that cannot be buttoned and are only for show.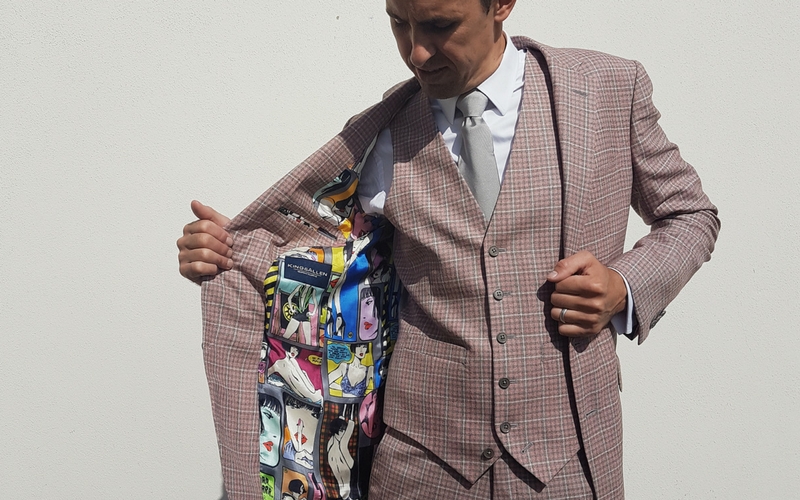 Wear a Waistcoat That Fits You Like a Glove
Whether you are purchasing a single waistcoat or a three-piece suit, our bespoke waistcoats are designed to your unique style and requirements. Best of all, they will fit you perfectly.
Get in touch to book a free initial consultation with one of our expert tailoring consultants.
As you can see, a waistcoat can be as straightforward or as fancy as you wish.
Whilst the waistcoat styles listed above are all very popular, you can completely customise the style to your own requirements when you go bespoke.
Should you need any help, your personal tailoring consultant will guide you to the style that best suits your needs, your body shape and your jacket style.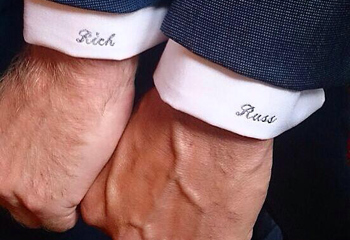 26 May 2022
Planning for your wedding can be a stressful time for some and the day itself often passes in a blur of joy and excitement. That's why it's important to 'stop and smell the roses' during your wedding journey and remember all of the reasons you've chosen to marry the love of your life. After the event itself, there are a plethora of ways you can look back fondly on the day, from the photos, to the video, to the signatures in the guest book. But did you know that your wedding suit can also serve as a reminder of the best day of your life? Read on to find out how...
Weddings
26 May 2022
2022 is a very special year for Pride, as it marks 50 years since the first ever march in 1972. While there were only 700 bravely marching then, this year it is expected there will be over 2 million attendees! Of course, many historical milestones have been achieved since 1972.
Style Tips & Advice
Style History
26 May 2022
Queen Elizabeth II recently celebrated 70 years on the throne and it is her official birthday on the second Saturday in June. The Queen has created quite the signature fashion lookbook that deserves its own jubilee. Her style has, quite literally, stood the test of time. Through nine decades, with her vibrant pant-suits and matching hats, stunning heirloom brooches - not to mention the symbolism behind every ensemble - it's no wonder the Queen is our style icon.
Style History