Steve and Gill's Classic Wedding at Rookery Hall, Nantwich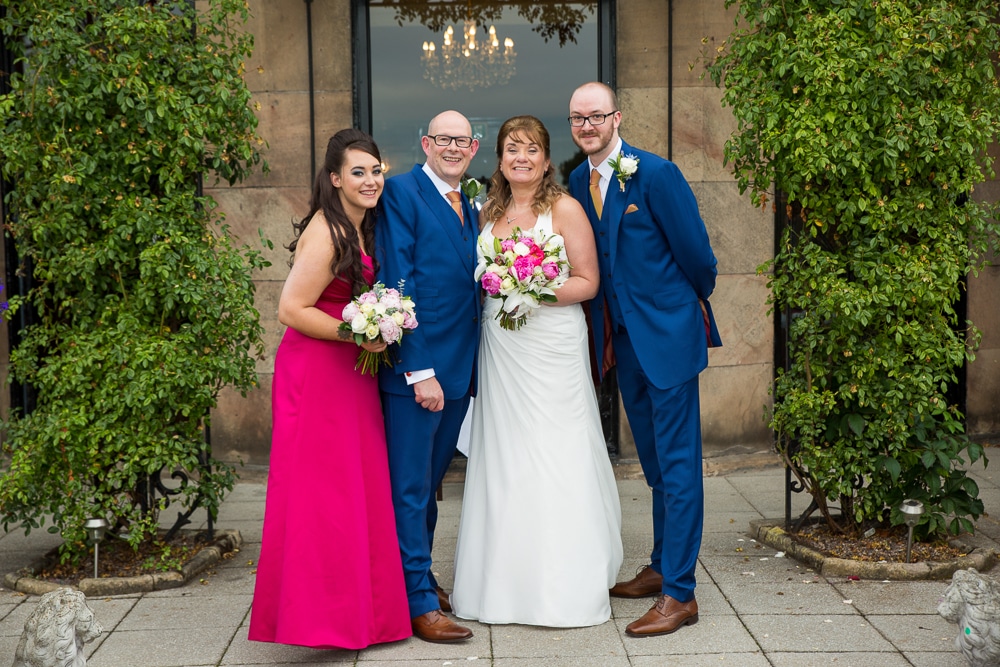 King & Allen groom Steve and his wife, Gill, planned a small but special wedding at the beautiful Rookery Hall in Nantwich.
What we loved about this classic wedding (other than the fantastic suits!) is this couple's commitment to keeping their day extremely personal. From the intimate venue to their wonderfully unusual cake choices, this wedding was all about tying the knot in a way that felt special to them.
In today's post on the journal, Steve shares his favourite parts of their wedding and gives some words of wisdom to any newly engaged readers out there. Enjoy!
King & Allen Real Weddings: Steve and Gill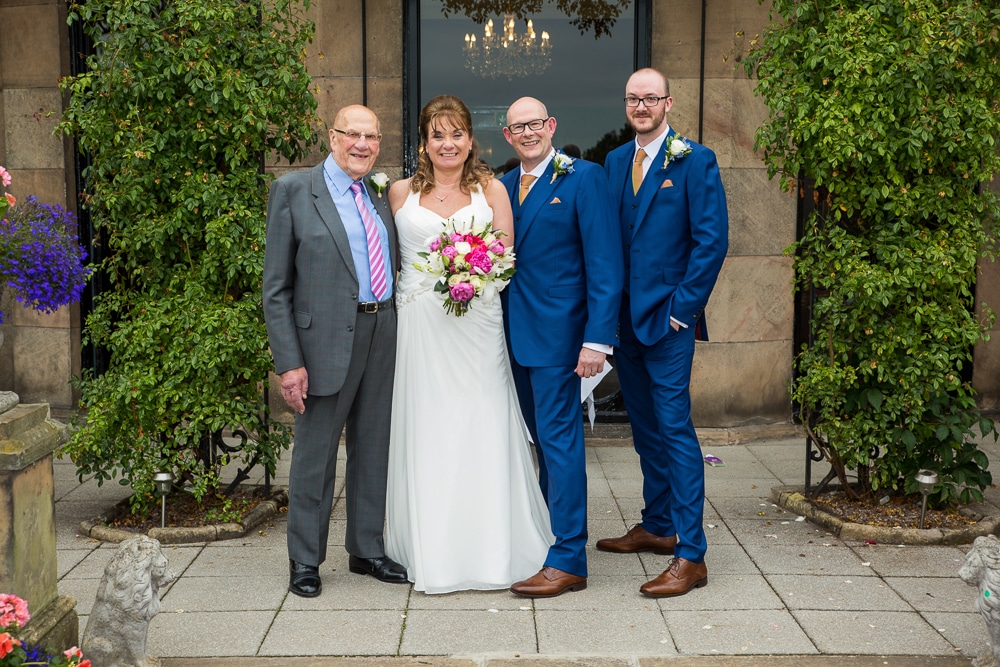 Could you tell us all about the wedding?
This was a "second time around" wedding for a couple of 50-somethings. The most important thing for us was having a small but special wedding that those closest and dearest to us could enjoy. We didn't want it to be about the size of the event; more about the quality memories it would leave.
The wedding was held at Rookery Hall, near Nantwich, and the team there were fabulous. It was an evening event, so we booked rooms for everyone to stay over.
Despite it being a wet, rainy day, the weather cleared and we had some sun to allow some fab shots around the lovely grounds of the hall.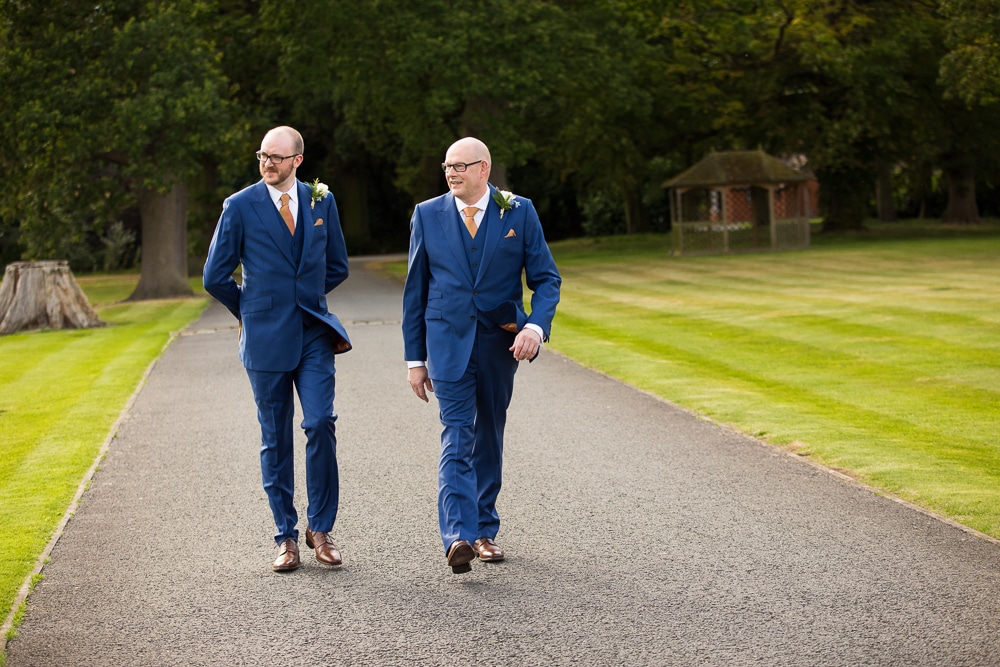 What was your favourite part of the day?
The whole thing totally lived up to our goals and expectations.
Helen, our photographer, came in early to get a timeline set of pictures of my wife, Gill, getting ready and then captured Jason and me outside in the grounds in a very relaxed mood.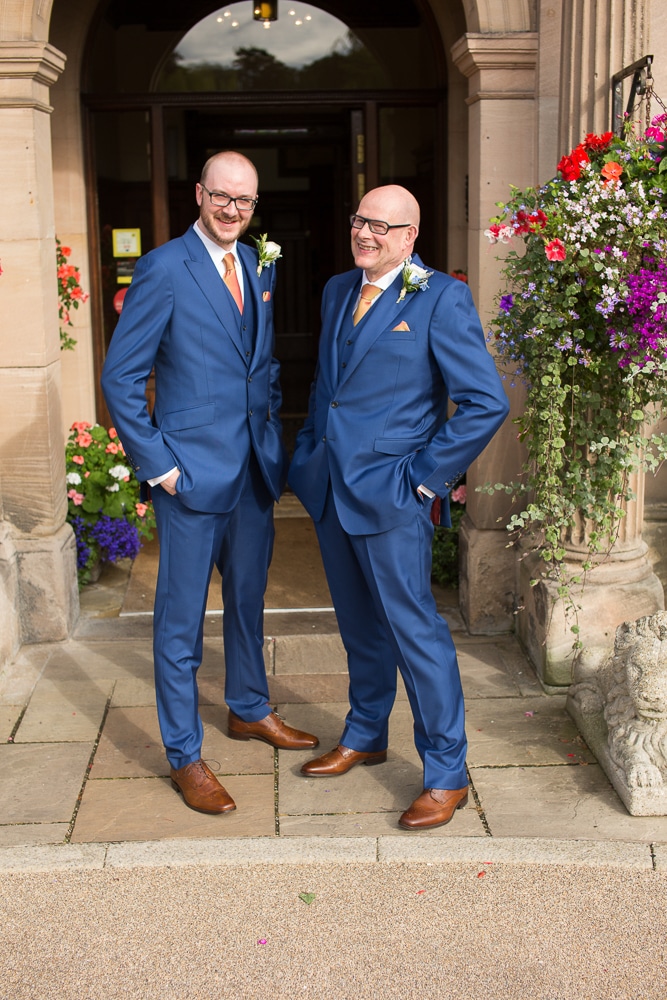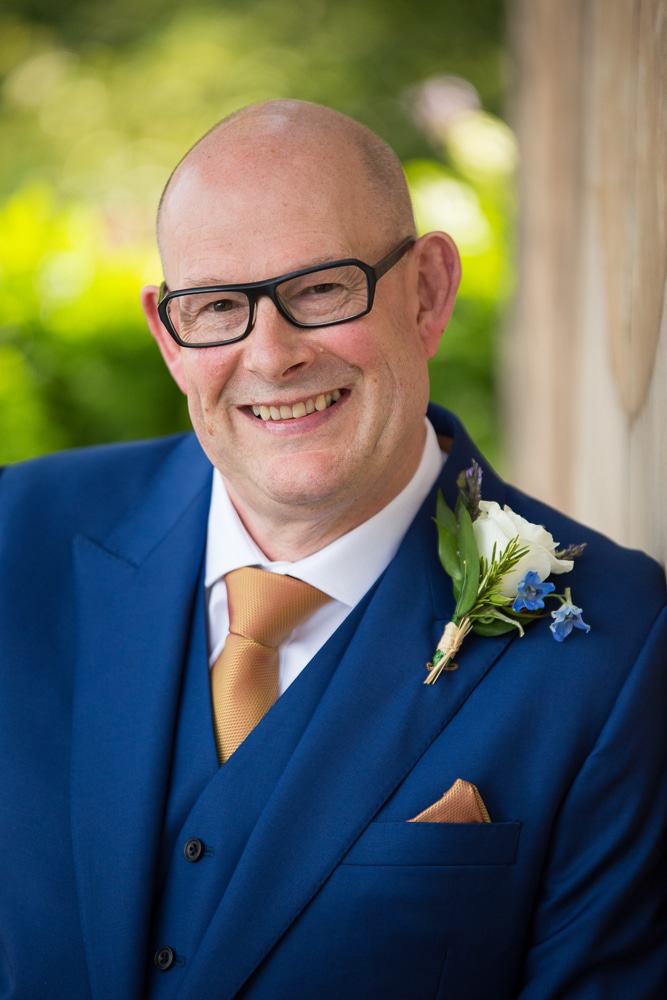 What did you wear?
Jason, my son, and I had bespoke suits from King & Allen, Wilmslow. We decided on three-piece suits but were each able to personalise our style choices to suit our individual preferences.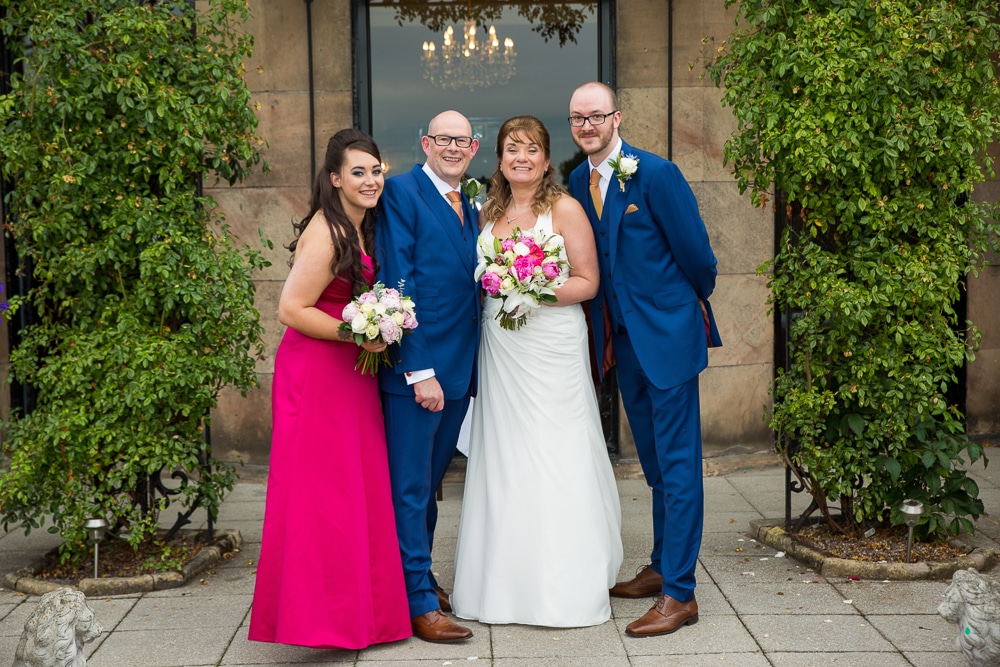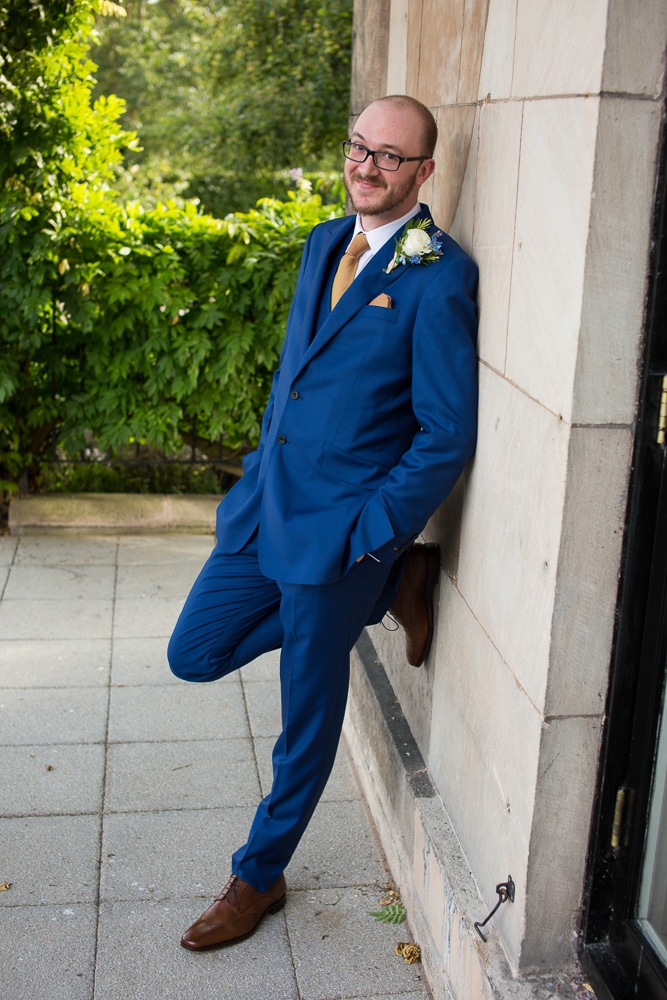 What did Gill wear?
The most beautiful dress from Diane Harbridge in Chester.
What was the reception like?
It was held in the same room at Rookery Hall that we were married in. We had a short break in the bar and the grounds whilst the staff transformed the room from ceremonial to one large oval table.
They put together a beautiful menu accompanied by lovely wines and fizz which just kept flowing!
Our cake caused a bit of a stir as it was a Stuart Thornley Cake Design in the shape of a beef casserole! Keeping that theme going, we also had cakes that looked like fish and chips, pork pies, scotch eggs.
We had no singing and dancing; just a long evening catching up with family over a drink or more!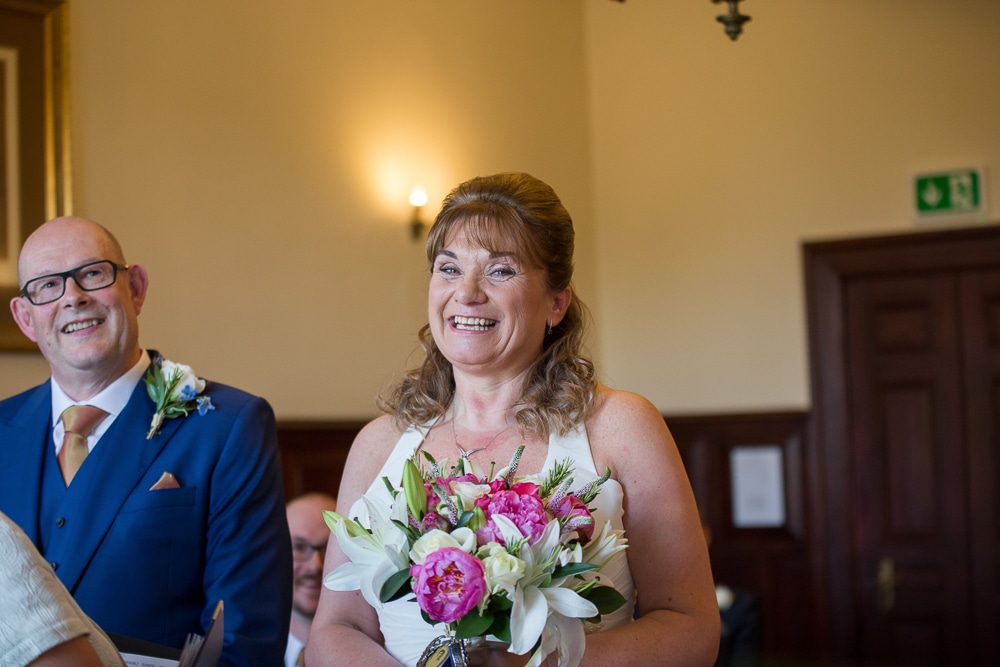 Tell us all about the decor – did you have a theme?
We pretty much left the room design to the organisers at Rookery Hall, but we did manage to co-ordinate some sashes for the chairs that were a near-perfect match to the colour of our suits.
Do you have advice for any newly engaged couples when it comes to planning a wedding?
I have to say "smaller and more intimate" gets my vote! Also, handing off the bulk of the organisation to the venue worked like a dream.
Thank You!
Thank you, Steve, for giving us a little glimpse into your wedding day! We wish you and Gill every happiness in your married life together.
Get Married in a Bespoke Suit
Whether you're planning a huge wedding or a smaller one, like Steve and Gill's, there is nothing like wearing a beautifully tailored, bespoke suit on your wedding day.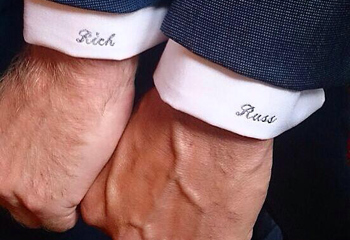 26 May 2022
Planning for your wedding can be a stressful time for some and the day itself often passes in a blur of joy and excitement. That's why it's important to 'stop and smell the roses' during your wedding journey and remember all of the reasons you've chosen to marry the love of your life. After the event itself, there are a plethora of ways you can look back fondly on the day, from the photos, to the video, to the signatures in the guest book. But did you know that your wedding suit can also serve as a reminder of the best day of your life? Read on to find out how...
Weddings
26 May 2022
2022 is a very special year for Pride, as it marks 50 years since the first ever march in 1972. While there were only 700 bravely marching then, this year it is expected there will be over 2 million attendees! Of course, many historical milestones have been achieved since 1972.
Style Tips & Advice
Style History
26 May 2022
Next week, the whole world will be watching as we celebrate 70 years with Queen Elizabeth II on the throne! The Queen has created quite the signature fashion lookbook that deserves its own jubilee. Her style has, quite literally, stood the test of time. Through nine decades, with her vibrant pant-suits and matching hats, stunning heirloom brooches - not to mention the symbolism behind every ensemble - it's no wonder the Queen is our style icon.
Style History