Sam and Tara: An Intimate and Relaxed Wedding in the Heart of Manchester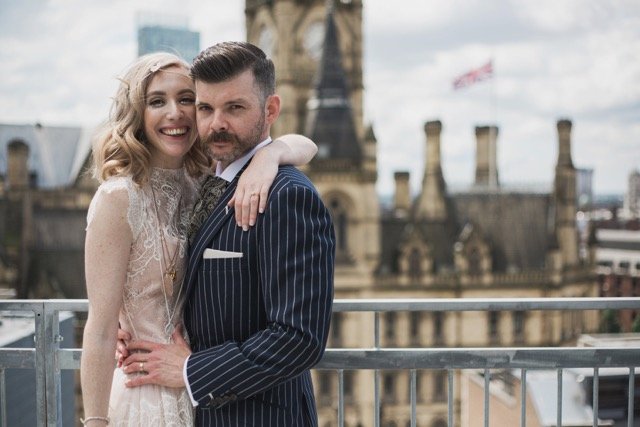 King & Allen groom Sam and his wife, Tara, first sent us their wedding photos a few months ago. Ever since, we have been admiring their fantastic style and the relaxed, personal vibe of their wedding day.
As you will be able to tell from this interview with Sam, their wedding was all about celebrating their love with the people they care about in a way that felt true to who they are as a couple.
We are delighted to be able to share this glimpse into their special day on the journal and hope that it inspires many of you who are in the midst of planning your own wedding.
King & Allen Real Weddings: Sam and Tara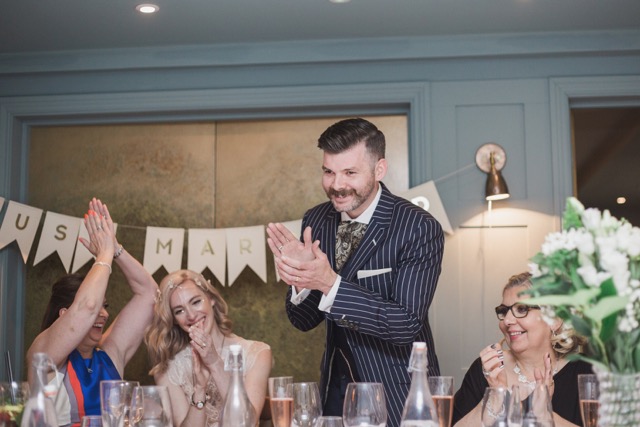 Could you tell us all about the wedding?
It was an extremely intimate affair with only 26 guests in total, consisting of our closest family and friends. This is mainly because we are set to have a big wedding in the south of France this summer!
The wedding and reception were held at The King Street Townhouse in Manchester. We had decided right from the start that the day would be more about spending quality time with our immediate family and bridal party (whilst having great food and drinks) than the wedding itself. I think we achieved that!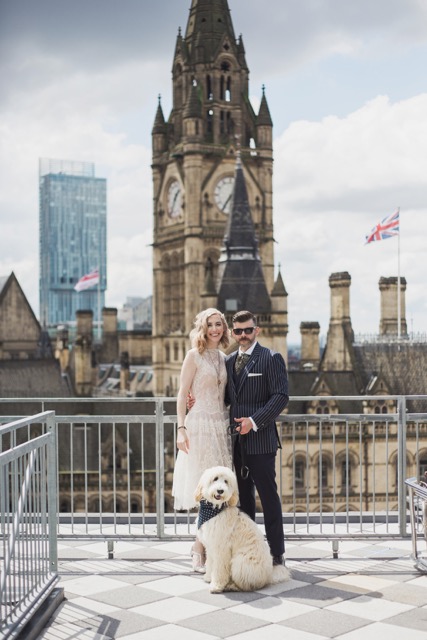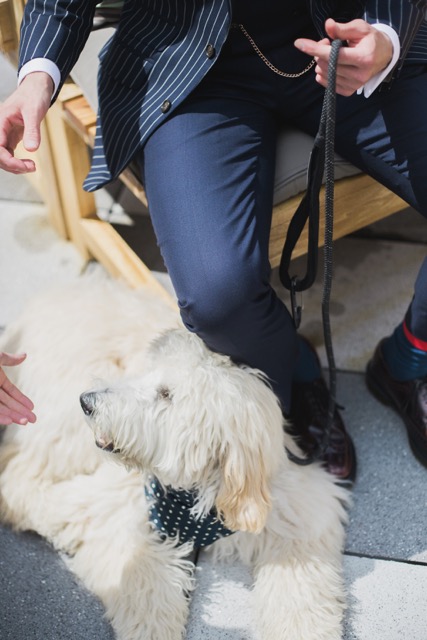 What was your favourite part of the day?
My favourite part of the day was going up onto the rooftop to take some shots with our pooch. Our wedding photographer was Starwinkle Photography. Manchester is our home and to have pictures of our wedding with our cityscape as the backdrop was amazing.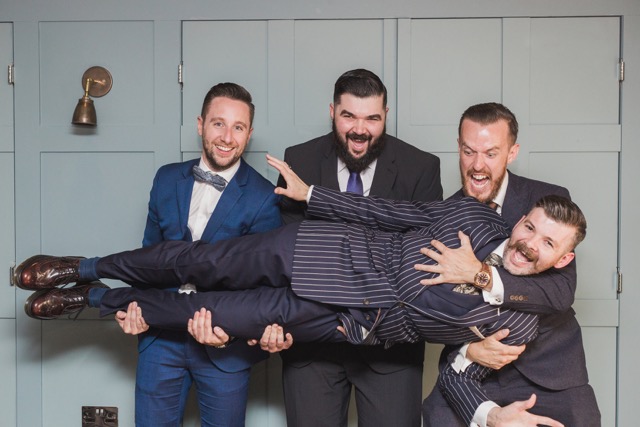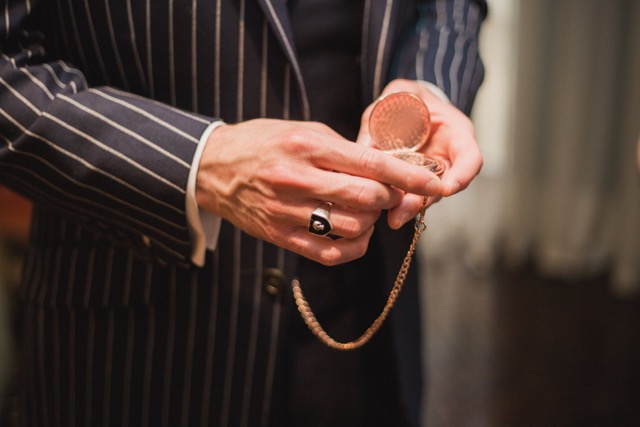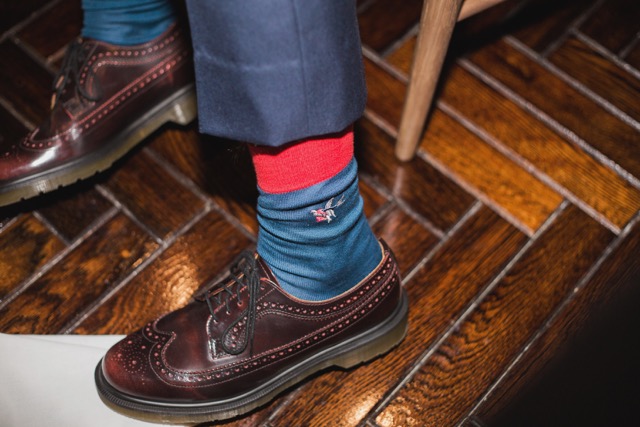 What did you wear?
I wore a Traditional Bespoke three-piece suit from King & Allen, consisting of a plain navy waistcoat and trousers and a full canvas navy chalk stripe jacket. I wore it with a King & Allen bespoke white shirt, Dr Martin oxblood brogues and a silk cravat by the cravat club. It was really important to me that I wore something a little different that would reflect my personal style.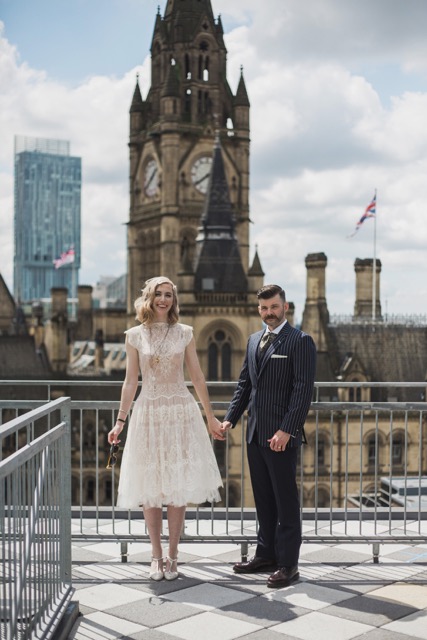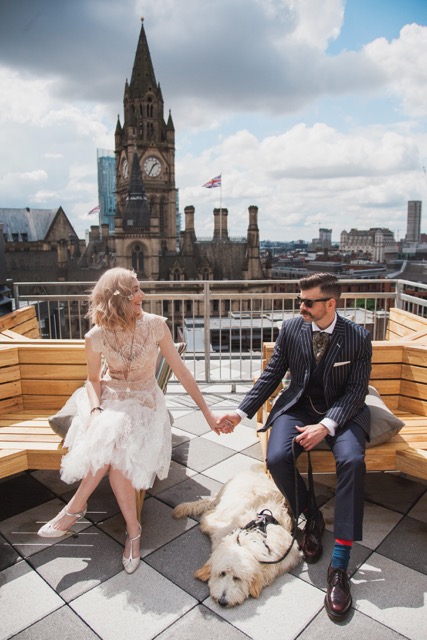 What did the bride wear?
Tara actually wore a dress that I had spotted a while back! I advised her to check out the shop, as the dresses in the window were very much her style with lots of fine French lace by Rembo Styling.
Low and behold, she ended up wearing the one I had seen and she looked incredible! Oh, she also wore copious amounts of glitter on her face and eyes by makeup artist Alexandra Clare.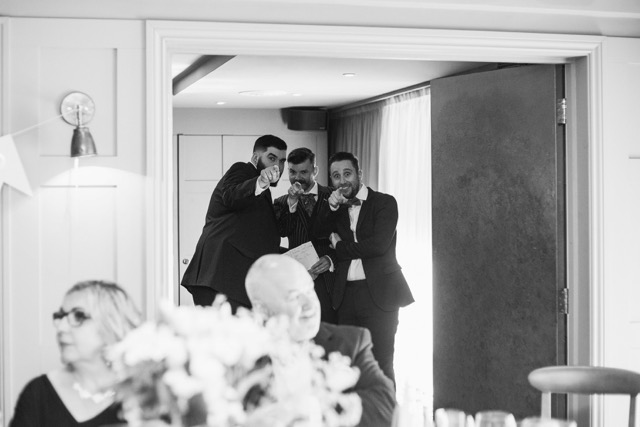 What was the reception like?
The reception was incredible. We sat down for lunch at 1 pm and had planned to finish the day by 6 pm, but the hotel was fantastic and the last guest left at 4 am!
It wasn't a traditional set up at all: it was all about relaxing and having a nice time. My speech was completely ad-lib!
Tell us all about the decor – did you have a theme?
The hotel was brand new and the venue couldn't have been more suitable: a beautiful stone building with dark hard wooden floors and rich decor.
We didn't have a theme for the wedding as such. We could see the style of hotel/building was our thing so we just let them get on with it – the small details were not the important details to us. They dressed the room beautifully.
Do you have advice for any newly engaged couples when it comes to planning a wedding?
Pre-planning is essential. We left things far too late and it was touch and go whether we could pull everything together in time!
Although this sounds like a cliché, the most important thing of all is to enjoy the day and remember the reason you are all there.
Big congratulations to Sam and Tara on your nuptials! Thank you for sharing your beautiful wedding with us on the King & Allen journal.
Looking for a wedding suit that fits your personality?
We would love to help. Our wedding suits are beautifully tailored to your own unique measurements and can be designed to suit any style, whether you like timelessly classic suits or something more unusual.
To discuss your requirements, why don't you book a free wedding suit consultation? One of our tailoring consultants can walk you through the whole process.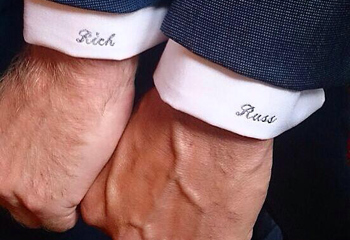 26 May 2022
Planning for your wedding can be a stressful time for some and the day itself often passes in a blur of joy and excitement. That's why it's important to 'stop and smell the roses' during your wedding journey and remember all of the reasons you've chosen to marry the love of your life. After the event itself, there are a plethora of ways you can look back fondly on the day, from the photos, to the video, to the signatures in the guest book. But did you know that your wedding suit can also serve as a reminder of the best day of your life? Read on to find out how...
Weddings
26 May 2022
2022 is a very special year for Pride, as it marks 50 years since the first ever march in 1972. While there were only 700 bravely marching then, this year it is expected there will be over 2 million attendees! Of course, many historical milestones have been achieved since 1972.
Style Tips & Advice
Style History
26 May 2022
Next week, the whole world will be watching as we celebrate 70 years with Queen Elizabeth II on the throne! The Queen has created quite the signature fashion lookbook that deserves its own jubilee. Her style has, quite literally, stood the test of time. Through nine decades, with her vibrant pant-suits and matching hats, stunning heirloom brooches - not to mention the symbolism behind every ensemble - it's no wonder the Queen is our style icon.
Style History