Edd & Liams Handmade Wedding in the Lake District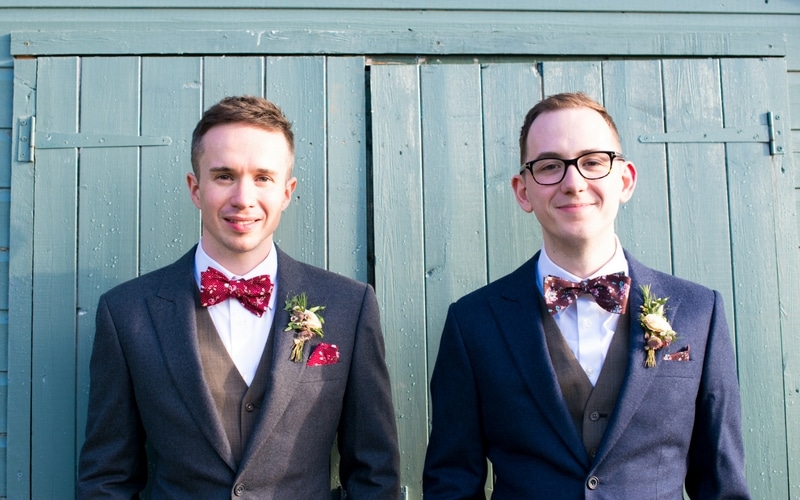 King & Allen grooms Edd & Liam got married in the picturesque Lake District.
It was an elegant affair with an attention to detail that wowed us. So much thought went into making their day unique, from handmade light fixtures and thoughtfully chosen scented candles to their lakeside venue and not-quite-matching suits.
In today's interview, Edd gives us a peek behind-the-scenes at their wedding and shares some wise words for those of you who are engaged.
King & Allen Real Weddings: Edd & Liam
Could you tell us all about the wedding?
We had a summer wedding in the beautiful Lake District! We've had a few weekends away there before and thought it's such a beautiful part of the country, it would be the ideal backdrop. We had considered Manchester (where we live) but thought getting away would make it even more special.
The day before the wedding we hired a boat and took thirty guests for a cruise around Lake Windermere, along with plenty of champagne!
We had the wedding ceremony in a lovely little hotel, The Ryebeck, that overlooked the lake. It was great being able to have the place to ourselves and have the ceremony and reception in the same place. Not having to get taxis afterwards helped too!
Liam's mum made the cake, which gave it a really personal touch. The cake was topped with two smartly-dressed birds, in outfits that matched our King & Allen suits.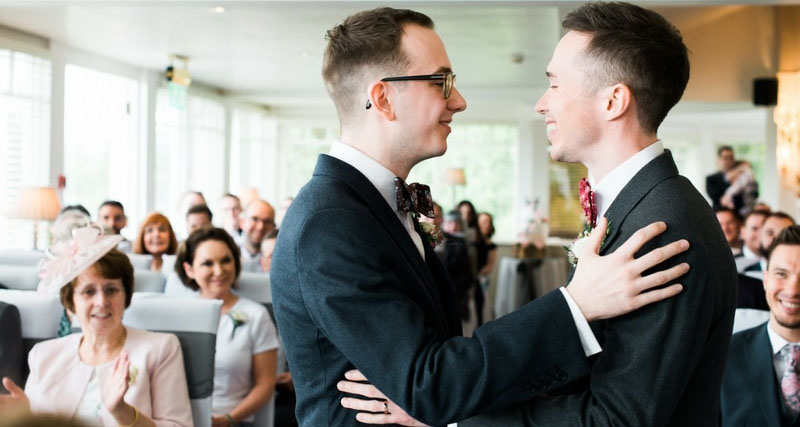 What was your favourite part of the day?
Can we have two?! The ceremony was the most special part and we both shed a few tears. But the speeches were the most fun part.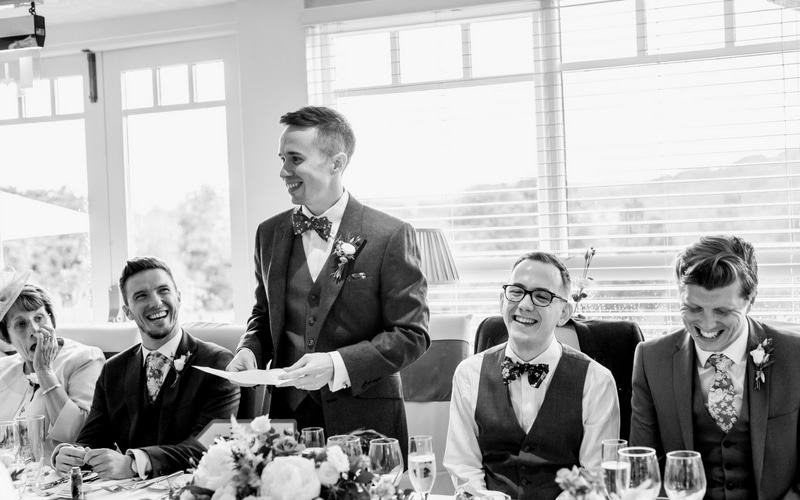 What did you both wear?
Edd wore a navy blue flannel (Holland & Sherry Super 120s worsted) suit and Liam wore a matching one in grey. We also had matching brown waistcoats and white shirts, all made by King & Allen.
Liam opted for some rose gold cufflinks from Simon Carter and Edd had some rose gold and black ones from Ted Baker. We decided to go for bow ties rather than ties as we felt they were something you rarely get to wear! Both bow ties were made to order by sellers on Etsy. Our shoes were from Grenson; Edd had deep purple and Liam's were black with bright red laces.
We wanted to make sure that the suits were really special, but also in a style that we could wear for other occasions after the wedding. We had our initials and the date of the wedding stitched on the inside which was a nice touch without being obvious.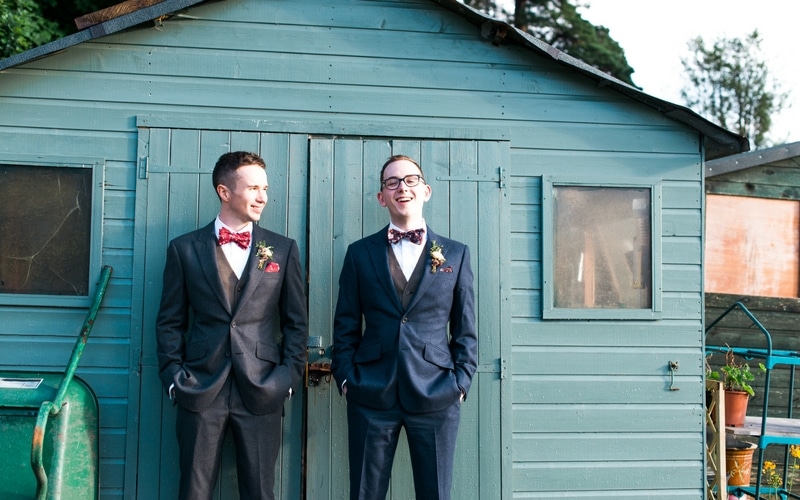 What was the reception like?
Since the weather was so nice, we were all outside enjoying the sun after the wedding breakfast and as the evening guests arrived! Then, we had our first dance to Madonna's Crazy for You before moving on to a Motown trio of singers who had everybody up and dancing. They were amazing!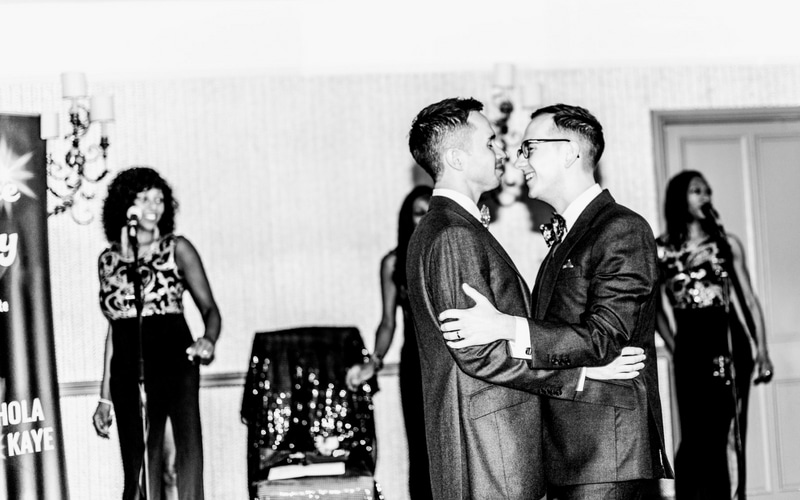 Tell us all about the decor – did you have a theme?
We had a loose theme of vintage/country but didn't stick to it too rigidly – it was based more on things that we liked and thought would look good. The Ryebeck is a really beautiful venue so it didn't need a massive amount of dressing up.
For the breakfast, we kept it simple with white linen. The chairs were tied off with dark grey silver ribbons. The tables were then named after the various towns of the Lake District that we had visited over the years.
Our florist guided the theme quite a bit, using lots of greens and whites in the flowers and even rosemary in the buttonholes. As she had such a good eye, we made a point of not interfering too much in the choice of colours and styles; instead, allowing her to make it look the best she could.
There were copper vases that Edd's Dad had made from copper pipe dotted around the venue. Some Tom Dixon candles made for a beautiful aroma in the reception area as well as looking amazing in copper and silver.
Liam made a stunning flower and lighting arrangement from a laboratory clamp stand and some conical flasks, in reference to his job as a Scientist! Edd made some vintage style bunting to decorate the basket we used for the cards and we also made up small bottles filled with coloured moss as pretty place names and favours.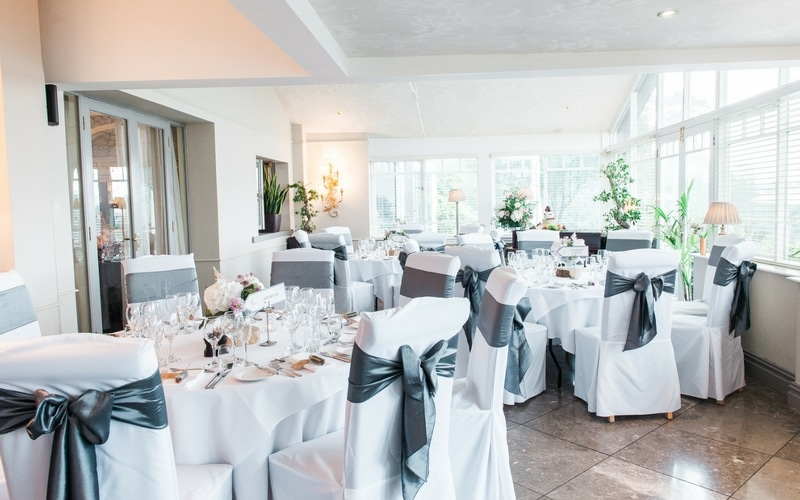 Do you have advice for any newly engaged couples when it comes to planning a wedding?
Don't get too caught up in a particular theme. Find a venue that you love and dress it with the things you like – making things yourselves, such as place cards or favours adds a really personal touch and saves a lot of money.
And now we have all these beautiful little mementos around our home to remind us of the day. Similarly, ask people to make things for you if they're that way inclined. It's a great way of having loved ones contribute in their own way.
Figure out your priorities before you start looking for venues. We were amazed by the range of offers we received. Everything from an empty room where you provided everything, all the way through to one payment that covered everything.
For us, it was always about the venue and the food. We wanted somewhere in a beautiful, memorable location that wouldn't serve a typical wedding breakfast.
Whilst it's great to plan and obsess over details during the planning, make sure that on the day, you have people to take care of everything so that you can focus on the important things – getting married and having an unforgettable day! Issues will always crop up and you should be the last person sorting them out!
16 January 2020
What's not to love about a wedding in the country? It's quintessentially British (think Four Weddings) and it's the perfect way to embrace the great outdoors in a relaxed environment. No wonder so many of us are opting to tie the knot in a rural setting.
Style Tips & Advice
Weddings
Country Style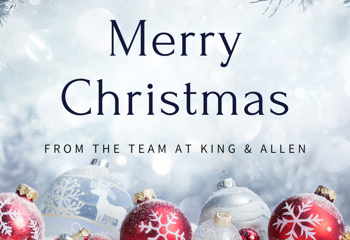 28 November 2019
To get you in the festive mood, we asked our four King & Allen consultants to tell us about their 2019 festive outfit (hint: they all involve a suit) and share their style tips for the perfect party mood...
Style Tips & Advice
King & Allen News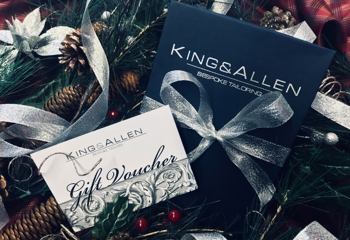 25 November 2019
It's been dubbed the Blue Planet effect - spurred on by Swedish teenage environmental activist Greta Thunberg and the rise of Extinction Rebellion. We are, of course, talking about growing consumer concern about issues such as single-use plastic and climate change...
Style Tips & Advice
Accessories
King & Allen News