7 Effortlessly Cool Suits Worn by George Clooney
For those of you who have been living under a rock for the past couple of weeks, George and Amal Clooney have announced that Amal is pregnant with TWINS due in June.
George Clooney has come a long way since his role as Dr Doug Ross in ER. Following that, he has starred in countless successful films including Ocean's Eleven, The Men who Stare at Goats, Gravity and most recently, Money Monster.
He is the only person to ever be nominated for Academy Awards in six different categories and is now the proud winner of three Golden Globes and two Academy Awards.
After hearing of the happy couple's big news this month, it seemed only right to crown this soon-to-be Dad as King & Allen's Icon of the Month. Once the twins arrive, who knows how long he'll be able to keep it up in the style stakes?
Mr Clooney has been considered a style icon by many for a long time, which we mainly agree with. Yes, his off-duty style can leave a bit to be desired and he does have a habit of choosing too-shiny suits with trousers that pool around his ankles, but there is no denying it: this man looks good in a suit!
Not only that, but he looks well-groomed at all times, whether he is on the red carpet or on a walk with his wife. This is something we can all strive for.
7 of our Favourite George Clooney Suits
1. The king of relaxed tailoring, George Clooney has layered a navy nailhead blazer with a tonal shirt and a classic white t-shirt here. The polka dot pocket square adds a little fun to the look whilst being in keeping with the colour palette.
2. This has to be our favourite suit of the bunch. Here, Clooney wears a magnificent grey check suit on the front cover of LA Magazine. It is one of the rare occasions where we get to see him in a three-piece and he looks every bit the silver fox.
3. Mr Clooney is made for a dinner suit. Elegant yet easy-going, his jacket features satin notch lapels (controversial, perhaps!) and a two button fastening. We love the satin waistband on his trousers but think he should have worn a waist covering. A glimpse of the shirt above the waistband is a black tie no-no!
4. The cloth used in this suit is what makes it. The blue/grey colour is extremely flattering on Clooney and the prominent grain of the cloth provides a bit of textural interest. This suit is versatile enough to wear it to your wedding and even wear it for work afterwards.
5. Some might consider this look unremarkable, yet we wanted to include it because it is a great example of how to wear smart/casual. Wearing a suit with an open-neck shirt feels a lot less formal and works particularly well in the summer months when a tie can feel a bit stuffy.
6. This is a fantastic red carpet look. The midnight blue suit fits beautifully, aside from the sleeves, which Mr Clooney often wears too long. However, it's his lovely choice of accessories that sets this look apart. The wide, tonal tie with its small knot looks sophisticated, whilst the tortoiseshell sunglasses hooked on his breast pocket look effortlessly cool.
7. It might be erring on the side of shiny, but this suit is a perfect example of a classic business suit. In deep charcoal with notch lapels and a two button fastening, it is smart and versatile. Note that beautiful stab stitching on the lapels – surely, a sign of bespoke?
Looking for a suit like George Clooney's?
If you're looking for a suit like the ones that Mr Clooney wears, we'd be delighted to help. Because all of our suits are bespoke, they will fit you even better than the man himself – no long trousers or sleeves here!
Book in today for your FREE consultation where one of our dedicated tailoring consultants will walk you through the whole process.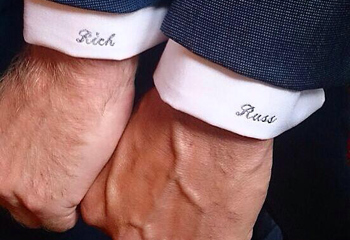 26 May 2022
Planning for your wedding can be a stressful time for some and the day itself often passes in a blur of joy and excitement. That's why it's important to 'stop and smell the roses' during your wedding journey and remember all of the reasons you've chosen to marry the love of your life. After the event itself, there are a plethora of ways you can look back fondly on the day, from the photos, to the video, to the signatures in the guest book. But did you know that your wedding suit can also serve as a reminder of the best day of your life? Read on to find out how...
Weddings
26 May 2022
2022 is a very special year for Pride, as it marks 50 years since the first ever march in 1972. While there were only 700 bravely marching then, this year it is expected there will be over 2 million attendees! Of course, many historical milestones have been achieved since 1972.
Style Tips & Advice
Style History
26 May 2022
Next week, the whole world will be watching as we celebrate 70 years with Queen Elizabeth II on the throne! The Queen has created quite the signature fashion lookbook that deserves its own jubilee. Her style has, quite literally, stood the test of time. Through nine decades, with her vibrant pant-suits and matching hats, stunning heirloom brooches - not to mention the symbolism behind every ensemble - it's no wonder the Queen is our style icon.
Style History