Conor McGregor's "Sartorial" Statement to Floyd Mayweather
After months of sniping at one another, UFC Lightweight Champion, Conor McGregor and .boxing great, Floyd Mayweather are finally going toe to toe on 26th August. That's right – McGregor, who has never boxed before, will be fighting Mayweather, who is to this day, undefeated
Conor McGregor's Profane Pinstripe
Not content with just trash talk, Conor McGregor showed up to the big fight's press day in a suit that spoke for itself. What at first glance looks like a classic pinstripe is, in fact, a big "f*** you" to Mayweather… Woven over and over across the cloth of his three-piece suit.
Where can you get a "F*** You" suit?
It's not the first time we've seen such a cloth, although it is certainly the first time we've seen it used to make this kind of statement!
The cloth used in this suit was woven by one of our cloth merchants – Huddersfield Fine Worsteds. It was made, bespoke, for Mr. McGregor from their Bedlam Super 130s cloth.
Holland & Sherry also offer a very similar cloth as part of their Signature Collection, where you can have your own name, company or slogan woven into a Super 140s cloth – strictly no profanities though! The wording in the stripe is clearly visible up close but is softly muted from a distance.
29 May 2019
There's no such thing as a traditional wedding anymore. For most of us, the days when the bride's parents were expected to foot the entire bill – meaning the bride and her mother planned the whole affair – are long gone.
Style Tips & Advice
Weddings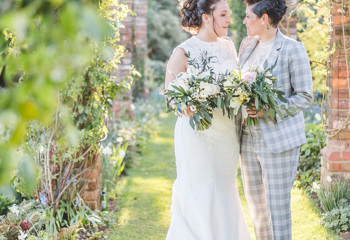 28 May 2019
Back in April, we invited King & Allen customers to enter our annual Photo Competition. Entrants posted a photo of themselves on social media, wearing a King & Allen suit, using the hashtag #shootthesuit and tagging us.
King & Allen News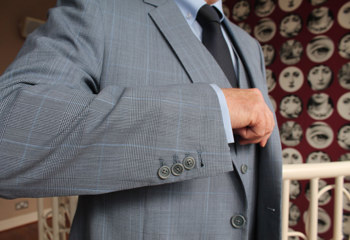 23 May 2019
With all eyes firmly fixed on the bride and groom, it's easy to forget that a wedding is also a landmark moment for the happy couple's parents. Naturally everyone wants to look their best for the big day, not least because the photographic evidence will be around for a long time to come!
Style Tips & Advice
Weddings