7 Suit Styles to Steal from Colin Firth
The trailer for Kingsman: The Golden Circle has just been released and it looks equally as explosive as the first film. The biggest surprise? Harry Hart, played by Colin Firth, is back from the dead and wearing an eye-patch!
We, at King & Allen, are huge fans of the first film and clearly, you are too, since the blog post we wrote on the suits from Kingsman remains one of our most popular articles.
To celebrate the film series' imminent return in September, we are making Colin Firth our Icon of the Month. As a veteran of the red carpet, he wears a suit well. Opting for classic styles and colours, he knows what suits him and sticks with it.
Here are seven of our favourite suits worn by Colin Firth over the last few years – whether you're planning your wedding suit or your next business suit, there is some serious style inspiration here.
The Best of Colin Firth's Suits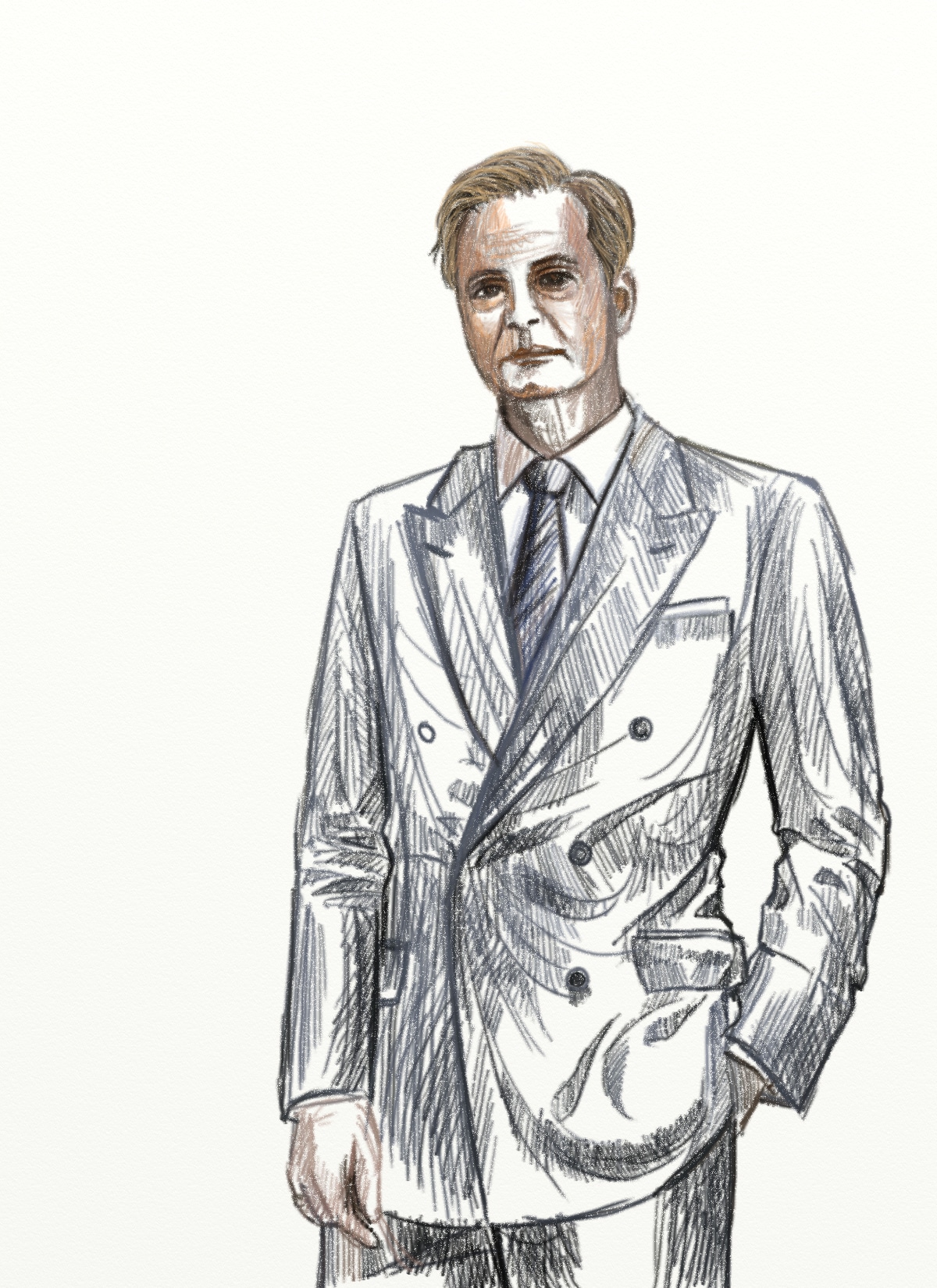 Double-Breasted Pinstripe
Straight out of Kingsman, this double-breasted suit is timelessly elegant. The jacket features a 6×2 fastening and classic peak lapels – the perfect match for the charcoal pinstripe cloth. As expected, the fit is immaculate and accessorised beautifully. If you're looking for your next business suit, this is it.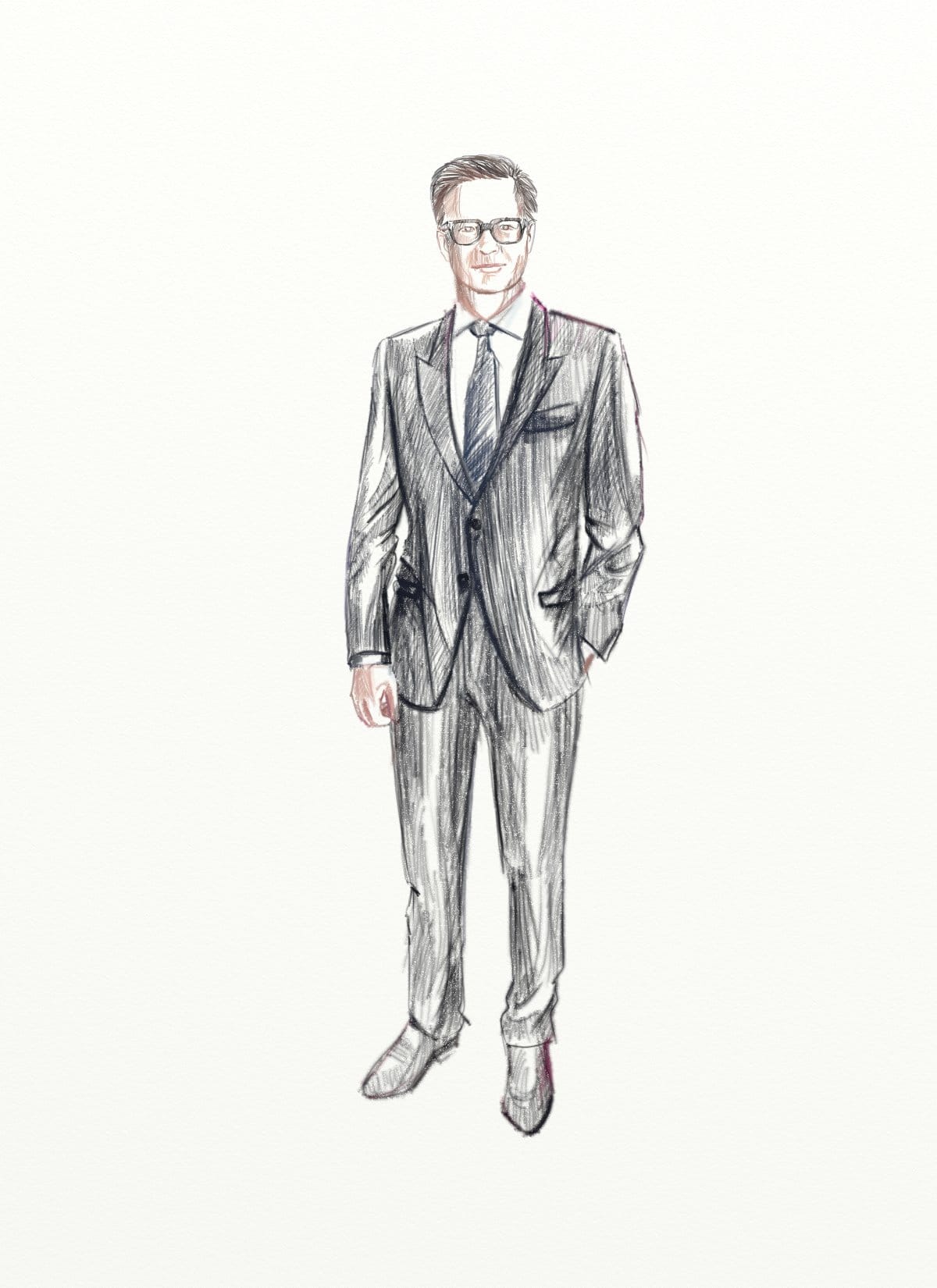 The Suit Everyone Should Own
A navy two-piece suit with a two button jacket is one of the suits that every gentleman should own. Firth's jacket features a peak lapel and fits close to the body to keep the look modern. Worn with a blue tie and black shoes, this is a little on the corporate side for a premiere but would look very smart in the boardroom.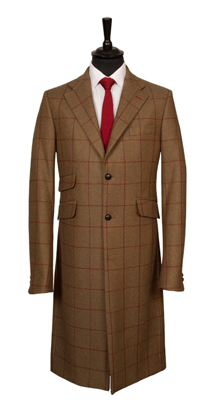 A Shot of Cobalt
Colin Firth wears a bold blue scarf with a very classic suit and overcoat. The result is incredibly stylish, yet subtle, and lifts this dark outfit. If you're wondering how you can add a bit of personality to your working wardrobe without going over-the-top, this is an excellent way to do it.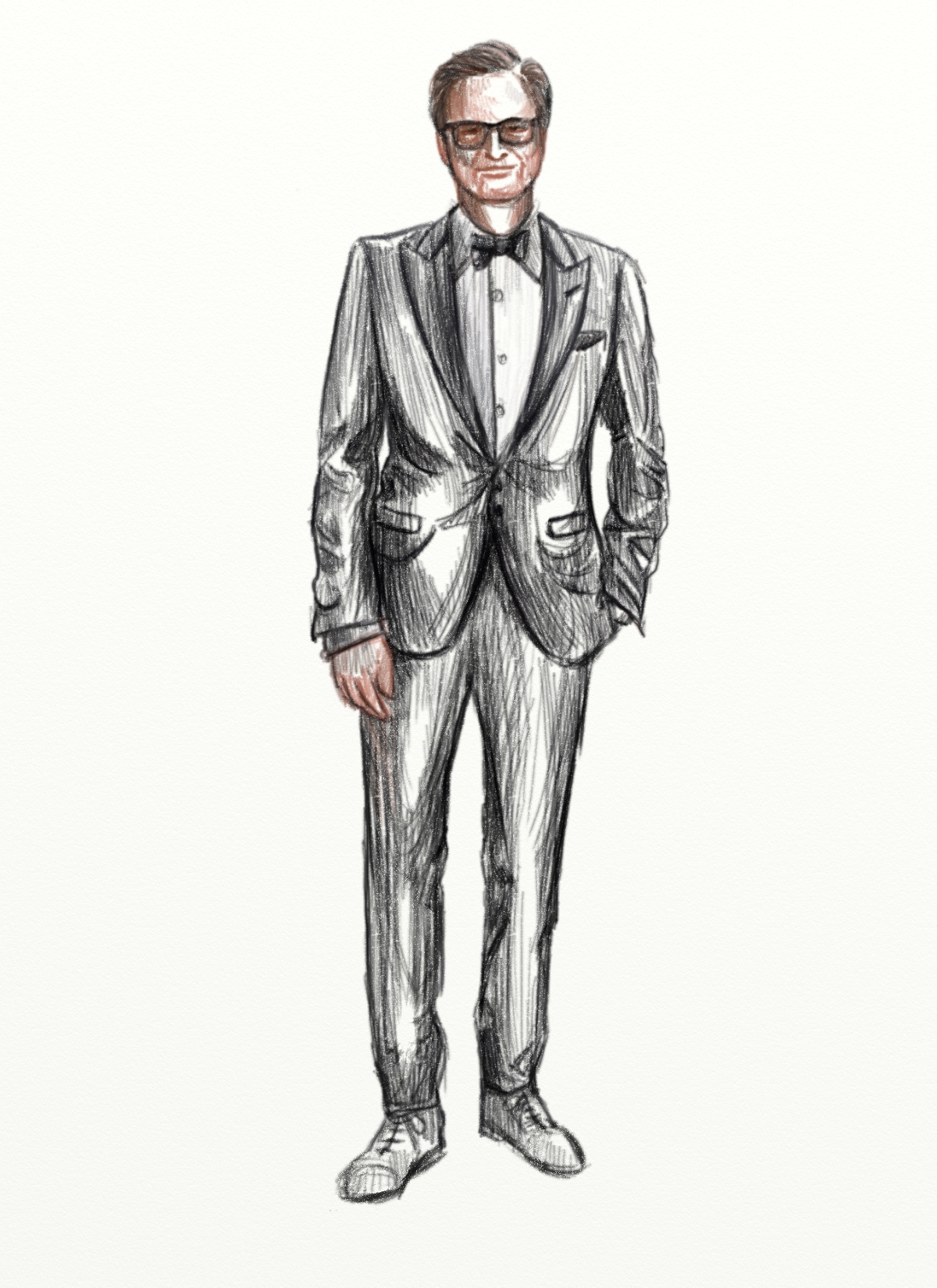 The Classic Black Dinner Suit
As dinner suits go, this is pretty spectacular. It appears to be made of black barathea cloth with contrasting satin lapels. If you look closely, you will spot a lovely pair of gauntlet cuffs – a bespoke detail that we love. The classic formal accessories bring the whole ensemble together. If you need help with your dinner suit, check out our guide to black tie.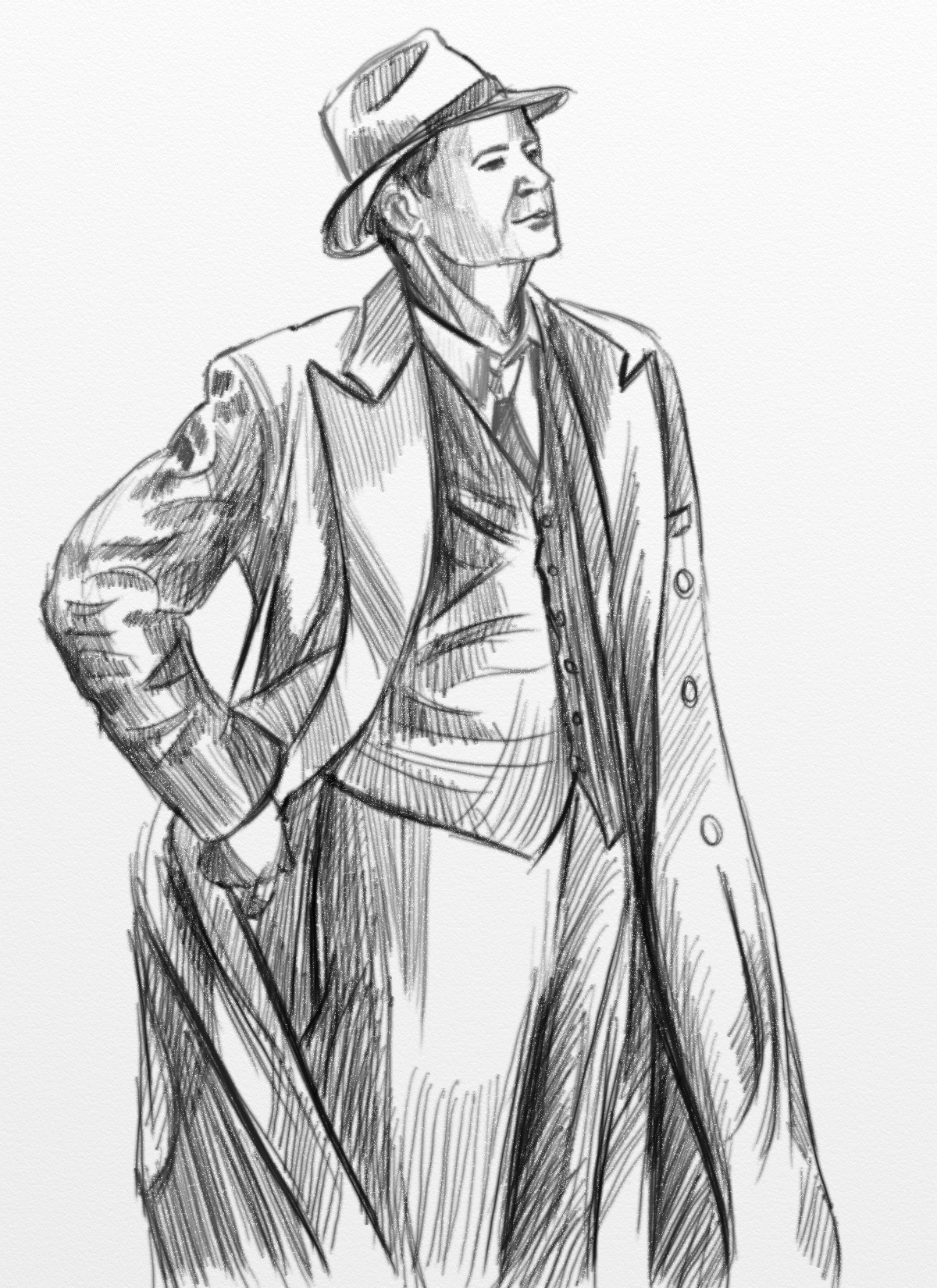 Vintage Tweed Three-Piece
Pictured here in the film "Genius", Firth wears a fabulous tweed, herringbone three-piece with a heavy double-breasted overcoat. The look is distinctly "vintage" 1920s/30s, and therefore a bit costume-like, however, the suit worn without the overcoat and hat is incredibly wearable.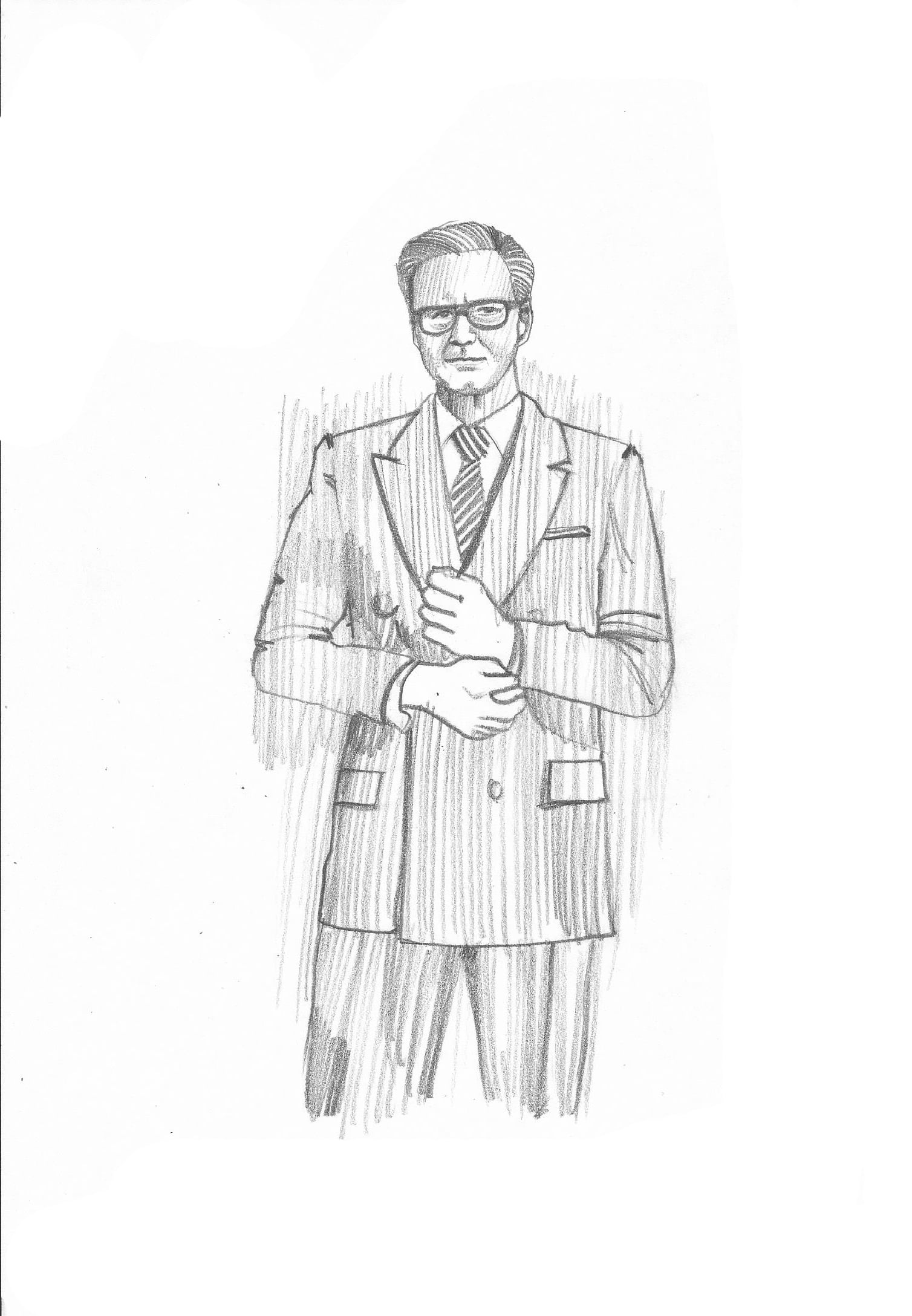 Double-Breasted Prince of Wales
Another Kingsman classic. This time, his double-breasted suit is made in a fantastic grey prince of wales cloth. The styling is exactly the same as his other Kingsman jacket, even as far as those unusual boutonnieres on both lapels! This is a detail you will never find on an off-the-peg jacket.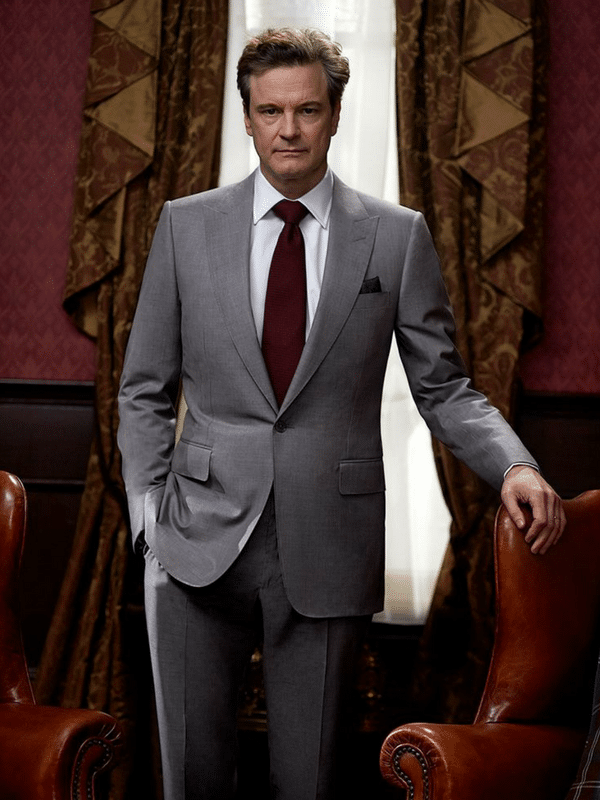 Wear a Suit Like Colin Firth
Did you spot the theme here? Most of Colin Firth's suits are incredibly simple. It's the detailing and the fit that set them apart.
If you're ready to wear a beautifully tailored suit that actually fits you, it's time to book a free initial consultation with one of our expert tailoring consultants.
If you're going to a wedding this year (maybe even your own?) this is a fantastic look to emulate. Here, Colin Firth wears a mid-grey sharkskin suit that has a lovely, multi-tonal quality to it. It's a little snug around the middle, but otherwise, it's an excellent fit. His burgundy tie is a wonderful way of bringing in some colour.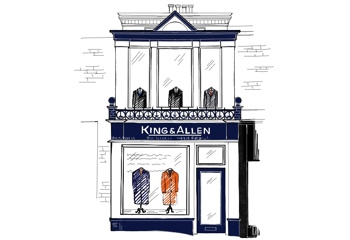 26 May 2020
Following the announcement by the Prime Minister on the 25th May, we will be reopening our Surbiton, Liverpool Street and Wilmslow stores on the 16th June.
King & Allen News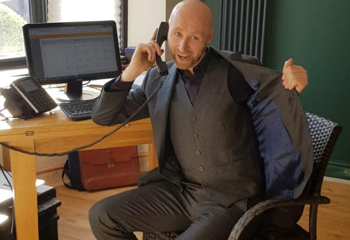 15 May 2020
We've put  together a brief guide and some resources for what to do once you've decided on a new date for your big day.
Style Tips & Advice
Weddings
14 May 2020
While we look forward to re-opening and helping you all find your fit for your special day, we also thought it might bring a smile to our follower's faces to see how some people have kept their lockdown weddings and celebrations going.
Style Tips & Advice
Weddings