The Complete Anatomy of a Bespoke Suit
A suit is one of the most powerful items of clothing that a person can wear. Not only does it give the wearer an immense boost in self-confidence, but it makes the wearer look smart and pulled together in an instant.
Purchasing a bespoke suit is probably one of the biggest clothing investments that someone can make. And yet, so many people have no idea what actually goes into the design of a bespoke suit!
In today's blog post, we are doing a deep dive into the anatomy of a bespoke suit, focusing on features that can be customised to your taste. After all, a great suit is the grand sum of its parts. Whilst the suit must look attractive as a whole, each part must look fantastic individually too.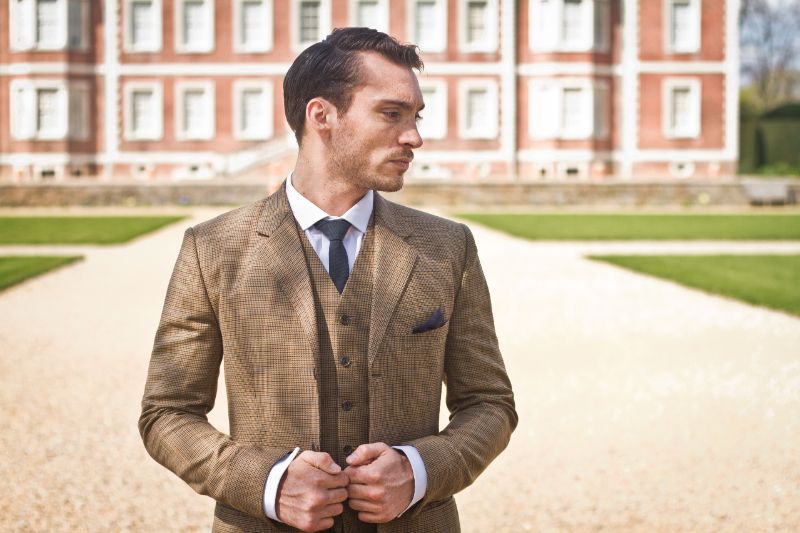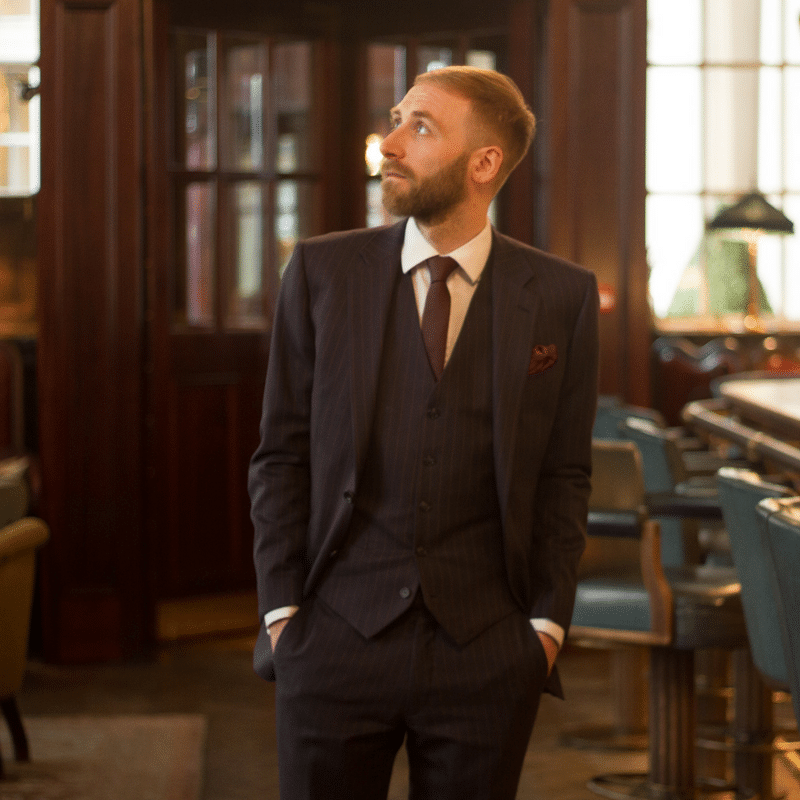 Exploring the Anatomy of a Bespoke Suit
The Cut
Most bespoke suits fit into three categories of cut: slim, fitted and classic.
A slim cut suit fits close to the body with a higher waist and armholes for a more streamlined silhouette. This style is most likely to flatter those with very slim body types and whilst it is a popular style right now, it will not necessarily stand the test of time like a typical fitted suit would.
A classic cut suit is exactly what the name suggests. It is a timeless, elegant style with more room over the body. This cut is ideal for those who have a more conservative style of dressing or those who like their clothing to be more comfortable and roomy. Interestingly, the trends from London Men's Fashion week suggest that this is the direction that men's tailoring is heading!
A fitted cut suit is a happy medium between the two styles above. It is not overly slimline, yet it has a contemporary cut that neatly contours your body. This is a style that will flatter most people's body types and will look stylish for many years to come.
The Fastening
There are two styles of jackets in suiting: single-breasted and double-breasted.
A single-breasted jacket is the most common and universally, the most flattering to a wide variety of body types. This style of jacket will button with anything from one to even four buttons, however, a two button fastening is the most common. This is because it is versatile enough to wear to work, special events and even casually. A one button jacket tends to feel a little more formal, whilst a three and four button jacket is a lot more traditional with extra coverage over the chest.
It went out of popularity for a while, however, the double-breasted jacket is back in full force! It's tricky to fit properly off-the-peg, which is why many men steer clear of it, but when you go bespoke, it can look impeccable. This distinguished jacket can be buttoned in a variety of styles to show more or less shirt. The 6 x 2 fastening is particularly classic making it an excellent place to start if you're new to double-breasted jackets.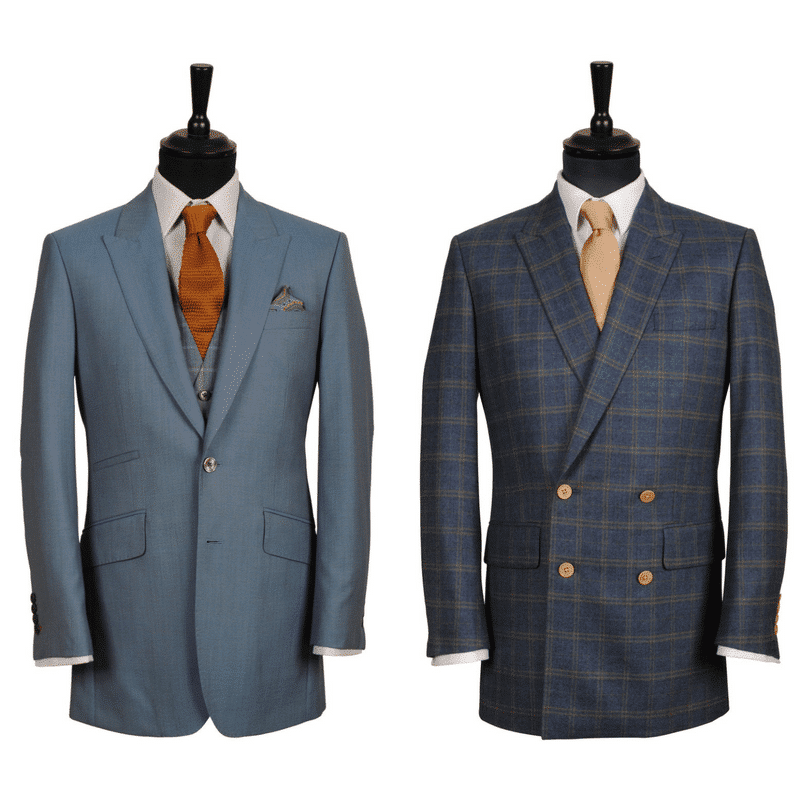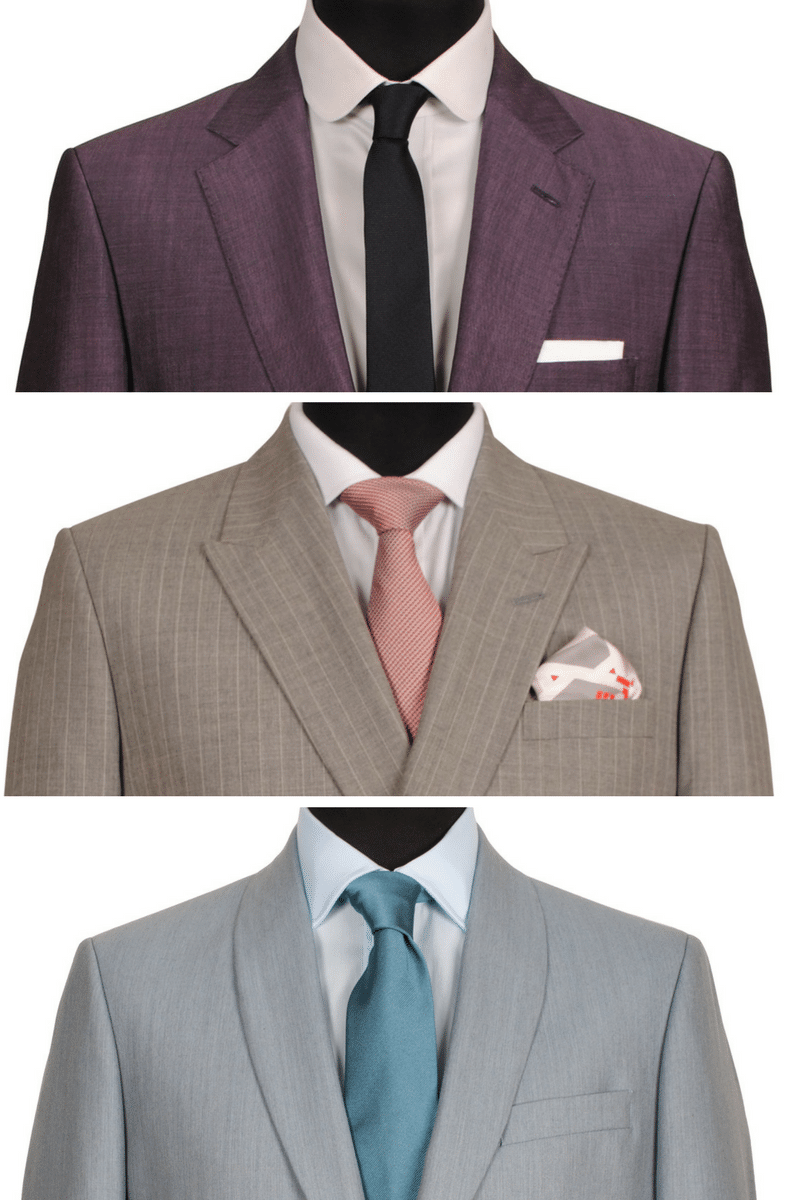 The Lapels
The lapels are a very important feature of a suit, yet they're something you have probably never even thought about. They frame the face, enhance the shoulders and balance the body. There are three options when choosing the lapels for your bespoke suit: notch, peak and shawl.
The notch lapel is a true classic and a fail-safe option for someone who is unsure of what lapel to choose. It is most commonly used on single-breasted jackets and can vary in width from pretty narrow (which is popular at the moment) to very wide.
A peak lapel is a little more formal and commonly found on double-breasted jackets. They are an ideal choice for someone who wants to make their shoulders appear broader and more defined.
A shawl lapel is traditionally used in dinner suits and formalwear, such as smoking jackets. You can't beat the elegance of a midnight blue dinner jacket with a satin shawl lapel – very James Bond! That being said, the shawl lapel is starting to creep its way into lounge suiting. Whilst it's quite an unusual look, it works extremely well with the relaxed tailoring that is becoming popular right now.
The width of lapel that you choose is personal preference, however, it is best to keep it proportional to the rest of the jacket. We tend to work with lapels ranging from 6.5cm – 10cm, depending on the taste of the client.
Many of our customers like to keep their lapels simple, however, stab stitching (a tiny line of hand stitching around the lapels and the front of the jacket) is a subtle bespoke detail that can really enhance a bespoke jacket. We also offer piping around the lapels, which looks fantastic on a regatta jacket.
The Vents
You will notice that in old Hollywood films, most men had no vents on their jackets. A ventless jacket was considered more photogenic back then! However, these days, most men wear jackets with either one or two vents.
A single vented jacket is very common on American-style suits or casual blazers, however, the vent never sits quite as neatly they do on a double vented jacket. A double vent was designed at a time when men needed to ride on horseback without creasing their jackets. Nowadays, a double vent is useful for ease of movement and additionally, it allows you to put your hands in your pockets without creasing up the sides of your jacket.
Whilst we generally suggest a double vented jacket, the choice is entirely up to you. If you'd like to make more of a statement with your jacket vents, you can choose to have a flash vent, which is constructed to show a flash of your lining as you move.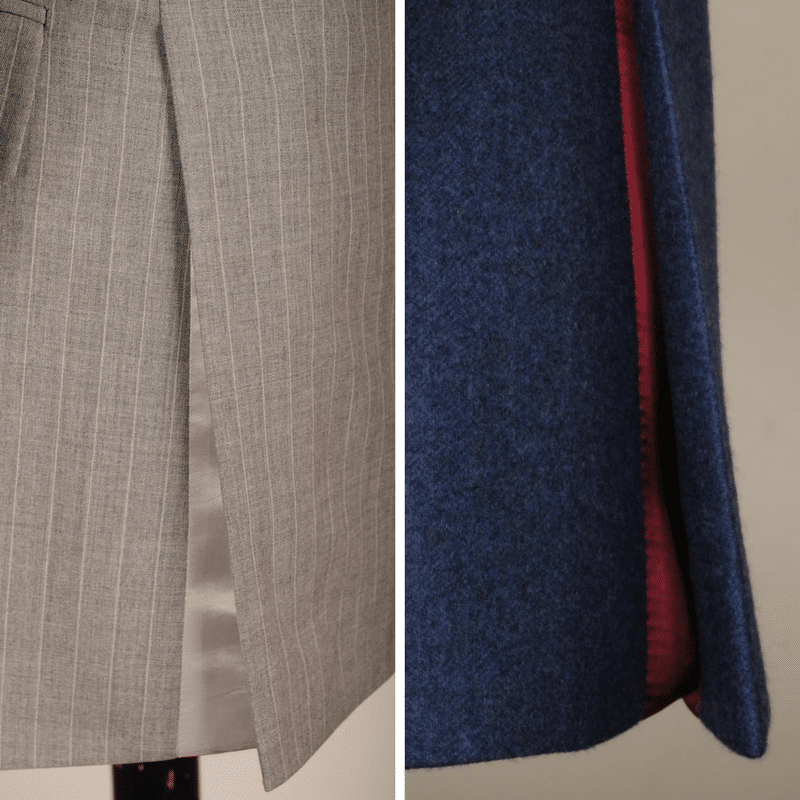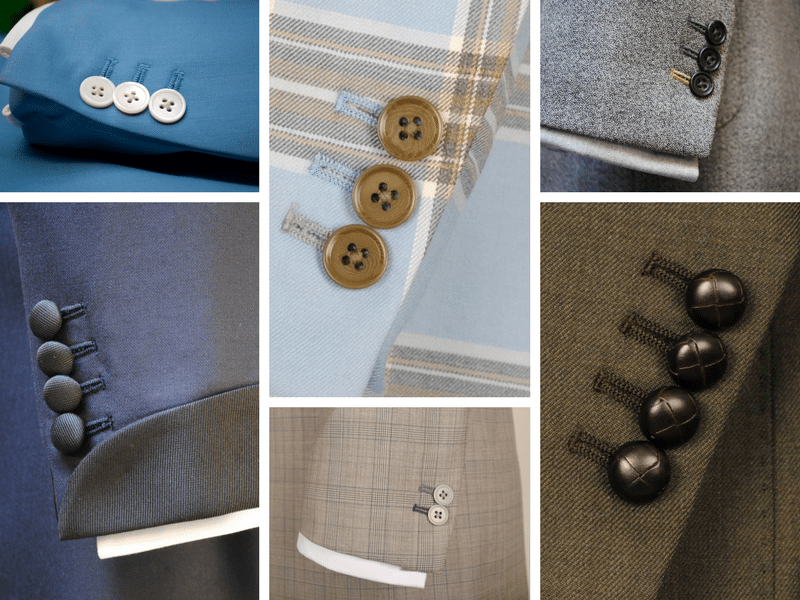 The Cuffs
Usually, we use a four button cuff on our suits, complete with working buttonholes. However, there are many other options for those who would like something a bit unusual.
Your cuff buttons can range from only one all the way up to a five button cuff. Usually, these buttons are lined up next to one another, but we can create "kissing" cuff buttons, which means that each button slightly overlaps the next.
Another very stylish cuff option is the gauntlet cuff, often used in dinner jackets and country wear, but made popular by James Bond.
The Jacket Pockets
Whilst you may be accustomed to seeing only one style of pocket on off-the-peg suits, the options are endless when you go bespoke.
On the exterior of the jacket, you can have pockets with pocket flaps or, if you prefer a more minimal aesthetic, with jets instead. These can be straight pockets or they can be slanted, which gives the illusion of the jacket being even more fitted.
You can also add a ticket pocket on the right-hand side, which is a half-width pocket that sits just above the regular pocket. This option is ideal for tall, slim people as it fills some of the empty space in the jacket.
Patch pockets are one of our favourite ways to update a casual jacket. They can feature pocket flaps and pleats or you can keep them plain and simple.
Internally, we like to make our pocket options as practical as possible, so all of our jackets feature internal breast pockets, a pen pocket and an internal ticket pocket. We can also add security zips and tabs for those who travel a lot and want to keep important documents safe.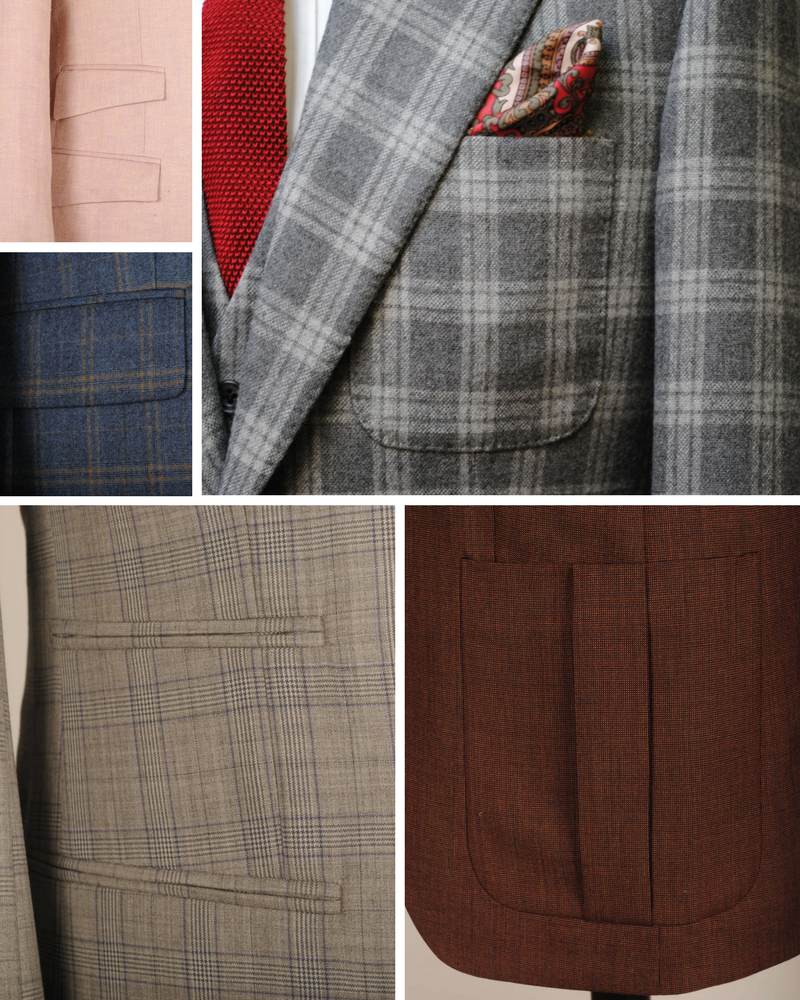 The Embroidery
We offer personalised embroidery on the inside of every King & Allen jacket, completely free of charge!
You could choose to have your initials or full name embroidered or even the date of a special anniversary. Some of our customers have had lines from a poem, mottos from their favourite football clubs or lyrics from their favourite songs.
You can be as creative as you want with this, so let your imagination run wild and choose something that fits your personality and style.
The Melton
The melton is the piece of felt that is underneath the collar of your jacket. Ordinarily, this is toned to the cloth of your suit, however, you can have a contrasting colour of your choice instead. You can also have the melton embroidered with a secret message of your choice too!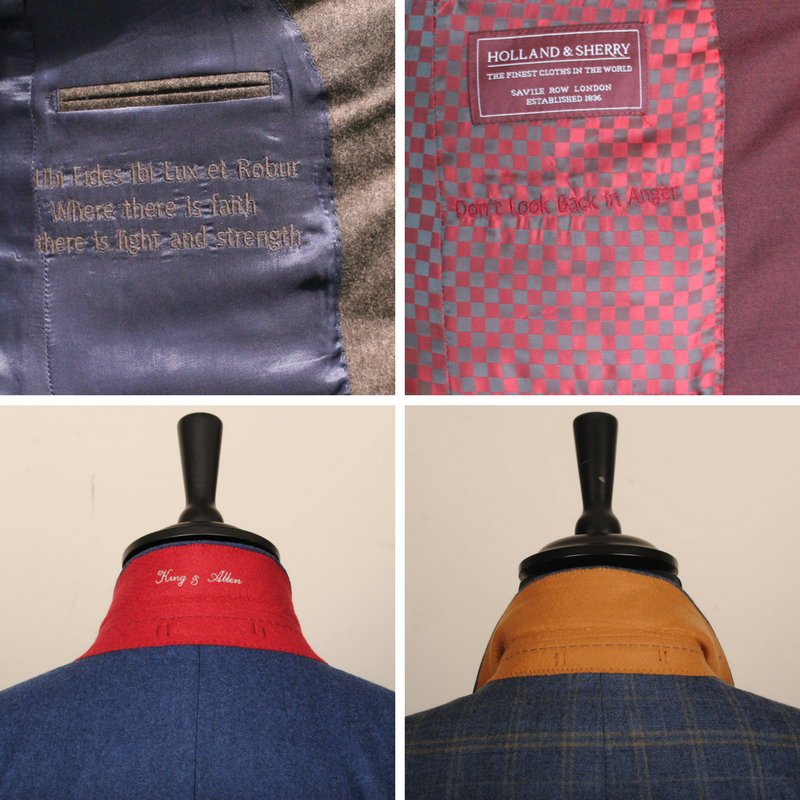 The Buttons
Most suits that you buy off-the-peg have an uninspiring set of buttons. When you go bespoke, you can choose from a large selection of buttons for your suit.
Horn buttons are a beautiful choice, as they feature a subtle grain pattern throughout. We also offer mock horn buttons for suit wearers who are vegan and don't want to wear buttons made from horn. Corozo buttons, made from a tree nut, make excellent vegan buttons too. They come in many beautiful colours and have a lovely natural grain to them.
Other more unusual button options include leather, mother of pearl, metal and cloth covered.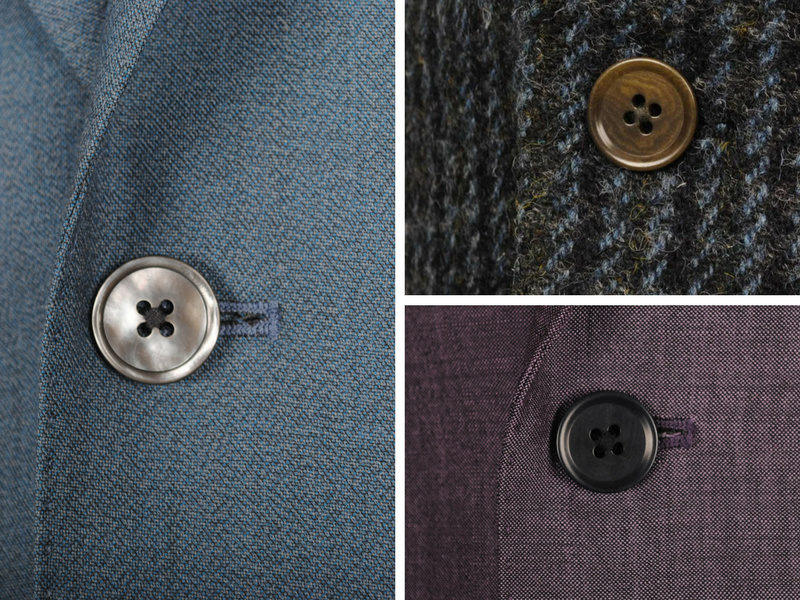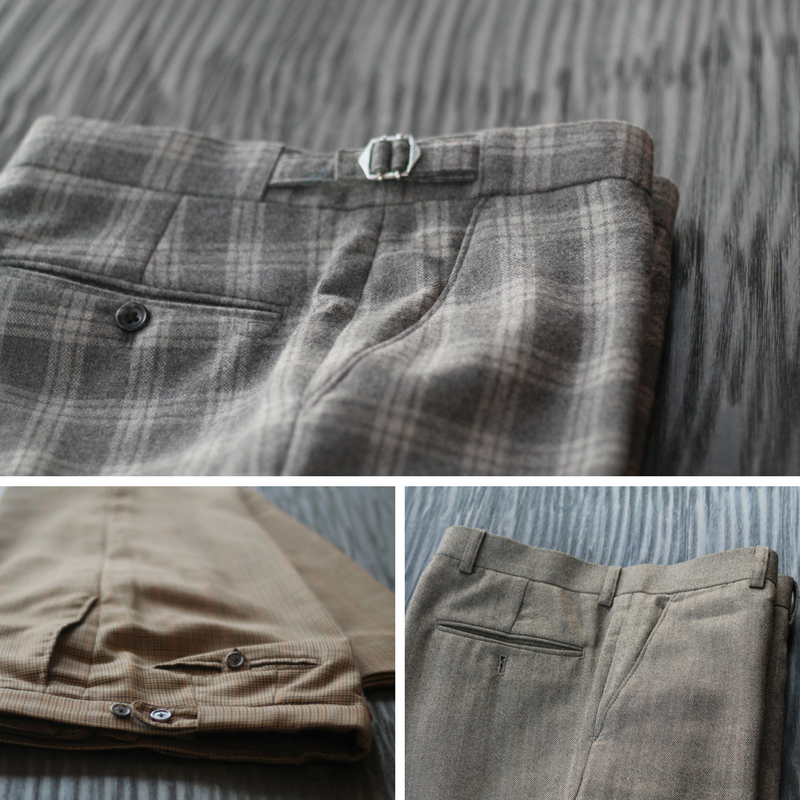 The Trousers
Typically, contemporary suit trousers feature a flat front, which means that they don't have any kind of pleating beneath the waistband. This is a nice, neat look that keeps the trousers looking fitted and modern. However, pleats are a great option for people who have more of a classic style or like more room around their thighs.
On the waistband itself, the trousers will usually have belt loops or side adjusters. We usually recommend side adjusters since there is no need to wear a belt with bespoke trousers, however, some people prefer to continue wearing a belt as an accessory. Our side adjusters come in two styles: a buckle strap or a button tab. Both are extremely effective at cinching the waistband should you lose any weight. We also offer brace buttons for those who like to wear braces, which should traditionally be added to a plain waistband.
The trousers can have a plain hem or a turn-up, according to your preference. We are particularly fond of using a cavalry hem on our trousers too, as it sits slightly longer at the back of the shoe, whilst ensuring that the trousers have a small break (the crease as it hits the shoe). This means that when you are walking, your trousers look neat and do not show any of your sock.
Interested in commissioning a bespoke suit?
As you can see, the options are almost unlimited when you go bespoke. If you'd like a beautifully tailored suit that has been designed entirely by you, book in for a FREE consultation. We'd be delighted to walk you through the process.
21 September 2020
The navy blue suit is an absolute must in anyone's wardrobe. Versatile, flattering and classically stylish, we are absolute devotees of this most iconic and fundamental of suits.
Style Tips & Advice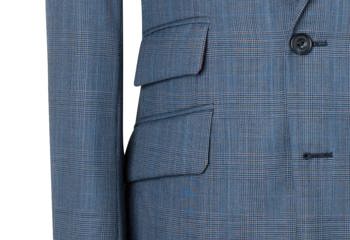 21 September 2020
The check suit is as varied and as unique as the people wearing it. At King & Allen, we are strong proponents of a beautifully-made check suit and, have found, in the last few years there has been a definite resurgence in the popularity of these garments.
Style Tips & Advice
Style History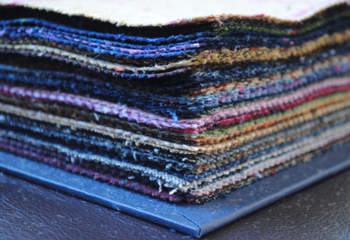 25 August 2020
Every Autumn we start thinking about our options for winter outerwear. Will it be a classic, three-button overcoat in camel? A tweed sports jacket? A double-breasted pea coat? With this in mind, King & Allen have decided to run a promotion with our cloth merchants, bringing a fantastic offer to our clients.
Style Tips & Advice
King & Allen News